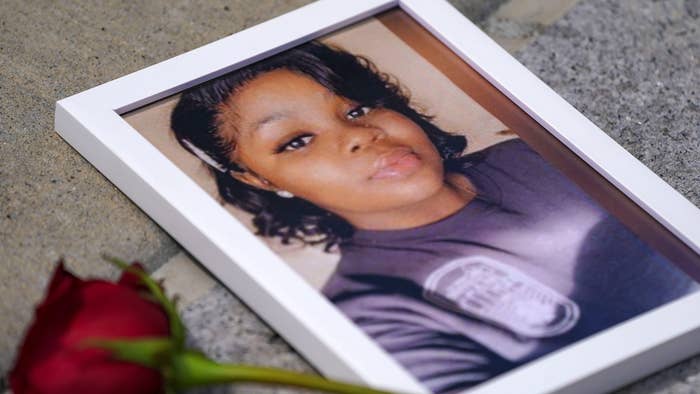 The detective who fatally shot Breonna Taylor in March 2020 during a deadly raid on her apartment has been hired by a rural sheriff's office in Kentucky, the New York Times reports.
Former Louisville police officer Myles Cosgrove has recently joined the Carroll County Sheriff's Office, county executive David Wilhoite confirmed. Cosgrove, who is white, was fired by the Louisville PD in December 2020 for involvement in the killing of Taylor, a Black 26-year-old woman who worked as an emergency room technician. The community of Caroll County is approximately a one-hour drive outside the city of Louisville.
On Monday, April 24, at least two dozen demonstrators gathered outside of the Carroll County courthouse to protest the hiring of Cosgrove, who faced no legal consequences for firing the fatal shots. In a comment provided to the Courier Journal, Chief Deputy Rob Miller said of Cosgrove, "We think he will help reduce the flow of drugs in our area and reduce property crimes. We felt like he was a good candidate to help us in our county."
Black Lives Matter Louisville lead organizer Chanelle Helm criticized the decision to hire Cosgrove in a comment shared with WFPL. "The way in which he can go and get a job in the same field should be illegal," said Helm. "For a typical citizen, we aren't able to re-enter certain fields, if we're fired from them. That carries with you."
Cosgrove was among seven officers who raided Taylor's apartment. The officers served a no-knock warrant, startling Taylor and her boyfriend Kenneth Walker, who fired a single shot at the officers, believing them to be intruders. The police returned 32 shots, of which Cosgrove fired half. He struck Taylor twice, and an FBI ballistics report confirmed his shots killed her.
When Cosgrove was terminated by the police department, interim LMPD Chief Yvette Gentry said, "The shots you fired went in three different directions, indicating you did not verify a threat or have target acquisition." It was determined that he "fired wildly at unidentified subjects or targets" during the raid, and he was also criticized for violating police policy by not wearing a body camera.
Earlier this year, the Department of Justice released the results of an investigation into the Louisville Metro Police Department, which found its officers engaged in a pattern of discrimination and excessive force.