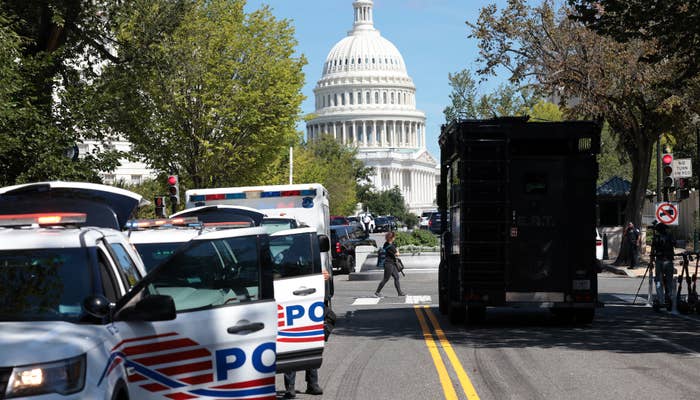 On Thursday, U.S. Capitol Police announced the agency was actively investigating a bomb threat near the Library of Congress.
At 9:15 a.m. local time, law enforcement responded to reports of a driver parked in a black pickup truck near the Capitol and Supreme Court. When approached by authorities, the driver said he had a bomb and was holding the detonator in his hands, per the Daily Beast. 
As recently as 1 p.m., Capitol Police said the investigation was still ongoing as negotiators attempted to communicate with the man. A number of buildings in the nearby area were evacuated, and snipers were on the scene. Officers saw the man holding what looked to be a detonator, although it's validity is unclear.
"My negotiators are hard at work trying to have a peaceful resolution to this incident," said U.S. Capitol Police Chief J. Thomas Manger, per the Associated Press. "We're trying to get as much information as we can to find a way to peacefully resolve this."
The man was communicating with officers by writing notes, according to sources close to the situation, and refused a phone when it was sent over to him via a robot.
Chief Manger went on to say at an early afternoon news conference that the suspect surrendered and was brought into custody without any incident; police have also spoken with the suspect's relatives.
It remains uncertain whether the vehicle does contain explosives.
According to the Daily Beast, the man who is making the bomb threats was livestreaming on Facebook at one point. He reportedly claimed to be in possession of a container of tannerite, an explosive compound, and made anti-government statements. While his identity still has not been verified, the man allegedly said he was a supporter of Donald Trump.
Back in April, the U.S. Capitol went into lockdown following an incident that left one suspect and one police officer dead. Two officers were injured when a vehicle rammed into a barricade in the area, with the officer later dying in hospital. Before that, there was the attempted insurrection of Jan. 6, which ultimately resulted in Trump getting banned from social media and a slew of arrests for his supporters.