At Least 1,200 Arrested in Brazil's Anti-Democracy Riots, Video Shows People Storming Government Buildings
At least 1,200 protesters in Brazil have been arrested after they stormed government buildings in Brasília in support of former president Jair Bolsonaro.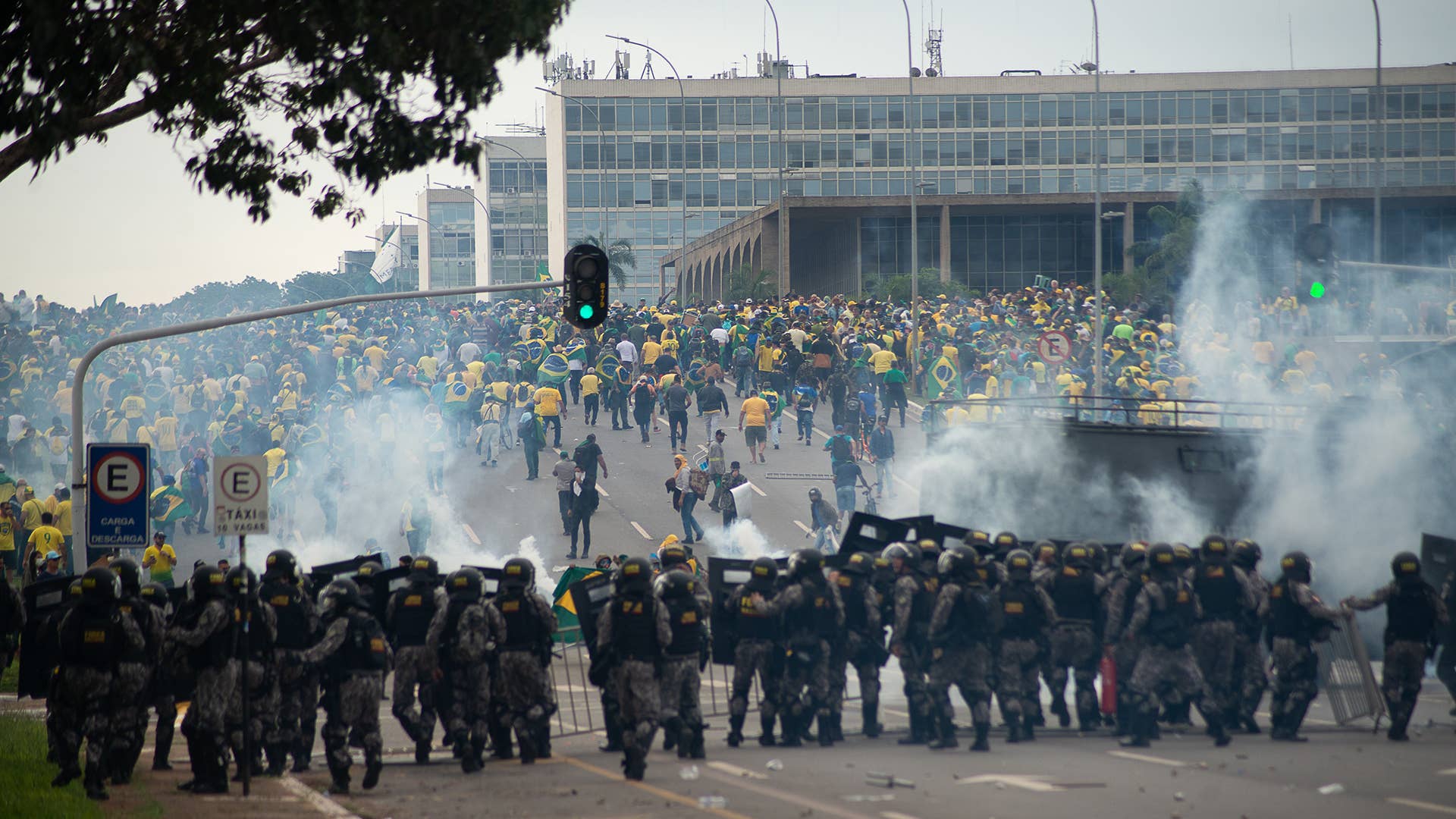 Getty
Image via Getty/picture alliance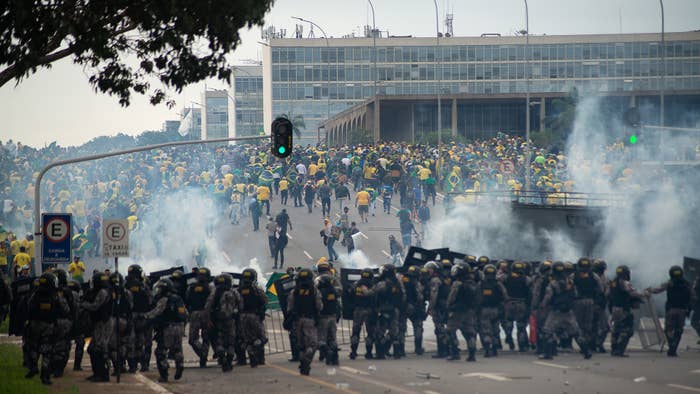 At least 1,200 protesters were arrested in Brazil after they stormed government buildings in Brasília in support of former president Jair Bolsonaro, per The New York Times.
On Sunday, thousands of supporters of Brazil's former far-right president stormed the Congress, Supreme Court, and presidential offices in the country's capital. The supporters of Bolsonaro, who is currently in Florida, were protesting what they have falsely claimed was a stolen election, which might sound familiar to anyone who followed the fallout of Donald Trump's defeat in the 2020 presidential election.
In fact, video from the rampage was eerily similar to scenes from the January 6th Capitol riot. 
In a conference following the events that took place on Sunday, Brazil's justice minister Flávio Dino confirmed at least 200 people were arrested before the larger figure was reported on Monday. Many of the supporters had set up camps nearby army barracks in the capital, and some had been there as long as 60 days. The Supreme Court has since ordered authorities to clear out the camps.
Photos and videos from the riots on Sunday show federal buildings trashed, with toppled furniture, broken windows, and shattered windows. A highly-valued painting by Emiliano Di Cavalcanti was punctured during the comotion, and a statue outside the court was vandalized. 
Those who took part in the riot could face charges for attempting to unseat a democratically elected government.
Left-wing president Inácio Lula da Silva, who beat Bolsonaro in an election last year, signed an emergency decree that put federal authorities in charge of Brasília's security. Lula was not present in the capital at the time of the riots, but arrived at the scene late on Sunday to survey the damage. He has called the events "acts of terrorism," a statement that was co-signed by House Speaker Arthur Lira, Chief Justice Rosa Weber of the Supreme Court, and deputy president of the Senate Veneziano Vital do Rego.
Bolsonaro also condemned the protesters, and said that while peaceful demonstrations are a key part of democratic nations, "destruction and invasions of public buildings" is not.
President Biden joined other world leaders in condemning the riots. "I condemn the assault on democracy and on the peaceful transfer of power in Brazil," he tweeted. 
"Brazil's democratic institutions have our full support and the will of the Brazilian people must not be undermined. I look forward to continuing to work with [Luiz Inácio Lula da Silva]," Biden added.