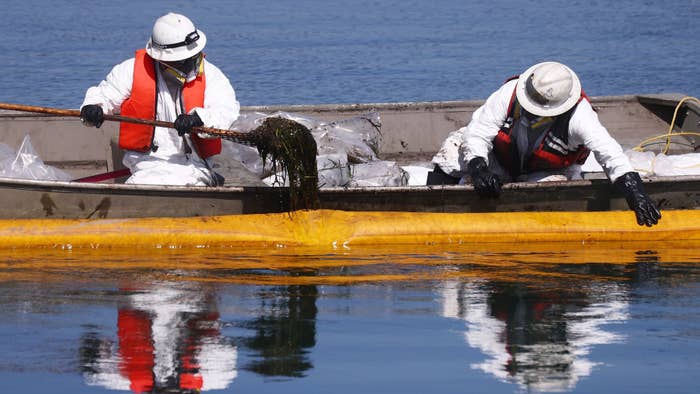 An oil spill of more than 126,000 gallons off the coast of southern California has washed up on shores, closing beaches and damaging wildlife. 
The spill reached Huntington Beach, which is about 30 miles south of downtown Los Angeles, after a pipeline connected to an offshore oil platform broke. According to the federal Bureau of Safety and Environmental Enforcement, the platform is linked to another that's operated by Beta Operating Company and a little more than 8 miles from Long Beach.
"I don't expect it to be more. That's the capacity of the entire pipeline," Amplify Energy, Beta's parent company, CEO Martyn Willsher said Sunday during a press conference. 
United States Coast Guard crews have worked to prevent the spill from reaching wetlands and the Bolsa Chica Ecological Reserve, according to officials, as the spill has led to several cancellations, including that of the city's annual Pacific Air Show.
"This oil spill constitutes one of the most devastating situations that our community has dealt with in decades," said Huntington Beach Mayor Kim Carr, who shared that beaches could be closed for weeks or months. 
Since the spill, mostly birds and fish have washed ashore but dolphins have also been spotted swimming through the oil slick, Heal the Bay CEO Dr. Shelley Luce told KTLA.
"This is a toxic spill," Luce said. "And many, many animals are going to die. And many more than we can count, because they will occur at sea."