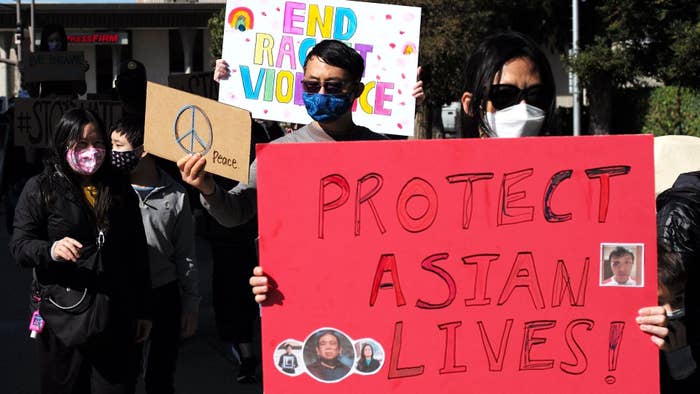 Reports of Anti-Asian hate incidents surged from 3,795 to 6,603 in March of this year, according to new data from Stop AAPI Hate. This increase could be due to a number of factors, experts say, including both increased awarenes around the issue and the U.S. lifting COVID restrictions.  
"What we've always said is that racism could have been dampened because the quarantine has sort of protected us," Stop AAPI Hate co-founder Russell Jeung told NBC News. "But now, we've had a year's worth of anger focused on Asians, the year's worth of economic distress, the year's worth of political rhetoric, vilifying Chinese and Asians. And so now that we're beginning to interact and all that anger and fear and racism is getting directed at us more."
Stop AAPI Hate's data showed that verbal harassment made up 65 percent of reports from March 19, 2020 to March 31, 2021, shunning made up 18 percent, physical assault made up 13 percent. 
Jeung, who is also chair of the Asian American Studies department at San Francisco State University, said the Atlanta-area spa shootings in March likely impacted the understanding people had about anti-Asian incidents. Recently in relation to the shootings, Robert Aaron Long was indicted by a grand jury for the deaths of four of the eight women he was accused of killing, six of whom were of Asian descent. Fulton County District Attorney Fani Willis has since filed notice that she'll seek hate crime charges and the death penalty against him.
"We've noticed some shifts, and more women and more people are saying gender was a reason for their harassment," he said. "The Atlanta shootings have highlighted the intersectional attacks on Asian American women."
Jeung also added that the location of incidents reported seems to be changing, as well, as more incidents are being reported on streets and sidewalks. 
"Originally, businesses were the top site of racism, because that's the only place we would interact with people during quarantine—we go out shopping, and then we would interact with people," he said. "Now we're seeing more incidents in public places like streets and sidewalks. So it seems to me as we come out of the pandemic, everybody is interacting more in the broader public and Asian Americans are experiencing racism there as well as businesses."
Earlier this month, a study from the Center for the Study of Hate and Extremism at Cal State University San Bernardino found that hate crimes against Asian people in 16 of the largest cities and counties in the U.S. had increased 164 percent since last year at the same time.