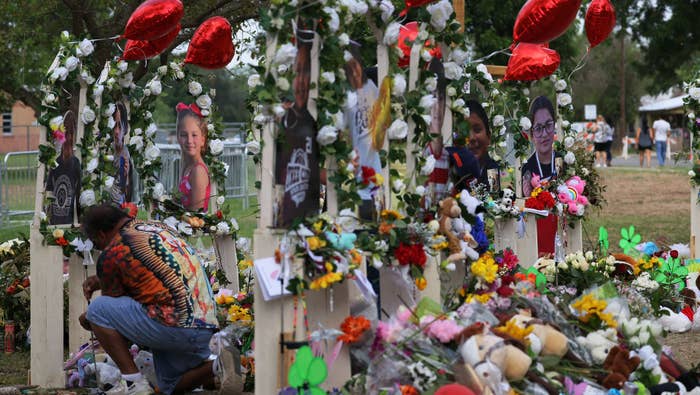 Over $2.7 million in donations have been raised for a family that lost their mother in the Robb Elementary School shooting last Tuesday, before their father died two days later of a heart attack. 
The campaign for Joe and Irma Garcia was initially set with a goal of $10,000 to support their four children: Cristian, Jose, Lyliana, and Alysandra. But the community came though, and over 49,000 donations later, the family has raised an unexpected amount of money through the GoFundMe campaign. Official links to the campaigns for those associated with the tragic events at Uvalde can be found here.
"Irma was a wife, a mother of 4, a cousin, a sister a daughter, an aunt and a wonderful person. She would literally do anything for anybody…...no questions asked," cousin Debra Austin wrote on the GoFundMe campaign. "She loved her classroom kids and died trying to protect them."
Another GoFundMe, launched by nephew John Martinez, raised $500,000 for the family's expenses and was eventually combined with the first fundraiser for Garcia, who worked as a teacher for 23 years. Garcia was killed by a gunman alongside colleague Eva Mireles and 19 students in the deadliest school shooting the U.S. has seen in a decade. All of those killed were inside of the classroom that shooter Salvador Rolando Ramos barricaded himself inside of. Martinez said that Garcia used herself as a shield for the children. 
"I want her to be remembered as someone who sacrificed her life and put her life on the line for her kids," he told The Washington Post this week. "They weren't just her students. Those were her kids, and she put her life on the line, she lost her life to protect them. That's the type of person she was."
Seventeen others were also injured in the shooting. 
As for Joe, who was "high school sweethearts" with his wife of 24 years, he died of a heart attack just days later. "I truly believe Joe died of a broken heart and losing the love of his life of more than 25 years was too much to bear," Austin wrote.