Malfunctioning Escalator Injures at Least 20 in Rome Metro Station
Visiting fans of Champions League team CSKA Moscow were injured when an escalator malfunctioned in Rome.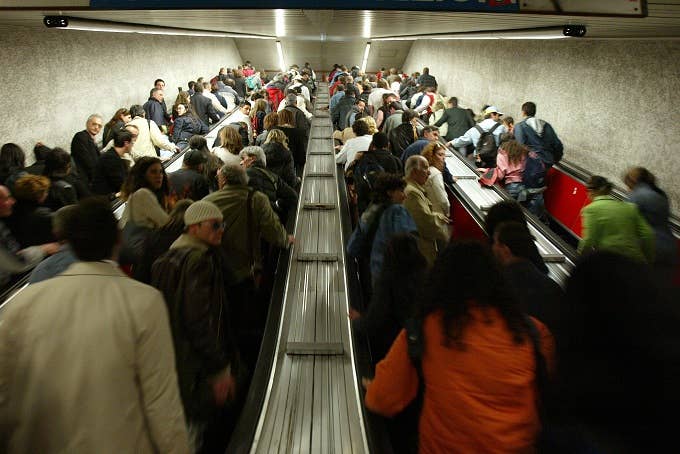 Getty
Image via Getty/Giuseppe Cacace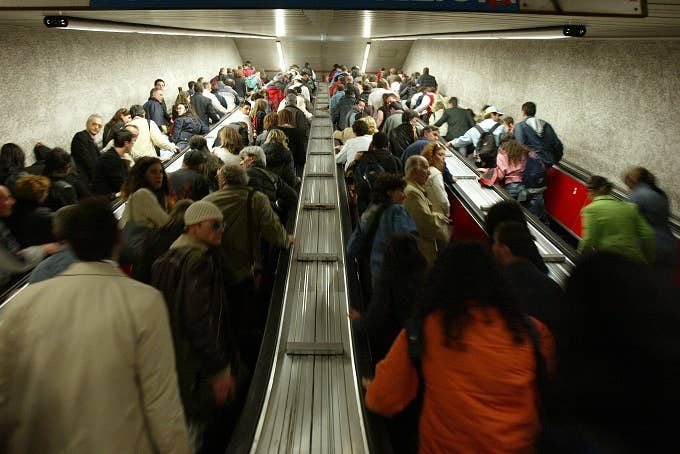 All due respect to the late Mitch Hedberg, but it turns out escalators can break. As many as 30 people were injured by a malfunctioning escalator in a Rome metro station when it sped up to unsafe speeds, causing a pile-up. 
Many of the people on the crowded escalator at the Repubblica – Teatro dell'Oper station appeared to be fans of the Champions League soccer team CSKA Moscow. They were in town for today's match with Roma. A witness told the Irish Mirror that the escalator malfunctioned after several fans jumped on it. In the unsettling video, riders can be seen clinging to the handrails to avoid the pile-up, with a few managing to pull themselves onto the divider between the two escalators. Several people on the other escalator are seen reaching out to help people escape the broken escalator.
Rome newspaper Il Messaggero reported that 20 people were wounded, one seriously. Russian Embassy representative Dmitry Gurin told the Mirror the number was actually 30.
"30 people were injured from among the fans of the CSKA football club in connection with the accident on the escalator of Rome's metro station," Gurin said. 
The Daily Star reports that that serious injury resulted in one person getting their foot amputated. Messeggero said that one person was stuck between the plates at the foot of the escalator, which ultimately caused the malfunctioning escalator to stop.