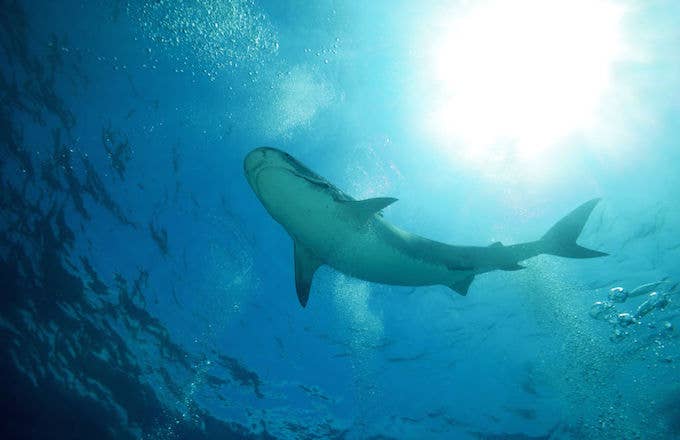 San Antonio is arguably the most chill major city in Texas. It boasts of the best basketball franchise ever, the best grocery store in existence, and tons of activities such as the local aquarium. As a native of this chill, dare I say lame town, never in my wildest dreams could I predict it would play host to the most ridiculous scam of summer '18.
On Saturday, two men, a woman, and a baby were caught on security cameras leaving the aquarium after snatching a 16-inch female horn shark from its tank and placing it in the child's stroller. "Miss Helen" is still very much alive and well, and the case is already closed. But how did these people get the balls to steal a whole shark? And why?
"The suspects staked out the pool for more than an hour" waiting for the right moment, the aquarium said in a statement, per CNN. According to officials and the aquarium, this was a planned attack, and the thieves used their own net. Leon Valley Police Chief Joseph Salvaggio told local outlet KSAT, "We thought it was kind of a hoax being that it was Shark Week last week. But it turns out someone actually went inside the aquarium there in Leon Valley and stole a horn shark."
Authorities were able to track the bandits after a two-day search. The hunt led them to a makeshift garage aquarium, created by people who seem to have just really wanted a pet shark. "When we got into the garage and into the house it looked like almost a mock up of [the San Antonio Aquarium]," Salvaggio said. "He knew very much what he was doing and kept that animal alive."
"After grabbing the shark they entered into one of our filter rooms where they poured [a] bucket of bleach solution that employees used for the disinfection of tools into our cold water exhibit filtration system, causing harm to other wildlife," the aquarium statement said. The men put the shark in the bucket and then onto the stroller before making their getaway.  
The criminals have yet to explicitly state why they stole Miss Helen, though Salvaggio seems to think one of the men simply wanted to replace his former pet. "It was something he wanted, he had one of these in the past," said Salvaggio. "He had one that passed away."
The suspects are facing felony theft charges.
"I'm so so happy that we got her back and she appears very healthy," Jamie Shank with the San Antonio Aquarium told KSAT. "I can't believe what she's been through, she's a little fighter. She's a survivor."