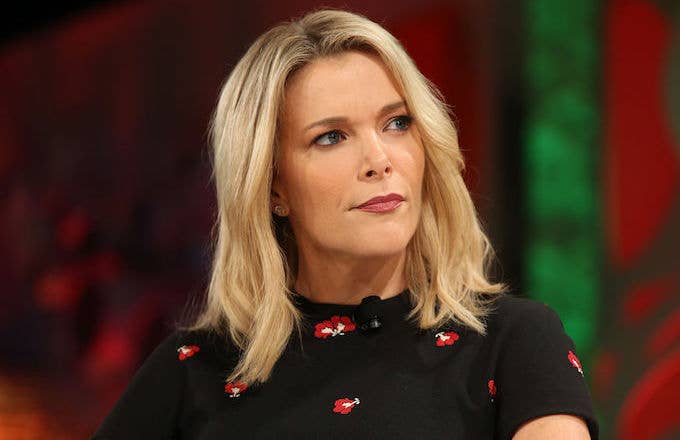 Megyn Kelly's morning show has been a documented disaster ever since it debuted last fall, but her problematic comments about blackface seem to be the final nail in the coffin.
CNN reports that the end Megyn Kelly Today is imminent—a matter of when, not if.
After facing a wave of backlash thanks to her Tuesday morning dismissal of blackface, Kelly returned to her program on Wednesday to apologize. On Thursday, the former Fox star did not host her show, and she is unlikely to return at all this week. "Given the circumstances, Megyn Kelly Today will be on tape the rest of the week," an NBC News spokeswoman said Thursday morning.
Another unnamed source told CNN that Kelly's show is coming to an end, but the parties are still negotiating an end date. It's unclear if Kelly will be leaving the NBC company altogether, or merely letting go of her 9 a.m. slot. As of right now, she's still scheduled to appear during NBC's midterm coverage.
"But what is racist?" Kelly mused on Tuesday, during a panel of only white people on her talk show. She later claimed, "Back when I was a kid, that was OK, as long as you were dressing up as like a character."
People on Twitter quickly tore Kelly to shreds, and she apologized both in an internal email and on her show Wednesday. Internally, her show was already considered a "disaster" with sluggish ratings, so tension within NBC only grew.
"I realize now that such behavior is indeed wrong, and I am sorry. The history of blackface in our culture is abhorrent; the wounds too deep," she wrote in an email to her colleagues on Tuesday.
According to a report from the Washington Post, staffers at NBC are telling NBC News chairman Andy Lack to let Kelly go. Lack reportedly offered Kelly a three-year, $69 million contract in 2017. "Everyone's feeling is, even if you have to pay her [the remainder of her contract], pay her," an NBC staffer told the Post. "Andy, you can save face with this entire thing. Just get rid of her."
But the pressure isn't only internal. The cast of House of Cards reportedly pulled out of an appearance after Kelly's comments, according to Page Six. The days of Megyn Kelly Today are certainly numbered.