Amazon CEO Jeff Bezos and Wife MacKenzie Prepare for $137 Billion Divorce
The couple announced their split after 25 years of marriage.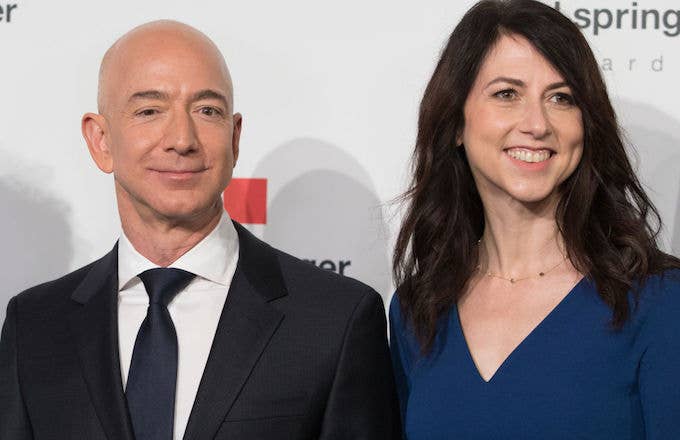 Getty
Image via Getty/Jörg Carstensen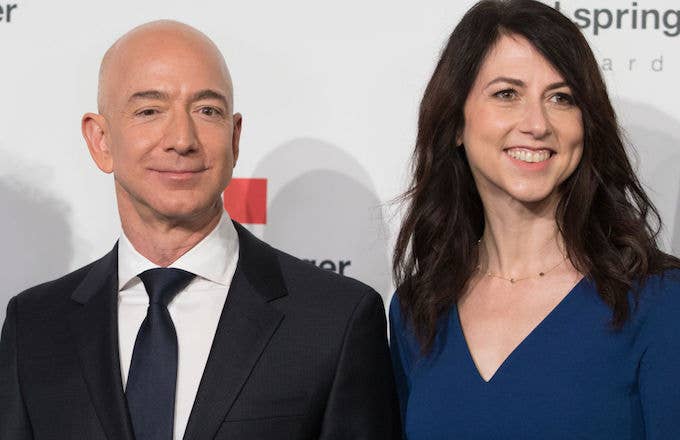 These days, divorce is more common than not, and all the money in the world couldn't prevent it.
Amazon CEO, world's richest man, and iguana eaterJeff Bezos announced on Wednesday that he and his wife MacKenzie are getting divorced after 25 years of marriage.
"As our family and close friends know, after a long period of loving exploration and trial separation, we have decided to divorce and continue our shared lives as friends," the couple wrote in the statement shared on Twitter. "If we had known we would separate after 25 years, we would do it all again."
The split seems pretty amicable, but it's still got that dramatic edge tabloids love thanks to its alleged price tag. TMZ reports there is around $137 billion on the line in this divorce. Of course, it's not surprising that the world's richest man would go on to have the world's most expensive divorce.
The estimated figure seems somewhat high, but the price tag likely includes stock, property, or other things the uber-wealthy have. Jeff and McKenzie reportedly own a total of 400,000 acres of property, making them two of the biggest landholders in the country.
MacKenzie and Jeff Bezos met way before Amazon, at the bank D.E. Shaw, before heading from New York to Seattle to start the tech giant. They got married in 1993, and have four kids together.
At one point, MacKenzie also worked for Amazon. She likely helped her husband get the business off the ground, and continued to champion his unprecedented, ethically questionable success. It's unclear if the two had a prenup, but if not, this story is likely going to hit news feeds again, as we all gawk at the insane amount of money these people have.