2020 Democratic Candidates Calling for Trump's Impeachment Following Mueller Statement
In his first public statement about the Russia investigation, Robert Mueller made reference to Congress' ability to begin impeachment proceedings.
Getty
Image via Getty/Mandel Ngan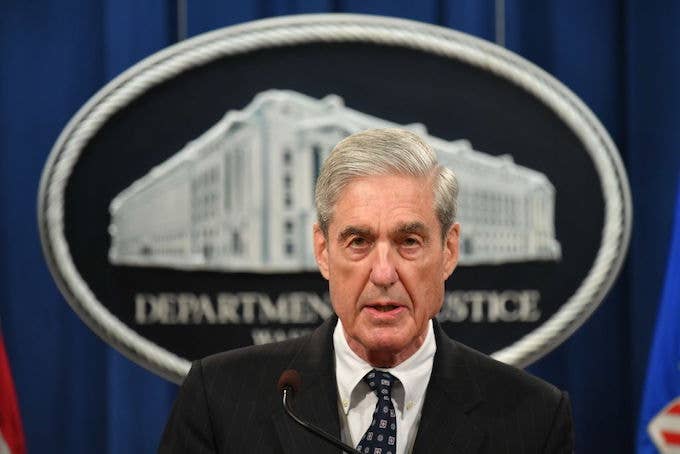 In his first public statement since he was appointed special counsel, Robert Mueller said that during the two-year-long investigation into Russian interference in the 2016 presidential election, his office was prohibited from considering whether or not to pursue charges against a sitting president, and declined to clear Donald Trump of obstruction of justice. 
"If we had confidence that the President clearly did not commit a crime, we would have said so," Mueller said at the Justice Department Wednesday. "We did not however make a determination as to whether the President did commit a crime."
Mueller also mentioned that although DOJ guidelines prohibit the indictment of a sitting president, the Constitution provides the legislative branch with the means to hold Trump accountable. As noted by the New York Times, this mention was in clear reference to Congress' ability to begin impeachment proceedings. 
The president promptly took to Twitter to respond to Mr. Mueller's remarks, declaring "the case is closed," and wrongfully assuming that Mueller's findings substantiate his self-proclaimed innocence. 
However, the special counsel was firm in his statement that investigating the Russian interference, and Trump's alleged role in fostering that breach and obstructing the investigation, is a profound inquiry. 
"When a subject of an investigation obstructs that investigation or lies to investigators, it strikes at the core of their government's effort to find the truth and hold wrongdoers accountable," he said. "I will close by reiterating the central allegation of our indictments, that there were multiple, systemic efforts to interfere in our election. And that allegation deserves the attention of every American."
Mueller also confirmed that he will be closing the special counsel's office and resigning from the DOJ. He told reporters that "the report is my testimony," and suggested that he will not testify before the House Judiciary Committee. 
2020 Democratic candidates and other prominent members in the party echoed previous calls for impeachment in the wake of Mueller's statement. 
"Congress has a legal and moral obligation to begin impeachment proceedings immediately," Cory Booker wrote on Twitter. 
"Mueller's statement makes clear what those who have read his report know: It is an impeachment referral, and it's up to Congress to act," Elizabeth Warren noted. "They should."
House Judiciary Chairman, Jerry Nadler, said in a statement that it's now Congress' responsibility to hold the president accountable for his crimes. 
"Given that special counsel Mueller was unable to pursue criminal charges against the President, it falls to Congress to respond to the crimes, lies and other wrongdoing of President Trump -- and we will do so," Nadler said. "No one, not even the President of the United States, is above the law."