'Apprentice' Staffers Doubt Trump's N-Word Tape Exists
"If somebody had the goods, it would have leaked long ago."
Getty
Image via Getty/Saul Loeb/AFP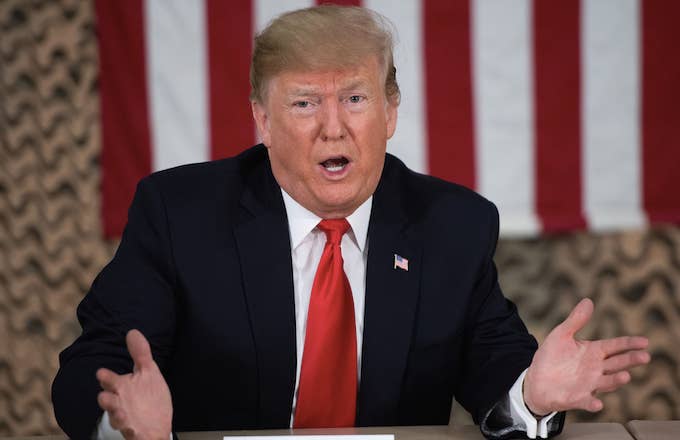 Donald Trump has a habit of spewing lies, misleading statements, and wildly offensive comments. But was he ever recorded using the N-word on The Apprentice set? The show's creator says it's unlikely.
According to a recent piece from the New Yorker, Apprentice producer Mark Burnett expressed his doubt that Trump's rumored N-word tape actually exists. Though such a recording wouldn't reveal anything new about the president, many Trump critics have anxious to see the supposed tape surface. 
"If there was a tape, it would have spread like wildfire," Burnett said.
Jonathon Braun, an editor who worked on the first six seasons of the Apprentice, also has his doubts.
"I was the supervising editor on the first six seasons," he said. "I didn't watch every frame, but in everything I saw I didn't hear him saying anything so horrible."
Comedian Tom Arnold claims he has obtained unreleased Apprentice outtakes that feature Trump saying "every bad thing ever, every offensive, racist thing ever." He spoke about the alleged footage during an interview on KIRO Radio.
"When the people sent it to me, it was funny," Arnold said. "Hundreds of people have seen these. It was sort of a Christmas video they put together. He wasn't going to be president of the United States. It was him sitting in that chair saying the N-word, saying the C-word."
Ex-White House staffer Omarosa Manigault-Newman, a former Apprentice contestant, claims she, too, has heard the alleged N-word tape; however, it seems the team behind the reality series isn't convinced.
"If somebody had the goods, it would have leaked long ago," an Apprentice staff member told the New Yorker. "There were no Trump fans on the set. I don't know a single person who worked on the show who voted for Trump."
Though staffers claim they never heard Trump use the racial slur on set, they said he had a habit of making inappropriate comments about women. 
"He'd say, 'How about those boobs? Wouldn't you like to f**k her?'" an anonymous Apprentice employee told the publication.