Graffiti Artist and Tattooist Mike Giant Is Always Evolving
Artist and subculture renaissance man Mike Giant talks about graffiti work, evolving, bike culture, and his idol Marshall "Major" Taylor.

Writer + Social Media Manager based in Austin, Texas. Interests include fashion, rap, and pro wrestling.
Nov 14, 2018
For years, Hennessy has embraced the moniker 'Never Stop, Never Settle.' To celebrate the latest chapter of its storied campaign, the brand teamed up with Complex to produce 'Piece By Piece', a four-part video series that takes an intimate look at the subterranean artists that shape both underground and mainstream culture through unmatched grind and persistence.
"I never set out to be an artist who pushed [any] kind of agenda," Mike Giant tells Complex. "It just happens naturally."
That idea of natural momentum represents a guiding force in Giant's life. The Boulder native flexes his abilities as an illustrator, tattooist, and graffiti artist to tell his stories, allowing the medium of his message to evolve as he does.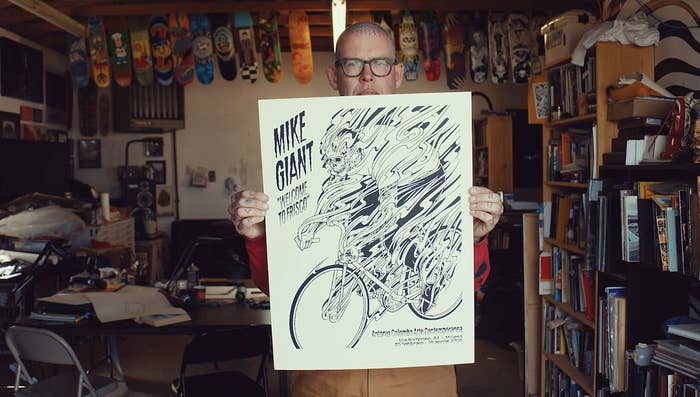 "In my own life, when I feel like I've gotten a task figured out, I kind of let it go and start from scratch," he says. "I did skateboard graphics for four years, and by the end of that four years, it was like, 'Okay, I can do this for the rest of my life, but to what end?'"
"I had a year of just tough times," he continues. "Then I started tattooing [and] that took off."
I never set out to be an artist who pushed [any] kind of agenda. It just happens naturally.
One of the themes connecting Giant's work is bike culture, as cycling has been a significant part of his life "ever since [he] can remember." So much so that he tatted the name of his idol, Marshall "Major" Taylor—a world-champion and record-breaking cyclist—on his knuckles.
"He's just such a compelling figure to me, a model American," Giant explains. "Somebody that so few people know about. He was a black kid when there was still segregation. Luckily he had access to bicycles, and he ended up getting really, really good. He [won] a lot, it broke barriers. He so embodied the things that I find important about life."
For more on Mike Giant's creative inspiration, peep the first episode of Piece By Piece above.