If you happened to be acquainted with Chef Roblé, chances are you are eating pretty well. The Brooklyn chef attended the prestigious Culinary Institute of America before getting his start as a sous chef under Chopped judge Chris Santos. Since then, Roblé has done everything from starting his own nightclub-restaurant called Avenue, working as a high-end caterer serving the likes of Michael Jackson and Barack Obama, and opening his latest venture Streets, a restaurant specialized in high-end spins on street food from around the world.
Complex recently sat down with Roblé in a tasting kitchen in Hoboken, NJ as he prepared food and talked to us about his favorite seasonings, his upbringing, and the worst meal he's ever had and how it completely changed his life. This interview was performed in partnership with Peet's Coffee, who is celebrating the passion that drives people like Roblé in the pursuit of their craft.
​Here is Chef Roblé, in his own words: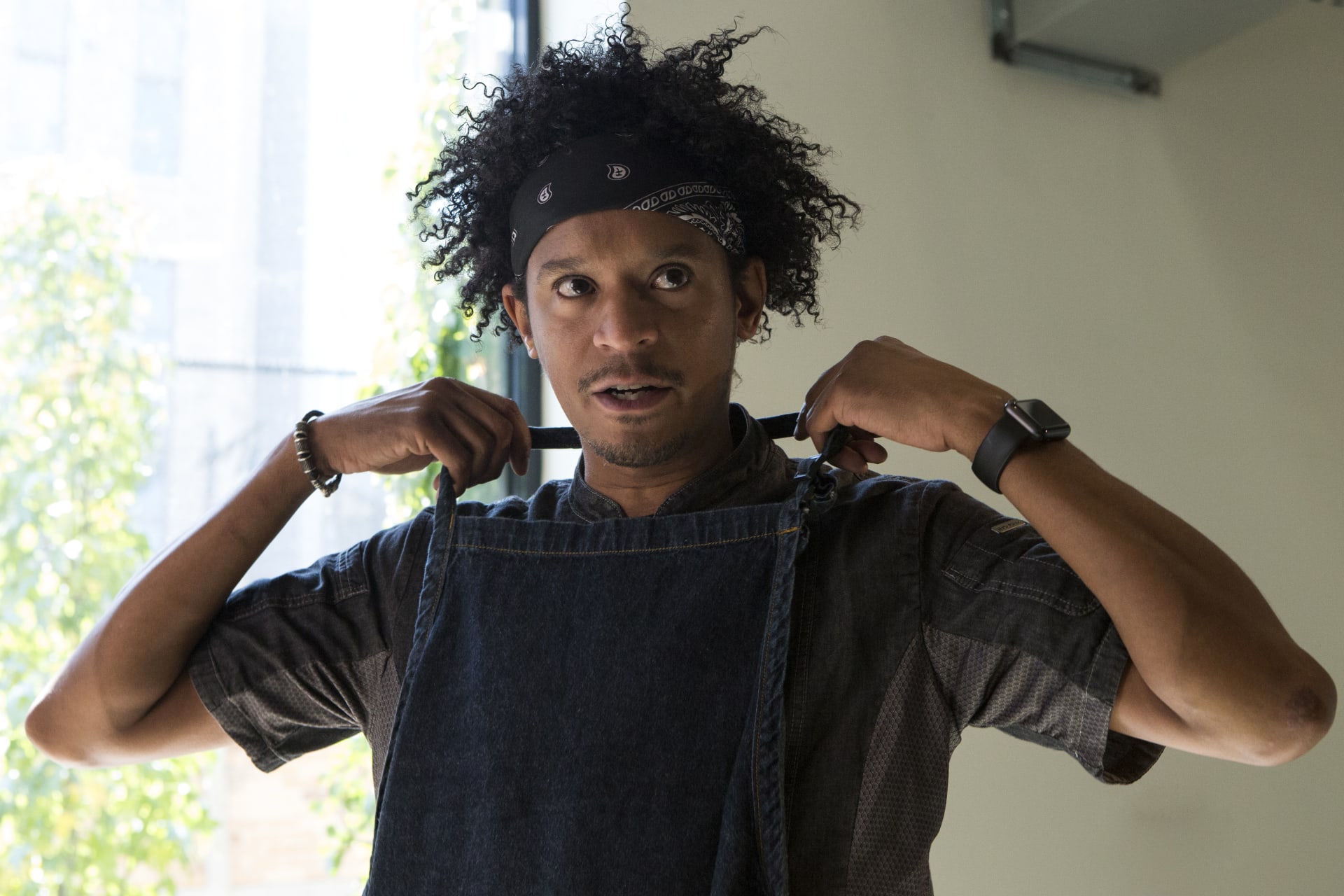 A Taste For Something Better 
"I actually enjoying eating more than I enjoy cooking. When I was a kid I had a meal that was extremely average. I would go to the mosque with my dad and then church with my mom. One day after church we went to this restaurant, I'm not going to name the place, but it's one of those buffet places [in Houston], and there were eight of us. It was just like, 'blah.' I was hungry after sitting in church for five hours (and) the highlight of that meal was the soft serve ice cream at the end of it. It kind of pissed me off, because my mom and my dad, they spent money on this food, went to this restaurant and it was not good. I thought, 'You know what, if I want to eat well all the time, I'm going to have to learn how to cook,' so I started teaching myself how to cook."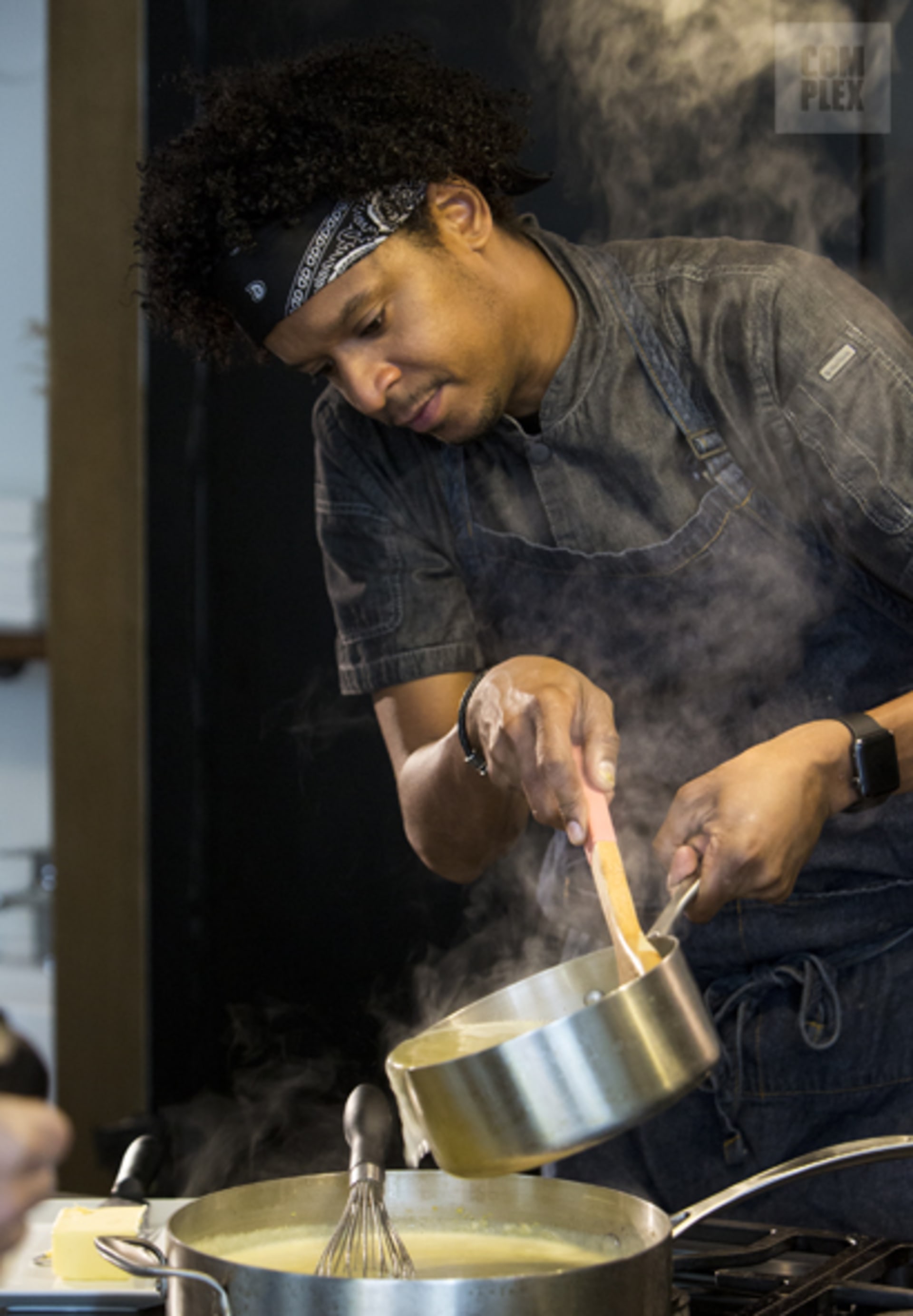 Humble Beginnings 
"I had this after-school job. They stuck me in this terrible area, and I'm surrounded by all these files in this room, and fluorescent lights. I would just be sifting through files and refiling stuff, I'm not learning anything. I did a shit job, and I got a terrible review.
I thought, 'Good, I didn't want to do that anyway. I'm going to go work at a grocery store, they have catering there, a deli,' so I went there, I'm slicing meat, cutting my fingers every other day, and learning something, making sandwiches and potato salad and lasagna. I worked there, and then went back to New York and I applied for culinary school."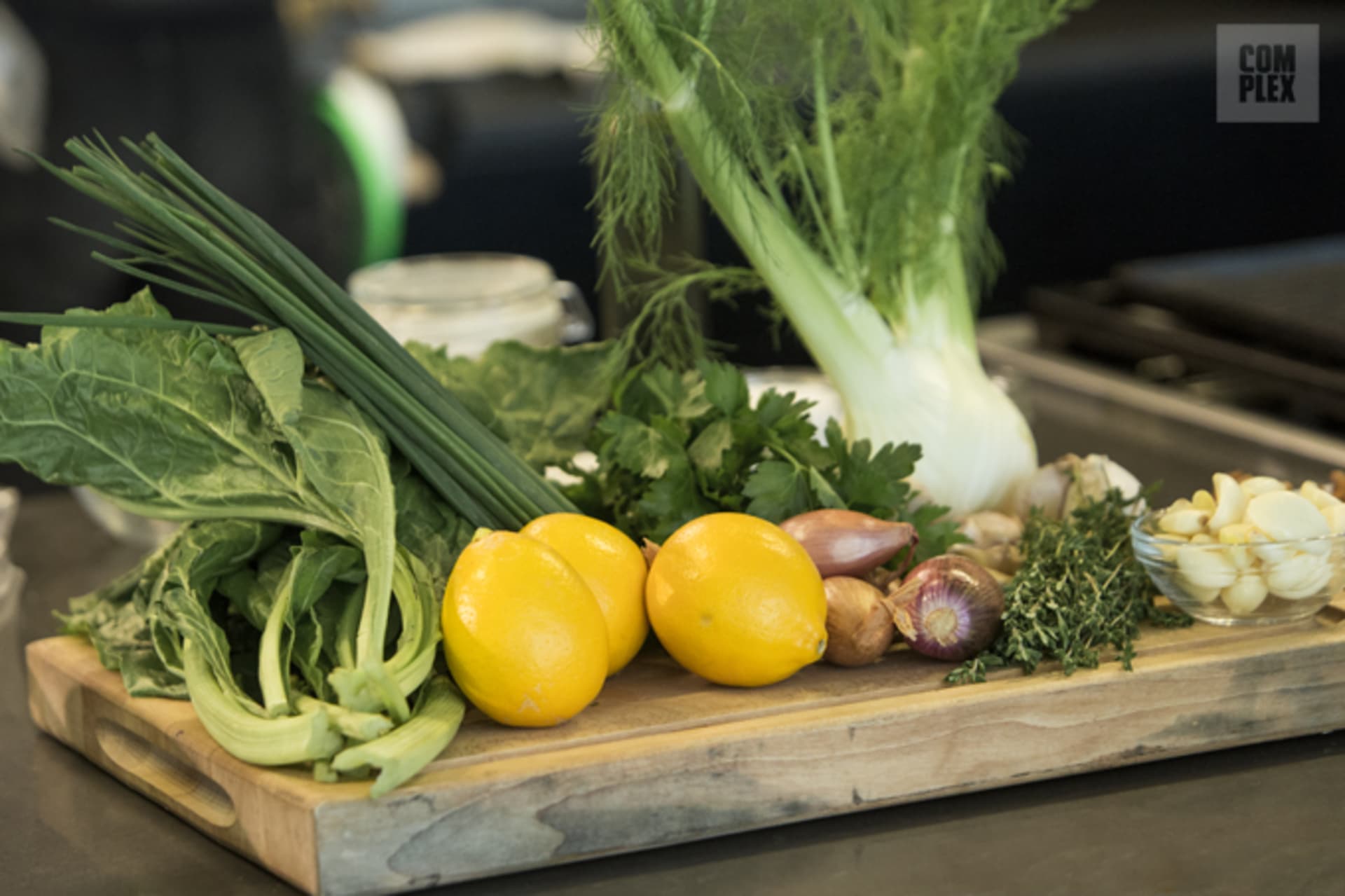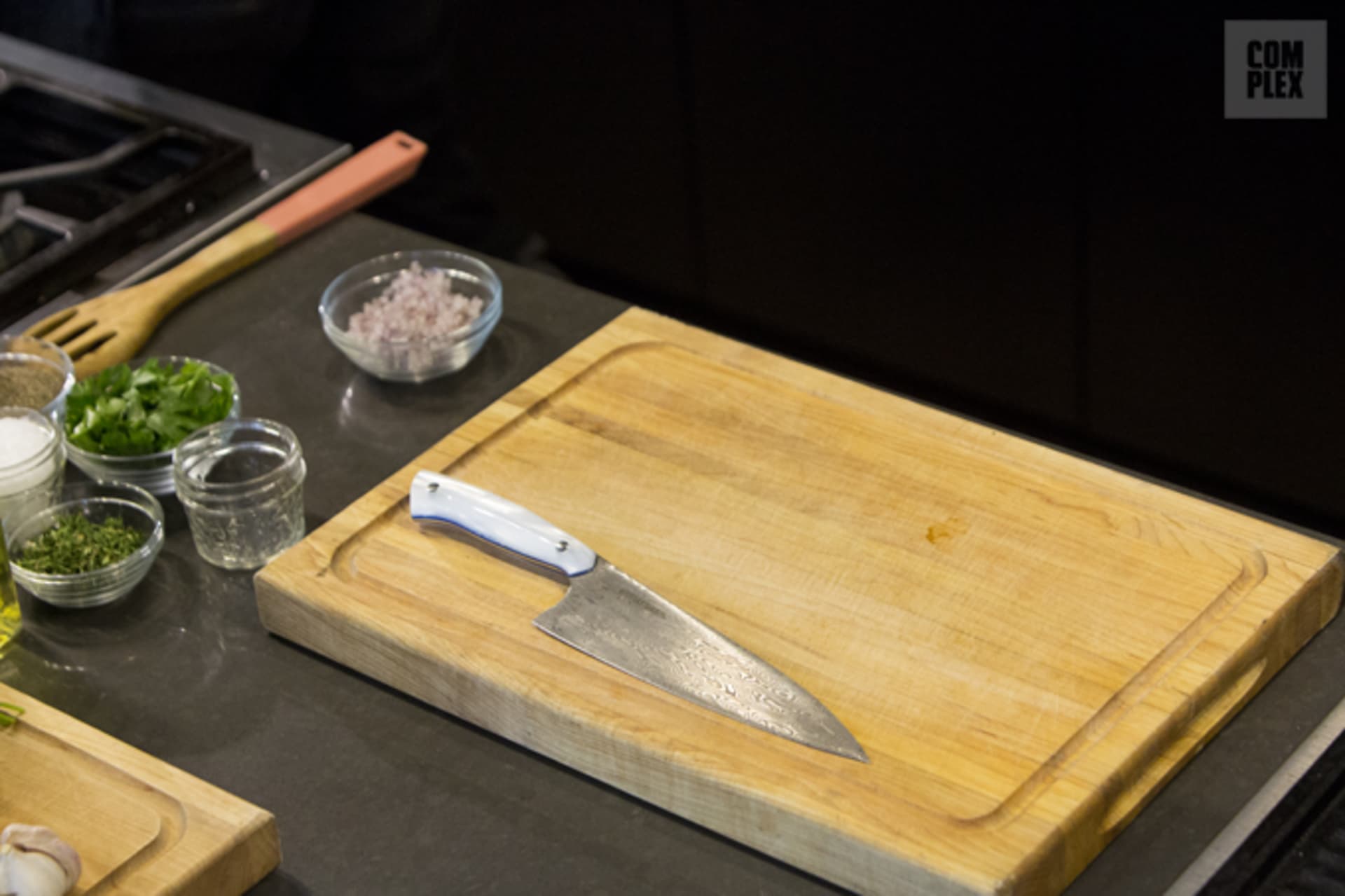 A Dash of Luck
"I got lucky really, the reason that I was so young is because I ended up getting kicked out of culinary school, so I had to start working and I got really blessed to be able to work with a guy named Chris Santos. He's the man now, I mean he was the man then but he didn't even have a restaurant at the time. Now he's got Stanton Social, three Beauty & Essex's—there's one here, there's one in Vegas, and he's opened one in LA. I started working with them and then I opened up a nightclub-restaurant called Avenue in Manhattan. Because I was cooking for celebrities every night, it drew attention to me."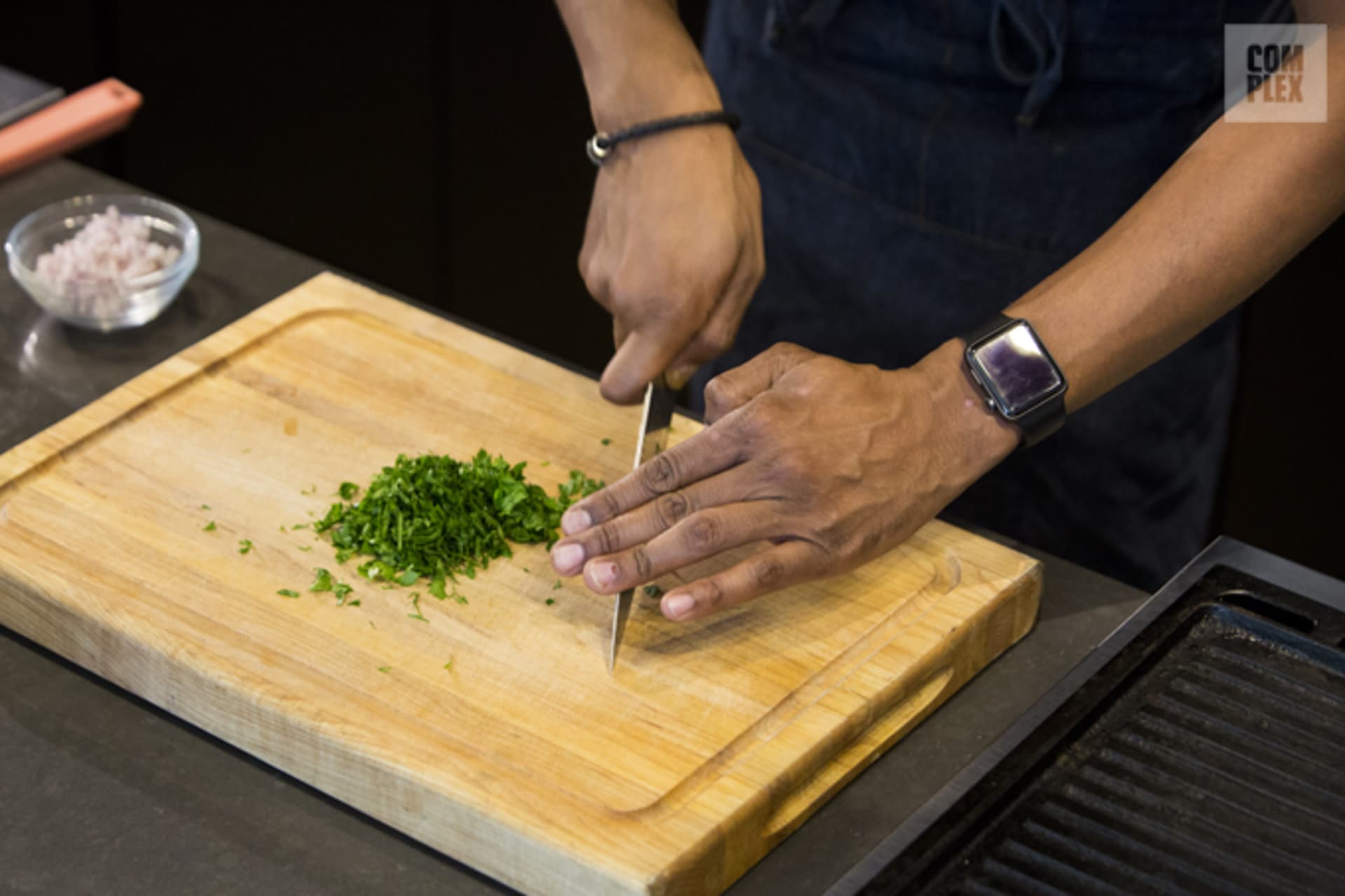 Taking It To The Streets
"My restaurant Streets is in Williamsburg, I'm on the edge of Williamsburg. What we do at Streets is something very different. We're doing global street food, things that you would find in your travels, all the best of the best from all around the world, but all under one roof, in one place. It's a place you can come and go all around the world culinarily in a short amount of time."
Let the Flavors Speak
"If you start with good ingredients, cooking is easy because it's already good, just don't mess with it too much, let it be what it is, let the flavors speak through, and work with things that are in season."
The (Lemon) Zest Of Life
"A lot of times recipes will call for lemon juice, but they don't say anything about lemon zest. Now if you really examine a lemon, there's way more flavor on the outside of that lemon than there is on the inside of a lemon. Lemon juice, we all know what that tastes like. But just try even scratching a lemon and sniffing it. It smells so crazily intense. I use lemon zest in seafood, pasta. You could do a spaghetti with some lump crab meat in there and some olive oil, salt, pepper, lemon zest, and toast some bread crumbs. Boom. Easy, simple, amazing food."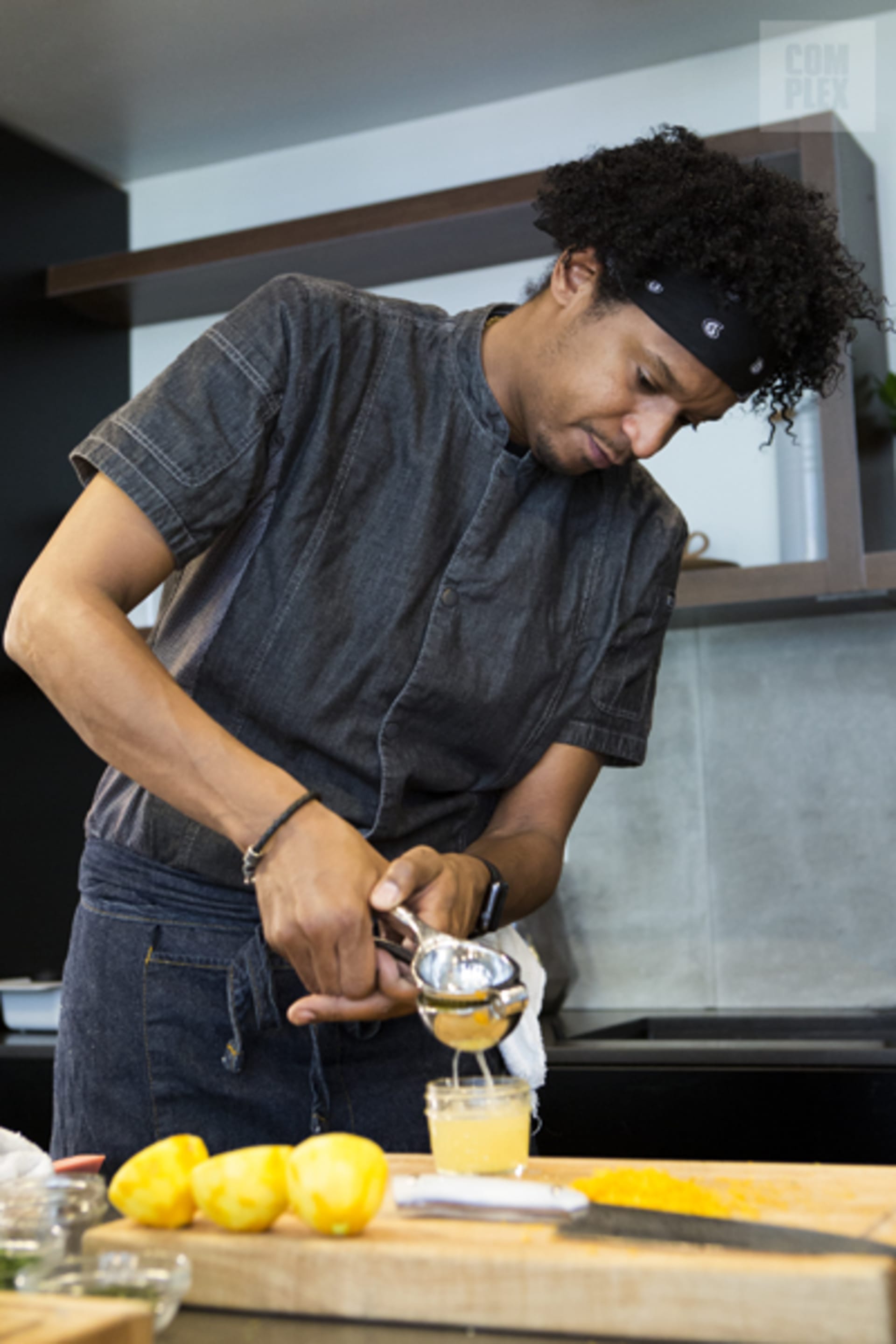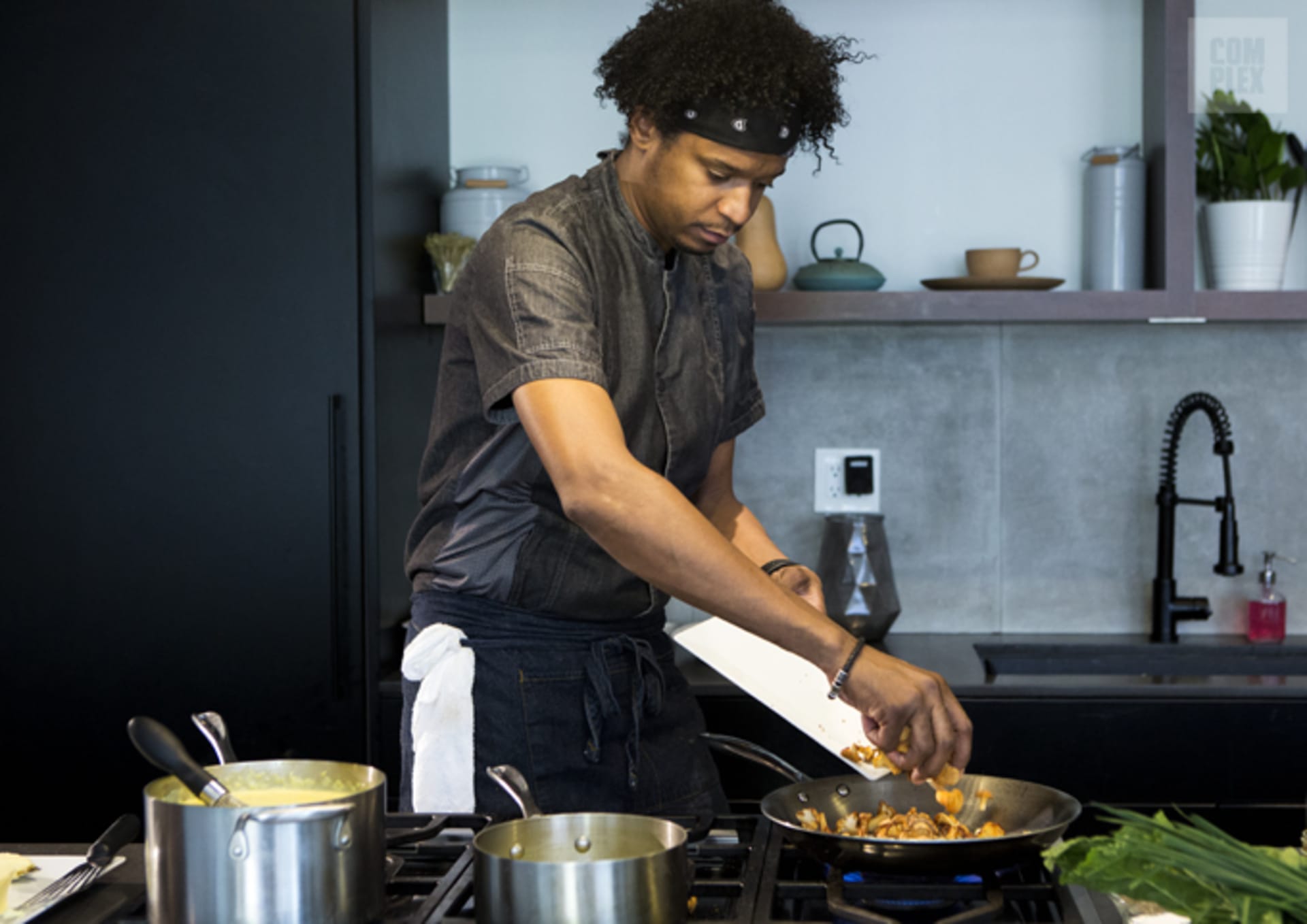 There's No Place Like Brooklyn
"I've spent most of my life in Brooklyn, so Brooklyn is home to me. I love Brooklyn. I'm the Brooklyn chef. You're not going to find a place with a higher concentration of good, affordable restaurants than Brooklyn. Queens is close, maybe they're even, but I live in Brooklyn, so I'm going to say Brooklyn, even in just Williamsburg alone. There's just endless variety and possibilities and all kinds of price ranges."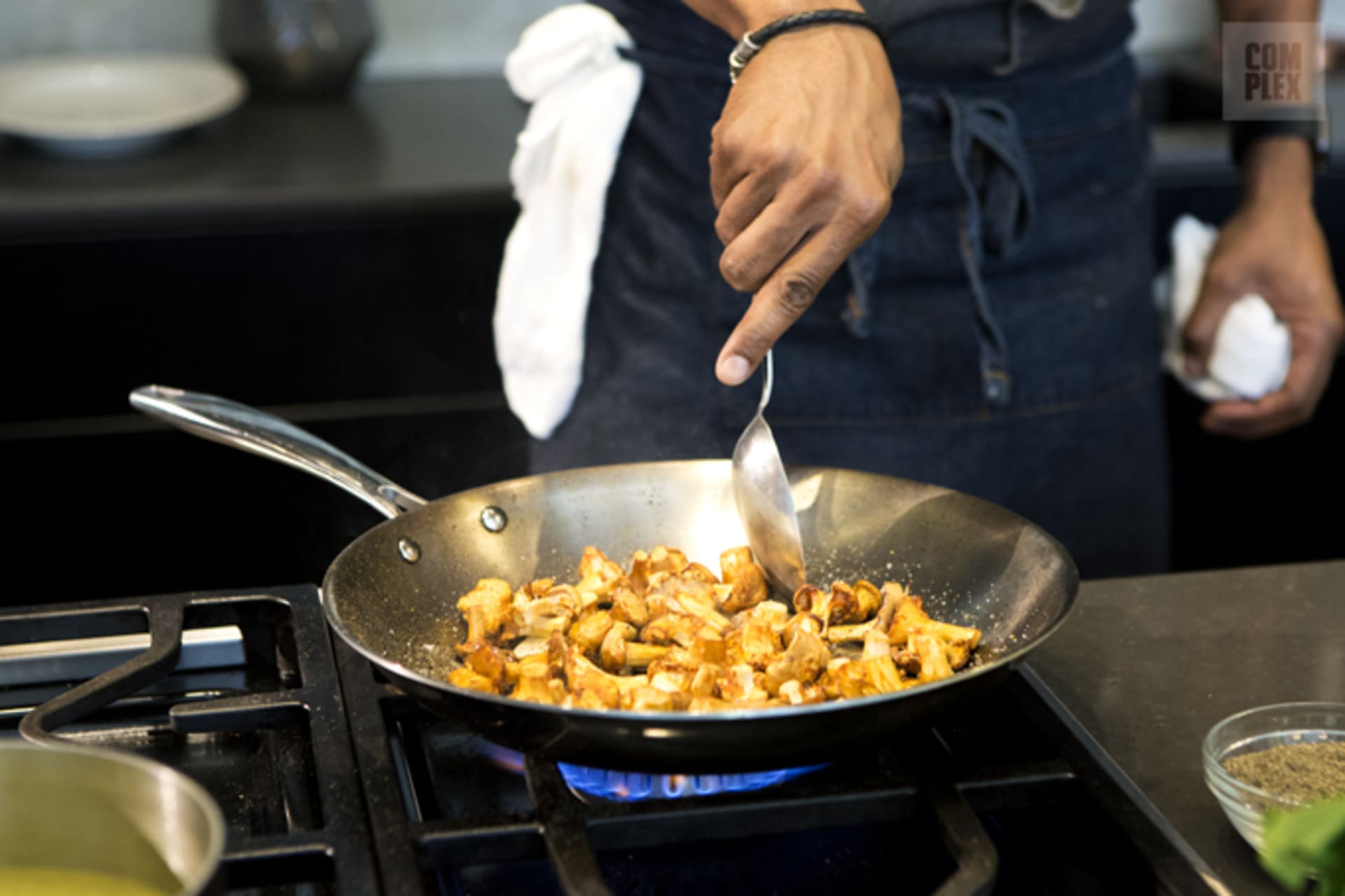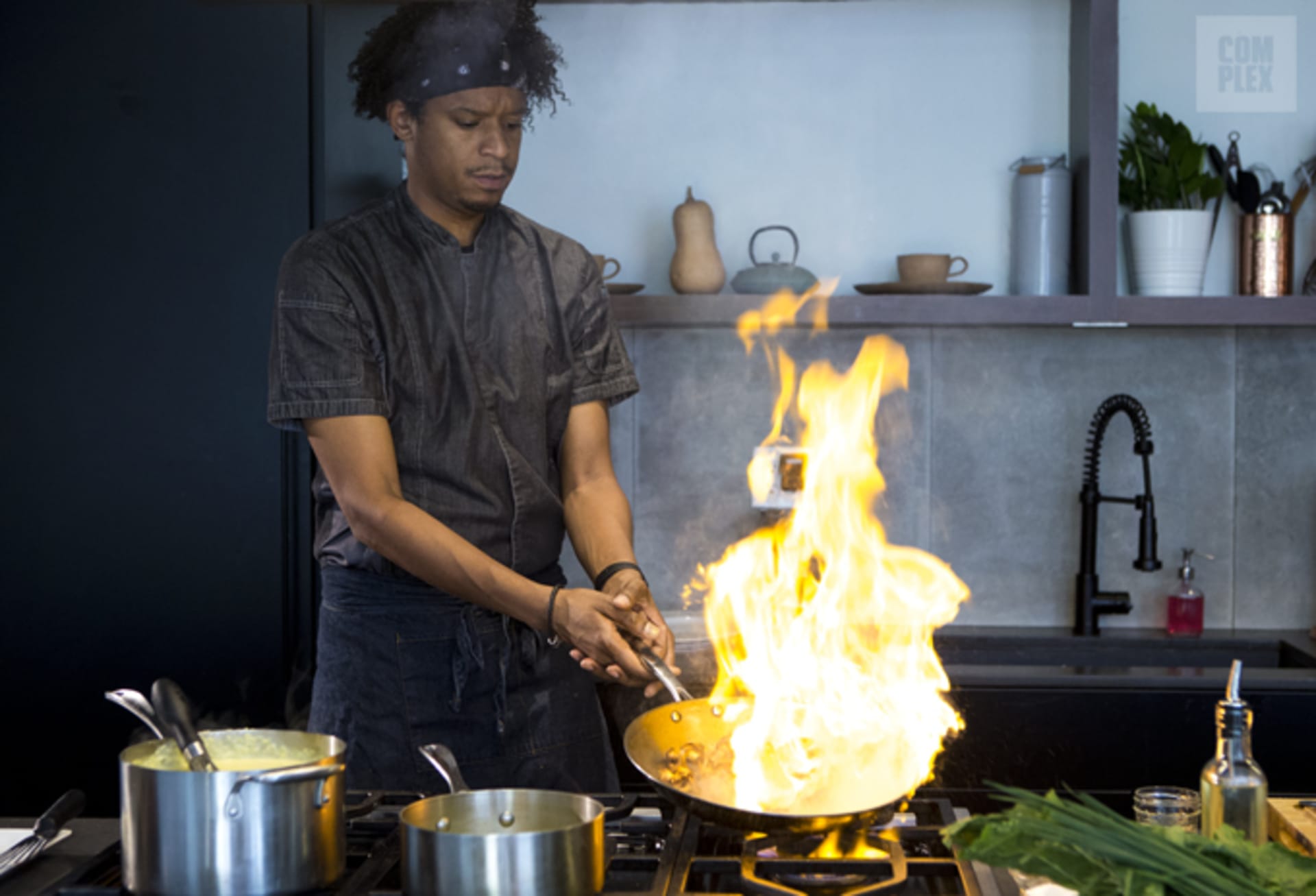 Playing with Fire
"Cooking with fire is primal. I always loved to play with fire, I'm pretty sure that's one of the reasons I cook. There's something about burning embers, about wood or coal, there's a flavor that it gives to food that you can't get anywhere else. It's smoke, it's the fat dripping off of the steak, and then smoking back up off of the charcoal and going back onto the steak, or the cherry wood, mesquite. Whatever cooking medium you're using imparts a different kind of flavor. Even a wood-burning oven is going to give you a different kind of pizza than an oven that's burning natural gas. It makes a huge difference."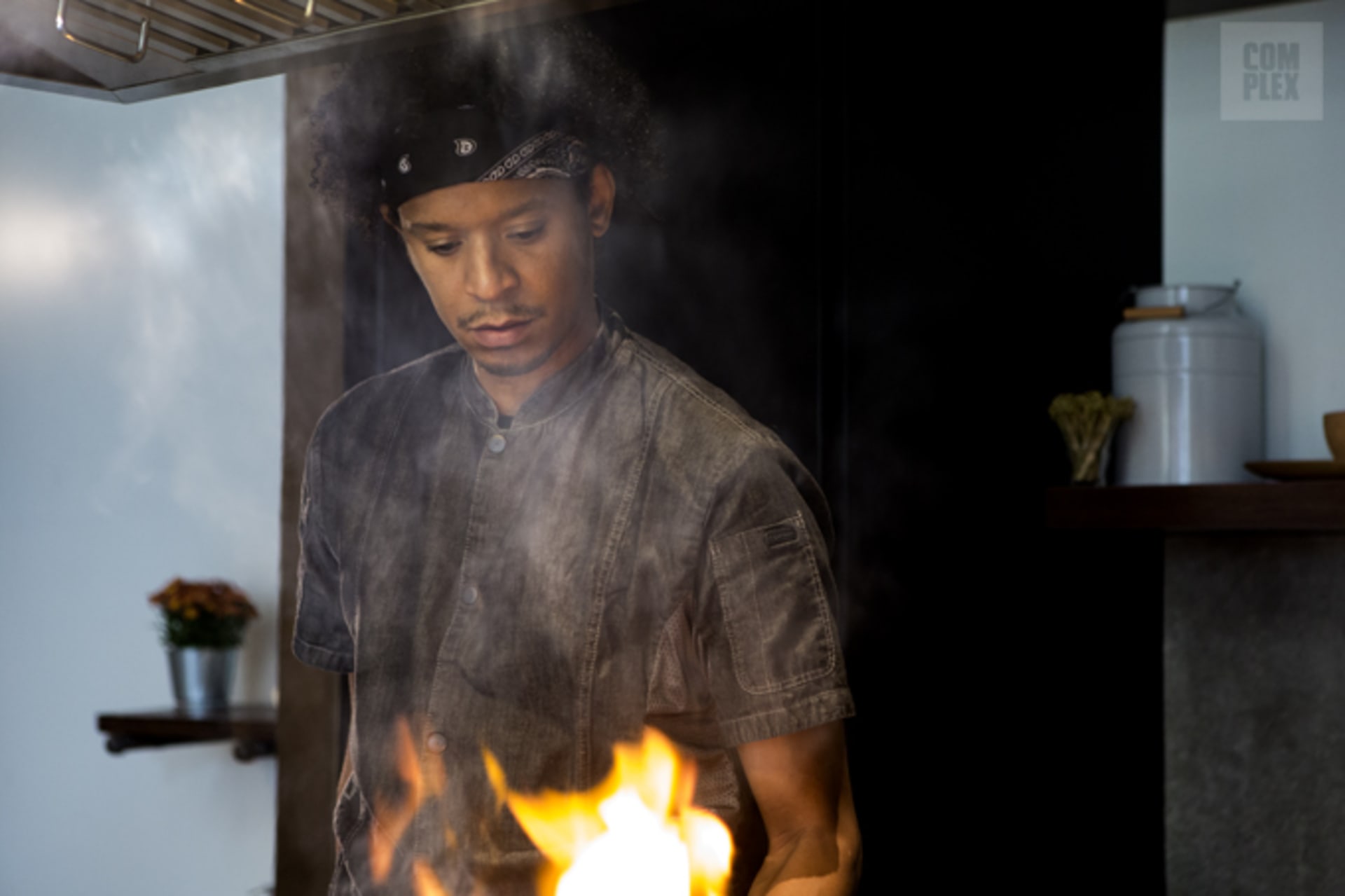 Coming Correct
"I draw my inspiration from the food itself. What's available, what's local, what's in season, what makes sense, what goes well with what? You've got to think about all those things, about textures and colors and flavors and the way people receive things, people eat with their eyes, so it can't just taste good it needs to look good too.
My passion is doing things correctly, doing things right, make it nice or make it twice, I don't mess around. Anything that I do, I'm going to do it well. If I'm cooking food, I'm going to put everything into it. If I'm cleaning the toilet bowl, it's going to be the cleanest toilet bowl you ever saw. You know what I'm saying, if I'm washing the car, every little detail of it is going to be as perfect as I can possibly make it."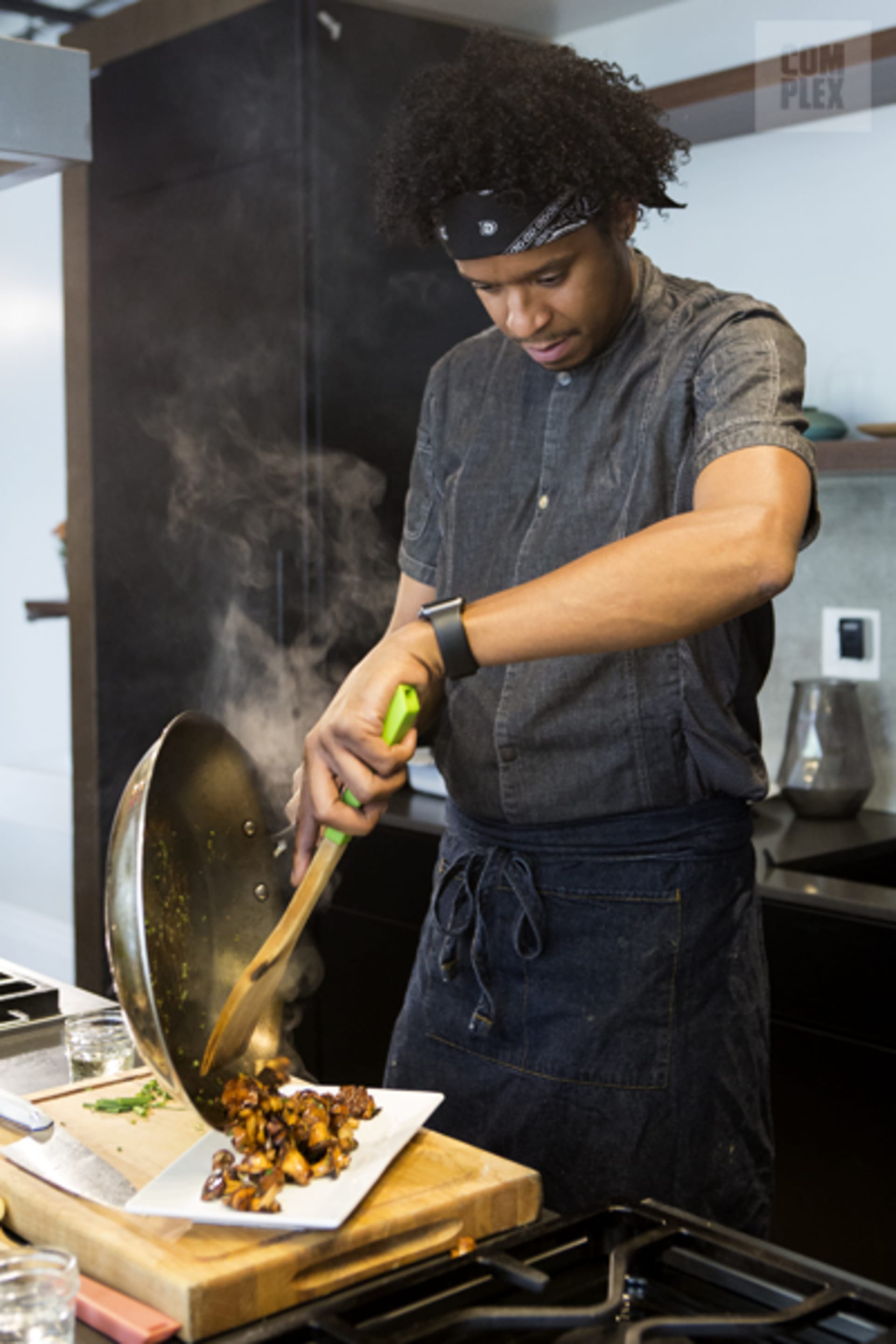 South Carolina Cooking
"What I cooked today was a northern version of something southern. I spent a few days in Charleston, South Carolina, and shrimp and grits is huge down there, I had it like three times just at different events and things that I went to. I had that on the brain a little bit, but I wanted to give it a different spin so I used these big large prawns, those are from East Africa, and instead of using grits –which is white hominy– we used yellow corn, so it's basically Italian polenta. I seared off some snapper, my favorite mushrooms are in season –chanterelles– and sautéed some Swiss chard and folded in a little bit of raw radicchio in there."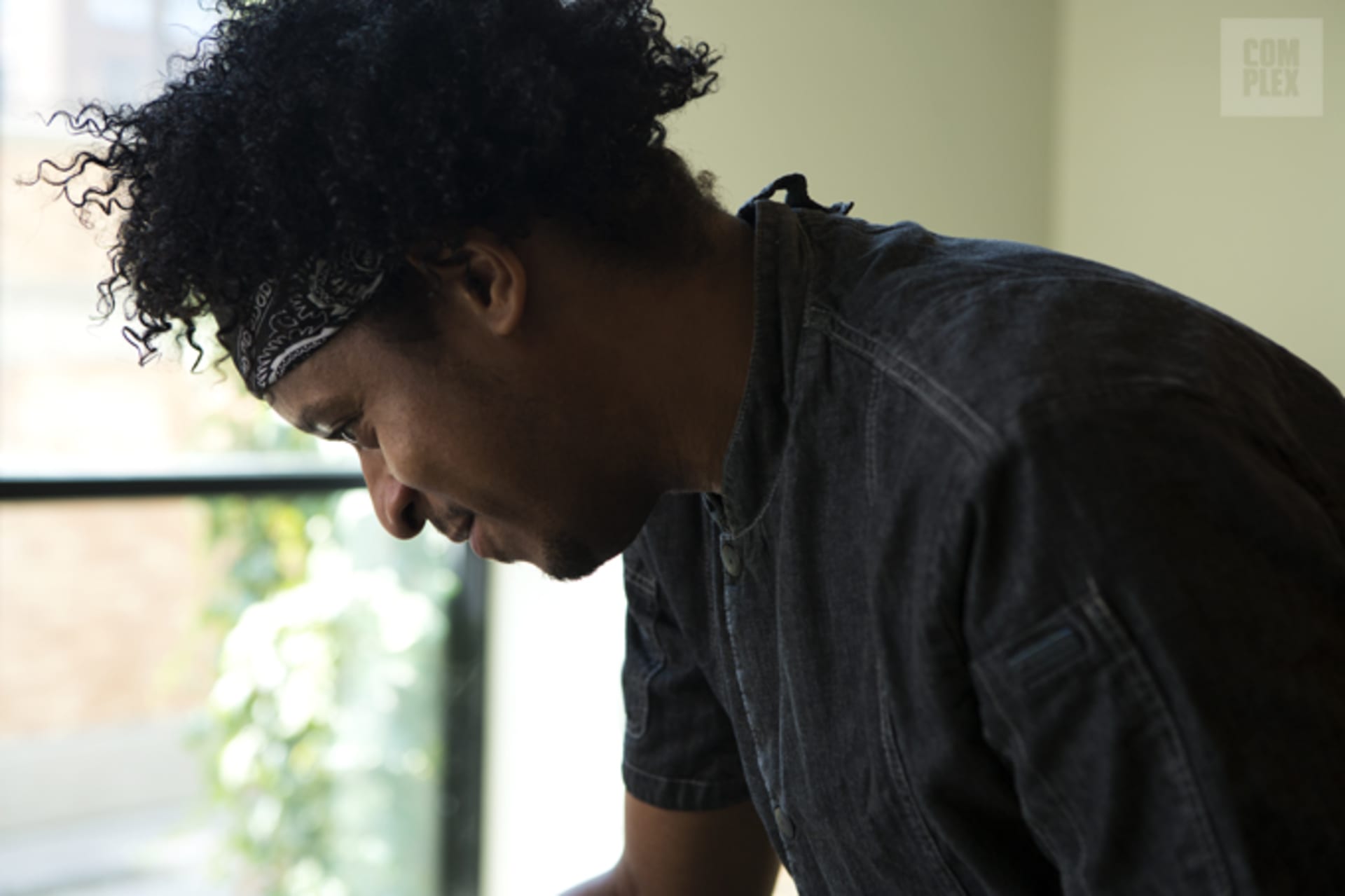 Making Cooking Cool
"My grandfather, who's also a chef, he was the person that made it cool, 'cause he was a cool cat. Dressed fly, drove a Cadillac, he could cook his ass off.
He could do it all, he had a catering company and a restaurant in Philadelphia, in the 60's, which I actually visited not too long ago. In the late 60's they moved to New York and that's where I happened later on of course, but he could do it all, he had a southern food restaurant and he had a catering company. When you have a catering company you have to be able to do anything. I can cook anything. And then when they moved to New York, he ended up being the chef of a really prestigious hospital, Vassar Brothers hospital. He got to cook for President Kennedy, that was his claim to fame. He'd tell you that story a million times. For a black dude in the 60's, that just didn't happen."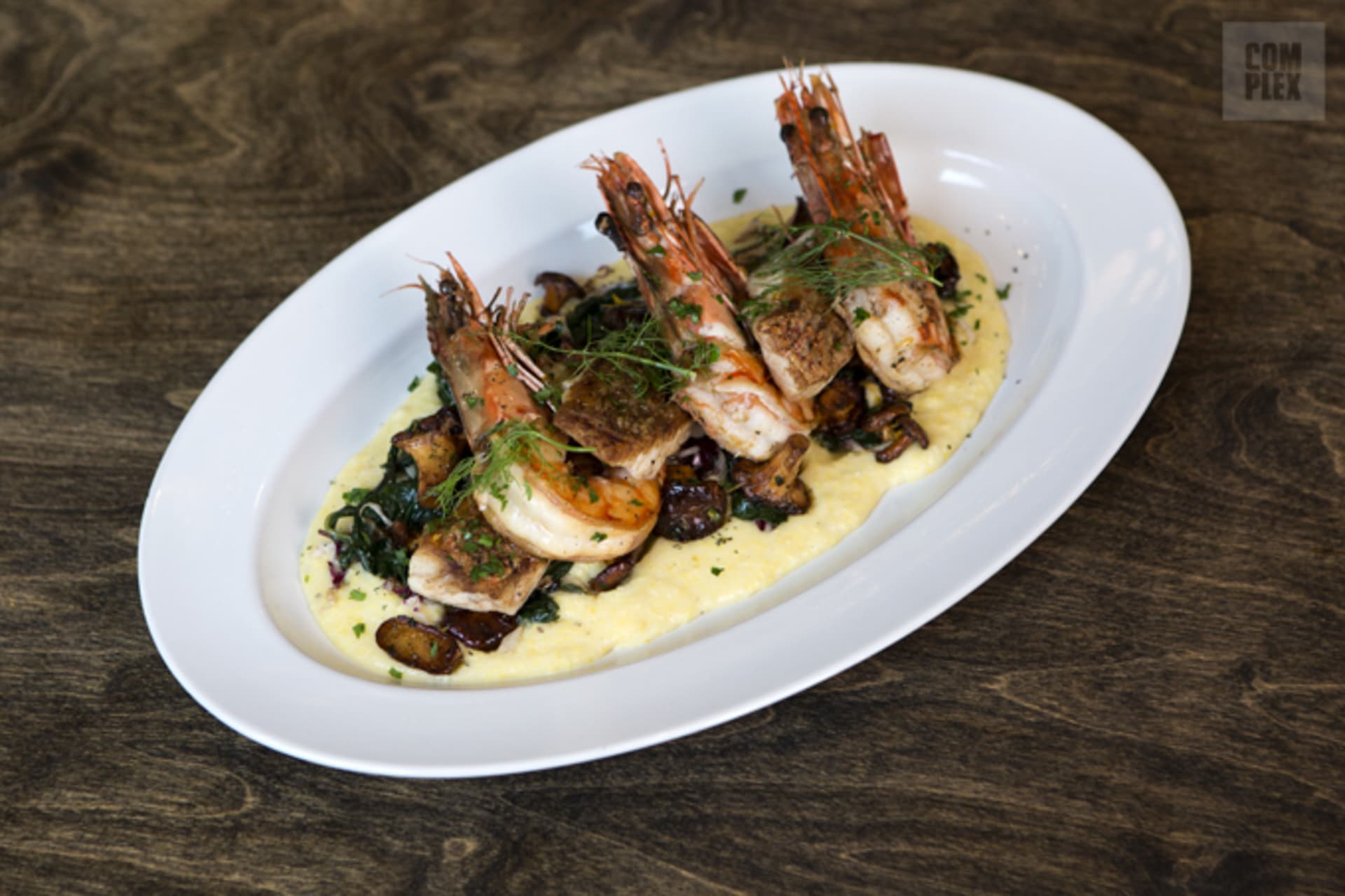 Hospitality Is Everything
"I'm known as a chef, but that isn't how I see myself. I see myself as a hospitality professional. I make sure people have a good time and they're well taken care of, whether that be cooking for them, fixing them a cocktail, hooking them up with a reservation somewhere, or making sure their party's all together, throwing somebody a baby shower, putting on a day party, throwing a pool party,  making sure somebody has a parking space when they get there: I'm a hospitality professional. I like to hook people up and help people. That's what brings me joy."
Inspired by Roblé​'s story? Share your passion on peets.com/passion for a chance to win a year of free Peet's Coffee and be inspired by the stories of others pursuing their craft.​​