An Alabama man who was attacked by a fellow Delta Airlines passenger's emotional support animal has hired a lawyer. Marlin Termaine Jackson was "severely injured" when a passenger's support dog lunged for his face and bit him prior to takeoff, AL.com reported Thursday. The incident occurred on Jun. 4 on a Delta flight set to leave Atlanta for San Diego.
Jackson's attorney, J. Ross Massey of Alexander Shunnarah & Associates, shared graphic images of the resulting facial injuries Thursday. According to Massey, Jackson's injuries required "immediate" ambulance transport to a nearby emergency room. Following 28 stitches, Jackson is currently awaiting the opinion of a plastic surgeon. Permanent scarring is said to be likely. 
Warning: the images below are graphic.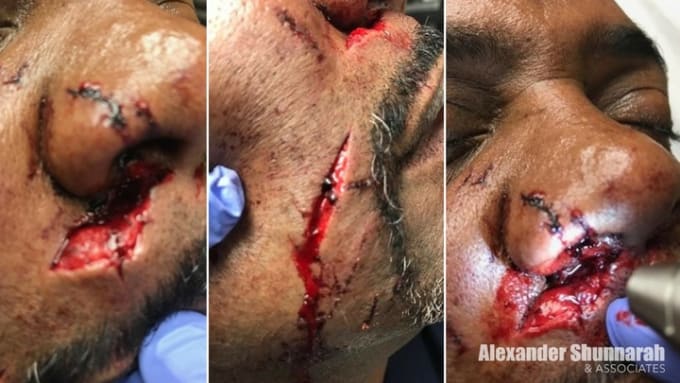 An Atlanta Police Department report on the incident obtained by Fox 10 said Jackson was attacked by a dog belonging to North Carolina resident Ronald Kevin Mundy Jr. In a statement to Complex Friday, Massey underscored the importance of support and service animals while expressing concern regarding Delta's "compliance" with safety policies. 
"It is troubling that an airline would allow a dog of such substantial size to ride in a passenger's lap without a muzzle," Massey said. "Especially considering the dog and its owner were assigned a middle seat despite Delta Air Lines' policies that call for the re-accommodation of larger animals. We expect airlines to follow procedures as required and verify any dogs traveling unrestrained in the open cabin are trained for handling the large crowds and enclosed environments encountered on board an airplane."
Jackson's attorney also provided the following account of the incident:
Marlin Jackson of Daphne, Alabama boarded a Delta Air Lines flight traveling from Atlanta to San Diego on Sunday, June 4. Mr. Jackson was assigned a window seat on the left side of the plane. When Mr. Jackson approached his aisle, passenger Ronald Kevin Mundy, Jr. was sitting in the middle seat with his dog in his lap. According to witnesses, the approximately 50-pound dog growled at Mr. Jackson soon after he took his seat. 

The dog continued to act in a strange manner as Mr. Jackson attempted to buckle his seatbelt. The growling increased and the dog lunged for Mr. Jackson's face. The dog began biting Mr. Jackson, who could not escape due to his position against the plane's window. The dog was pulled away but broke free from Mr. Mundy's grasp and attacked Mr. Jackson a second time. The attacks reportedly lasted 30 seconds and resulted in profuse bleeding from severe lacerations to Mr. Jackson's face, including a puncture through the lip and gum. Mr. Jackson's injuries required immediate transport to the Emergency Room via ambulance where he received 28 stitches. He is presently awaiting consultation with a plastic surgeon. 

Mr. Mundy was moved to an alternate Delta Air Lines flight and his emotional support dog was placed in a kennel in the undercarriage. 
Delta did not immediately respond to Complex's request for comment.