When it comes to American political revolutions, few of us have lived through one as resonant and all encompassing as Bernie Sanders' 2016 presidential campaign. In a bleak two-party landscape that failed to activate the vast majority of young voters this year, millions of Americans from a variety of disparate backgrounds found a champion in an unlikely candidate: a 75-year-old Jewish socialist from Vermont.
Sanders lost the primary, though, and the nation is staring down the barrel of a Trump or Clinton presidency. Still, the movement Sanders catalyzed continues on through his millions of young supporters and a handful of campaign staffers who are staying engaged in the political process. For some, doing so has meant finding common ground with Sanders' former opponent Hillary Clinton. Others are organizing around Sanders' core issues and creating organizations and initiatives that will advance his platform.
However, if the Sanders revolution is to live on beyond this election year, those who carry the torch will have to reckon with the complexities and pressures of modern American politics; namely how to operate in our political process without joining "the establishment."
Will Dowd, founder of the popular and irreverent Facebook group "Bernie Sanders' Dank Meme Stash," first became aware of Sanders in the spring of 2015. While the Vermont senator's politics spoke to him, Dowd says Sanders' wild-card personality is what ultimately compelled him to create a Facebook fan page—one dedicated to meme-ifying America's new unintentionally cool grandpa. Dowd saw his group grow to more than 430,000 members in just a few months, with post after post of internet-ready riffs on the senator.
"He's made to be a meme," Dowd, a 22-year-old private investigator from Long Island, tells Complex. "An old, Jewish man from Brooklyn who has decent but radical left ideals?! And he's a human being. He's weird and interesting, and then you look into him more and realize, 'Oh, he's for all the things I'm for.'"
The success of Dowd's group speaks volumes about how strongly the candidate resonated with young voters and the numbers prove it. During the primaries, the septuagenarian senator won more votes from people under 30 than Clinton and Trump combined. Sanders even captured more of the youth vote (71 percent) during his primary contest than Barack Obama did in 2008 (60 percent).
"HE'S WEIRD AND INTERESTING, AND THEN YOU LOOK INTO HIM MORE AND REALIZE, 'OH, HE'S FOR ALL THE THINGS I'M FOR.'"—WILL DOWD
Dowd says once Sanders conceded the Democratic nomination, members of his once-friendly joke started to turn on him. They began to cajole Dowd into promoting third party candidates Jill Stein or Gary Johnson, and attacked him for using his platform to post anything non-Sanders related. Like the vast majority of Sanders supporters, Dowd says he now supports Clinton, but does so begrudgingly. His Facebook group is "not as much fun anymore," he says. Even so, Dowd finds himself more interested in politics than when he started the group on a whim.
"I'd love to get a job with a political campaign," he says. "I don't know if this [group] shows anything and I don't know if the Sanders campaign even knew we existed. I'm just some schmuck, but we had almost half a million people looking at the page, and memes will almost certainly come into play in all future elections."
To capture that enthusiasm, Sanders' former campaign manager Jeff Weaver launched Our Revolution, a political non-profit dedicated to unifying and empowering the millions of progressives activated by Sanders' run. A pendulum swing in the opposite direction of the Tea Party's grassroots movement on the right, Our Revolution is betting on a "bottom up" approach for continuing to press progressive ideals. The group's site offers a hub for information on ballot initiatives and tasks like phone banking and volunteering. Perhaps most importantly, the organization identifies Sandercrats,  candidates for public office around the country whose politics align with those of the Sanders campaign, and gives them a stamp of approval.
One such "Sandercrat" is Hawaiian congresswoman and rising political star Tulsi Gabbard. Gabbard made waves after resigning from her DNC vice chair position over the manner in which chairwoman Debbie Wasserman-Schultz' was conducting the organization. Gabbard went on to endorse Sanders and was given the honor of officially nominating him at the Democratic National Convention in a moving speech that has been compared to Barack Obama's address at the 2004 convention. In return, Our Revolution has endorsed Gabbard's reelection bid.
However, the road ahead for the Sanders' movement and the people it inspired has been bumpy. Despite Sanders' endorsement of Clinton and Gabbard's presence at the DNC, what to do this election is still a major concern for many Sanders supporters. To be sure, the vast majority—90 percent—of Sanders supporters say they'll support Clinton in the general election, but whether or not those voters will fold into the Democratic Party and its politics is still uncertain.
That challenge was put to the people at Our Revolution this summer. It was reported in August that infighting between younger and older camps from the Sanders campaign carried over through formation of the non-profit. In the end, as many as 15 Our Revolution staffers left the organization before its launch date. The fight was over something at the very core of what separated Sanders from Clinton and other mainstream Democrats: money. Claire Sandberg, the group's organizing director who also served on Sanders' campaign, was one of the staffers who left after it was announced that former Sanders campaign manager Jeff Weaver would be heading Our Revolution.
"It's about both the fundraising and the spending: Jeff would like to take big money from rich people, including billionaires, and spend it on ads," Sandberg told Politico "That's the opposite of what this campaign and this movement are supposed to be about, and after being very firm and raising alarm, the staff felt that we had no choice but to quit."
Only time will tell if Our Revolution will truly hold up to the values of the campaign that inspired so many. For now, the organization seems to be still open to all sources of funding and is registered with the IRS at a 501(c)(4), a classification that will allow it to engage in unlimited lobbying and other explicitly political activity.
"Let's take the passion and fervor and, yes, anger some feel and resolve to do all we can to contribute to making our party better." —Symone Sanders
Meanwhile, Sanders' run for the White House has had a real impact on the Democratic Party and platform being put forward by Hillary Clinton, its nominee for president. The DNC platform now includes, among other things, a federal $15-per-hour minimum wage, marijuana decriminalization, and criminal justice system reform. Clinton has committed to advancing those causes if elected, encouraging a number of Sanders supporters—and staffers even—to declare they are "with her."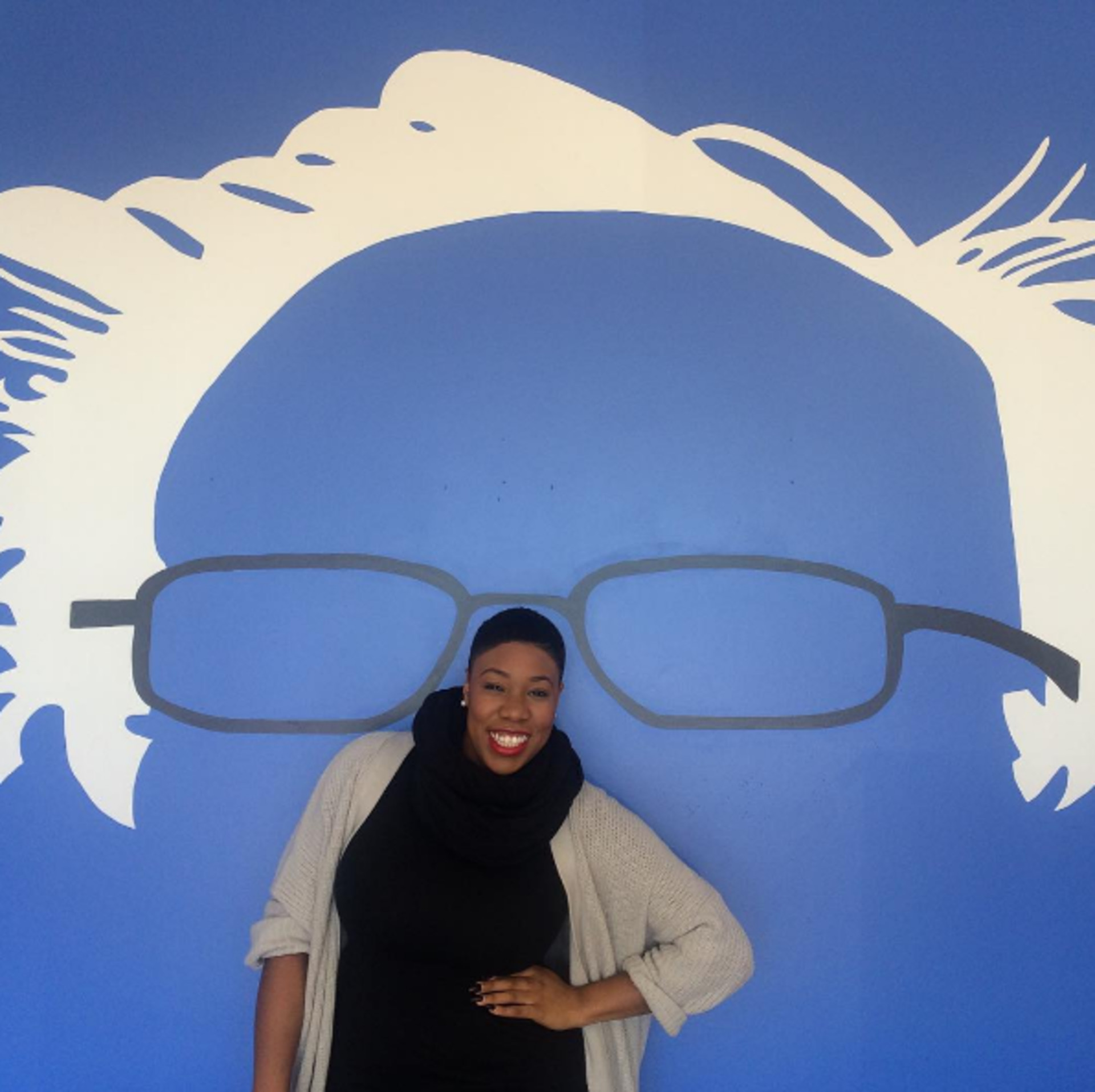 One of the highest profile members of the Sanders campaign was his chief spokesperson Symone Sanders (no relation). Symone, 26, served as national press secretary for the campaign before stepping down in June, and surprised many with a series of tweets that encouraged Sanders supporters to move to Clinton.
"Let's take the passion and fervor and, yes, anger some feel and resolve to do all we can to contribute to making our party better," she tweeted. "No doubt we have work to do, but the beauty of all this is we all have a chance to get in this game and play. Senator Sanders has said the political revolution will roll on! He's noted we have work to do this fall and that we have a job to get done."
Complex spoke with Symone about how she carried over the ideas of the Sanders campaign into her stint on the Democratic National Convention Committee and her new role as the founder of black voter mobilization platform #WeVote. She cautioned that those waiting on cues from the senator for next steps in the political revolution are missing the point. The revolution, she says, is comprised of "the voices that Senator Sanders lifted up during his campaign—people like myself and my colleagues that had the opportunity to work in the highest level of politics."
So what should the young (and potentially disenfranchised) Bernie voter do now? Symone doesn't think it's all that complicated.
"There are different ways to do that," she says. "We have to have people protesting in the street. We've got to have advocates. The political revolution is people running for office."
"If these are the things you say you care about," she adds, "you've got to get in the game!"