Those guiding their storied browsers to Pornhub on Friday were greeted with an exciting new genre of titillating pornography centered on America's sexiest large grain plant: corn. Sick of traditional videos of humans engaging in sexual activities permeating the internet while the wild and wonderful world of corn is completely ignored? Pornhub Cornhub's got you: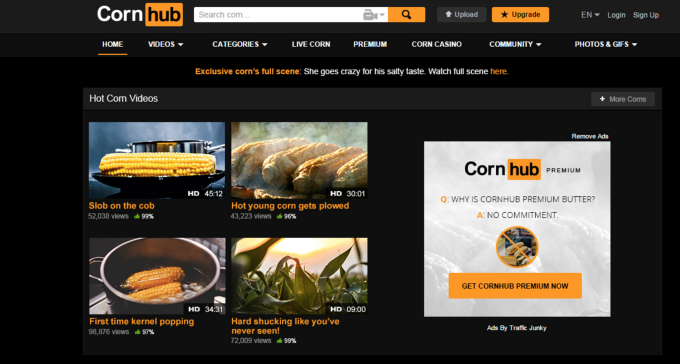 The site's curated collection of cornography, including high-rated clips of hard shucking and popping kernels, is currently greeting visitors with urgency by also providing a handpicked batch of recommended viewing for noted corn enthusiasts. Ever been caught husking on the porch? These clips are probably right up your alley. Just peep Cornhub's limitless options:​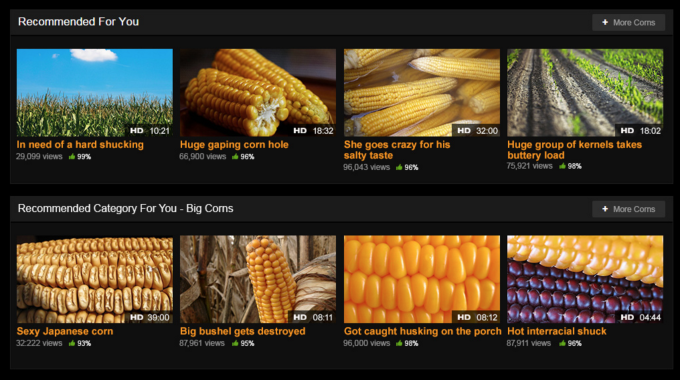 Of course, as is generally the case with anything seemingly too good to be true, all of this is total bullshit. In the spirit of the ruthless tradition known as April Fools' Day, Pornhub simply swapped out one letter in their name and then ran with the idea for proper prankery. Thus, if cornography and April Fools' jokes aren't really your thing, human-based films of a sexual nature are still just a single click away:
When they're not busy giving corn a massive popularity boost, Pornhub passes the time by doing stuff like totally reinventing the porn game with virtual reality. "At Pornhub it is our duty to provide our global audience with the latest in cutting edge technology," Corey Price, Pornhub's VP, said in a press release announcing the VR launch. "Virtual reality is the next phase in the constantly metamorphosing world of adult entertainment, and will provide users with a mesmeric experience unlike anything they've seen before." As if to prove every ounce of that statement, this guy then took the "mesmeric experience" to previously unforeseen heights by allegedly landing himself in the hospital.