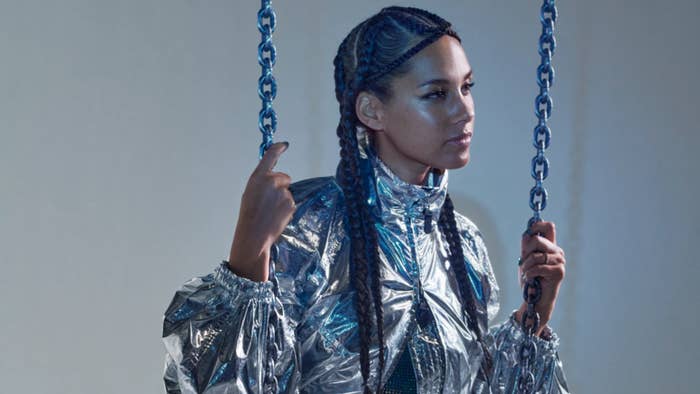 For Alicia Keys, her recently launched Moncler collaboration marked an opportunity to reflect on the brand's personal importance in the development of her own style while also making a definitive statement about the present.
On an influence level, it's clear to see the impact of late '90s NYC on the pieces, which were brought to life in campaign images from photographers Ibrahem Hasan and Laura Jane Coulson. After initially being debuted to the world as part of Moncler's The Art of Genius event in February, the pieces were later released in select Moncler boutiques and via the brand's official site late last month.
Pharrell, Jay-Z's Roc Nation, Mercedes-Benz, Salehe Bembury, and more were also on the lineup for the London Fashion Week event.
"In 2023 we are entering a new phase for Moncler Genius," Moncler CEO Remo Ruffini said of the underlying intentions of the large-scale event. "While our commitment towards creativity and innovative thinking does not change, we are moving from a collaboration model to a platform for co-creation, allowing us to interact, learn, think, and create something that didn't necessarily exist before."
Below, see Alicia Keys' Q&A with Complex about her Moncler collab.
This conversation has been edited for clarity.
What influence did growing up in the '90s in NYC have on your personal style?
I think growing up in New York really brought up my masculine side, because the streets were dangerous and it wasn't a place to express the feminine so openly. It made me want to protect myself more, so that kind of masculine baggy-er, tougher style became my signature. You wear boots, you wear baggy jeans, you wear big puffers and it's all about having that safety, that armor – that became my personal style.
How did those influences play a role in what you wanted to accomplish with this collection? What specific elements of those influences do we see in the collection?
Those influences definitely played a role and when I wanted to accomplish this collection, I wanted it to focus on the New York energy, that sort of "toughness meets the fresh". I wanted it to be effortless, not only chic but cool.
I love the textures that we were able to work with. The colors are brilliant, the cuts are both masculine and feminine and I think that's a lot of who I am – a balance between masculine and feminine that we all are. I love this unisex collection because I can occupy both those spaces. Also, that 90s energy really brings force to both of those elements and influences them. I think it clearly comes out here.
Who specifically was influencing your style growing up? What about that person did you admire?
I would just say New York and the streets influenced me. I would definitely say it was more a collection of the different types of people and styles I was able to come in contact with.
Growing up in NY, there's never just one type of person you are running into. Everybody has an own way of expressing themselves and you can clearly see it: you see different cults, different expressions, people from different backgrounds that are all around – so I can't say it was necessarily one person.
It was more like the city itself, that feeling of creating and putting on a new armor, going outside and being able to make it through. The energy of the city is always about being fresh too, there's always a piece that matches your colors, your hair, your shoes, your bag – it's part of that "New York fresh".
What's the design process behind this collection?
It was an amazing process. I loved it so much! Working with the Moncler team was incredible: so detail-oriented and ready to make it all happen. I loved that we had a very genuine back and forth, it was like bringing together their expertise and my expertise and making it all make sense. I love the way we played with materials, with shiny textures, with nylon. We played with the way that nylon gets into with jean material, even the color runner jeans…we're making flag colors on the one-track suit. I love the silhouette of the bucket hats with the bright colors. Those pieces feel so strong, the hand painted design on the vest and even the sweatshirt where there's "dream are made off". All those details that we really want to feel your hand on and to be hand done, and to have these touches on it that you can feel on all the collection, it is very special, intentional and purposeful. I even love the way that I overall see the collection modeled for me and I can really get the sense of how it was falling, how it has been worn and how I would wear myself and get this sense, how it feels? does this material feel good? Does this shape look right?
We really were very meticulous about the cuts and how the cuts feel and there are obviously just exceptional edits, so it was one of the most fun and exciting experiences of my life. For sure I have just been able to pour 100% into it.
What's your favorite item from the collection that you designed. Why is that your favorite?
I love this collection so much. I would wear every piece a million times a day, it is really hard to choose.
I love the freshness of the jeans, that kind of whitewashed jeans suit: I love that is a classic jeans suit with a million percent New York fresh. I love that it has the big wide leg and an incredibly tailored fit for the waist. I love how it has pieces of nylon fitted into the jeans; I think it's super unique, I love the way that the jeans jacket fits with it. I feel like is something that has flavors of pieces that you have seen before but never exactly like that. To me it is one of the freshest looks of the collection but I have to say that I love the entire collection. To me the entire collection is super fresh. That's why it's my favorite – it has not a classic silhouette, but a jeans suit silhouette with such a fresh take on it.
What are your thoughts on having the chance to design a pair of exclusive sneakers? How is this different than designing apparel?
Designing sneakers was super fresh. I love the way that they look like – I just love the mixture of styles. I think these sneakers are super fresh and the sneakers in an overall Moncler Collection are ridiculous!
I really wanted to make sure that I had the color ways that would match that coral suit which is so sick and it's just a standout shoe. I felt like it's something that you'll never forget, is that unique yet relatable and then desirable.
What was it like to work with photographers Ibrahem Hasan and Laura Jane Coulson?
It was amazing! I felt they really captured the spirit into different ways.
Laura really captured the spirit of the playfulness and the finest added to the energy, the usefulness of the collection that really embodies and then Ibrahem really captured the classic of it, the modern and the unique kind of expression of the New York energy but in a way that you can really see yourself in it, felt artistic and artful and also beautiful, cool.
They were both really amazing to work with, all process has been like such an incredible process, like me and Moncler we want to be married!