There are several different ways to interpret what went down today at Louis Vuitton's Spring 2019 men's show, the first under the direction of designer Virgil Abloh. That's not only because the hottest show at Paris Fashion Week had everything: drones, Kimye and Kyvis (Kylie and Travis Scott) sitting front row, the band Bad Bad Not Good banging out ye instrumentals, hundreds of fashion students in Day-Glo T-shirts, and fur-covered bags that likely cost as much as a semester at an accredited four-year university. It's also because this show, more so than typical fashion week events, meant a lot of different things to a lot of different people.
For high-end shoppers and those with an interest in designer goods, it was an indication of what to expect in the near future from the world's most recognizable luxury brand. For those in the industry, it was a chance to see if the much-discussed democratization of fashion—the same trajectory that has seen first bloggers, then Instagram influencers, find their place alongside the gatekeepers at glossy magazines, and e-commerce and re-selling sites like Grailed and Depop chip away at the exclusivity brick and mortar boutiques once enjoyed—can work from the inside, too. Despite the fact that he was hardly plucked from obscurity and has a proven track record of success at his own label, Off-White, Abloh is often spoken of as an unconventional choice for a role like this. He didn't, after all, study fashion or toil away as an underling at an established fashion house, two sticking points for people who care about the status quo.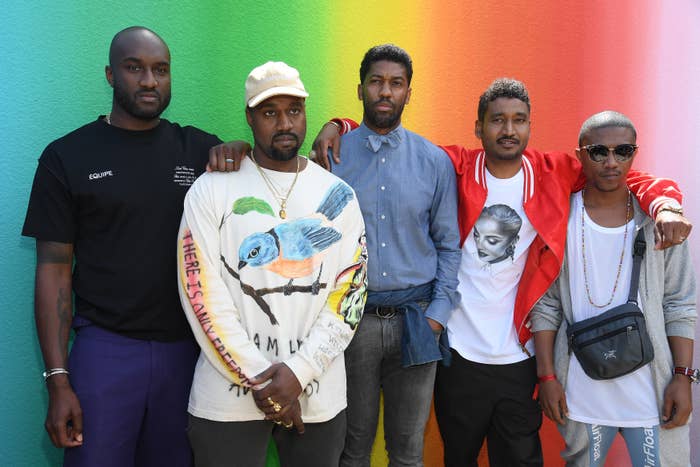 Abloh hasn't completely shied away from the outsider label either, which makes today's show massive not only in size, but also in emotional significance for the designer, his friends and colleagues, and the followers who identify with him. It was less than a decade ago that Abloh was photographed by Tommy Ton in a now-infamous snapshot taken in Paris in 2009. In it, Abloh stands alongside Kanye West, Fonzworth Bentley, Taz Arnold, Don Crawley of RSVP Gallery, and Chris Julian, founder of the respected Vegas vintage shop Fruition. They had arrived in Paris, dressed to kill, but hadn't exactly been invited anywhere. Then, they were party crashers, often, pointedly, denied entry. Now, they're the ones throwing the party.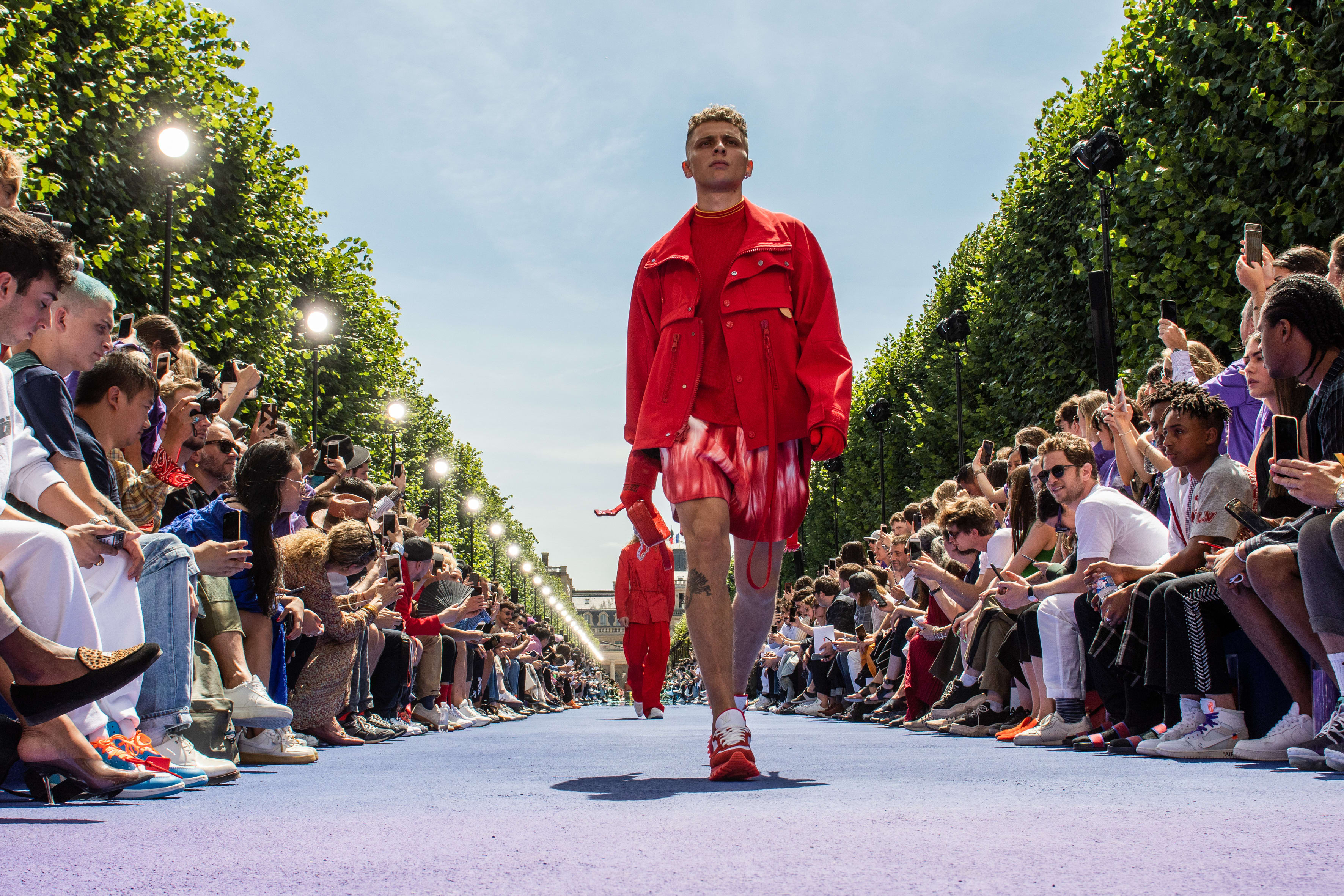 It's worth noting that now that he's reached these new heights, Abloh is bringing his friends along with him. Kid Cudi, A$AP Nast, Dev Hynes, the skater Blondey McCoy, and the artist (and Supreme model) Lucien Smith, Steve Lacy, Theophilus London, and Playboi Carti all walked in the show today. Rihanna, Victor Cruz, Don C, Takashi Murakami, Miguel, Luka Sabbat, and Russell Westbrook were in attendance. The cast of professional models was noticeably diverse, highlighted further in a map that Abloh provided guests, denoting where models and their parents came from. Inclusivity was at the forefront of this show in many ways. The aforementioned fashion students invited to watch the show were from local schools, and their excitement at receiving a ticket was palpable.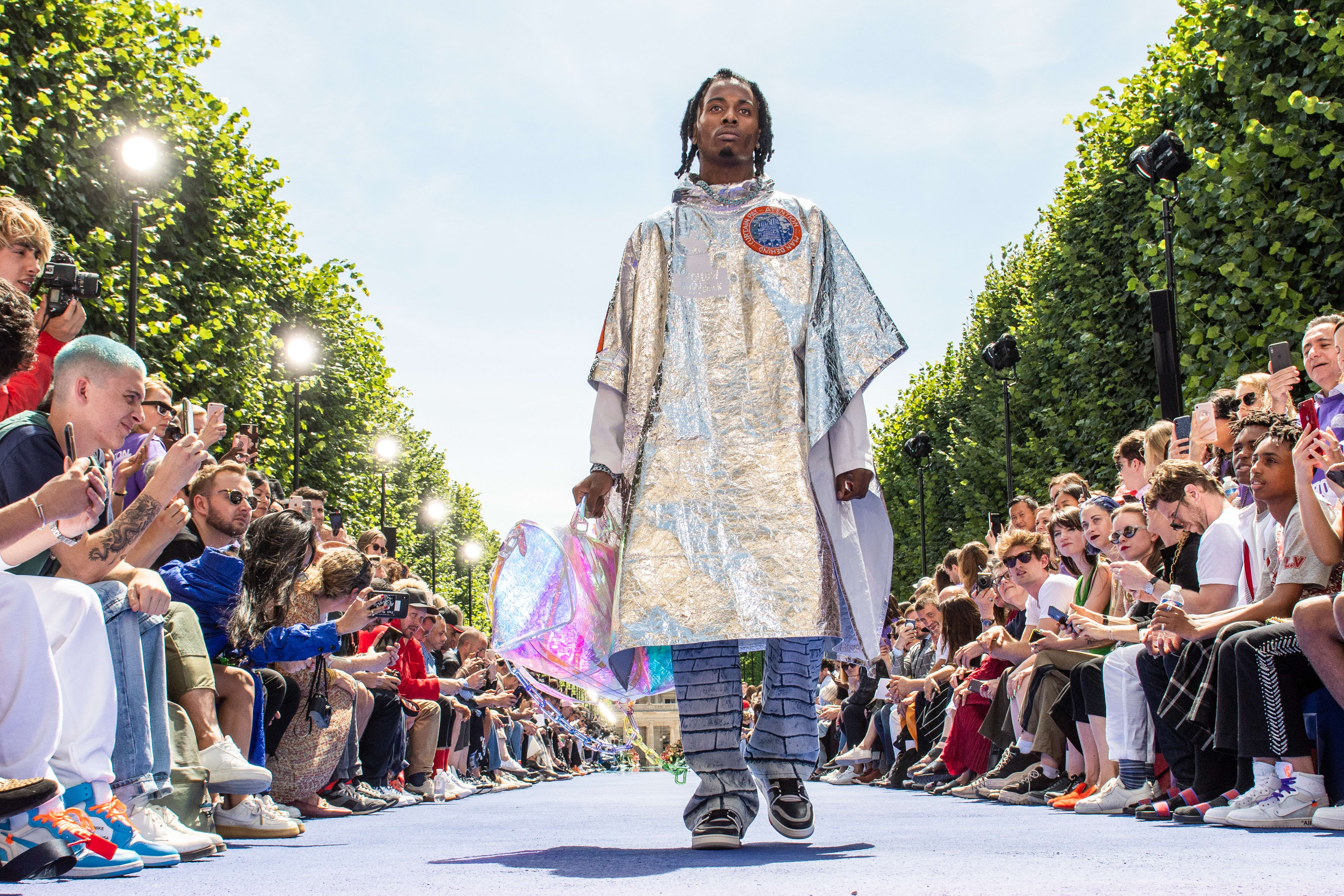 For those less invested in Abloh's rise, he will always be more hype than bite, and a show like today will be dismissed as a spectacle. To be fair, there is some legitimate criticism to be leveled at the collection. Whereas yesterday's Off-White show benefited from winnowing down the clothing presented to a tightly-edited assortment of well-made denim, humorous tees, and genuinely beautiful outerwear, Abloh's first outing for Vuitton felt at points like he was using every resource the house has at its disposal—and it has a lot of resources. There was quite a bit of heavy leather, puffer coats, and gloves, even though this is ostensibly a Spring line. A Wizard of Oz motif that was repeated throughout worked on sweaters and a poppy-covered pullover, but was less successful as a print on a pair of pants that had also had the same unfortunate side-split hem on the bottom that Abloh debuted at the Met Gala. The chains that dangled from otherwise sleek duffle bags would probably be more annoying than anything else during actual use. Other pieces, like a billowing plastic overcoat, felt like they'd been lifted directly from an earlier Off-White outing.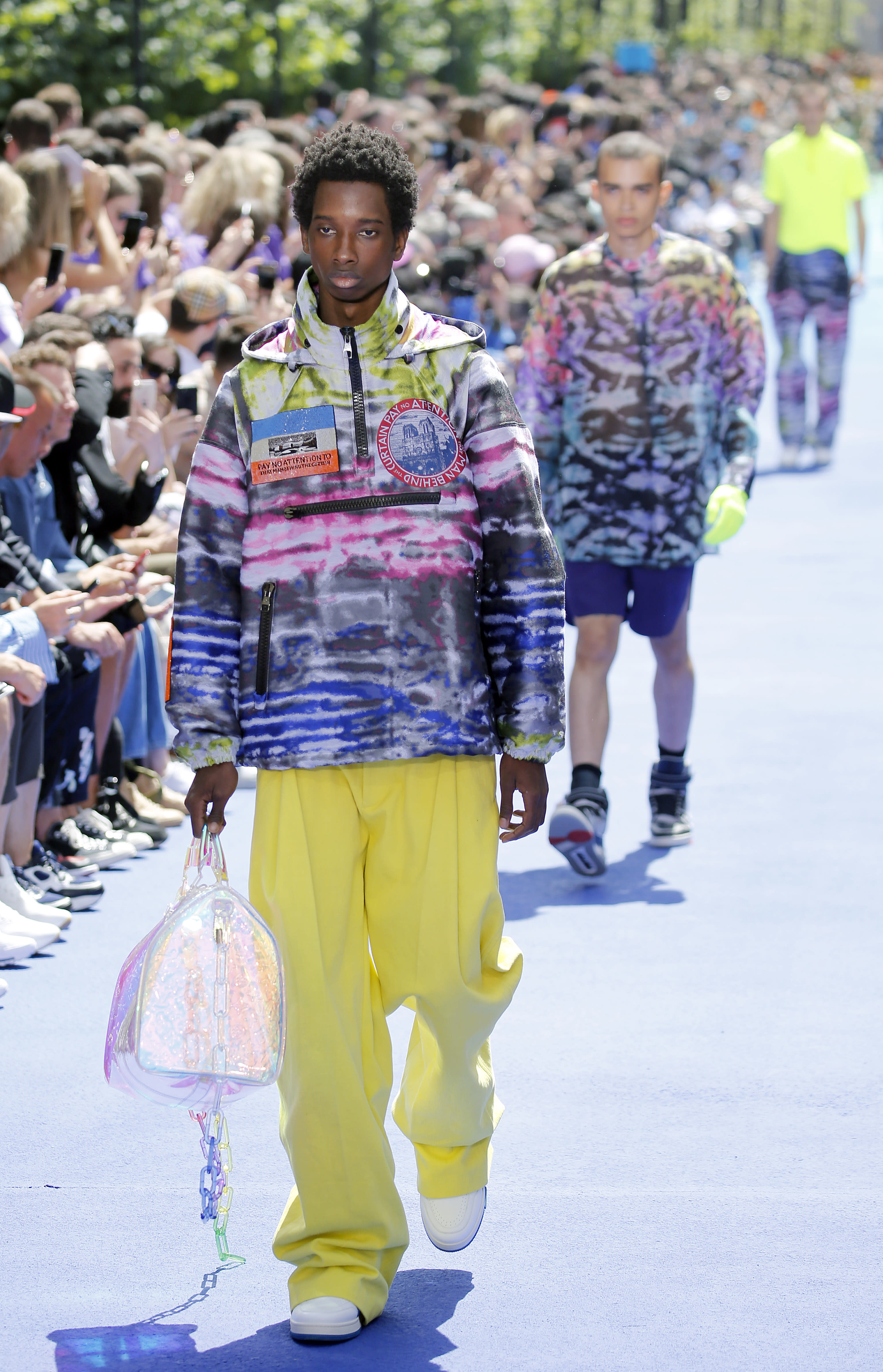 Still, those gripes aside, there was a lot to like—and a lot that will likely sell very well. Louis Vuitton is a brand built on leather luggage. Chains notwithstanding, the accessories shown today were luxe and clean. Any one of the leather bags will build upon the brand's unmatched heritage quite nicely. The fur pieces mentioned earlier? They might be worth taking a semester off from school to afford.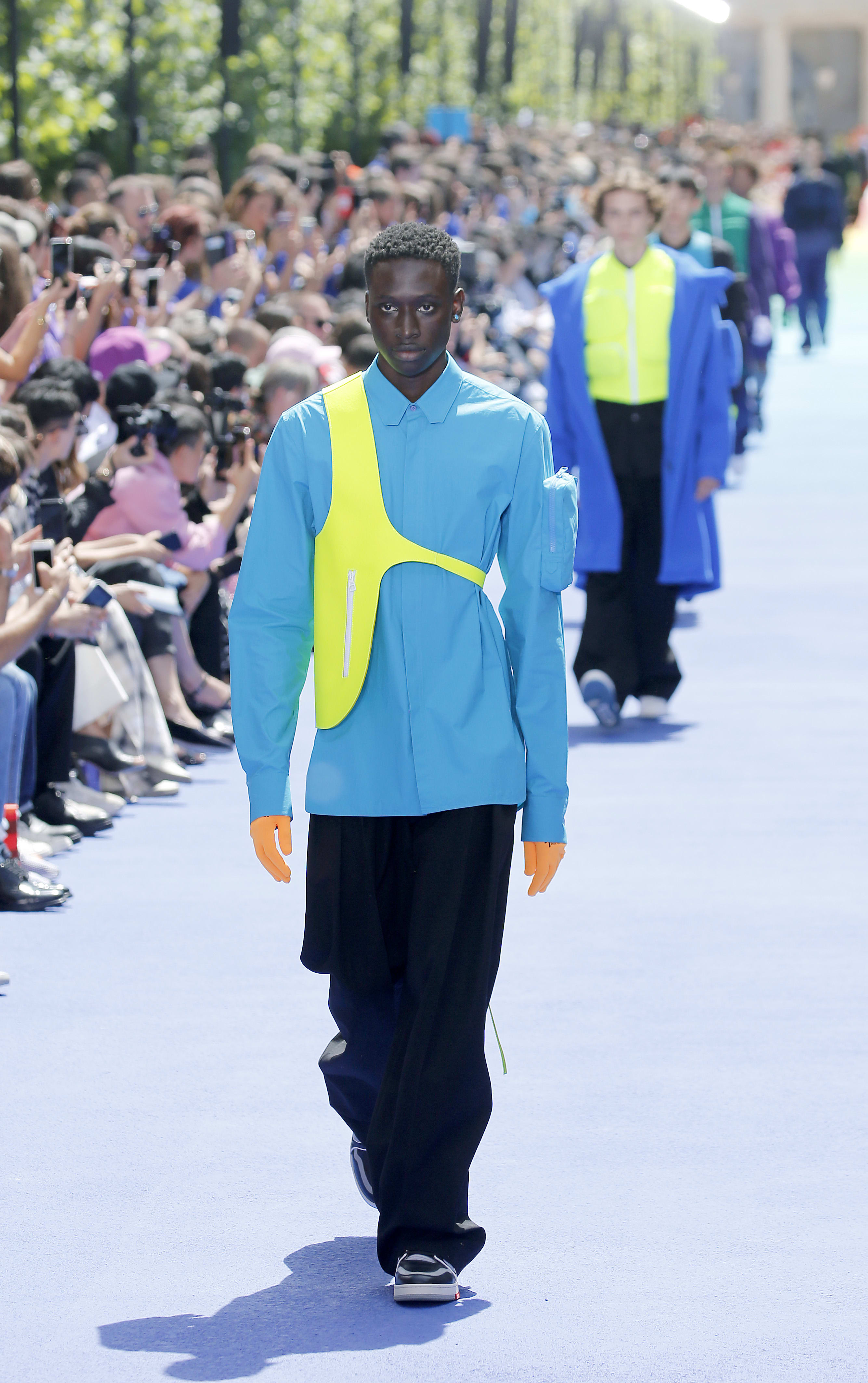 Abloh has a great track record with sneakers; expect his LV high-tops to become a new status symbol. A$AP Rocky has already been spotted wearing those on Instagram in grey and black, and there were other styles, in other colors, that models wore beneath billowing trousers (which were themselves very nice). There was also a pair of boots, trimmed in LV monogram leather, that melded Timberlands with the pointed toe of a creeper. They're not the easiest to wear, but many will undoubtedly try.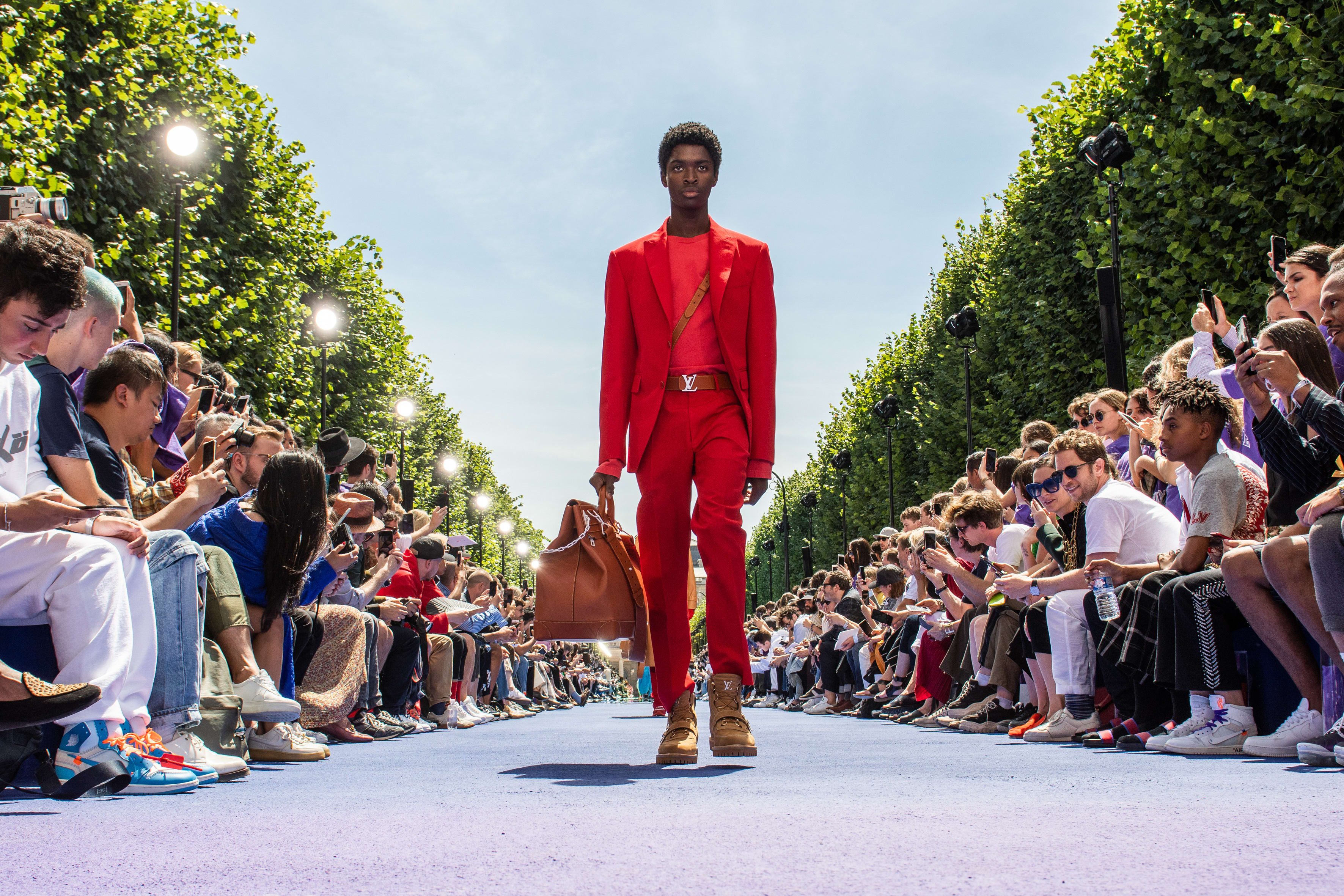 After a parade of all-white opening looks, Abloh went deep into color, each richer and more sumptuous than the last. Cudi looked cozy in a beautiful seafoam hoodie, and several looks made a compelling case for wearing vests, either in deep green with huge pockets or in neon orange, poking out from underneath a dark blazer. And just try to show me a man who doesn't want the buttery, light brown leather trench coat, and I'll show you a liar.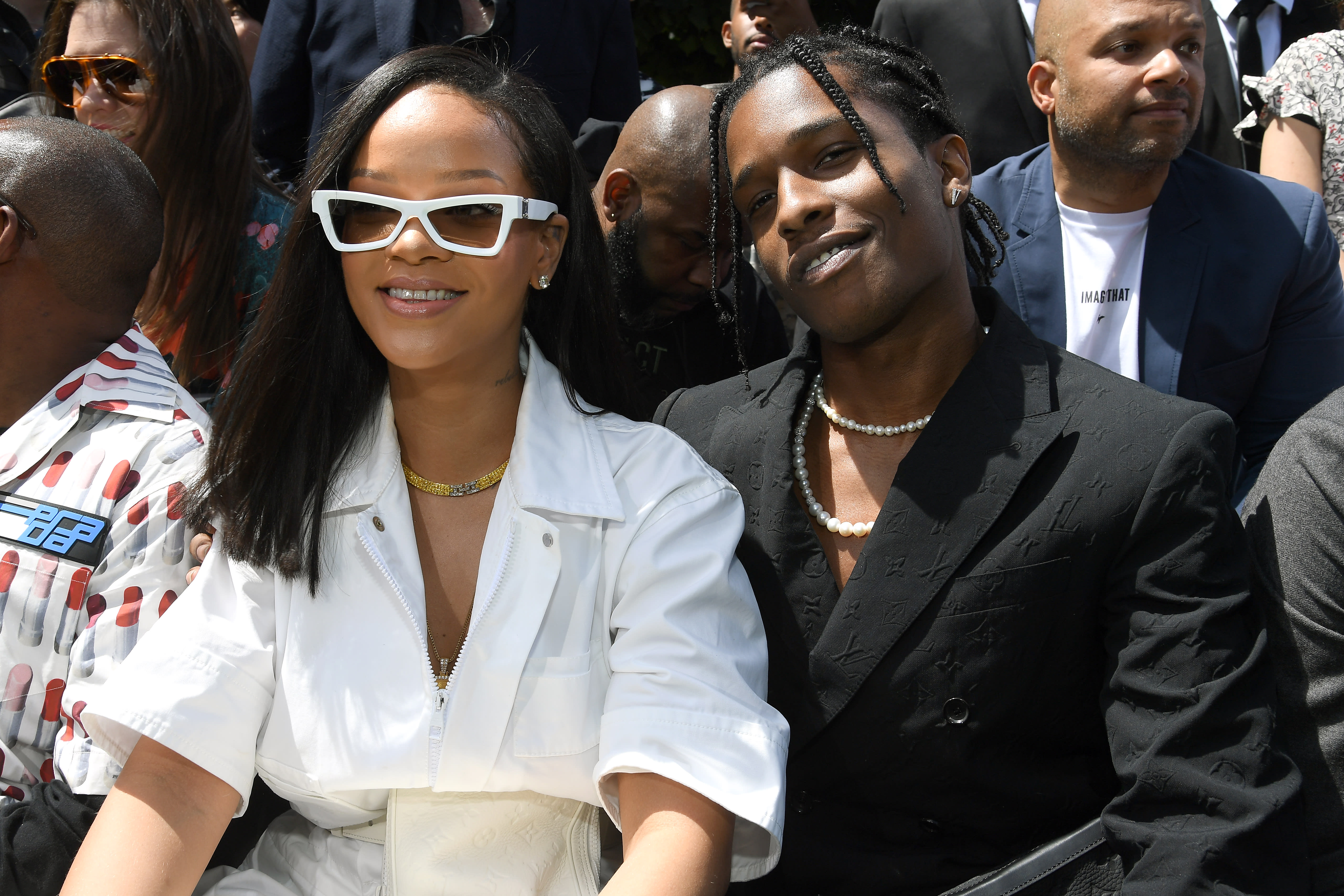 As Bad Bad Good played "Ghost Town," and models made their final walk, West jumped to his feet to give Abloh a standing ovation. It was a heartwarming moment that quickly turned tear-jerking once a visibly emotional Abloh appeared for a bow. He and West embraced on the runway as a scrum of photographers—amateur and professional—gathered around them. This is the beginning of Abloh's tenure at Louis Vuitton, and forthcoming seasons will speak much more to his vision and to his ability to lead the men's business at a huge fashion house. But after this afternoon, the overwhelming feeling was that even as this show marked the end of his personal journey from standing outside of the show to inviting others in, it was just the beginning of a wave of enthusiasm and inspiration that will reverberate to talented hopefuls the world over. Because, as Abloh captioned it in an Instagram post immediately following the show, "You can do it too…"