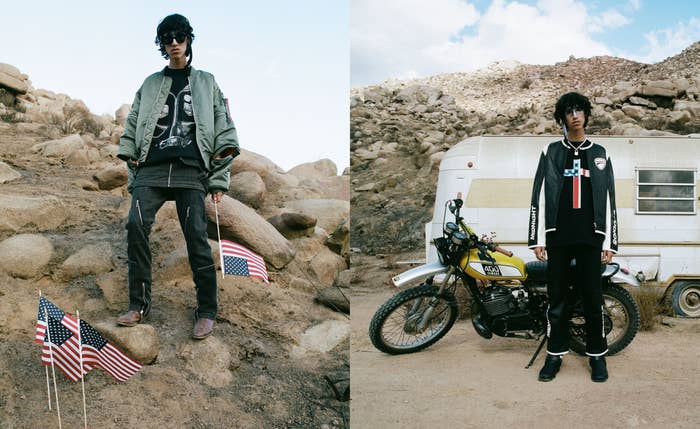 MIDNIGHT STUDIOS relives the high octane energy as the 80s and 90s as they deliver their Fall/Winter 2019 collection in collaboration with the Alan Vega Estate. 
Shane Gonzales' MIDNIGHT STUDIOS has dominated its space within the streetwear scene since 2014, becoming a staple brand, and aesthetic of youth culture through its effortless blend of punk and contemporary. In the years since the brand's launch, Gonzales has continually developed the connective tissue between the two to build a look that is unmistakably his own, in turn bringing about the opportunity to work alongside the Alan Vega Estate for their latest apparel line up. Inspired by Alan Vega's time as 1/2 of the electronic band named 'Suicide', recognised by Rolling Stone as  "an unmeasurable influence on the industrial dance, noise, techno, ambient, and electronic scenes of the 1980s and 1990s.", the collaborative work highlights the artists love for motorcycle culture in tandem with his effortless stylistic choices. Given the foundations on which MIDNIGHT STUDIOS was built, the decision to hone in on the era in which Suicide enhabited feels like a natural choice, allowing the brand's punk anti-aesthetic to flourish. 
On offer is a selection of deconstructed hoodies, sleeve-layered crewnecks, and a jersey featuring a polaroid of Vega shot by Ric Ocasek. Unapologetically rebellious through and through, further apparel lines include a black, racing-leather set, black and blue washed denim sets and vests and pants decorated with functional zippers. 
Take a closer look at the MIDNIGHT STUDIO Fall/Winter 2019 collection's lookbook below, shot by Julian Burgeuno. The collection is set to reach the digital realm through a series of drops throughout October, with further stock available via global retailers such as Lessons, Selfridges and Feature.