For Trevor Jackson, Spontaneity is Key
The 'Grown-ish' star and budding musician creates his outfits like his music, constantly mixing it up to get to a place where he feels free.
At 21-years-old, Trevor Jackson seems to have his life figured out. The Grown-ish star got a kickstart in acting as a child in 2004 when he earned the role of Simba in the Broadway staple The Lion King. At the time, he was only 8 years old but the experience would go on to be invaluable for Jackson who, today, claims that his theater experience shaped the rest of his life to follow.
"That [experience] prepared me and inspired me to do that for the rest of my life," Jackson tells Complex. "I moved to LA, recorded here and there, and then got signed when I was 15 years old to Atlantic. That kind of started my whole journey of being in studios, writing, working with different people, and then I started doing it on my own for this last album."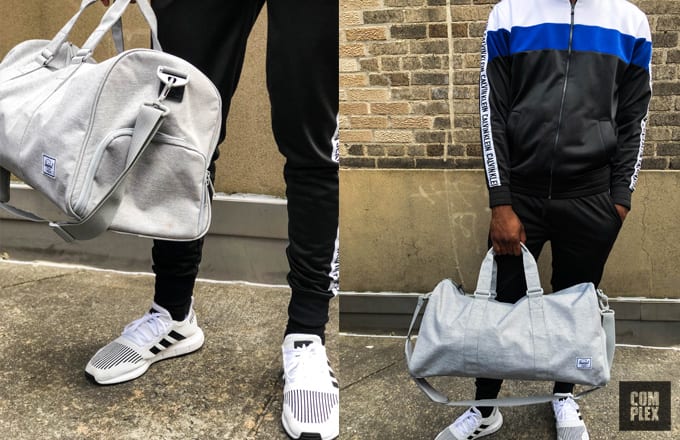 The album in question, Rough Drafts Pt. 1, is just one item in a long list of ventures that Jackson has been involved with recently. After a breakout guest spot on the critically acclaimed ABC series Black-ish, Jackson became a series regular on the show's spin-off Grown-ish, as the hot-headed but relatable character Aaron Jackson (it is unclear whether producers named him that intentionally). Later this year, Jackson is set to star in a remake of the 1972 blaxploitation crime drama Super Fly.
With roles varying from a college undergraduate to an inner city crime boss, it seems like Jackson is accustomed to donning different hats depending on the day, and he claims this is also evident in his music and his style. "I'm spontaneous with my life. Monotony kills me, so I try and do everything differently every day just to get a different result and get something new out of life."
Ask him about his style and he'd be the first to admit it's rather happy-go-lucky. "It's kind of hippy vibes a little bit...I like to not try too hard." Jackson sees his onstage and offstage style as nearly one in the same. "Both [are] very relaxed, but on-stage, I try and do a little bit extra. Maybe more pops of color just so that the light catches it a little better." While a fan of modern designs, it's the ones that evoke a sense of nostalgia that resonate the most within Jackson. "I love vintage things. Anything out of the box, old school, and just different."
Parsing the looks of Bloomingdale's Spring Collection, the first look he pulls out is a certain floral jacket, a Hawaiian shirt, and matching pants. "I love that kind of thing. Anytime I think about Hawaii, I feel free."