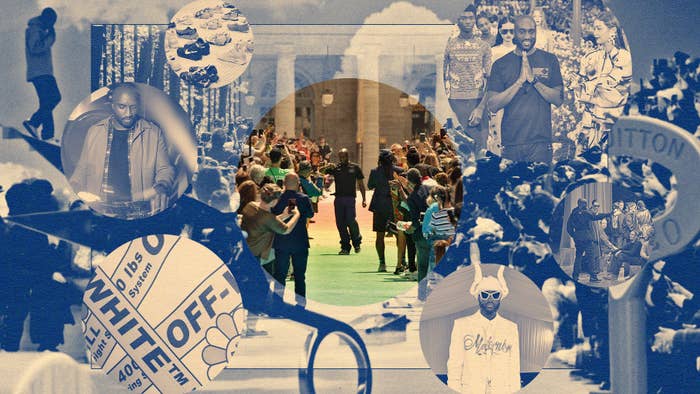 On Nov. 28, the world lost one of its brightest and most prolific creators, Virgil Abloh. The Off-White founder, men's artistic director at Louis Vuitton, frequent Nike collaborator, DJ, architect, etc. passed away at the age of 41 after two years of privately battling a rare form of cancer called cardiac angiosarcoma.
Condolences and tribute pieces dedicated to Abloh are still populating social media almost a week later. Some are from close friends who knew him personally. Others are from people who had a one-off exchange with him through DMs. Some are just from people who love and own his products. But it shows how many people were impacted by him. And how could he not have that level of impact and reach? Abloh seemed to constantly be giving the world something new, whether it was his latest collection for Off-White, an Air Jordan he dreamed of designing as a kid, or just a free flow of ideas in hopes that the next generation will latch onto his advice. As he explained in a Complex interview from 2020, it's a level of work ethic he borrowed from one of his heroes, Michael Jordan.
"When you watch the Michael Jordan documentary, it's safe to say that he didn't take any days off. He didn't even take recreational sports off, a card game to a golf game was as equal to a Finals championship. And once I saw that as a local role model, I just applied that to things that I was into," said Abloh. "I don't take days off. I don't sleep. I don't go on vacation. I enjoy life, it's not all that I do, but it's my thing. You pick your head up and you see what he achieved, a simple game of putting a ball in a hoop, he advanced the whole idea of it. And I look at design and culture that way."
It cannot be overstated exactly how much Abloh was able to accomplish in his 41 years on this earth. By no means are these all of his accolades, but here are 10 of Abloh's biggest career milestones.
Named Creative Director of DONDA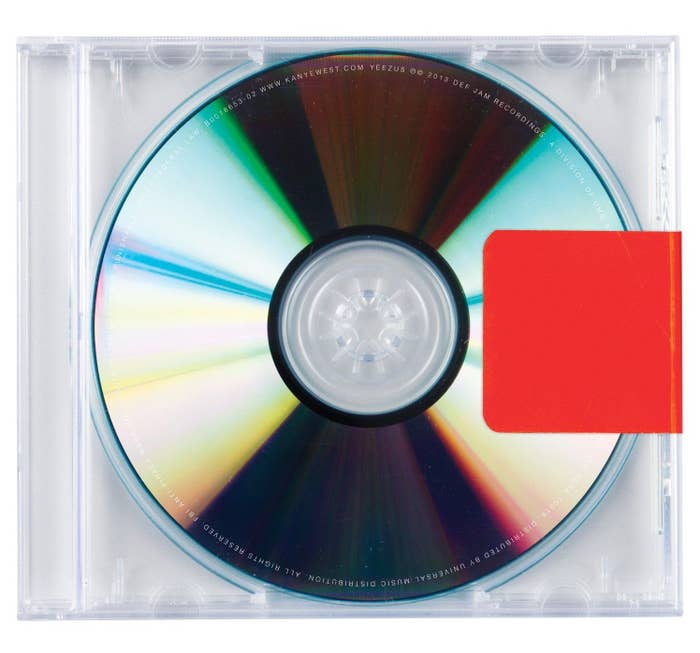 Co-Launches Been Trill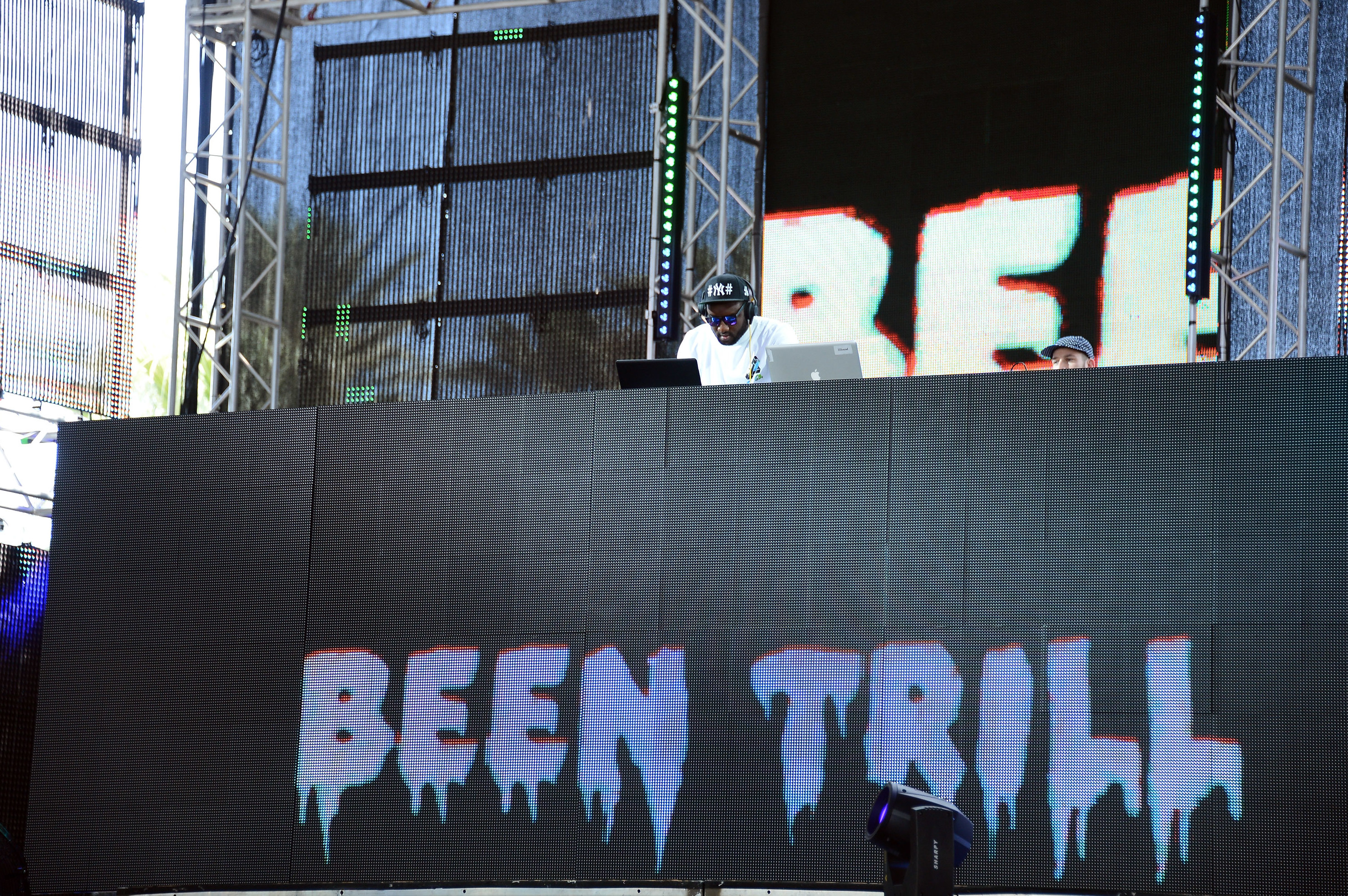 When: 2012
Before Off-White, Virgil Abloh had Pyrex Vision. The brand acted as his first official foray into fashion and was known for signature items like Champion mesh shorts with "PYREX'' printed across the front, hoodies displaying Carvaggio's The Entombment of Christ (a trend that would carry over to Off-White), and infamously repurposed Rugby flannels that were printed with giant "PYREX 23" branding across the back and sold for $500+. The number 23 is, of course, a nod to the man that Abloh has referred to as "his Superman," Michael Jordan. And we can't forget about the ASAP Mob-assisted video for the brand either. Like Been Trill also was at the time, Abloh's Pyrex became one of the most coveted streetwear brands on the market. Also similar to Been Trill, it vanished almost instantly. One year later, Pyrex Vision was no more, and Abloh was onto his next brand. But, as it turns out, that was sort of Abloh's plan.
"I didn't make a conscious decision one day that I wanted to be a designer. I made Pyrex, which in my mind was more like an art piece. It was a ten-minute film that I wanted to make, and I needed clothing to support this idea of a team with no sport," Abloh told GQ in 2019. "I was very intent on stopping it before it really got started."
The name Pyrex Vision was directly pulled from Juelz Santana's iconic verse on "Dipset Anthem": "Back to the kitchen, that pyrex vision." Abloh also told Union in a blog post that it was also inspired by Pusha T's classic coke raps, where Pyrex cookware is aptly mentioned on songs like "Mr. Me Too" ("Pyrex stirs turn into Cavalli furs.") It became a full circle moment when you consider an instrumental version of the classic Clipse track soundtracked a segment of Louis Vuitton's SS22 presentation in Miami this past Tuesday, which served as a tribute to the late designer.
Launches Off-White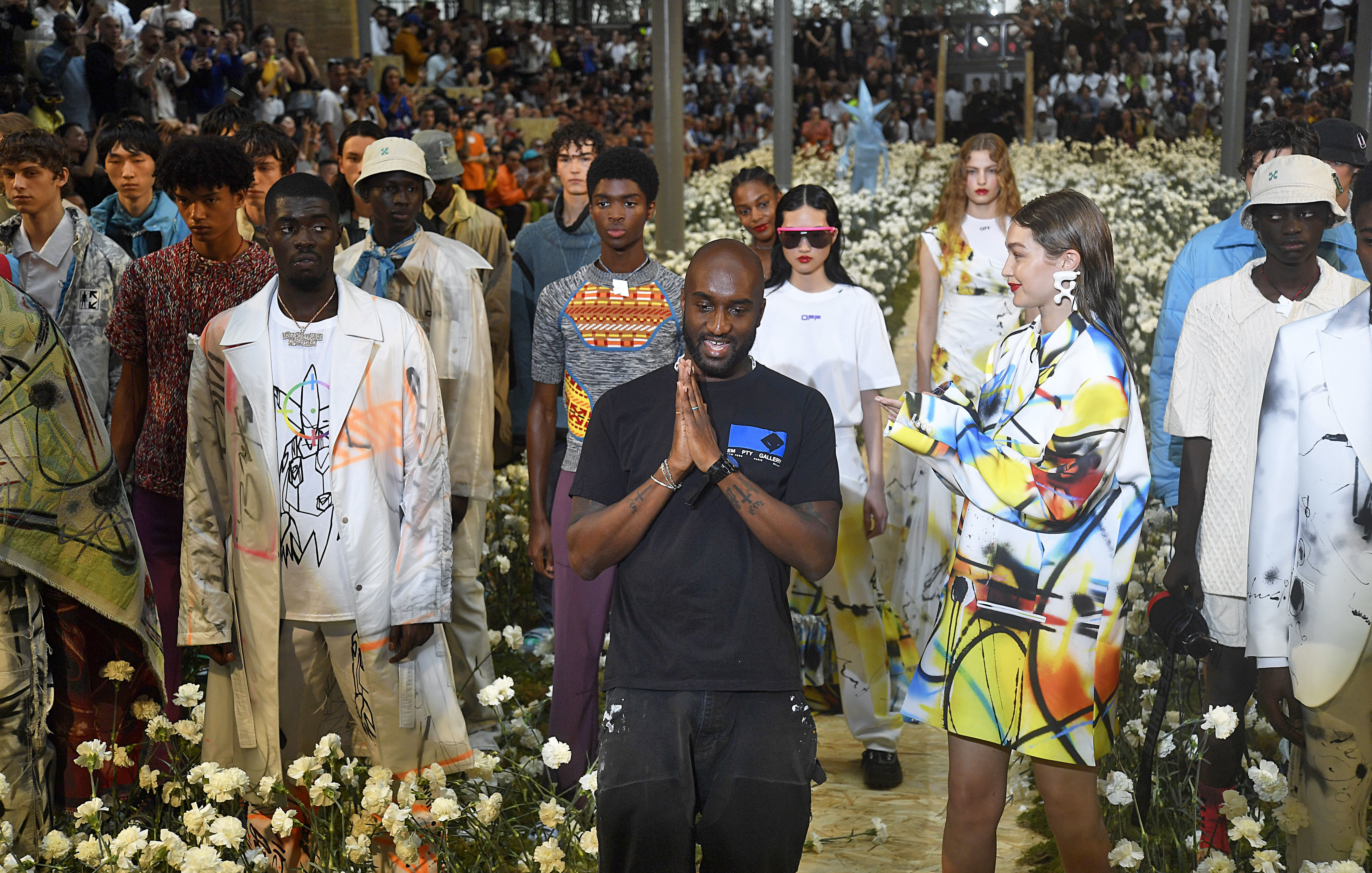 Releases "The Ten" Collection With Nike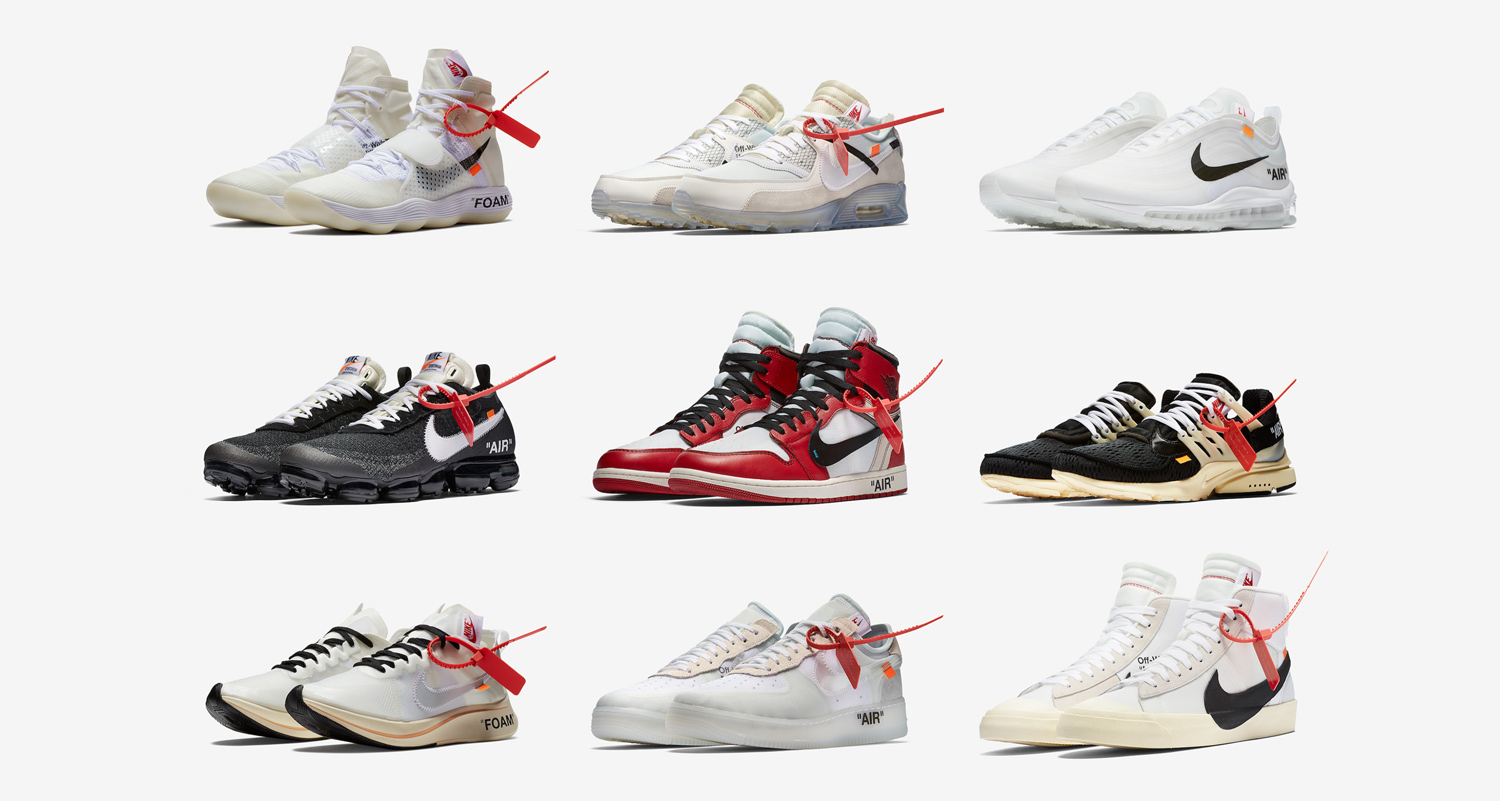 Appointed as Artistic Director of Louis Vuitton Men's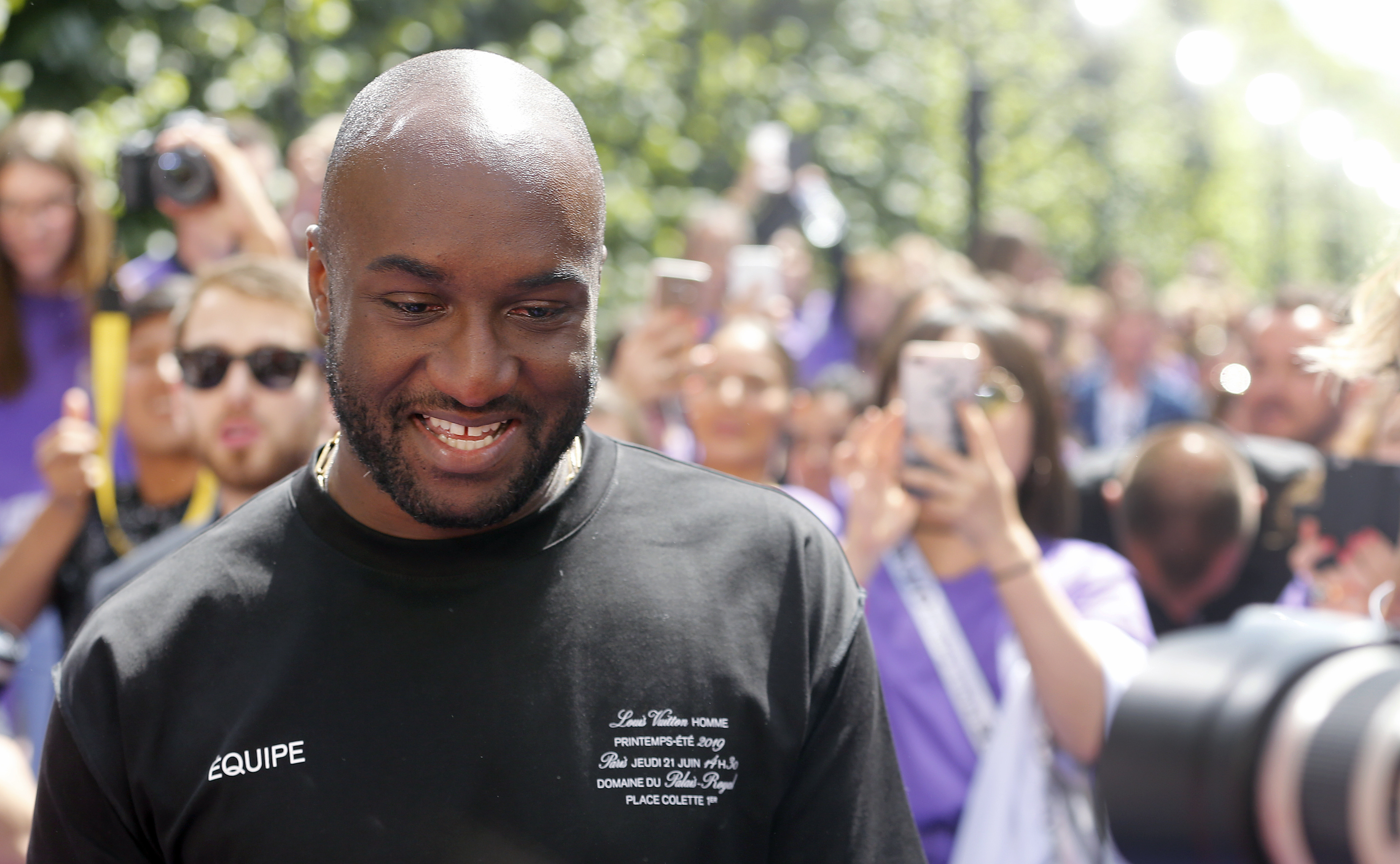 When: 2018
Our first look at LV's Abloh era came in June 2018 for the brand's Spring/Summer 2019 presentation at Paris Fashion Week. The now-iconic runway show took on a Wizard of Oz theme complete with a rainbow runway and various looks that pulled from the film such as crinkled metallic silver ponchos or knit sweaters with the silhouettes of the main protagonists stitched on the front. Clunky orange chain links were added to the fashion house's signature monogrammed leather goods. Others were given a metallic silver overhaul by Abloh that made the bags feel fresh and a unique byproduct of Abloh. Musicians like Playboi Carti, Sheck Wes, ASAP Nast, and Kid Cudi, who just years earlier may have been turned away at the door, were some of the recognizable faces who walked in the show. At the show's conclusion, there was also the emotional embrace between Abloh and Kanye West that has since become a go-to visual representation to illustrate the magnitude of the festivities. 
Over the course of the next three years, Abloh continued to bring his unique lens to one of the world's most storied fashion houses and provide other Black creators a platform in the process. He collaborated with legendary artists like Chicago's Reggieknow to create characters that represented his Spring/Summer 2021 collection. He tapped Don C to help him design an entire capsule with the NBA. He gave pro skater Lucien Clarke a signature sneaker. He invited names like Quavo and Westside Gunn to sit front row at his shows. He soundtracked his presentations with songs by artists from Clipse to Tyler, the Creator. He was blending the worlds of streetwear and luxury on a scale that had not been seen before. Abloh may have literally held the position at LV, but he was making sure as many of his peers could take part in the experience right along with him, one that for so long was not available to Black creators.
"I got in touch with [Pop Smoke and Westside Gunn] myself because I wanted them to come to Paris for the first time and not have to deal with the scrutiny, or that feeling of 'you don't belong here' that we did when we were there 10 years before," Abloh told Complex back in 2020. "It was literally the idea that I'm paying homage to them because I was listening to their music when I made these collections. I want you to sit front row and feel like you belong here too because you were my inspiration."
MCA Exhibit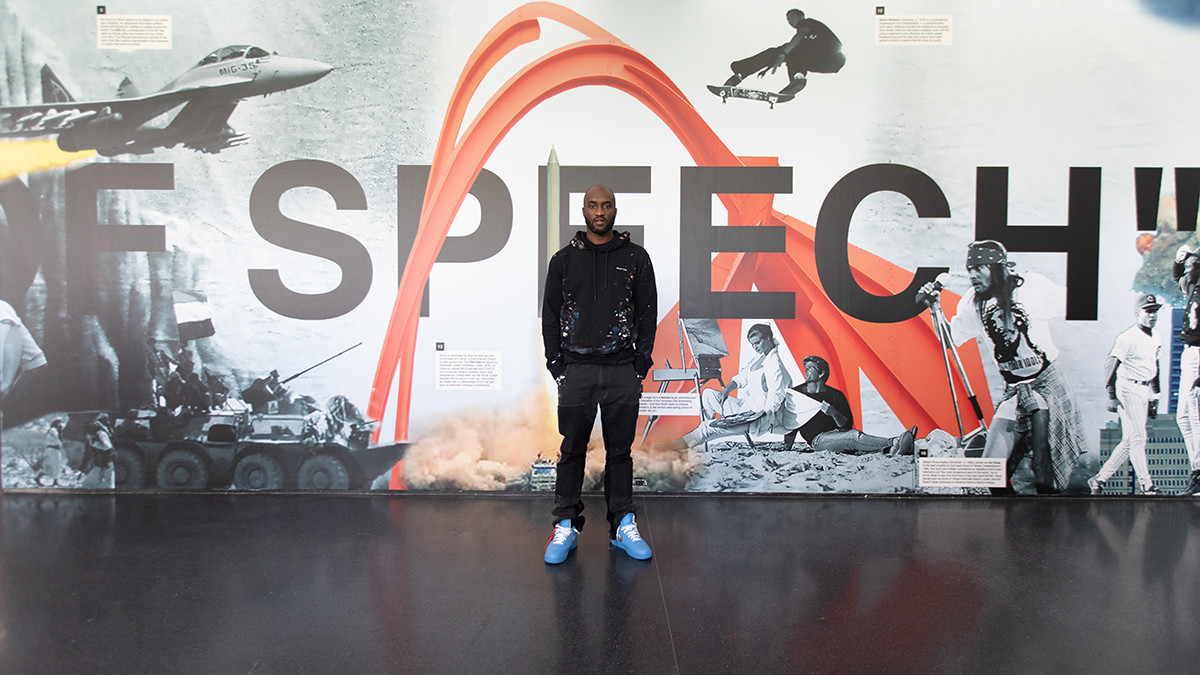 Collaborates With IKEA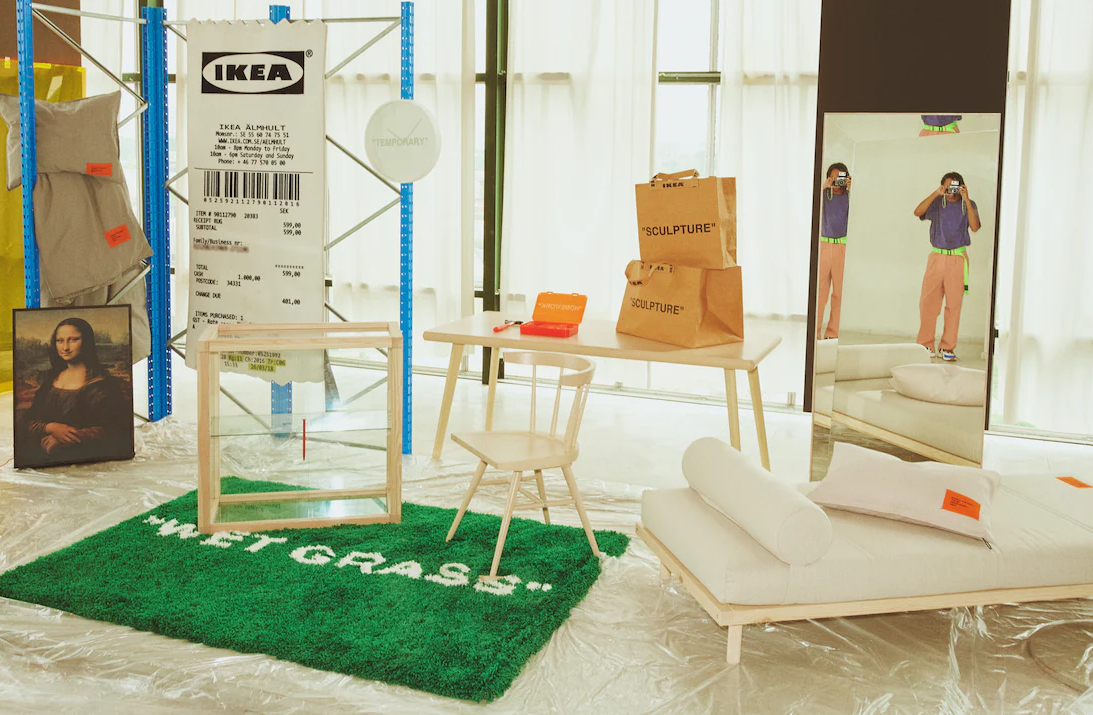 When: 2021
Louis Vuitton's live Spring/Summer 2022 presentation took place just two days after news broke of the tragic and sudden passing of Abloh. The show, held at the graffiti-covered Miami Marine Stadium during Art Basel Miami, acted as a fitting tribute to the designer in many ways. Attendants were shuttled to the pier via speedboats. Upon arrival, they were greeted by a giant red hot air balloon and a three-story tall statue of the man himself colored up in an orange, yellow, and blue gradient paint job. Dozens of Abloh's closest friends and collaborators like Don C, Kanye West, Pharrell, Jerry Lorenzo, Ibn Jasper, Nigo, Matthew M. Williams, Tremaine Emory, Lil Baby, Gunna, and more sat in attendance. Others, like Kid Cudi, Quavo, Offset, Stevie Williams, and Kareem Campbell actually walked in the show. Tracks like "Momma I'm So Sorry" and "Mr. Me Too" by the Clipse soundtracked sections of the presentation and had the audience visibly bobbing in excitement. It was a perfect illustration of the influence and vision that Abloh was able to bring to LV during his time there. In 2009, Abloh and company could barely sneak into shows in Paris. By 2021, Abloh had kicked down the door and was letting in everyone he could to experience these moments. 
The closing of the show was by far the most emotional point. Instead of Abloh making his customary final walk, members of the design team that worked alongside him gathered at centerstage in embrace. Some were moved to tears. A multicolored light show lit up the stadium's bleachers as a quote from Abloh played over the speakers. "There's no limit. Life is so short that you can't waste even a day subscribing to what someone thinks you can do versus what you can do." This was followed by a fireworks display over the water and series of drone placements lighting up the night sky to spell out Abloh's initials, create LV's monogram and Damier prints, and flying paper planes. Abloh may not have been present physically, but there was certainly no denying it. As the presentation title stated, Virgil was here.