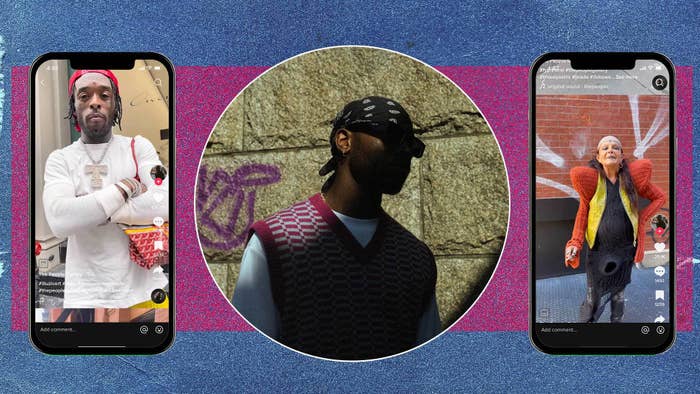 You never know whom you may run into while wandering around the streets of SoHo. Maurice Kamara knows this all too well. On July 5, he ran into Lil Uzi Vert in front of the Rick Owens store. He was wearing yellow Rick Owens x Champion pants and red and white Louis Vuitton x Nike Air Force 1s with a custom red Goyard bag slung over his shoulder. He was all smiles as he calmly ran through his outfit and flashed a bag full of cash. Kamara kept the energy up with some of his go-to phrases like a loud "Dayum!" or "Stop playin wit 'em." Back in June, he recorded a quick video of Demna, Balenciaga's elusive creative director, as he stood idle at an after-party in New York as red lights and bass-heavy music pumped behind him. He didn't speak a single word but threw up a peace sign to conclude the encounter. If either of these moments sound familiar, you may have seen them while scrolling through TikTok. They live on his growing page, the People Gallery. 
The celebrity cameos get the most attention, but Kamara also highlights everyday people with good style. As viewers get a closer look at the outfit, Kamara will ask the subject some general questions from behind the camera like their name, a description of their outfit, or their favorite meal. Some subjects provide clever quips like Uzi who proclaimed he was wearing a thermal in the summertime because "ain't nobody hot as me," or Skepta who smiles as he says "money" is his favorite meal with a bottle of Clicquot champagne in his hand. Other answers are more straightforward. The outfits do the talking. When asked how he's been able to track down so many names, he answers with a laugh.
"I literally just run into these people. I don't know how," says Kamara, the 35-year-old Brooklyn native who has worked at various luxury retailers in the area for over 15 years. "I feel like I'm walking my path, and God puts me in the position because it's some days where I'm like, 'How the hell do I meet these people?' It's insane. People think it's PR stunts or people reaching out to me. I'm literally just walking and minding my business."
Kamara isn't the first person on the internet to create these types of videos. He even notes London's Icykof, who has filmed with the likes of Kendrick Lamar and Drake over the years for his Unknown Vlogs YouTube channel. But having racked up 371,000 followers and counting on TikTok in a little over a year, it's clear he's carved out a lane for himself on the popular social media platform. As his Rolodex of celebrity cameos increases, his following will only keep growing. Other accounts have attempted to create similar videos of their own, but Kamara believes his videos have no problem standing out. 
"I feel like a lot of other videos are very dull. For them, it's just a trend. But you can hear the passion in my voice in my videos," says Kamara. "This is not something that I'm just doing because I think it's trendy or I'm looking for attention. There's so many people that have come after me and are trying to do these videos. It's oversaturating the market, and it's not good. I really want people to feel good when they get stopped and know that this is serious business. I'm really giving them their flowers."
We recently spoke with Kamara via FaceTime as he was trekking through SoHo to discuss how he keeps running into all of these celebrities—whom he hopes to film for People Gallery in the future—his goals in fashion moving forward, and more.
This interview has been edited and condensed for clarity. 
What's your name? Where are you from?

My name is Maurice Kamara. I'm from Brooklyn, New York.
Can you describe your outfit today?

Today is light. We got the Uniqlo Airism T-shirt, because it's very hot out here. It's a good fabric to keep the sweat off you. I got on some Acne Studios shorts and some Balenciaga runners.
If you could give a styling tip, what would it be?

Be bold. Don't worry about what other people think about you. As long as you feel comfortable and you love what you're doing, just do it. But you always got to start off with the shoes. You should start with a pair of shoes, then build your outfit from there.
Which Balenciaga sneakers do you have on, the Asics-looking ones? 

Yep. Blue and grey. Balenciaga has always been one of my favorite brands. I need to wear something like this. Cause I only wear luxury sneakers, which is crazy. It's hard for me to wear a pair of Nikes or something even though I'm trying to get back into that mode. I'm just big on luxury sneakers. I think they make the look. I could wear a pair of Balenciaga sneakers with a Uniqlo T-shirt. I'm still going to look elegant. If I wear a Uniqlo T-shirt with a pair of Jordans, I look kind of like I'm at high school or just regular. But you could wear a pair of luxury sneakers, any brand. It could be Prada or whatever. A nice pair of shoes is going to set the outfit off. Accessories are everything for me. Wear a clean T-shirt and clean pair of pants, but you got nice shoes, a hat, and some jewelry. It's going to make you stand out.
What's your favorite meal?

Salmon with rice and veggies. I can eat that every day. 
If you had to pick one thing that's your ultimate grail item, what is it?

Maybe the Nike Air Yeezy, the first one. The black and pink colorway.
Before I start asking a little more about the page, do you remember how you first became interested in fashion and style?

I think I've always been into fashion even when I was a little kid. I always wanted shoes, and I was always very interested in looking a certain way when I was getting dressed for school. I remember that feeling when I used to get my first day sneakers and my outfit. I would lay it out on my bed. Sometimes I wouldn't even go to sleep. I knew I had this outfit. I was always very concerned about the way I looked because it made me feel good, since I was a young'un, like high school days.
Is there an outfit that sticks out in your head from back then or a piece of clothing that you had back in the day that was like a prized possession?

Oh, that's a really good question. I might have been some red, white, and blue Dunks. At the time when I got them, everybody where I was from was wearing Jordans. They were wearing certain things and I feel like I came out with something that nobody had. It kind of made me stand out a little bit and I did a good job with styling it that day. I was very excited to wear those.
How would you describe your personal style?

My personal style is very clean. I really don't like logos. Even if I'm shopping at Balenciaga, I'll try to buy something without a logo. If you know, you know. People who are into fashion would know what I'm wearing, but if you're not really into fashion, you wouldn't. My sneakers are the only thing that is kinda loud.
You're from New York. How do you think that has inspired your style?

I think just my bravery, my attitude, just putting stuff on. I feel like a lot of people might admire certain things, but they don't feel confident enough to wear certain things because of what other people might think. Being from New York City and seeing all the fashion and how people are very brave and able to just put stuff on, it just gave me that confidence as well. 
So what made you ultimately start walking around the city checking out people's outfits and interviewing them for the page?

I've been in the city for a while. I've been working in SoHo for, like, 15-plus years. So I always see unique styles, and I'm always giving people compliments. Whenever somebody comes into the store, I will always give them a compliment. I think that's something in New York City that we don't do a lot of. I feel like a lot of times people might see somebody with an outfit on and feel like they could do a better job, or they just don't want to give them their flowers. I just wanted to give people their flowers. I feel like New York City is a unique place when it comes to fashion. I know how it makes me feel when somebody tells me about my outfit. So I had this idea here and there that I tested on my friends. I recorded their outfits and uploaded them to my Instagram Stories. I thought it'd be cool to document them, but I just never did it. I kept procrastinating until I finally said, "I need to do this."
I'd make all the excuses in the world. I need a camera. I don't know how to edit. I was just making all the excuses, but I was still doing so with my friends, just uploading outfits and stuff to my story. And then one day, I was on YouTube and I saw this kid called Icykof in London doing so. And I was like, "Oh my god, this is what I always wanted to do. This kid is in London doing what I'm doing." Then one day, this kid was walking toward me. In my opinion, his outfit was something I had never seen before in New York City. And I said, this is my opportunity. If you're gonna do it, do it now. I pulled my phone out and asked him if I could record him. He said yes. I just went off the top of my head and started asking questions about his outfit.
When was that? 

This was in July 2021. But I didn't let anybody know. I posted it to my Instagram Story because I was worried what people would think about me. So for the first three months of me doing this, I never posted on TikTok.
What made you finally decide TikTok was the right platform?

A couple people reached out to me like, "This is really good. We think you would be big. You should go on TikTok." I didn't want to do it at first, because of the rumors about TikTok being racist and this and that. So, my plan was to build my platform and go on YouTube. Then, I got another DM not too long after that like, "You need to go to TikTok." I still ignored that. Then, when I got the third one is when I realized maybe I should try it out. My first week on TikTok, I gained like 30,000 followers. My phone was going crazy. And that's when I realized, "Holy crap. I got something." From then, I just started going crazy.
A lot of your videos take place on the streets in SoHo. You work in fashion and retail? 

Yeah. I work for a high-end luxury brand. For me, being a Black man, it's so important for me that I'm working in luxury. That's another thing, too. People think I'm just out here hanging out on the corner somewhere not knowing that I actually have a 9-to-5. I'm working. I do really run into these people. To me, it's more impressive that I'm not really out here all day. I'm really just catching people as they pass. 
What is your process when it comes to recording these videos? 

Usually on my break, I come out just to see if there's anybody out here. I would walk around, have some lunch, and see if I run into anybody. Or when I leave work during the summertime, it's still light out. So I'll try to run around and see if I see anybody. I got two days off a week, so during my days off, I will come and get some content if I see anybody. I don't post everything right away. So on the two days I'm off, I might get 10 videos. I try to save some for the days that I might not see anybody that I like. I don't just shoot videos. I have to really like the outfit for me to shoot the video. So if I don't find somebody that day, I'm fine with that. 
Is there a particular video that you feel really gave you a big boost in terms of exposure?

Recently, Lil Uzi. That's one of the videos that went very, very viral. Now, a lot of people pay attention to my page. The Meek Mill video helped me with that as well. A lot of my videos have given me a lot of exposure. I feel like word of mouth is everything in the street. A lot of people do a really good job of letting people know about my page. 
How are you tracking these people down?

It makes me laugh because I'm telling you, I literally just run into these people. I don't know how. For instance, the Meek Mill video, I was literally just sitting on this block talking to my friend. Five minutes later, Meek pulled up in the car and he hops out the car, and I look at him. I went up to him and told him what I do and he did the video. Lil Uzi Vert, I just saw a truck. You could tell it was somebody famous in there. And Uzi came out of the car. I was outside of Margiela and I saw him going to the Rick Owens store. Karrueche, I was just walking minding my business. That was the same day I saw Meek. She was just right across the street and walked into a store. I just happened to be in that area at the right time. A lot of times, it's just me being in the right place at the right time. I feel like I'm walking my path and God puts me in the position, because it's some days when I'm like, "How the hell do I meet these people?" It's insane. People think it's PR stunts or people reaching out to me. I'm literally just walking and minding my business. 
Offset was the same way. It was at the Balenciaga show. Offset shopped at the store I work in twice. I'm very professional. I never tried to shoot while he was in the store. But he knew who I was. So when I saw him at the Mercer hotel in SoHo, he knew who I was and what I do and he was like, "Let's do it."
I feel like a lot of celebrities just out shopping in New York are trying to mind their business. A lot of them might be hesitant to get on camera or just ignore it. Is it tough to get some of them to agree to be on camera ever? 

I don't have that problem. I feel like it's the way I approach people. People tell me after I shoot them, regulars or celebrities, that they felt very comfortable. They support it. For instance, Brent Faiyaz told me he loves my videos. People ask him all the time to do videos, but he would never do them. He only did so with me because he loves the fact that I focus on the fits and the way I approach people and talk to people. And now with my resume, it makes it even easier. 
Is there a favorite video you've done thus far?

Skepta. That's the best video. And not only that, I styled him for that, too. So the thing with Skepta is I met him a month prior to that video in New York City. I asked him to do a video. At the time, he had a root canal. His mouth was messed up, so he couldn't talk. So he told me that he'll be back in New York in a month. I thought he was just giving me the runaround. A month later, I'm walking and he happened to stay at this hotel called 11 Howard. I'm going on my way to work, and here comes Skepta walking right past me. I didn't approach him at that time. The next day, I ran into him again and he remembered me, but he felt like his outfit wasn't up to par. He was telling me he's a Bottega boy. At the time I met him, he had on Louis Vuitton jeans, his Air Max collaboration, and a Diesel tank top. He saw my videos, and he had to make sure when he came on my page that his fit had to be the best one. 
Is there someone that you've run into that has surprised you the most? 

Michèle Lamy. That was mind-boggling to me to get her on film. Usually, she says no to stuff like that. I didn't know she was going to say yes. 
That video with Demna in the club was crazy too.

I'm really messed up about that, because I actually shot Demna's husband before. I saw them the day before walking toward me, him and his husband. But I didn't want to ask [Demna]. I feel like he probably would've turned me down. So I let the situation pass me by. Then, when I went to the Balenciaga party the next day, I was able to get that video of him. But I wish I got the interview outside cause he knew who I was.
Is there someone whom you'd want to record for the page that you haven't gotten a chance to yet?

Larry David. That would really make me feel like, "Woo." ASAP Rocky and Rihanna, not just ASAP. I want ASAP Rocky and Rihanna together. I want Drake as well. And Kanye of course. I actually got close to Kanye at the Balenciaga show. He looked at my page, but he had to go. 
You mentioned Icykof. There's some other guys who have done similar things. So what do you think it is about your videos that people have really gravitated toward?

I think it's my sense of fashion. You add my sense of fashion to the way I make people feel on videos, the way I commentate the videos—it's what sets me apart from anybody. You see I know fashion by the people whom I'm choosing to interview. And then my excitement in the videos, it's like you're getting everything in one. You get joy from watching my videos. I feel like a lot of other videos are very dull. For them, it's just a trend. But you can hear the passion in my voice in my videos.
Do you have any thoughts on the other fashion creators on TikTok right now?

I don't really keep track of them. To be honest with you, I feel like a lot of them are trendy. Some people will send me stuff, and I will watch it here and there. But I'm very passionate about this. This is not something that I'm just doing because I think it's trendy or I'm looking for attention. There's so many people that have come after me and are trying to do these videos. It's oversaturating the market and it's not good. I really want people to feel good when they get stopped and know that this is serious business. I'm really giving them their flowers. So when I see other videos, it's cool, but nothing I pay attention to that much.
What in fashion right now excites you?

I love the way people express themselves. Balenciaga is one of my favorite brands. I love the designs. They're very bold. They set the trends. [Balenciaga] does a lot of really interesting designs that I like. I just love when somebody just comes out here and is not worried about what other people think about them. I feel like a brand like Balenciaga embodies that. I love Margiela. If you know, you know. They don't do too many logos. They're very low-key. But high-key in the same way. I feel like there's so many upcoming designers that I've seen. And just the way people style themselves is very unique. That's what gets me excited about fashion right now.
What would you say is the biggest thing you've learned since starting this page?

I think I learned more about fashion and just the way people are able to express themselves through fashion. When you see some of these outfits, people are very confident in what they do. And they've allowed me to be more confident in what I put on as well. Sometimes people don't wanna admit it, but we worry about what people would think. We might see something that we like but think this person might think that we're this or that. Don't worry about what other people think about it. Just put it on.
What's your ultimate goal for the page and your future in fashion? 

I think the sky's the limit for me. I want to continue to grow my brand. I would love to travel the world and be a part of the fashion world. Whether it's going to the shows, doing my content, having a podcast, having my own show, having a clothing line, being a stylist, I just want to be a big part of fashion. When people hear the word "fashion," I want my name to come up.