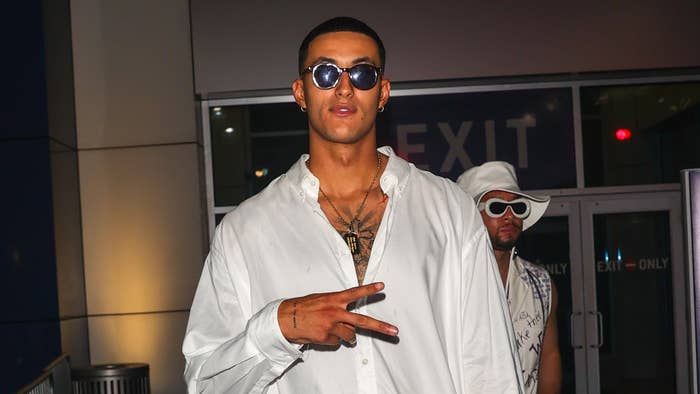 By now, you've likely heard the NBA pregame tunnel be compared to a fashion runway. Sure, it's become a bit of a cliché when it comes to discussing the relationship between basketball and fashion and it's probably hard to find many similarities between the Oratoire du Louvre and the inner workings of Capital One Arena, but the point is hard to argue when you see some of the eye-catching looks being shown off across an 82-game season. And one of the NBA pregame tunnel's most talked-about models is Washington Wizards forward Kyle Kuzma. 
Since starting his career in 2017, Kuzma has gained a reputation for his wardrobe that has featured bold choices like cotton candy blue blazers with no undershirt to cargo pants with pockets that extend down to his ankles. Perhaps the most memorable outfit came last season when he arrived for a November home game wearing a pink Raf Simons knit sweater that looked comically oversized even on his 6'9" frame. Social media did what social media does. The memes ensued and Kuzma's bubblegum pink threads immediately went viral. He still sees people talk about it almost a year later. He says he's going to hang the sweater on his wall soon, the same way you may see other athletes hang up their own jerseys, a fitting choice since he categorizes it as more than just another piece of clothing.
"It's an art piece. I'm never wearing that again. It's not really a thing that you're going to wear out," Kuzma tells Complex. "It's definitely something that's going to live on forever."
Fast forward to this week and Kuzma wasn't just making heads turn with his outfits in the back hallways of NBA arenas. He was strutting down a real runway. On Tuesday night, he walked in Puma's "Futrograde" presentation that took place at Cipriani's Great Hall during New York Fashion Week, the first runway presentation for the brand under creative director June Ambrose. His look was one of the most memorable from the show—a black hoodie layered with a sequined black basketball jersey up top and a floor-length black skirt made of puffer jackets with its flailing arms resembling an octopus for the bottom half. Following the show, he took to Instagram to show love to Ambrose for the "iconic moment."
"I believe that Puma is the ultimate lifestyle brand," says Kuzma. "Being fashion-forward is something that we take pride in. I'm just very, very grateful to be a part of it."
Ahead of Tuesday night's presentation, we were able to speak with Kuzma about his ongoing partnership with Puma, his infamous pink sweater, some of his favorite NBA throwback jerseys of all time, and more.
This interview has been edited and condensed for clarity.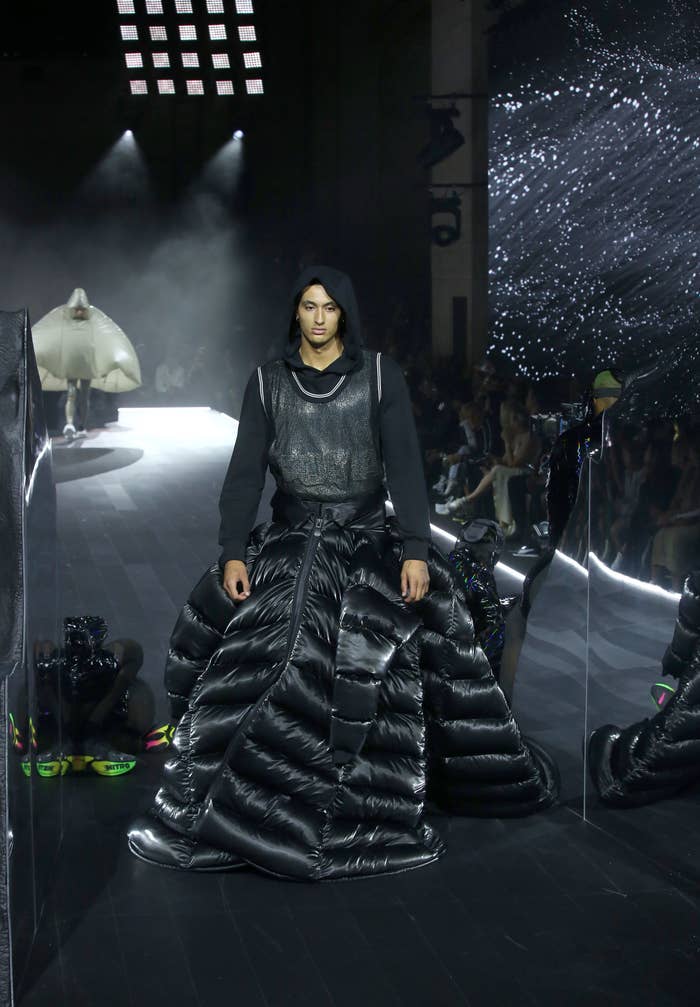 You've been with Puma for a few years now. What has made it such a good partner for you?

You know, I've worked with many brands over my professional career so far and with Puma, they're just so understanding. The biggest part is they're so true to the word collaboration, whether that's with other brands, athletes, or influencers. We've had an excellent relationship and it's only going to continue to grow.
Can you talk a bit about what's coming next with you and Puma? Can we expect to see more of your personal style come through with the partnership?

For me and my team, we're always trying to elevate and add new things. That doesn't stop with Puma. Over the next couple months, you and the world will see a little bit more of the things that I want to do within the fashion space.
Is it cool to see the worlds of fashion and sports come together in a runway show like this with Puma?

Yeah. I believe that Puma is the ultimate lifestyle brand. When you think about Puma, obviously there's a huge performance component within the brand, but it's also bringing that to the culture. Being fashion-forward is something that we take pride in. I'm just very, very grateful to be a part of it.
I've seen you running around to a bunch of different events during New York Fashion Week. Are there any standouts for you thus far?

My brother Ev Bravado at Who Decides War. He's going to be up next in a couple years and he had a phenomenal show. Great pieces. A great message behind all of his art and his pieces. I was very, very impressed by what he displayed.
I saw you on The People Gallery TikTok showing off your outfit from the Marni show. Is that your favorite outfit you've put on during New York Fashion Week?

My favorite's going to be tonight. But Marni's a great brand. They're a very colorful, spunky type of brand. Being loud, that's part of me too, so it was great.
As you dive deeper and explore more within the fashion world, I'm sure you've been discovering new designers or tapping into designers that you haven't before. What are some of your favorite brands at the moment?

I love to support my friends, whether it's Mike Amiri, Rhuigi at Rhude, Ev at Who Decides War. I have a good relationship with Marni. BlueMarble hasn't shown in New York, but it's an excellent brand. Anthony Alvarez does a great job over there. So yeah, I just like to support my friends.
You've been one of the guys in the league that's become known for taking a bit more risks with their style. A lot of your outfits make waves on the internet once you hit the tunnel. How did you get comfortable taking some of those style risks?

I mean, I've always been confident. I'm comfortable in my own skin and I don't really care about the opinions of other people because everything is really relative and everyone has things that they like and things that they don't like. I wear what I want. I feel like I look good.
I have to ask you about the giant pink Raf Simons sweater from last season. Can you just talk about how that came together?

Yeah, me and my stylist, we always bounce ideas off each other and we are always looking at fashion as art pieces. We just came about this Raf piece and were like, "Yo, I feel like this would be dope in a big time moment." We were trying to figure out when the best time to wear it was, and also how to wear it as well. I'm not really thinking about going viral or the magnitude of the rest of the world seeing it. We just thought it was really, really dope and wanted to try it out. Obviously, everything came from it and everyone saw it. It's going to be hanging up on my wall pretty soon.
You're hanging it up on the wall?

It's an art piece. I'm never wearing that again. It's not really a thing that you're going to wear out. 
Even though your intention isn't to go viral, is that still cool for you to see that reaction?

Yeah, for sure. It was months ago, but I always see people mention it and it's definitely something that's going to live on forever. 
Do you consider yourself the most fashionable player in the league?

One of them. There's a few guys that have their own style. Everybody else kind of dresses the same. But like I said, it's all relative. 
Not including you, who are some of the other guys whose style you appreciate?

Jordan Clarkson. He's himself. I appreciate Frank Jackson. He's someone that people may not know, but I would definitely say those two guys. I've grown to really appreciate their fashion sense because it's authentic. It's real and it's them. They don't try to be other people.
Your girlfriend Winnie [Harlow] is involved in the industry also. Is she helping you pick out certain outfits? Are you running ideas by her? Is she giving any sort of advice?

Obviously, she's one of the biggest supermodels in the world. Her being in my life, she's done a great job of, I wouldn't necessarily say directing me, but just boosting my confidence. She gives me confidence to do more things, take more risks, and just feel good about myself.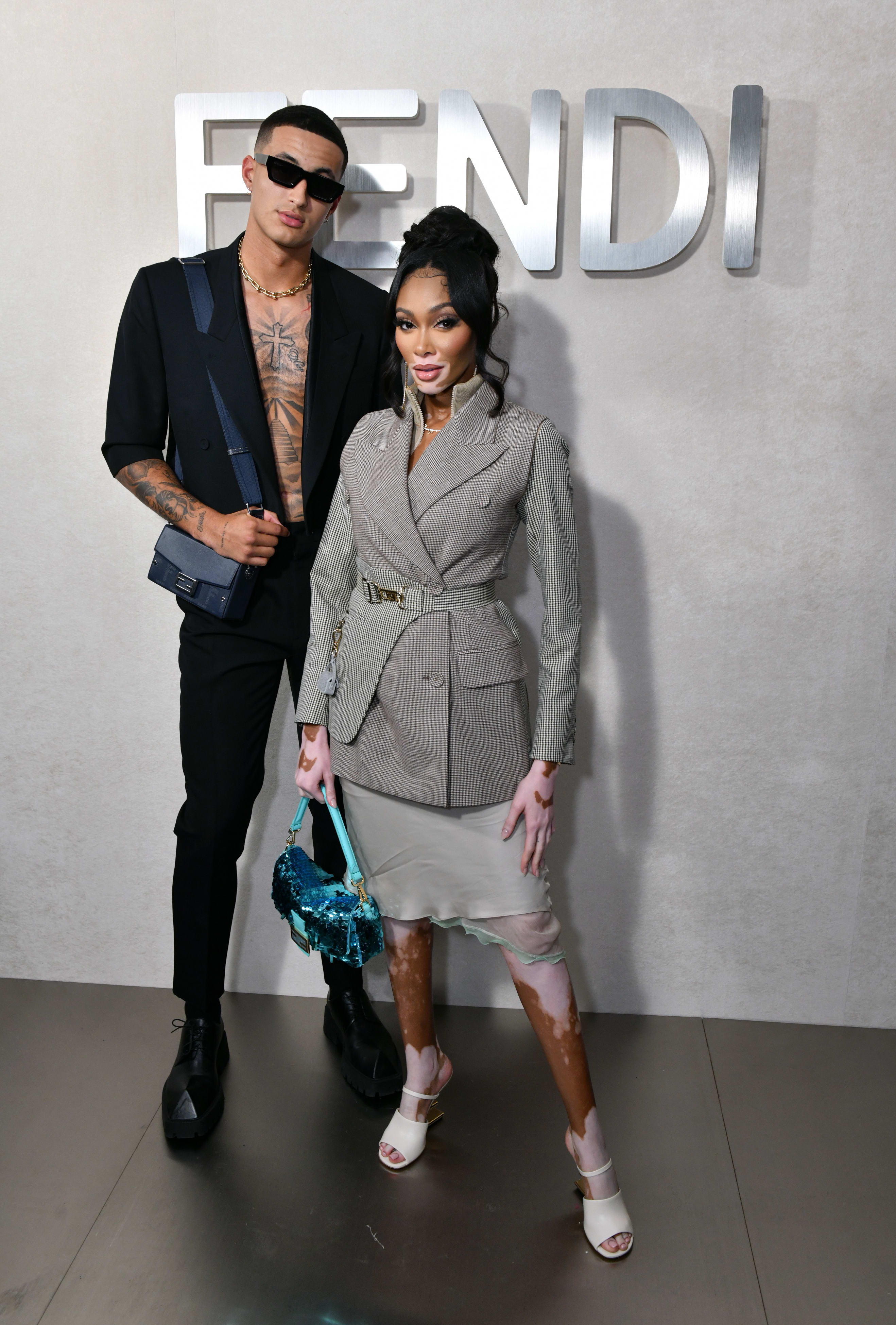 On Instagram you talked about taking up photography because she got you a camera recently. Have you been shooting anything in New York this week? What is it about photography that you've gravitated towards?

Photography is another piece of art. I love paintings. I love to paint. I love fashion, which is art. I love photography, which is art. It's just something that's very therapeutic. It's a space where I can be creative and show people what I see out of my own eyes.
You're playing in D.C. now. D.C. has its own unique style. Has playing in the city introduced you to anything new style wise? Are you exploring the city for fashion at all?

I wouldn't necessarily say fashion. I think art for sure, architecture. D.C.'s a very, very beautiful city. It reminds me a lot of Paris. Actually, the designer of D.C. designed Paris. So, that's kind of a fun fact. But I think just being in D.C., being on the East Coast, has really allowed me to just take in layering. Layering pieces, dressing up coats. Obviously, playing on the West Coast, a lot of cities you go to are not really cold. Playing in more cold cities has allowed me to really dress up and layer. 
A lot of the teams, the Wizards included, are bringing back some of their iconic throwback jerseys from year's past. The Wizards brought back the Gilbert Arenas, Antawn Jamison-era throwbacks. What are your top five NBA throwbacks all time?

There's so many good ones. It's hard to rank 'em but I'd probably say the ones that come to my mind have to be the Wizards ones that we just brought back, like when MJ was there and they had Rip [Hamilton] and Caron [Butler] and those types of guys. Those jerseys are super dope. Vancouver Grizzlies, obviously. I love the Toronto Raptors when they had the Raptor, like early 2000s. Definitely the turquoise Detroit Pistons jersey. Being from Michigan, that's a very iconic thing, whether it was Jerry Stackhouse or Grant Hill. And then, I'd probably say just Lakers purple and gold. That's probably the most timeless jersey ever.
You mentioned the Pistons. I saw you tweeting about Ben Wallace a couple days ago. I feel like when you look at the great teams in NBA history, those Pistons championship teams get slept on. Growing up in Michigan, watching those guys, why should people stop sleeping on that team?

Yeah. I think that organization as a whole, even the Bad Boys, they're really underrated in the grand scheme of things. They had a hell of a team. Pushing forward to the '04 Piston, they had four All Stars at one point. And they beat the three-peat Lakers 4-1. So, that's kind of all you have to really say on that. They had a phenomenal team. Obviously, people know the guys: Ben Wallace, Chauncey [Billups], Rip, Tayshaun [Prince], but they had so many great role players that really helped contribute. Growing up in Michigan, they were like rock stars. They put Detroit and Michigan really on the map. If you lived in Detroit or Michigan at that time, we showed them a lot of love. 
You're entering your second season with the Wizards. I know we're a couple weeks away from the season kicking off still, but what is your mindset going into this season? Do you feel like you guys can take a bit of a leap forward?

Yeah, I mean, it's all about getting to the playoffs. That's my mindset. The NBA's always better when you can win. We probably had one of the more talented teams that Wizard fans and the DMV's seen in recent years and we have to figure it out, take that leap, and start playing winning basketball. That's the most important thing that we have to do.
To those critics that may see you and say, "He's more focused on the clothes and the fashion stuff than he is on the game," what would your message to those people be?

Honestly I really don't even care. [Laughs.] A lot of people say what they're gonna say. They have reference points. They see, but don't really know who you are as a person. So, you just let people talk at the end of the day.