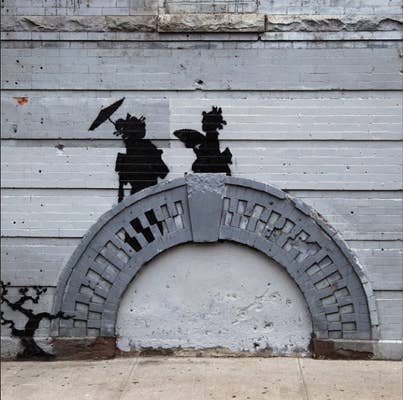 For his 17th piece for his New York residency, "Better Out Than In," Banksy creates a scene of two women in traditional Japanese dress conversing on a bridge, which is part of the original building. A bonsai tree sprouts from the ground below the women, creating a full composition.
The scene could be taking from a traditional Japanese woodblock print, a technique called ukiyo-e, and viewed as an homage to Japanese culture. At the same time, it could be interpreted as offensive, playing off a geisha stereotype and the exoticism of Eastern cultures. If we look at it this way, the silhouettes act in the same way as Kara Walker's cutouts of gross caricatures of black slaves, which play off American racial stereotypes.
This is not the only street art that involves Japanese motifs in New York. Lady Aiko, who is based in the city, updates traditional ukiyo-e with modernized and empowered imagery of Japanese women. Unlike Banksy, her message is not ambiguous. She remixes Japanese themes through a contemporary and respectful lens.
Banksy declared that the work was in Brooklyn's Bedford-Stuyvesant neighborhood on his Instagram, but according to Animal New York, it is actually on Cook Street right off Graham Avenue in Williamsburg.
UPDATE OCT. 17 4:12 P.M. ET: A man who calls himself STF tried to tag Banksy's newest work, reports Animal, but the building's owner knocked him to the ground and protected the piece. A group of people stepped up to clean up the vandal's tag. Banksy posted a screenshot of STF's Instagram (@rockit_boy) on @banksyny with the caption, "this is the account if the person that defaced the piece in williamsburg today, he's happy to talk about getting flipped lol.. #banksy #banksynyc #nyc #brooklyn." UPDATE OCT. 17 6:02 P.M. ET: Plexiglass has been placed over the Banksy on Cook Street.