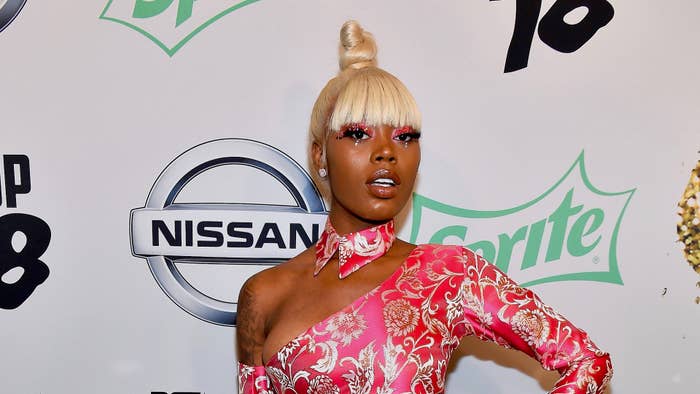 Asian Doll is firing back.
The Dallas-born rapper caught heat this week after she was accused of ghosting Calia Abdul, an NYC-based designer who agreed to create a custom dress for Asian Doll. Abdul made the allegations via Instagram on Thursday, sharing screenshots of her purported text exchange with the entertainer.
"Wow. This is so heartbreaking. 💔💔💔@asiandabrat had me spend hundreds of dollars to create her birthday dress just to ghost me A DAY BEFORE HER BIRTHDAY," the designer wrote. "Not only that, @asiandabrat also sent my design to be recreated and copied by someone else last minute. As a small business this is a huge loss ‼️It may not mean much to celebrities but I spent hard earned money that I didn't have to lose 😢."
She continued: "I spent sleepless nights to create her a rush order dress that I overnighted from overseas. Full diamond front/back gown that I worked more than hard on ‼️Literally so upsetting. Maturity would have been to at least tell me, and credit my work as your inspiration. So disheartening."
Asian Doll responded to the allegations in a series of tweets, and denied claims that she simply couldn't afford Abdul's creation.
"Her dress was $1500, his dress was $2k," the rapper wrote in response to a Twitter user. "Bitch who couldn't afford what? Your rent not even 2k, bitch. Mind yo business."
Abdul shared more screenshots of her interaction with Asian Doll, who was seemingly on board with the order. The text messages appear to show Asian Doll providing her body measurements and inviting Abdul to Miami for a fitting. She also asked the designer for an alteration, but ultimately agreed to take the original design.
"Yes, I know I should've gotten a deposit. You live and learn," Abdul wrote. "I jumped to make the dress because it was a rush order gown, so yes I started immediately so that it could be perfect … It's impossible to say she didn't know I was creating the dress. 😞 I stated over and over again that I spent money and time on the project. If I would have been told not to create it I wouldn't have. Even after the indecisiveness I was told to stick to it, so I did. Also this entire situation wasn't to bash the designer who created her replica dress last minute, designers recreate looks with our own twist all the time. Even still, she gave my design to another artist after knowing I was doing so much work."
Abdul shared an Instagram video that provided a closer look at the diamond-covered gown.
"She's still available!" she wrote in the caption. "Thank you all so much for all the love and positivity!"