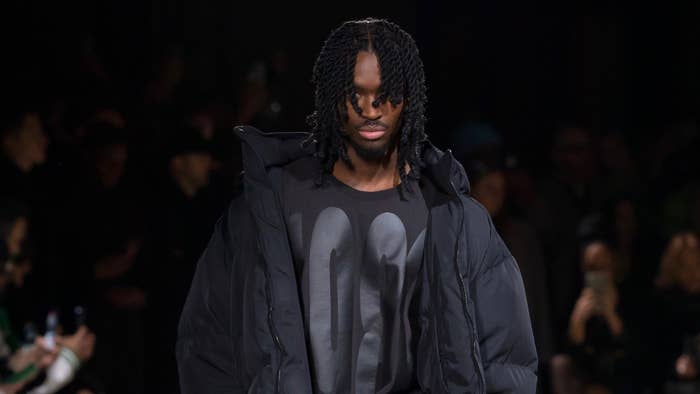 1989 Studio is making big moves.
Less than two years after its launch, the American luxury brand made its big debut at Paris Fashion Week, where it showcased an extensive Fall/Winter 2023 collection. The range was dominated by monochromatic looks that drew inspiration from youth culture of the '90s and early 2000s. Pieces included everything from*NSYNC tees and relaxed hoodies to camo-print dresses and faux fur coats to leather bomber jackets and oversized suits.
The collection is noticeably gender-neutral and inclusive, as most of the pieces can be easily incorporated into a wide range of wardrobes. According to Women's Wear Daily, the designs will be available in sizes up to 3XL and 40 waist; however, the brand will also offer custom designs for those who are outside that range.
"The primary focus of this collection and presentation was to prove to ourselves and the greater industry that we deserve to be here," Chaz Jordan, the founder/designer of 1989 Studio, said in a statement. "We are hyper-focused on growth and evolution and look to continue to push the limits of our creative abilities. This year, we will begin to increase the brand's presence around the world (Los Angeles, Tokyo, London) through experiential installations allowing us to bring the world we are building to new key markets."
You can check out pieces from the runway show, presented at the iconic Palais de Tokyo, below. The 40 looks were styled by former Elle editor Yoshua Simmons.