 At his old gig, Jordan Roschwalb wore one pin every day. Working in operations for Mercedes-Benz, he slipped an official brand pin though the lapel of his suit each morning. It was a good one, from Tiffany, but it was more a signifier of stagnation than a beloved item. "After a while, it was like, 'Why can't I wear this vintage Mercedes car pin instead?'" he asks. "'Why am I being sucked into this hole of having to do the same thing over and over again?'"
Now, things are different. In April 2014, after parting ways with Mercedes, Roschwalb founded Pintrill along with his girlfriend Doni and friend Andrew. He's making his own pins, and wearing whichever ones he wants, whenever he wants. A step forward, no doubt, but the shift from autos to accessories wasn't exactly smooth sailing at first.
"I always wanted to work for myself," Roschwalb explains in his Brooklyn office space. "But I needed an exit strategy, and I had no idea what that was." Looking around the room at the two thousand or so new and vintage pins strewn across the table, tacked into cork boards, and filling storage containers, it's clear he's found it. But it took a few months, a couple of false starts, and one fateful trip from his native NYC to Los Angeles to make it happen.
"I packed a bag, went to LA, and met with a friend who has an accessories company," says Roschwalb. "We went to lunch, and he showed up with Scott Disick. It was just like, 'OK, this is so weird.'" It was also illuminating. "It made me realize that sort of thing isn't impossible." Feeling emboldened by the encounter and the prospect of limitless possibilities, Roschwalb told his buddy he should introduce pins to his accessories line.
Why pins, specifically? For one, Roschwalb's been collecting them since childhood. He believes a pin is a timeless item, a keepsake. "It really takes you into that moment when you got it," he says. "I think that's what pins do, and I want that for more people. That's why I like them so much and why I've collected them for so long." Plus, they're about as democratic an accessory as you can get. Easy to wear, a simple move to elevate your style, and made for everyone. "The reason we chose pins is because they don't discriminate. They're one-size-fits-all, and they're unisex."
His friend, for his part, decided against making pins for his own line, so Roschwalb took matters into his own hands. "I just said fuck it. I'll make pins. I had money saved up, and this was what I saved for." Pintrill went into production in the middle of April 2014 with six designs: two in-house logos, two with text ("Blessed" and "Good Vibes Only"), and two emojis. "The '100' emoji and the fire emoji, I chose those two because they were the two emojis that I was using the most at the time," Roschwalb notes. "What am I using right now? What are people sending me? That's the stuff that I want to use and put out there."
The emojis, especially, were a hit. Lifting the language of the internet and text messages and dropping it into the IRL realm, they resonated with consumers immediately. "Those aren't original designs; I would never take credit for that," says Roschwalb. "But, I guess, the genius in it is that we took emojis and made them into pins."
"we'll get bigger, But we'll still be a small pin company from Brooklyn."
—Jordan Roschwalb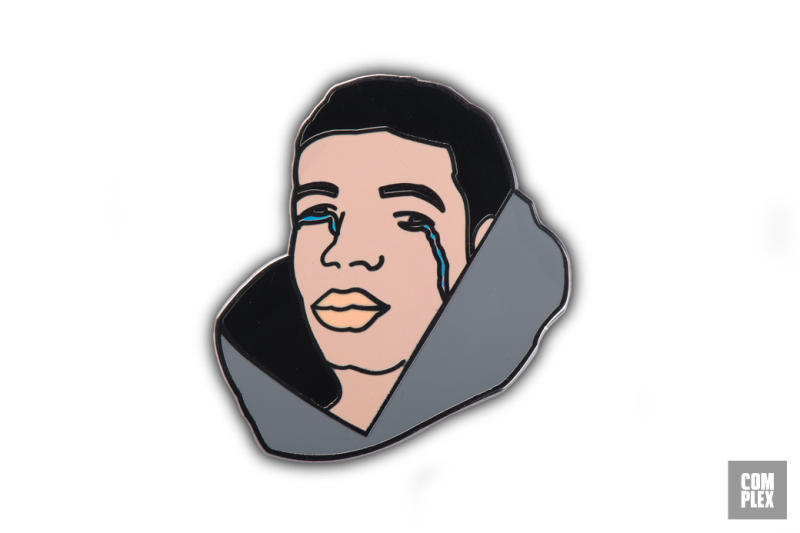 Simple enough, but equally effective. By May of last year, Pintrill had sold through its first hundred pins, covering the cost of the initial run.  "And I was like, 'OK, now I can sell another hundred and make that money,'" says Roschwalb. Still, despite the success of the emojis, Roschwalb resists being pigeonholed. "We're not just an emoji pin company," he says. "We're Pintrill. We're a pin company. We make all different types of pins."
The inspiration for those other designs, says Roschwalb, can come from anywhere. For Pintrill's NYC pack, it was as simple as walking around the city. "I had a meeting in SoHo one night, and I was there early and just looking around. And it was just like, 'Oh, that's a pin. And that's a pin.' Suddenly, I have five pins." Ditto that sentiment for an upcoming yo-yo design, which came from an impromptu trip to a toy store. That one, though, has some personal significance for Roschwalb. His grandfather gave him a Duncan Butterfly as a gift. "He gave me something to stay young and childish. Like, 'It's OK to play.' I've taken that with me, but I've never been able to make something and say, 'This is because of you.'" His grandfather has since passed on, but Roschwalb hopes that inscribing his name on the back of the pin is one small way to pay homage and keep the memory alive.
Not everything is so personal, and it's not always just Roschwalb and company in the design mix. Pintrill also collaborates with an impressive number of co-conspirators. There's the infamous "Drake Tears" pin, created in consort with California-based design collective Octobers All Alone. And the designs the brand has created with Theophilus London, 40oz NYC, Future, and Def Jam, to name a few. Despite the high-profile partners, the litmus test for working with Pintrill is quite simple: "One of the first things I ask people is, 'Do you want to make pins? Do you like pins?'" says Roschwalb. If you're as enthusiastic about pins as he is, you're in.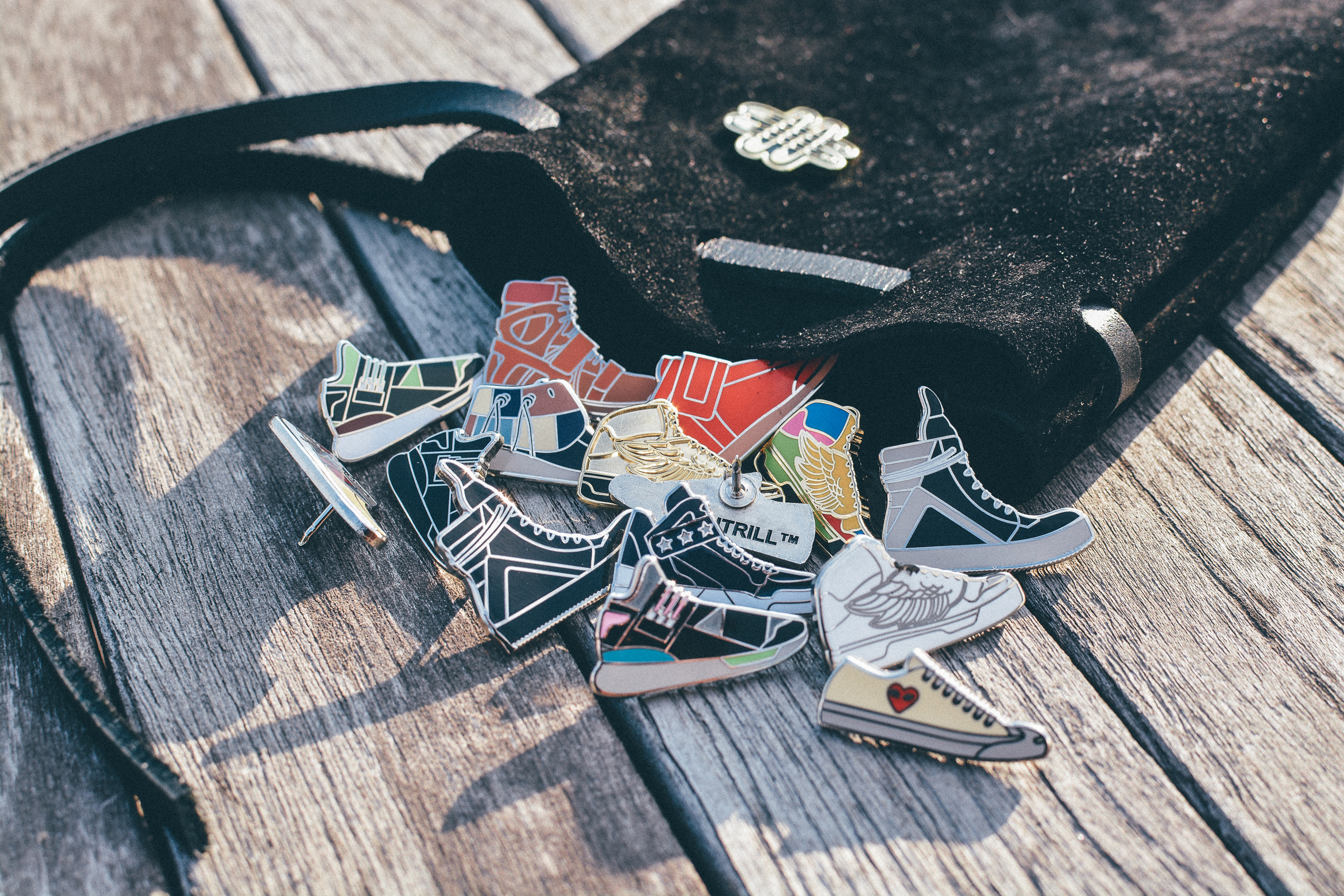 Of course, you also need to have a few good ideas. Pintrill prides itself on high-quality manufacturing—2mm thick pins made from brass and hard enamel, designed to last for ages—but it trades in designs that reference pop culture and familiar artifacts, making them new again by taking them out of their original element, be it online or on the streets. It's what's catapulted them from one of many pin brands to emerge in the last year or so to the leader of the pack. "We can make other pins that are relevant to pop culture and do it really, really well," says Roschwalb. Doing just that, they've built a steady and ever-growing fan base.
But even as the brand matures and looks to the future—there are ambitions to do private label for one of the biggest pin-makers out there, Disney—Pintrill aims to keep things focused on its core product. "If you're doing one thing, and you're doing it really well, why would you want to change that?" asks Roschwalb. He believes pins are poised to become an evergreen accessory, and he's happy to keep his focus narrow, working to incorporate his chosen medium into the fabric of modern style.
Roschwalb hopes, naturally, that Pintrill can be one of the key brands that makes that happen. Still, he doesn't have a big head about it. "To me, we're still just a small pin company in Brooklyn," he says. "And we'll grow, and we'll get bigger. But we'll still be a small pin company from Brooklyn."