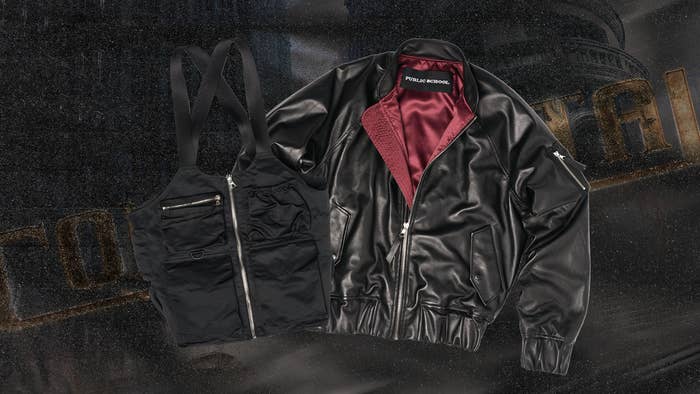 After four major films in the franchise, who would've thought that the world of John Wick could only get bigger? The Continental: From the World of John Wick officially premieres on Sept. 22 on Peacock, and this prequel is taking the series in a gritty new direction.
The three-part event takes the concept of The Continental, a chain of hotels that exists as a haven for criminals and assassins, and pulls us into its origin. The series will explore the lore, introduce new stories, and flesh out the history of characters who come into play in the main John Wick series. However, a central character that subtly shines in this narrative is The Continental itself. Set against the backdrop of 1970s New York, from the bustling streets to the vibrant nightclubs and even the gritty subways, this environment perfectly captures the dark and edgy ambiance that sets the stage for the unfolding action.
To pull you further into the experience, Complex is offering readers a chance to win a custom '70s-inspired utility jacket designed by Public School and inspired by The Continental: From The World of John Wick.
Public School, a homegrown New York clothing brand rooted in the city's essence, blends together coolness, effortlessness, and style that impeccably resonates with the show. The jacket consists of a leather bomber, lined in a burgundy nylon that draws from the era's moody neon lighting, accompanied by a black nylon utility vest that can be worn beneath or over the jacket, ensuring both function and protection essential in The Continental's world.
If you're a fan of the John Wick series or timeless fashion in general, this is the perfect piece for you. Wondering how to get your hands on it? From Sept. 18 to Oct. 1, sign up HERE for a chance to enter the sweepstakes. Winners will be notified by Oct. 9.
NO PURCHASE NECESSARY. Starts 9/18/23; ends 10/1/23. Must be 18+ and legal resident of 50 U.S. states. Official rules here: https://stories.complex.com/the-continental-sweepstakes/ Sponsor: BuzzFeed Media Enterprises, Inc. VOID WHERE PROHIBITED.