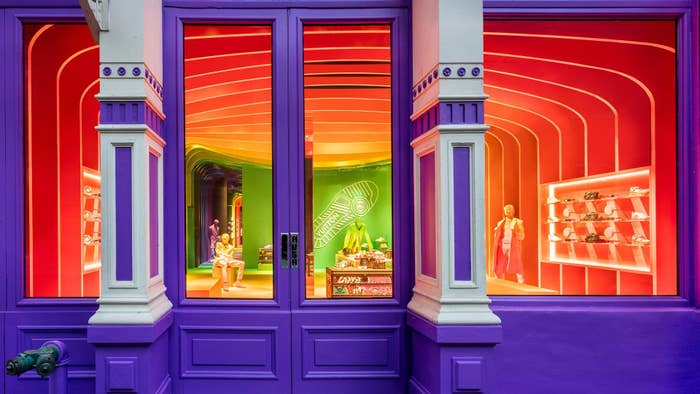 Louis Vuitton has just opened a vibrant new Men's residency pop-up shop in Soho that will feature the Fall/Winter 2021 ready-to-wear, accessories, leather goods, and other pieces.
Dressed in the same vibrant colors that Virgil has utilized in his various collections with Louis Vuitton, this unique residency design is drenched in hues of purple, orange, yellow, red, and green on the back wall; reminiscent of a lush sunset exploding onto the interior of the store. Dubbed "Louis Vuitton: Walk in the Park," the residency is meant to mirror those outdoor aesthetics that you might come across while walking through Central Park on a warm summer afternoon.
As stated in the LV newsletter, "The Temporary Residency location will debut enveloped in neon arches inspired by Paris' Pont Neuf, with color-coded nuances of the rainbow throughout, a nod to the set of Virgil Abloh's debut show for Louis Vuitton for Spring-Summer 2019."
It continues, "Collectors' items in their own right, the chosen designs for A Walk in the Park are continuously coveted by the global community formed by the Artistic Director since his arrival at Louis Vuitton. With limited edition drops every week, Virgil Abloh's legendary sneakers take center stage."
The residency is open right now and is set to morph on July 9 to feature the Men's Fall/Winter 2021 collection, as well as other pieces out of Virgil's rolodex of designs. Check out another shot of the unique residency down below.