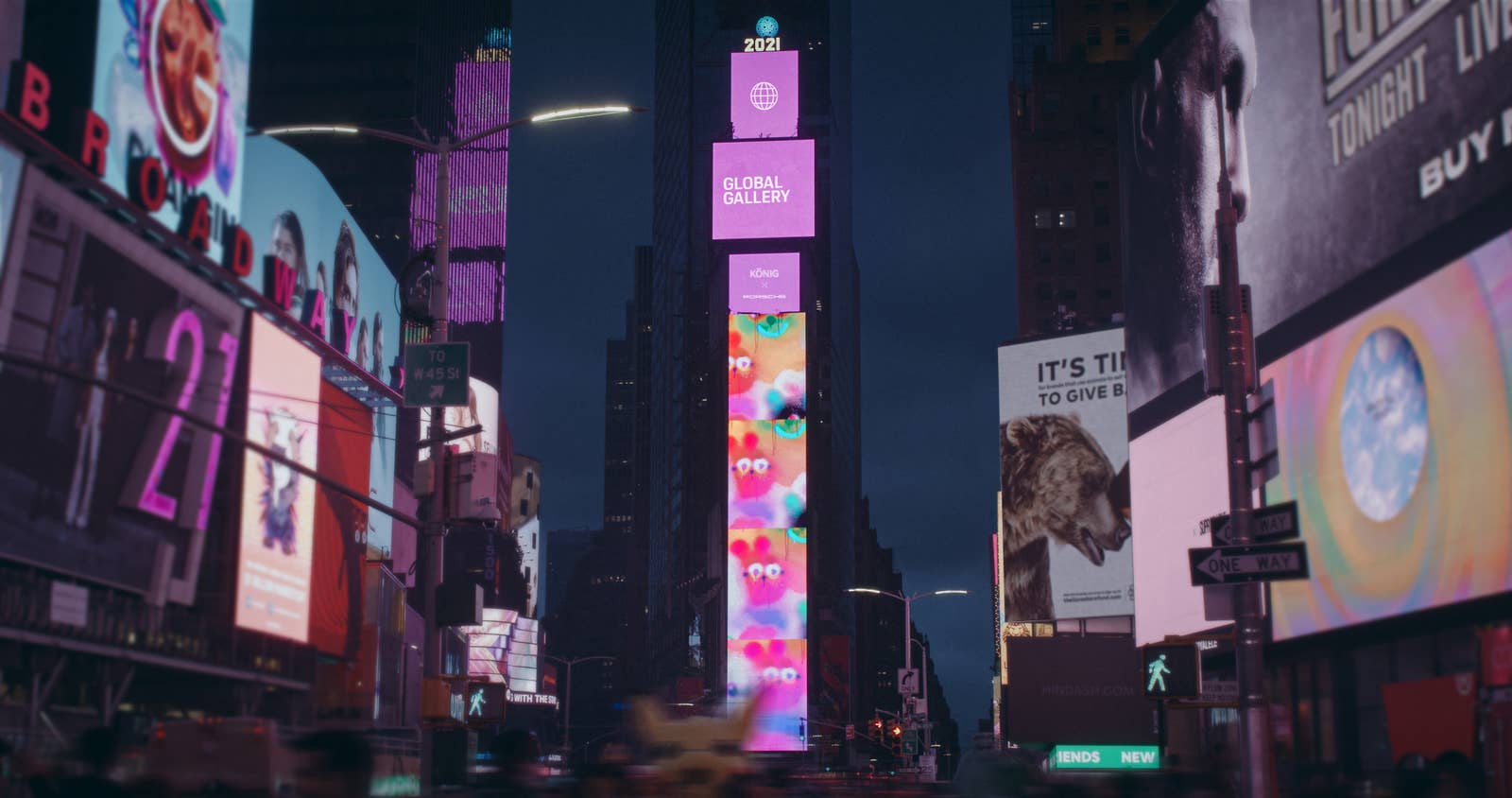 Porsche is a brand built on the principle of turning dreams into reality, with their beguiling and awe-inspiring automobiles pushing the envelope of engineering for more than 70 years. Now, the German manufacturer is applying the same spirit of embracing creativity to art and design, with a new project that platforms some of the world's most innovative artists in a one-of-its-kind 'Global Gallery'.
In partnership with KÖNIG GALERIE (known for representing and exhibiting a cutting edge roster of international artists), Porsche is taking over some of the most iconic digital advertising spaces across the globe to create an innovative gallery showcasing the work of new wave artists in some of the most highly-trafficked areas of the world.
From October 9 and lasting eight weeks, five major cities across North America, Europe and Asia turn into the Global Gallery and become the canvases of artists who are pushing the boundaries of their creative disciplines: New York, Madrid, Berlin, Seoul and Tokyo.
While the cities in their own right are the birthplaces of some of the most important individuals and movements in the history of culture, the specific locations where art will be showcased are all the more momentous. From NYC's Times Square to Tokyo's legendary Shibuya Crossing, this will be a game-changing moment for these artists as their work will be seen by more people than ever before.
The stunning project will shine an amazing spotlight on 11 up and coming artists: Andy Picci, Auiea Harvey, Banz & Bowinkel, Ben Elliot, John Yuyi, Jon Burgerman, Jonas Lund, kennedy+swan, Manuel Rossner, Junuwana and Nicole Ruggiero
This talented and eclectic group of artists from around the world have been selected for the innovation they bring to their work. Digital art is one of the biggest trends in culture right now – with the NFT boom allowing artists to sell their work to collectors, as has always been the case with 'traditional' art – and this project romantically combines new ideas with heritage, pairing future-facing digital art with iconic billboards that have housed some of the most famous ads of all-time.
By pairing with KÖNIG, Porsche is also working with a gallery that's always been known for democratising art. That spirit extends to this project too, with all exhibited work available to the public to purchase as NFTs for eight weeks. Unlike most NFTs – which are super-limited and exclusive – the Global Gallery NFTs are unlimited and start at just €100, a major step forwards for accessibility in digital art collection.
The NFTs will be hosted on misa.art, which will act as a KÖNIG X PORSCHE content hub throughout the Global Gallery project, providing additional background stories on the artists, their artworks and the project as a whole.
Visit misa.art/gg to to learn more about Global Gallery presented by Porsche and curated by KÖNIG.