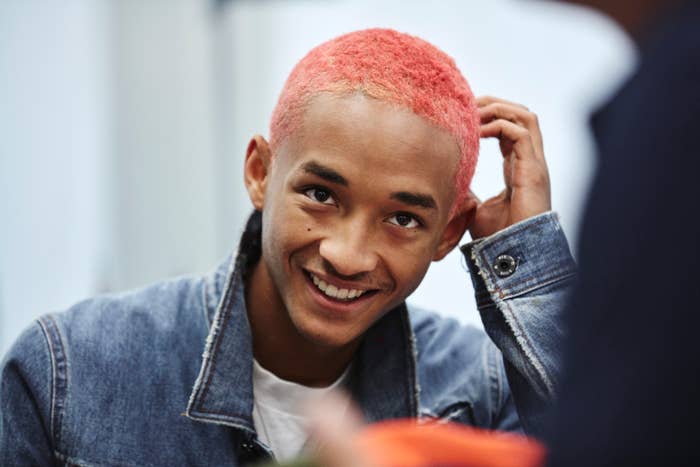 No generation has faced the harsh reality of our climate crisis more directly than Gen Z. We're staring down rising sea levels, islands of plastic waste, rising temperatures and increasingly erratic weather. Yet in the face of these doomsday predictions, by and large, young people are stepping up to the plate. If you look to hip-hop, you'll find the unlikely environmentalist Jaden Smith. Not yet old enough to legally drink in the US, Jaden already boasts an impressive portfolio of environmentally-focused business ventures, from water in a box to what might be the world's most sustainable denim. His climate crusade is more than talk and Tweets.
The 20-year-old self-proclaimed Indigo Child is an archetypal millennial creative, moving seamlessly between disciplines—acting, rapping, and now, design—in the public eye since age eight. First appearing with father Will in the 2006 film The Pursuit of Happyness, a string of Hollywood roles followed—until 2014, when Jaden renounced his big screen aspirations to release Cool Tape Vol. 2 an eight-song collection of lyrical rap. Of course, no profile of the free-spirited artist could go without mentioning his Twitter account, where he offers all-caps musing on everything from chemtrails, to the Illuminati and crying in the back of Ubers. Until recently, column inches dedicated to Jaden's social media antics often eclipsed coverage of his artistic catalogue, but his 2017 debut album SYRE proved he was a rap force in earnest. Around the same time, he made a low-key return to acting, starring in Baz Lurhman's Netflix original The Get Down, and voicing the lead character of Ezra Koenig's Netflix anime Neo Yokio. This year's streaming success 'GHOST' came with a video clip shot in Japan, which—unbeknownst to viewers at the time—teased Jaden's next big venture, with he and his crew throwing Monopoly money outside a Harajuku G-Star flagship. But if you asked Jaden what he's most proud of, he'd likely skip over all the chart hits and Hollywood premieres, and instead tell you about the work he's less known for: his dual environmental initiatives—JUST Water, the Smith family's boxed water brand, and his brand-new sustainable denim collaboration with G-Star RAW.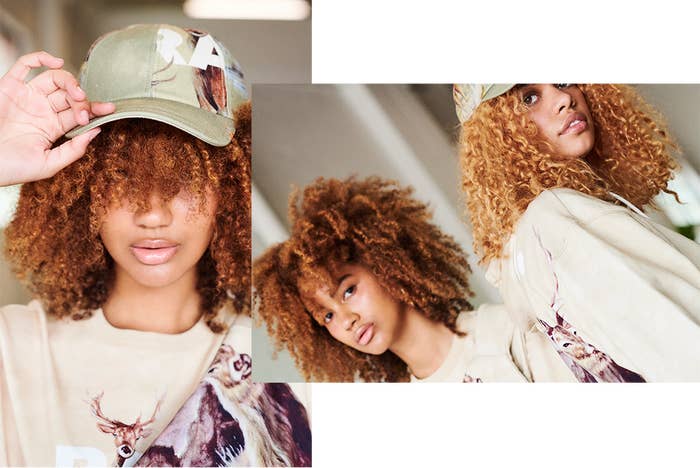 Jaden's environmentalist beginnings came at aged ten, after noticing a troubling number of plastic bottles in the ocean while surfing. Globally, we buy one million plastic bottles of water a minute, and 91% of all plastic never gets recycled. Jaden talked to his parents about the issue and urged his family to do something to help. So, as a joint venture with father Will, 11-year-old Jaden created JUST Water, which trades traditional water bottles for completely recyclable boxes (made from cardboard and plastic), and a cap derived from sugarcane. The company boasts that producing a JUST Water box releases 74% less harmful emissions than regular water bottle. While plastic typically uses less energy during production, cardboard is much more commonly recycled, meaning less landfill and more opportunities to reuse. The venture is made all the more impressive by the fact Jaden hid his involvement with the company until 2016—a conscious decision to make sure JUST Water succeeded on its environmental merit, not because of its celebrity backing. When Jaden did decide to get the message out, he did it in his own idiosyncratic style: holding his boxed water to his ear like a phone in paparazzi shots, like a rapper would with cash. Jaden has more expansive ambitions for JUST Water, but for 2018, he focused his environmentalism elsewhere: our wardrobes.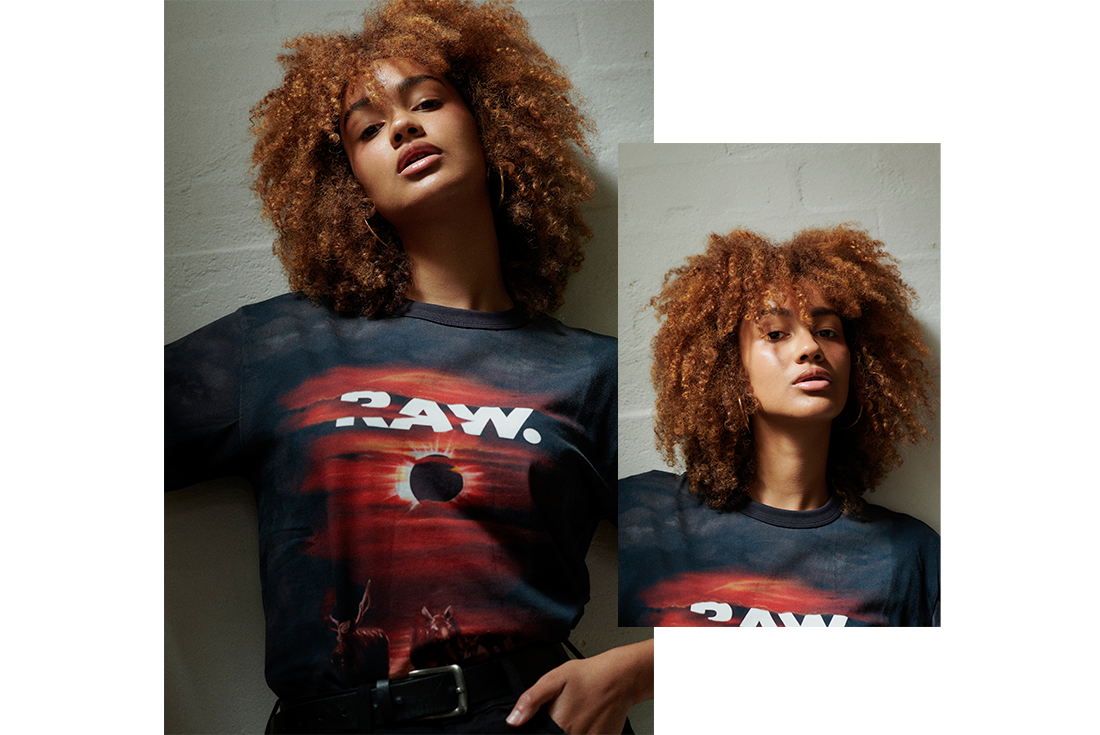 In March of this year, Jaden announced he was working with G-Star Raw to formulate a sustainable denim collection, part of the Dutch brand's promise to producing the "most sustainable denim ever." It was Pharrell who introduced Jaden to the G-Star team (the artist became a part-owner in the company in 2016, with an eye to expand their sustainability initiatives), tweeting "[Jaden's] commitment to the environment is such an inspiration." Traditional denim, not unlike the plastic bottles Jaden seeks to replace, is an environmentally taxing material to produce. At the cotton production stage alone, eye-watering amounts of water, fertilizers and pesticides are used. Later, when fabric is dyed, waters are polluted by coloured waste runoff from toxic dyes. Jaden's G-Star collection, however, flips this process of its head.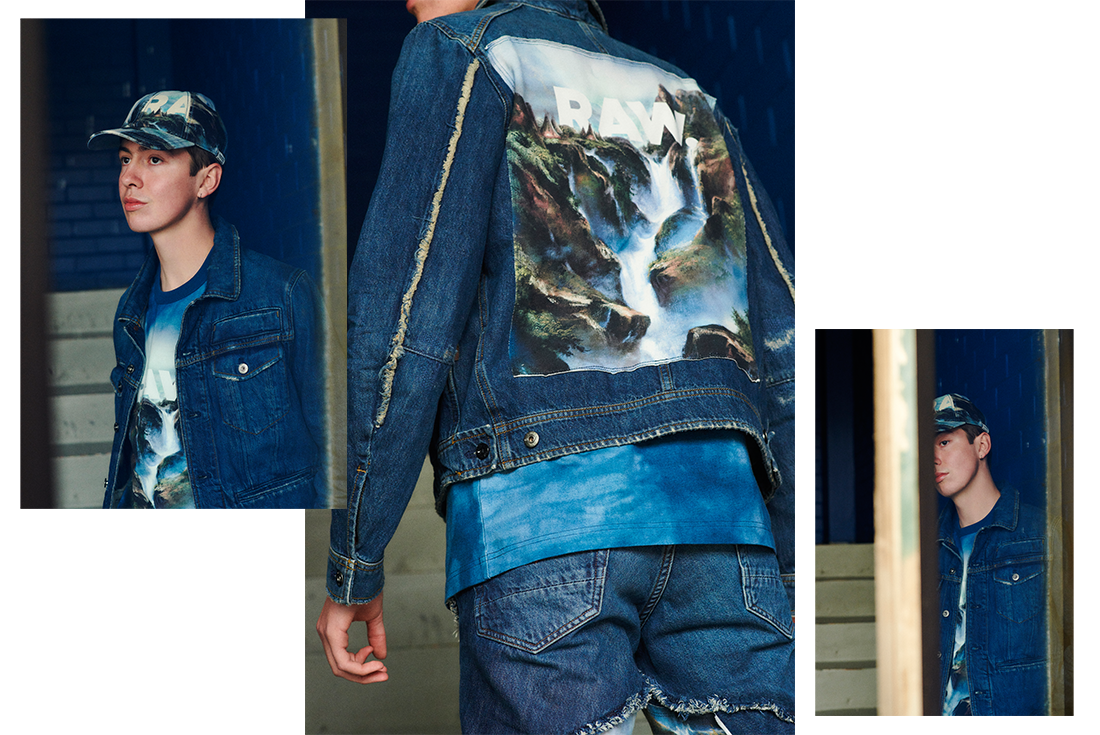 The full autumn/winter 2018 collection, titled Forces of Nature, was unveiled last month. Think classic denim, cotton t-shirts and sweaters, all produced as sustainably as available technology allows. Jaden broke the collection into three colourways, each thematically tied to the planet: water pieces rendered in a deep blue, earth garments in a gentle beige, and eclipse denim in a washed black with bursts of deep red. All graphics were digitally printed; the most sustainable printing process available today. The water pieces use G-Star's RAW For The Planet Indigo Material, a fabric dye that uses 70% less chemicals than traditional blue dyes. G-Star proudly assert it poses no risk to people or the environment. The earth pieces' natural beige colour comes from raw cotton, using no dye whatsoever. The eclipse range is the most environmentally friendly black denim offering G-Star has ever created: developing a production process that uses 52% less water, 65% less energy, 71% less CO2 and 14% less chemicals than traditional black denim.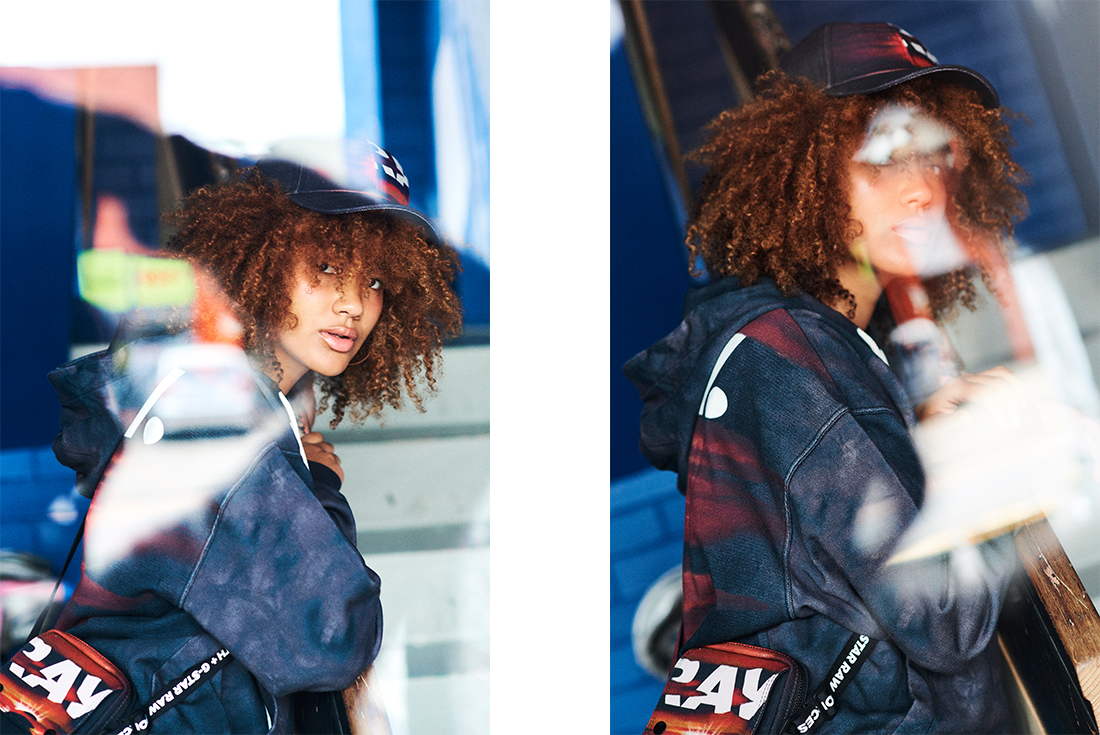 It's far more than a vanity project for Jaden. The textile and garment industry generates a gargantuan amount of waste—more than 15 million tons of textile waste is generated every year in the US alone. It's an industry in dire need of more waste-reduction initiatives like Jaden's, and he knows it. "The reason I partnered with G-Star is because we share the same values," Jaden said in March. "For all the problems we're faced with, we're going to have to create a lot of solutions."
What's next for the multi-hyphenate? Expect new music coming soon, and an expansion of JUST Water into more than just water, but a lifestyle brand focused on homewares, food, soaps and furniture. Fingers crossed for a real-world sustainable music venture—imagine a Jaden Smith tour that is completely sustainable in concert production and design, with every attendee sippin' from a box.
Photography: Jordan Drysdale

Styling: Thalea MV

Beauty: Rose Letho

Talent: Savage the Girl, Benedict, Aasha