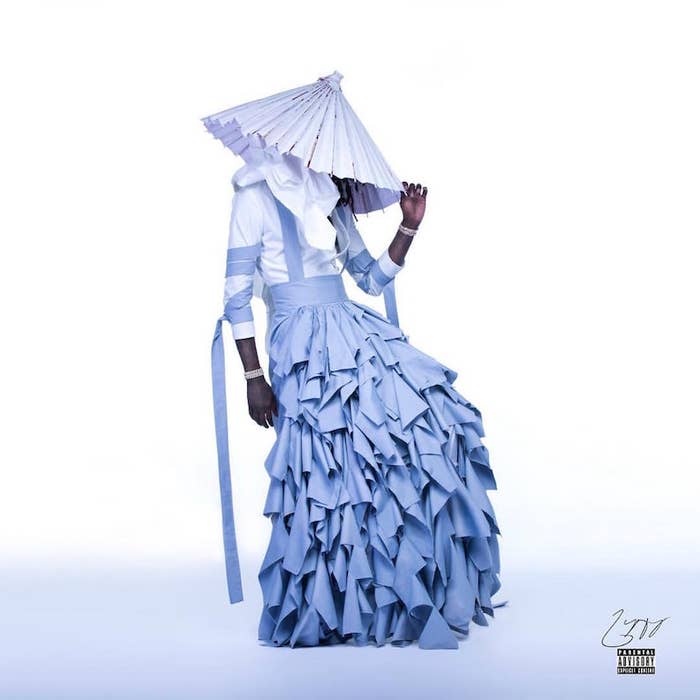 Young Thug—or No, My Name is Jeffery—dropped his new No, My Name is Jeffery project on Friday. The real standout from the album, IMHO, might be the cover art, which features Thug in a billowing purple dress (would you accept periwinkle as an accurate description for the dress' color?). The FADER tracked down the photographer for the project who told them about how the cover came together and revealed the story behind the show-stopping dress. 
Garfield Larmond, the cover art's photographer, explained that Thug knew immediately upon seeing the dress that it was what he wanted to wear for the Jeffery shoot. Young Thug first saw the dress while he was meeting with VFILES founder Julie Anne-Quay as part of his role on VFILES' mentorship panel, Larmond told The FADER. "So, we were just looking through the photos at the end of the shoot," Larmond said, "and [Thug] said, 'What's that? I need it.'" Lardmond continued: "He saw the piece in New York, and said immediately, 'I want that for the cover.' Like, there was no thought about it. He just saw it and knew he wanted it."
The dress is by Alessandro Trincone, one of the participants in VFILES' crowdsourced Season 7. Trincone is a designer from Italy, and if Thug really did just feel an immediate connection with the garment, it's really quite amazing because Trincone designed the dress with many of the same ideologies Thug believes in in mind, specifically androgyny and identity unrestricted by gender. In his bio on Not Just a Label, Trincone writes about the inspiration behind the collection that features this dress. "The androgynous identity of my inspirational garments reinforces my belief of no-gender boundaries between men and women," he writes. Thug made a very similar statement as part of his Calvin Klein campaign: "I feel like there's no such thing as gender." 
In a statement provided by VFILES, Trincone said the following about Thug wearing his design. "When I saw the cover image here in Italy it was like around 2:30 a.m. and I was completely shocked," he said. "I couldn't sleep for the feelings that I felt—so excited, so happy and so proud of it all. I'm so happy to collaborate with Young Thug." 
The photographer also confirmed that it really did take Young Thug an hour to get the dress on, as he said during Thursday night's listening event for No, My Name is Jeffery."When we got on set, it definitely took like an hour and a half to put it on," Larmond said. "Then once he put it on, and I started shooting, they noticed a piece was off — like something really intricate. So we had to take another thirty minutes to pin stuff up, get the hat right. It took hours. Hours on top of hours."