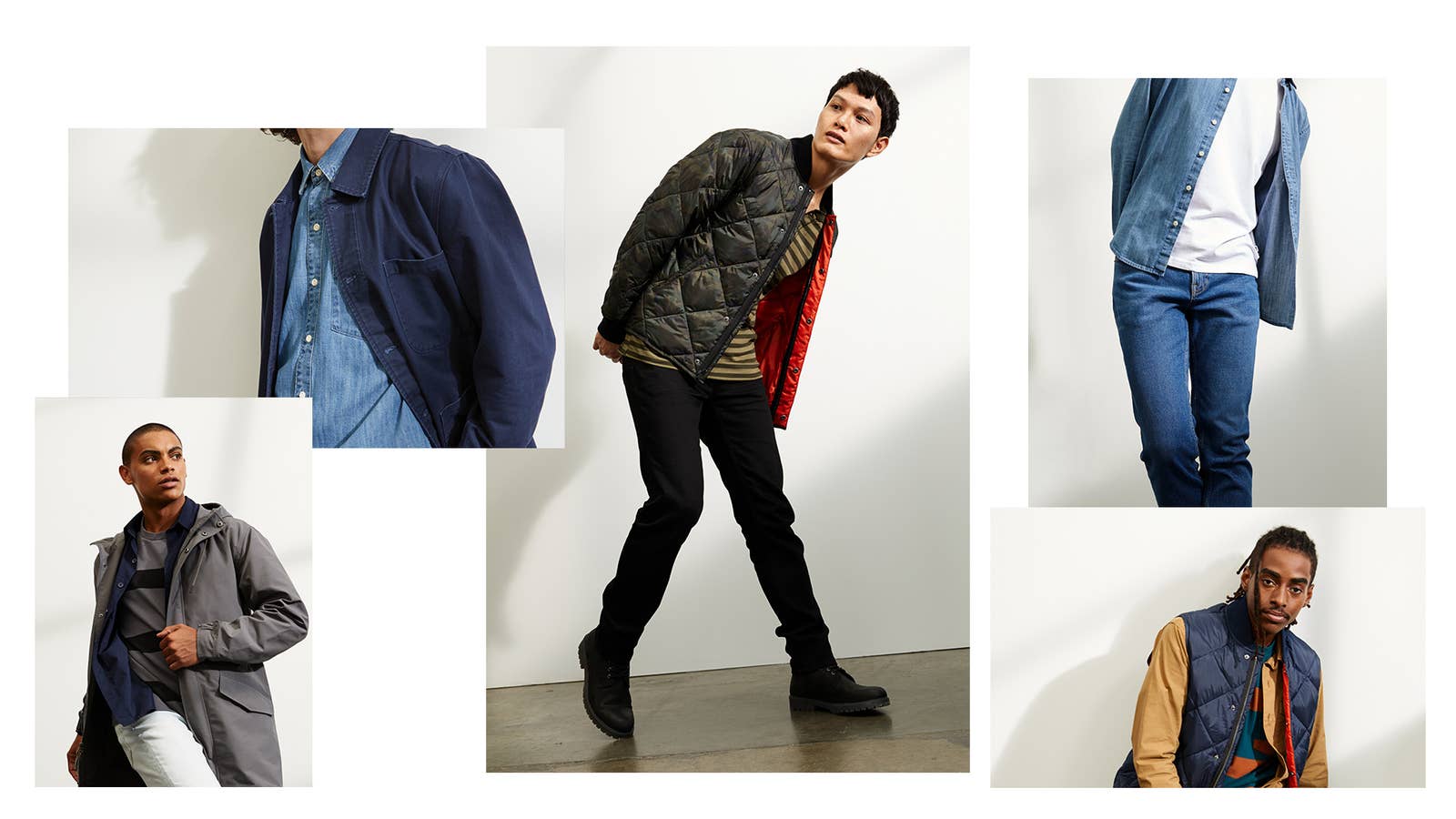 After a long summer full of varying T-shirt and shorts combinations, fall is the season that allows for a little more versatility in your wardrobe. If you're looking for layering options, the new Free Assembly line has it all. Offering a full line of workwear and military-inspired essentials that are designed to mix and match, each piece complements the others seamlessly. And you can feel good about purchasing Free Assembly too, because the line is committed to sustainability and is as good-looking as it is affordable. 
Because fall often means variable weather with cool mornings and hot afternoons, the Free Assembly lineup includes everything from base layer T-shirts and Henleys to quilted vests and fishtail parkas, giving men options for layering up early in the day and then shedding garments as the temperature dictates. Dressing for those kind of shifts means more comfort and more versatility for well-dressed men around the country, allowing them to feel good and style their outfits however they want, when they want. To assist, Free Assembly's dropped a new lookbook showcasing rugged key outerwear and denim layered with T-Shirts, Henleys, flannels, and Oxfords to create perfect fall fits. Scroll through for some inspiration and be sure to pick up a few items to add to your wardrobe at walmart.com and select Walmart locations.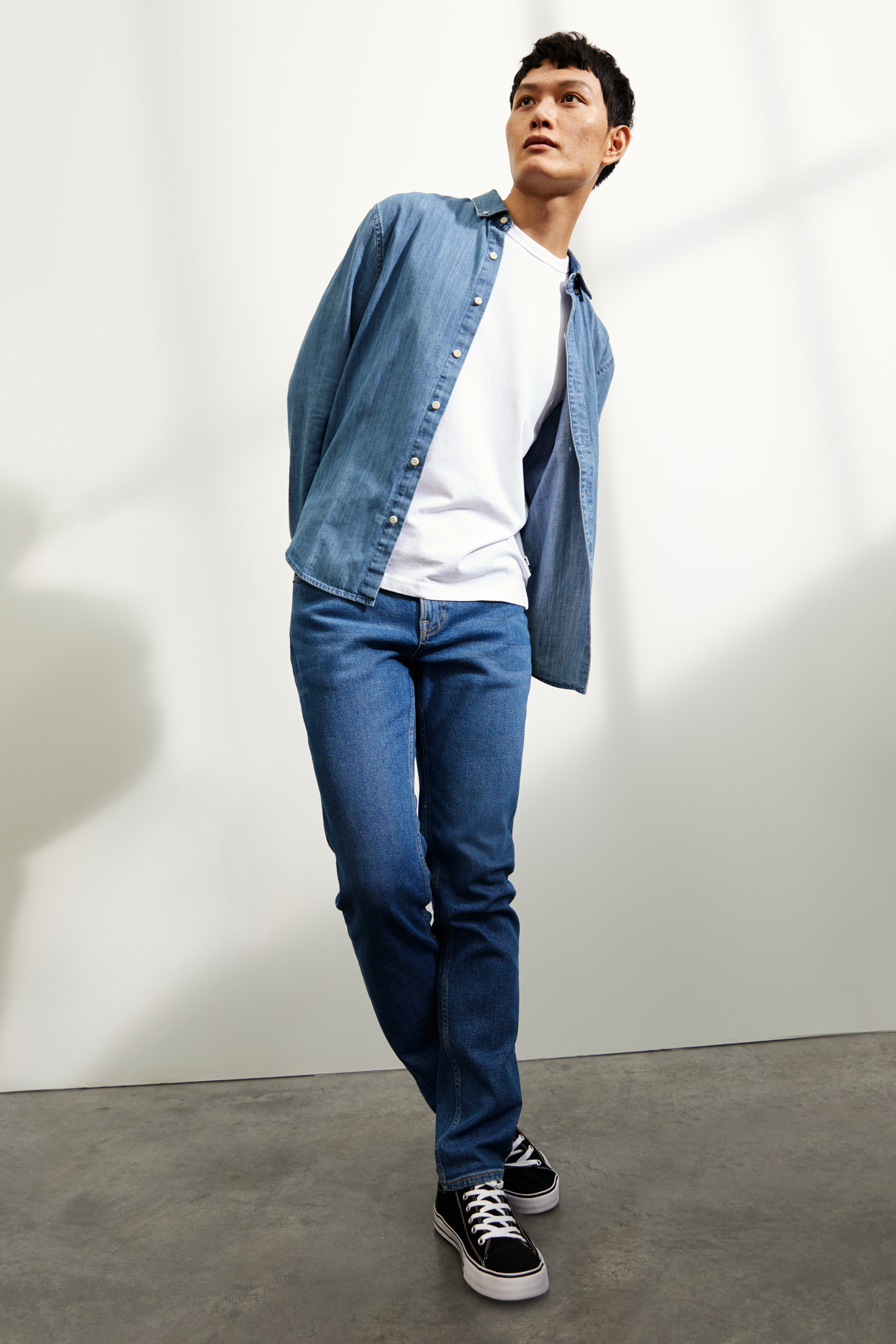 Yes, denim on denim works, especially when the shirt is a different wash than the jeans you're wearing. That's the case here, with the Free Assembly Men's Everyday Denim Shirt in light wash offering a nice contrast to the Free Assembly Men's Slim Jeans in medium indigo, all offset by a bright, clean pop of white from this Everyday T-Shirt. This is simple layering at its finest, but the best part is that all the denim is done right, being produced in fair trade, LEED-certified facilities that protect both the enviroment and workers. 
The Everyday Oxford Shirt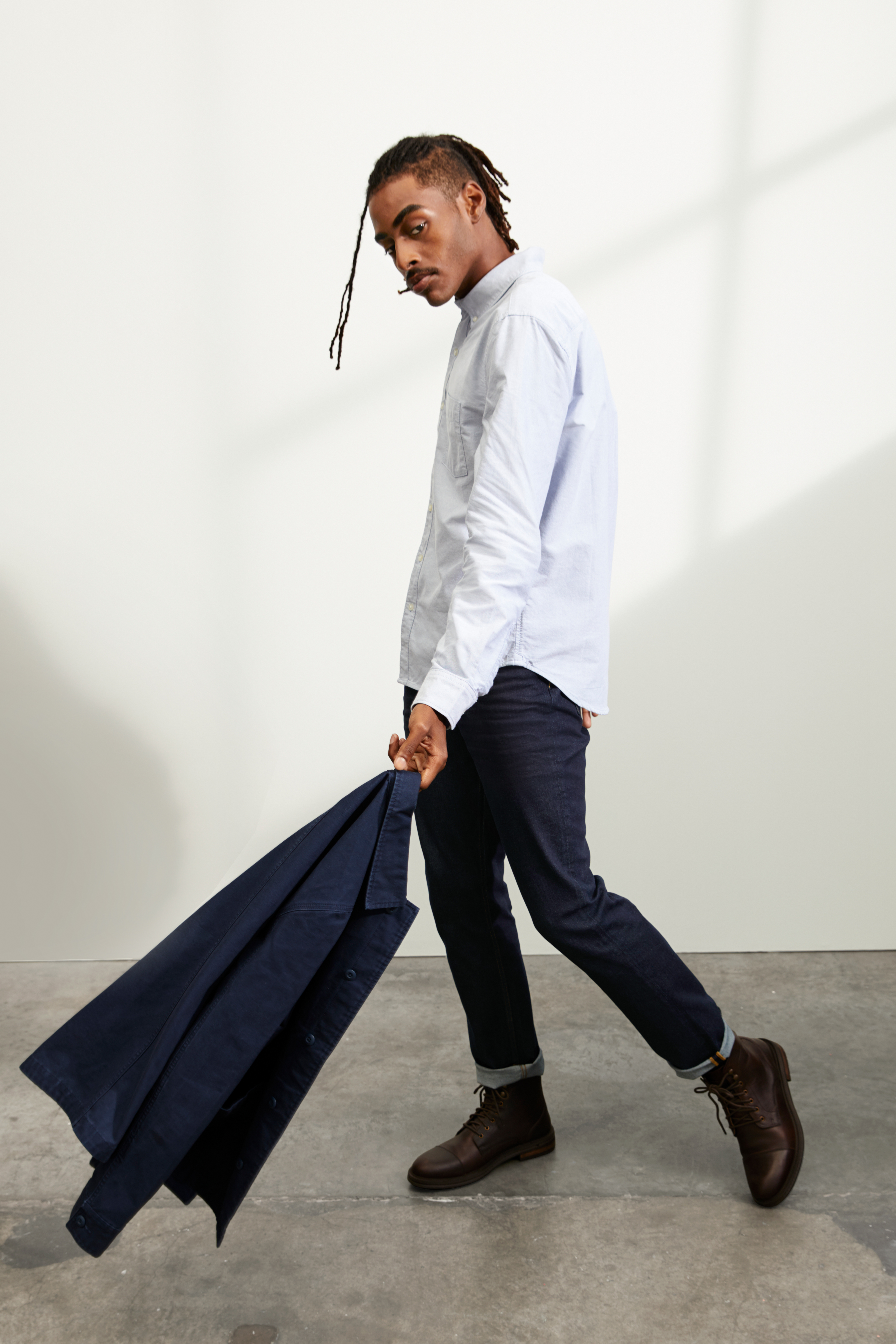 Light wash denim is great when you want to keep things casual, but sometimes life calls for something a tad more dressed up. No problem here. Just opt for an Everyday Oxford Shirt instead of a denim top and pair it with some Selvedge Slim Fit Jeans in a dark wash. And don't forget your Chore Jacket for when the temperature drops.
The Slim Fit Jeans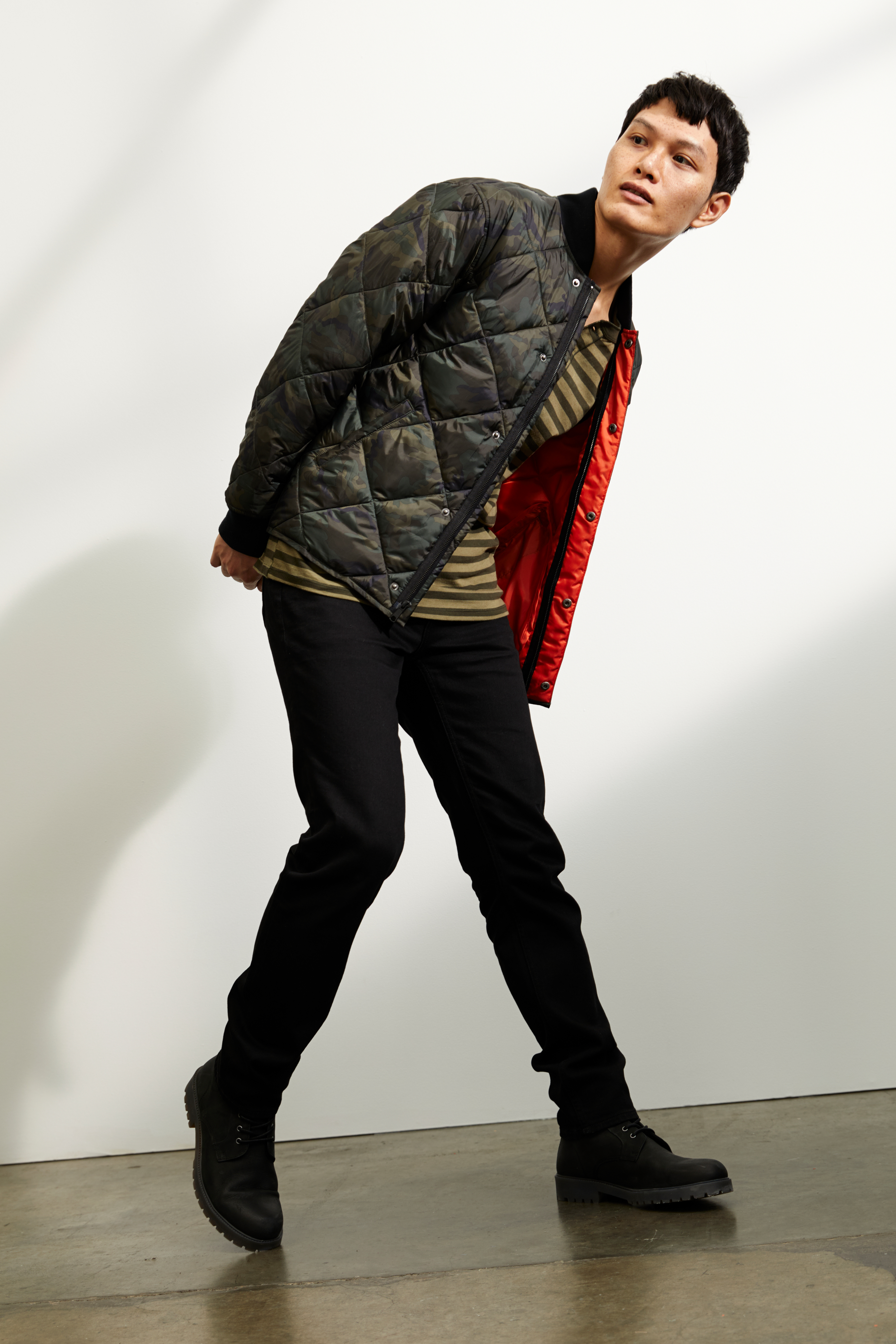 Outerwear, shirts, and tees are all crucial parts of dressing stylishly, but every good outfit rests on a foundation of great pants. And no pants are better than jeans, especially when they're Free Assembly's Slim Fit Jeans, which offer a slender, tappered cut that works perfectly when worn with a Bomber Jacket and an Everyday Long-Sleeve Striped Henley.
The Two-Pocket Flannel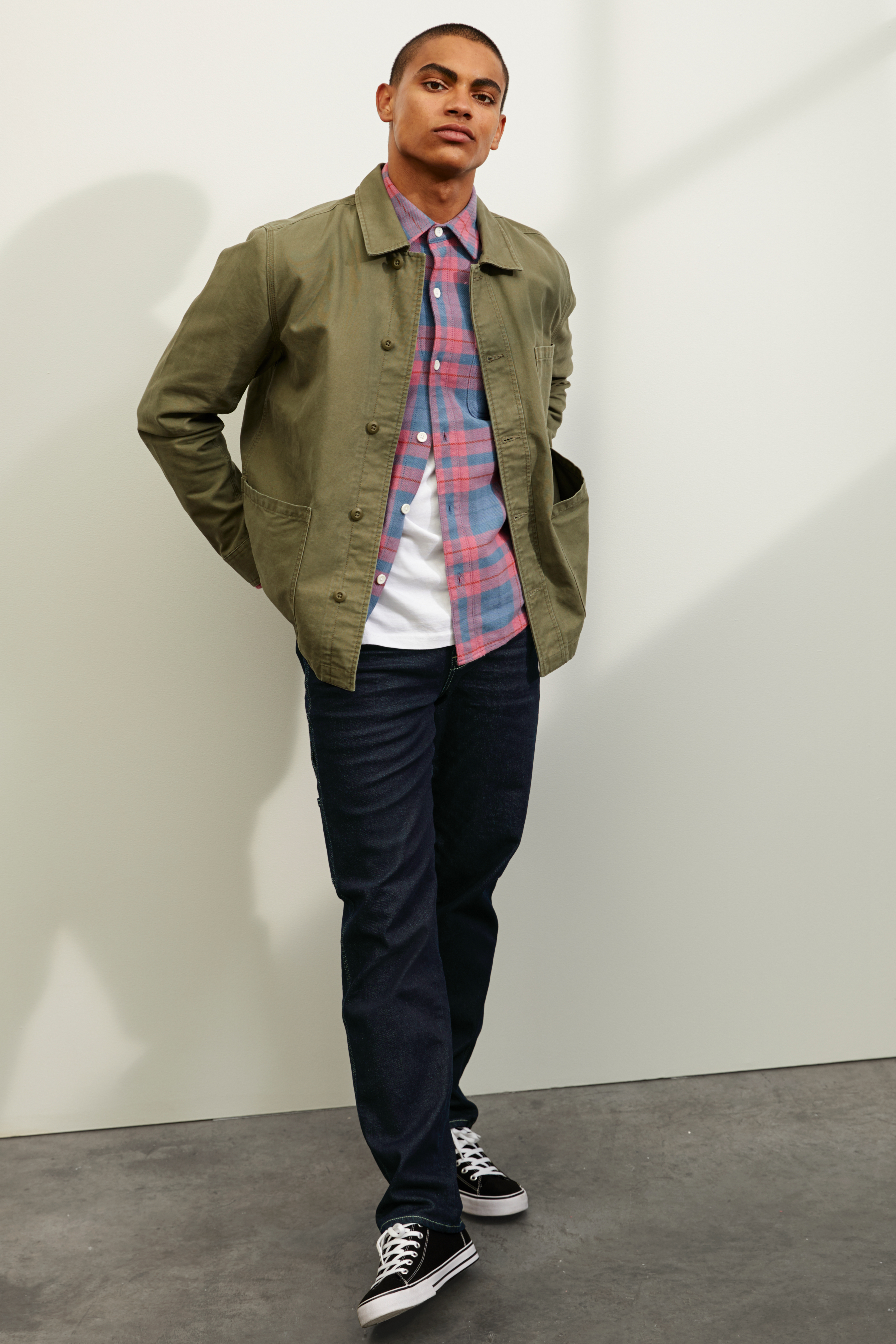 A man cannot exist with only plain shirts in his closet. So it's a good thing that Free Assembly is offering this bold plaid Two-Pocket Flannel in a warm, cozy finish. That dusty pink tartan pattern contrasts nicely layered underneath an olive Chore Jacket, Everyday T-shirt, and sleek Selvedge Fit Slim Jeans.
The Chore Jacket
Though it's light for outerwear, a Chore Jacket is strong enough to be the centerpiece of any outfit. It works well here as the topper for this tonal ensemble, which also features the light wash Everyday Denim Shirt and Selvedge Slim Fit Jeans.
The Everyday Diamond Quilted Vest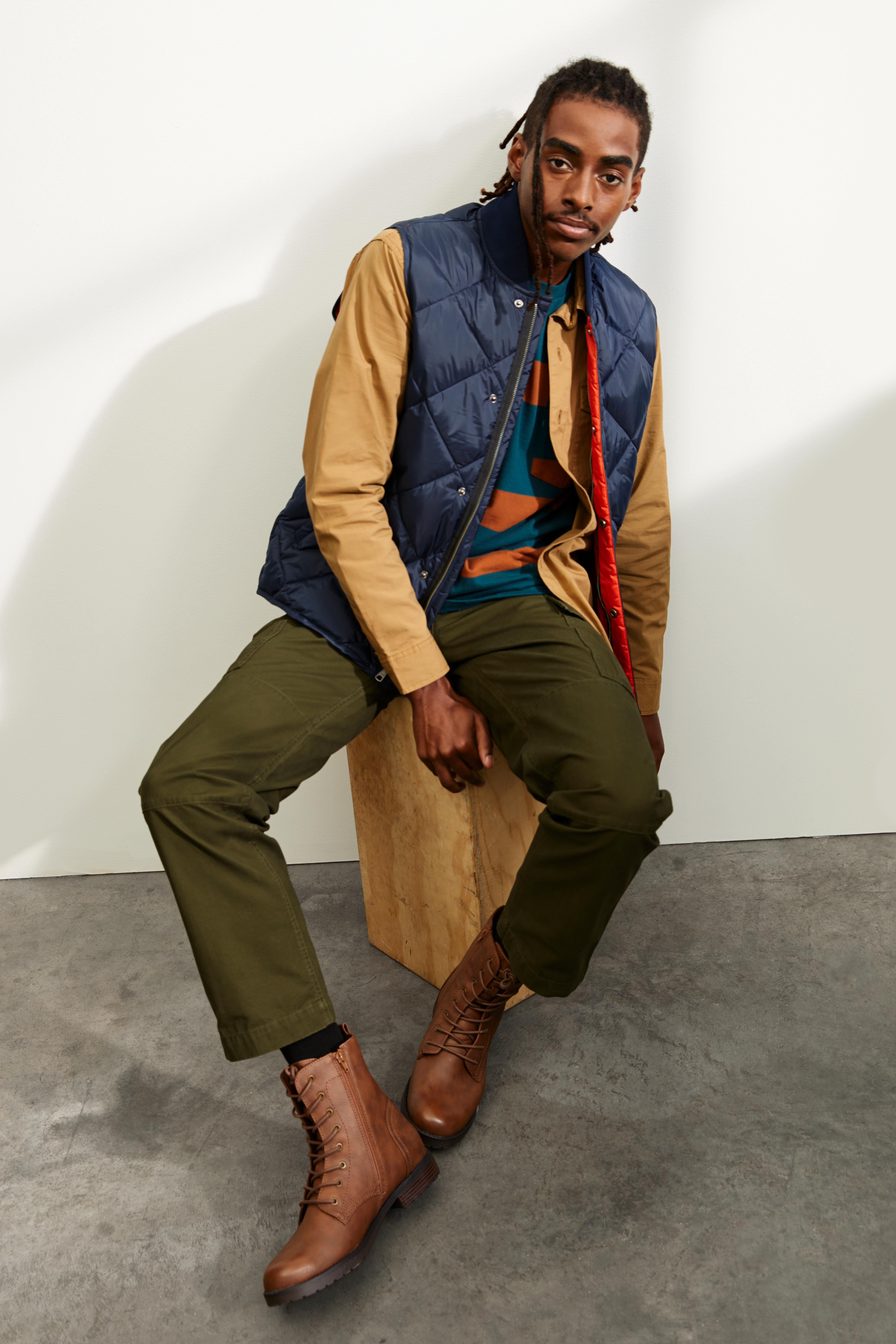 Come fall, four layers of clothing offers optimal adaptability and unlimited styling potential. The ultimate four-layer outfit starts with the Everyday Diamond Quilted Vest, which works well on top of a Utility Shirt and an Everyday Rugby T-shirt, creating a sporty, outdoors-inspired look that only benefits from the hint of olive green provided by these earthy Everyday Cargo Pants.
The Bomber Jacket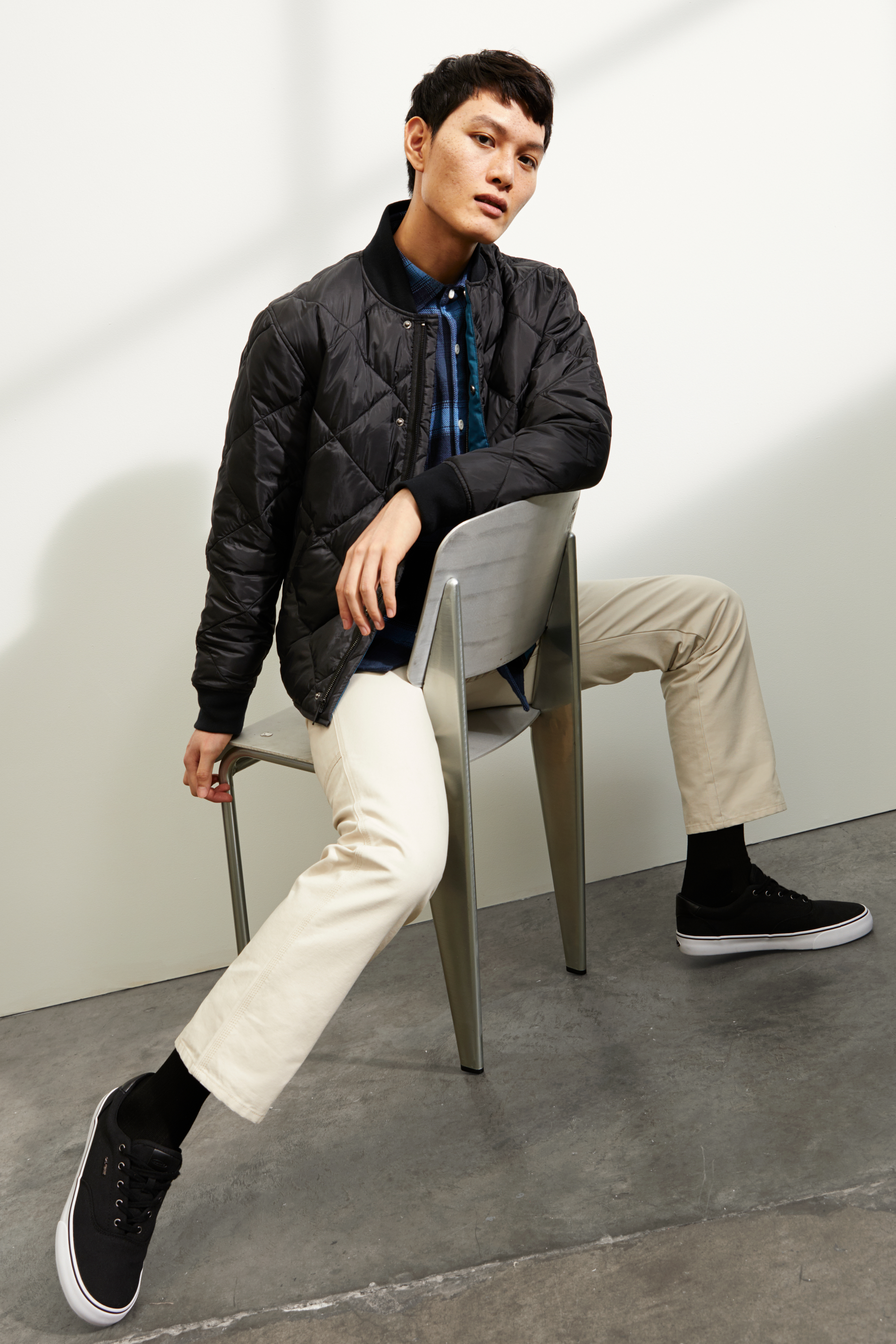 Perhaps no military item has transcended its origins to reach fashion icon status quite like the pilot's flight jacket. Case in point this quilted Bomber Jacket from Free Assembly, which makes a warm, stylish outer layer atop a cozy Two-Pocket Flannel Shirt, Everyday T-Shirt, and a pair of rough and ready Carpenter Pants.
The Carpenter Pants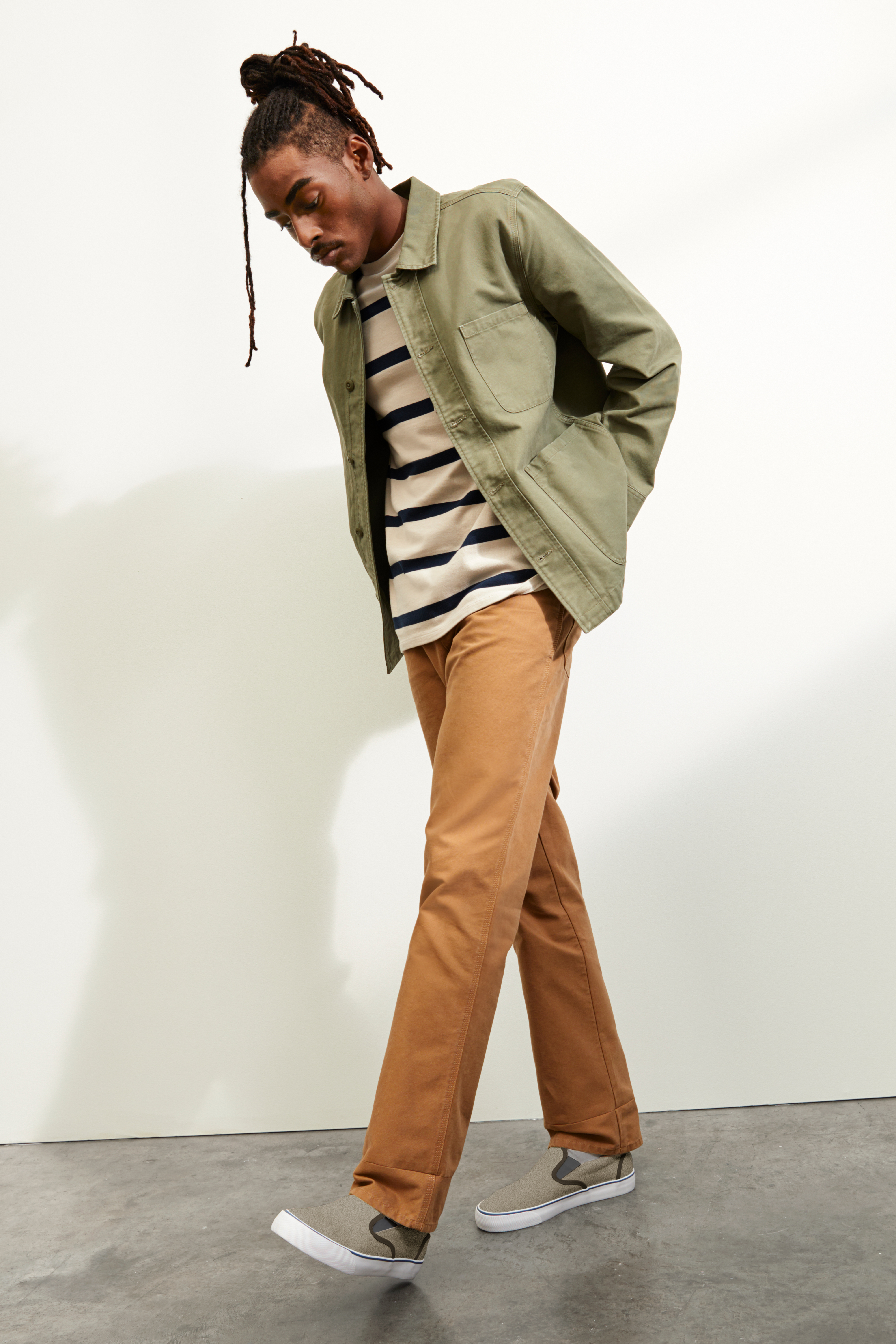 Most people associate workwear with coats and denim, but other items have played a role in the this style of dress from its inception. Enter Free Assembly's Carpenter Pants, which are made tough for years of wear. Try a pair out with an Everyday Rugby T-shirt and similarly workwear-inspired Chore Jacket.
The Unlined Fishtail Parka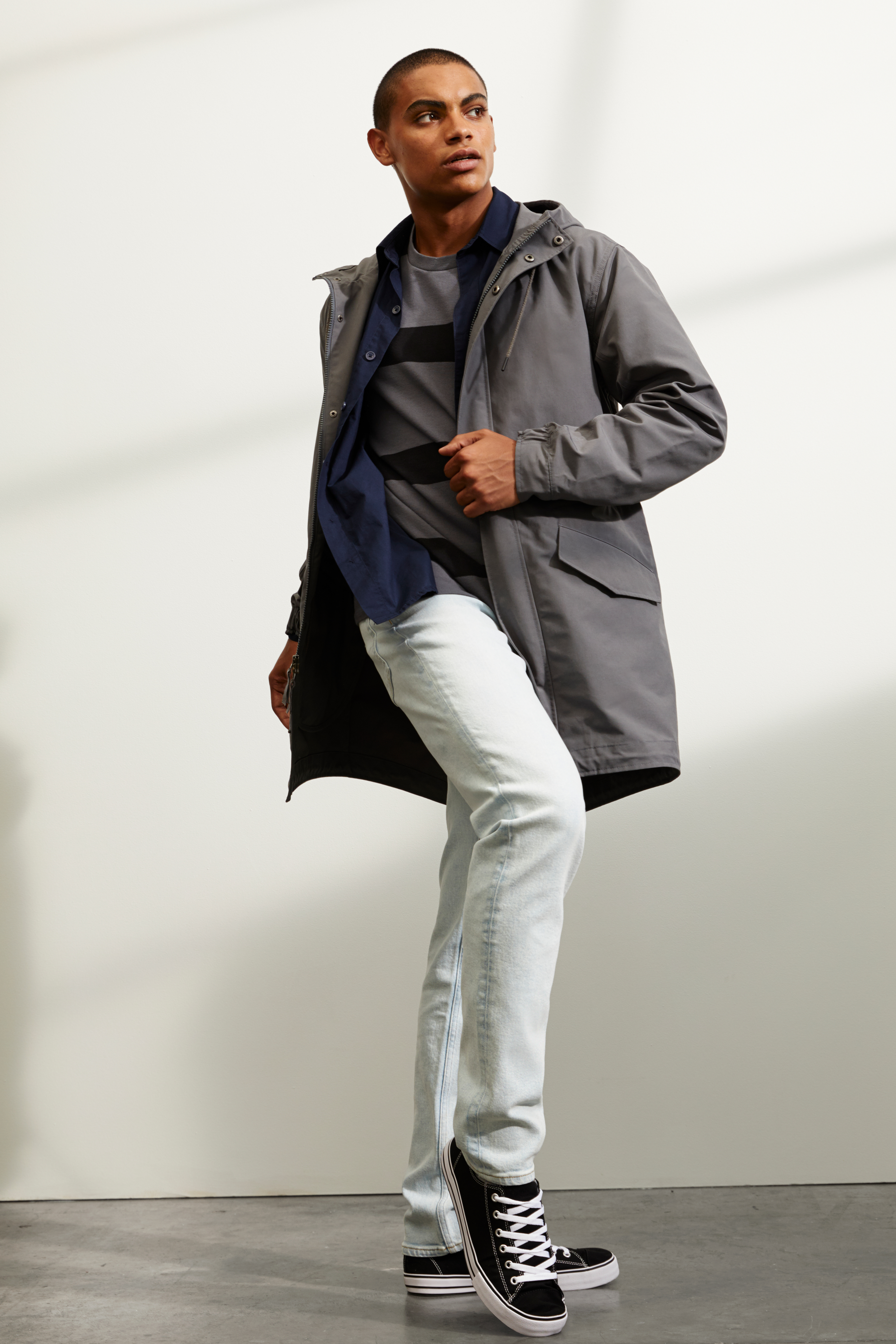 As early fall gives way to true autumn, you might find yourself needing some outerwear that blocks the wind a bit better than a simple vest or chore coat. That's where this Unlined Fishtail Parka comes in, offering breeze protection that extends from the top of your head to just above the knee. But, without a lining, this parka also works perfectly as an outer shell, layering comfortably on top of Utility Shirt, Everyday Rugby T-Shirt, and Slim Fit Jeans.
The Chino Pants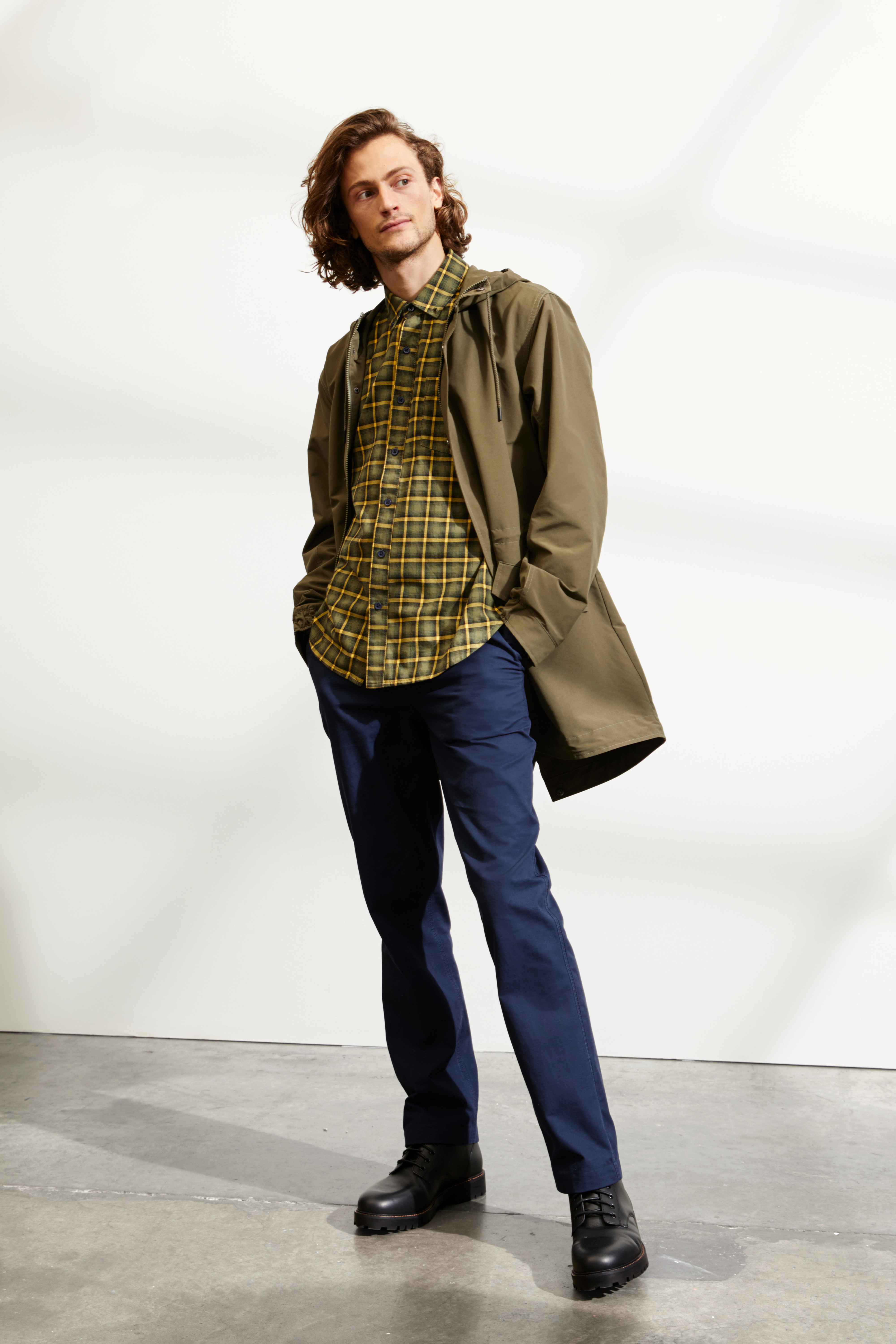 Jeans are one thing, but all men need some actual trousers in their wardrobes too. That's where Free Assembly's Chino Pants fit in, presenting a classic, straight fit with a flat front. Wear a pair with an Unlined Fishtail Parka to highlight your chinos' military roots and add an Everyday Flannel Shirt for a hint of color.