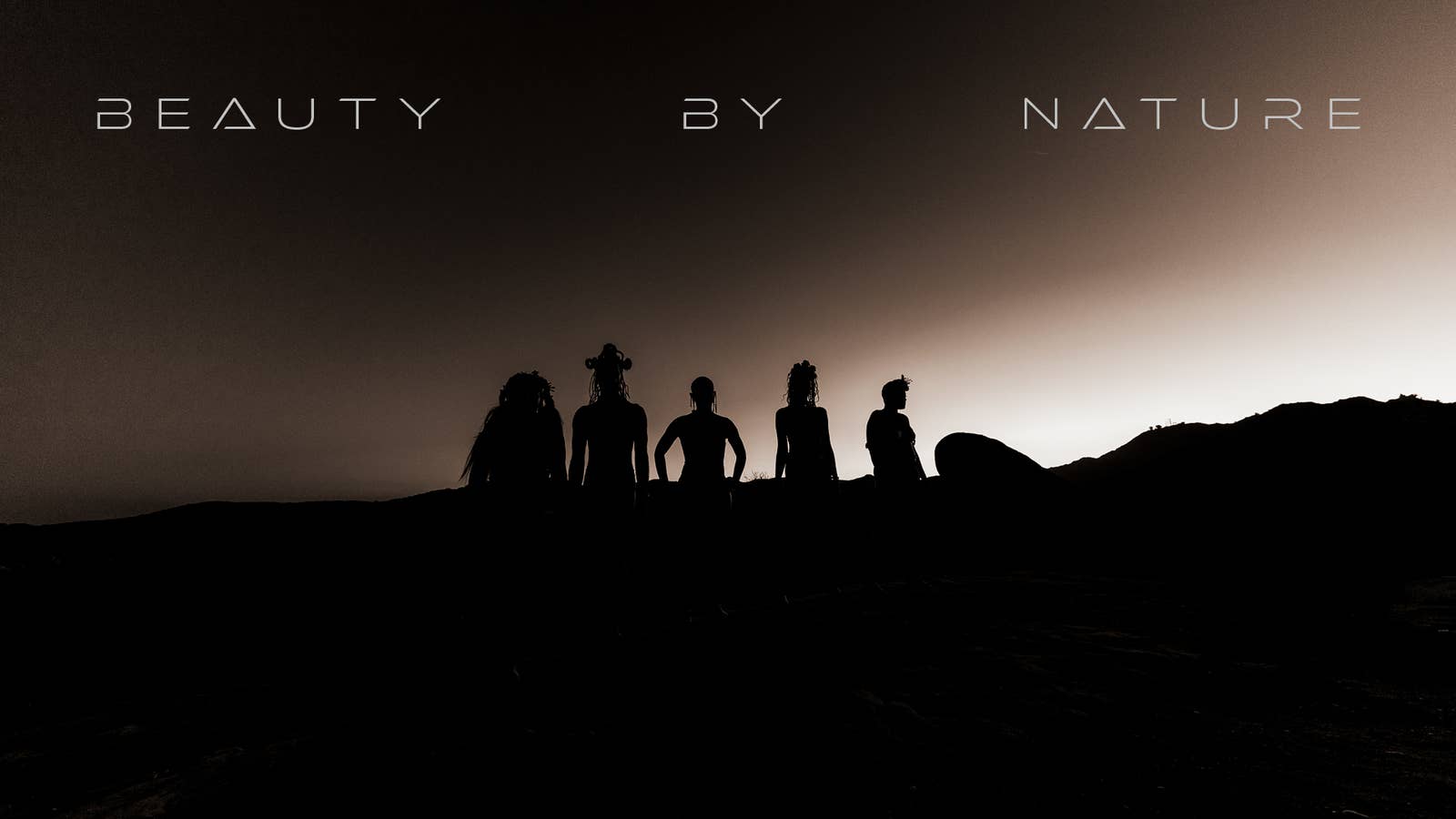 As a director and creative director who co-owns Union, Beth Birkett Gibbs dedicates a lot of her life assessing how things look. Whether it's clothes, images, graphics, or sneakers, like the ones she just designed for Jordan Brand. And with Bephies Beauty Supply, an e-commerce platform dedicated to women of color who are redefining beauty and fashion, she's not only presenting beautiful products, she's helping build community.
She wanted to bring that to her this shoot, Beauty By Nature. We tasked Gibbs with creating her version of a beauty campaign and she immediately thought about community, casting artists who are male and female identifying to show the depth of beauty and how healing the act of adorning oneself can be. 
"I noticed that most people have a lot of adornment, whether that's tattoos or piercings. And I've realized in the beauty space it's still seen as other to have that type of adornment even though the majority of people have them," says Gibbs. "So I wanted to tap into that and it couldn't be shot in a studio, so we went location scouting."
The result was a shoot that didn't focus on beauty and makeup as a tool to make something prettier, but rather beauty and adornment as a way to connect, whether that be with people around us or nature. Here, Gibbs speaks about what beauty means to her, what she wanted to achieve with the shoot, and how healing the act of beautifying and transforming yourself can be.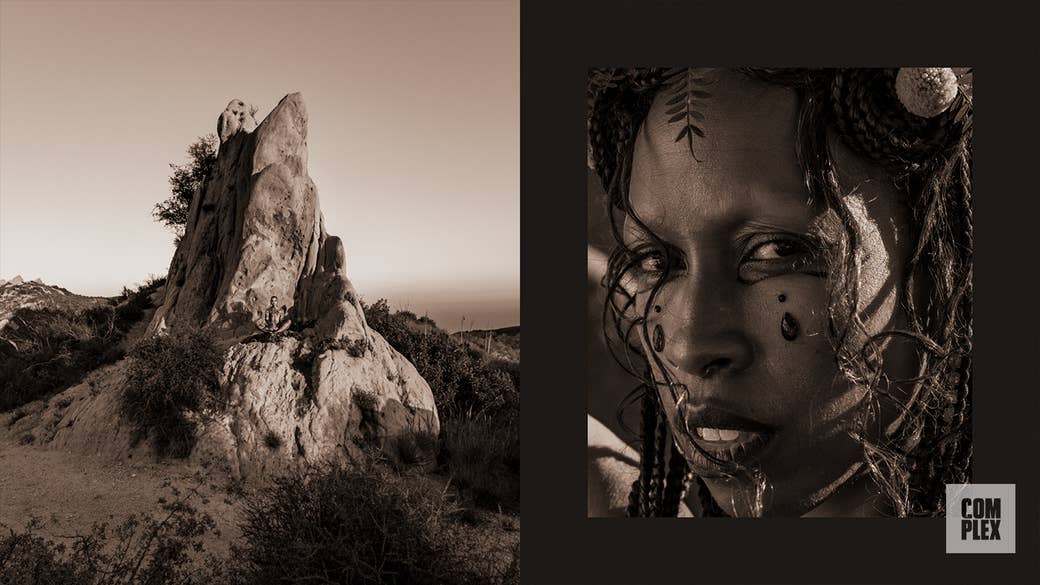 How do you define beauty?
Beauty to me is a feeling. It's more than just what someone looks like. It's a feeling and it's an energy because someone could look conventionally beautiful and then something about their energy or aura makes them not as attractive anymore. So for me it's deeper than what someone looks like. That's why this topic is really important because so much emphasis and judgment is placed on how we look. Everyone goes to your IG account and judges how we look at face value. And we have beautiful people who have a lot of influence over the world right now. 
What's been your relationship with beauty over the years?
My relationship with beauty is complicated. Hair has been a big thing for me. When I was young or younger, it was about figuring out how I can feel included and accepted because my natural hair texture wasn't considered beautiful. Then when I got over that for whatever reason, I just wanted to stand out and look different. When I was younger I wasn't around a lot of Black kids, so I would think about what I could do to be accepted, but even when I got around young Black kids, I was still considered weird and unconventional. So it was just like, let's go with being weird and unique. It's a lot easier for me to accept myself if I'm going to stand out and be the opposite of what people expect me to look like. So looking different became a thing for me. How can I be the first? How can I come up with this cool thing first? 
I came up during the '90s when it was cool to be yourself and not like everyone else. It was cool to discover something new and I could control my hair, my nails, and my makeup so those became the tools that I used to make myself stand out. And now it seems like we are back to wanting to look to this certain standard of beauty. And I've found on my journey of not being accepted, I've loved myself more and it's made me more original and fearless.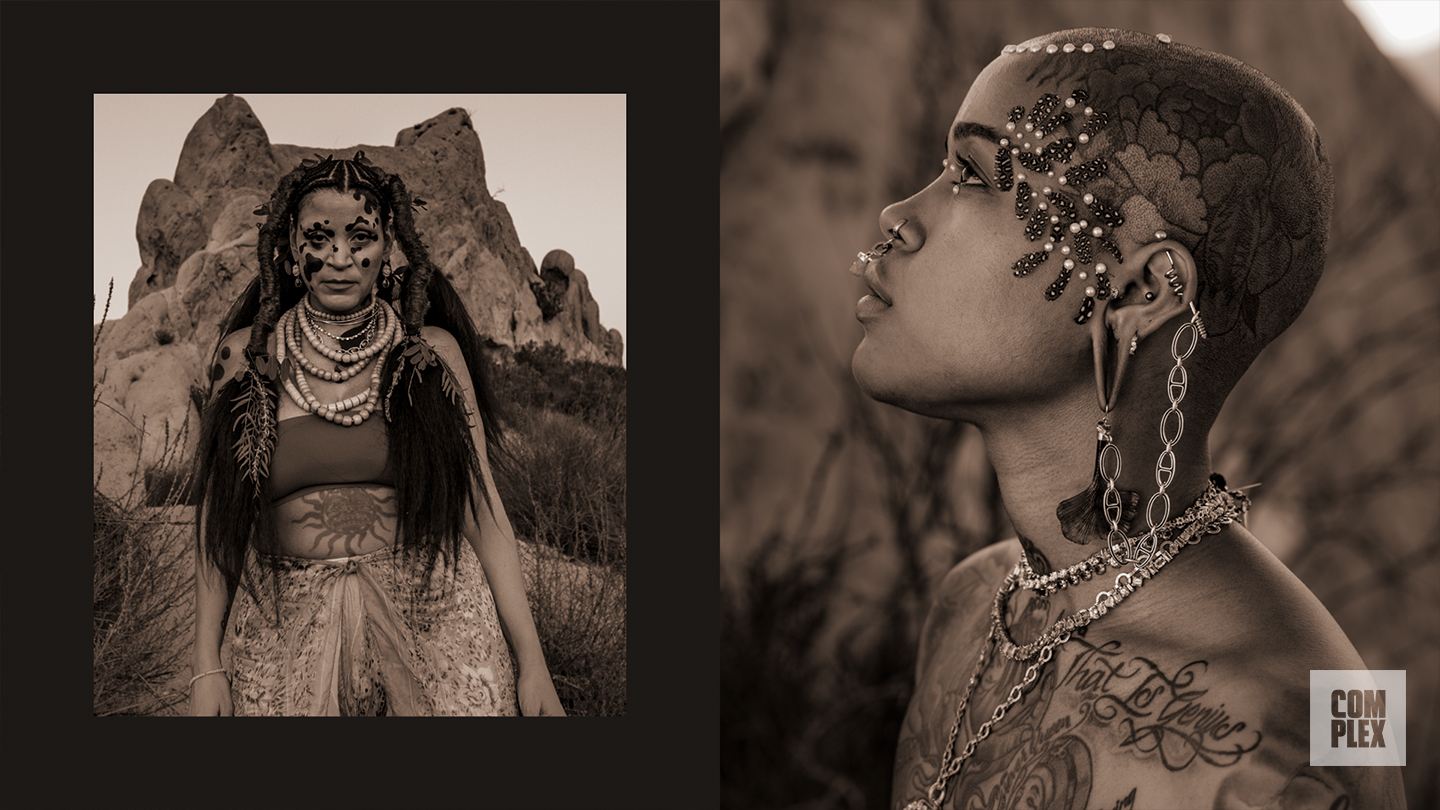 How did this inform the Beauty by Nature shoot you put together?
 We are all different. That's what brought me to wanting to bring beauty and nature together. A lot of us, particularly Black people, aren't around nature. Everything around us is man made. But when you are surrounded by things that are man made you realize you won't find beauty within yourself. When you go into nature you see that every rock might not look the same. It's made specifically for how it's supposed to be made and you appreciate its beauty. You aren't here to be beautiful to everyone but to be beautiful to yourself, which gives you your purpose. If we all looked the same, what purpose do we have? I've only gotten good things from looking different and being different.
What were you trying to achieve with the shoot? 
I knew I wanted it to be around beauty and adornment. And I noticed that most people have a lot of adornment, whether that's tattoos or piercings. And I've realized in the beauty space it's still seen as other to have that type of adornment even though the majority of people have them. 
So I wanted to tap into that and it couldn't be shot in a studio, so we went location scouting. I live in Southern California, and I"m not a huge fan of the Hills. I'm afraid of heights. But my friend took us to this spot in Malibu that a lot of people couldn't access, so it was really beautiful and special. The location felt really spiritual and I started crying. I just had a moment and realized I haven't been around nature enough. 
But as we started going through the piercings and adornment, it was just more in alignment with how people adorn themselves vs nature. And nature doesn't have so much of a choice in how it's adorned. Over time you see little rocks gathering on big rocks and leaves after the fire because of climate change, and I just felt like connecting with the earth. People are struggling mentally because of what the earth is going through. Corporations have helped ruin our plane. The planet is sick therefore we are sick. So the shoot was about trying to be in beauty and nature with people and showing how beauty and adornment is a way of healing and making ourselves feel better. There's something innately tribal about the way we adorn ourselves.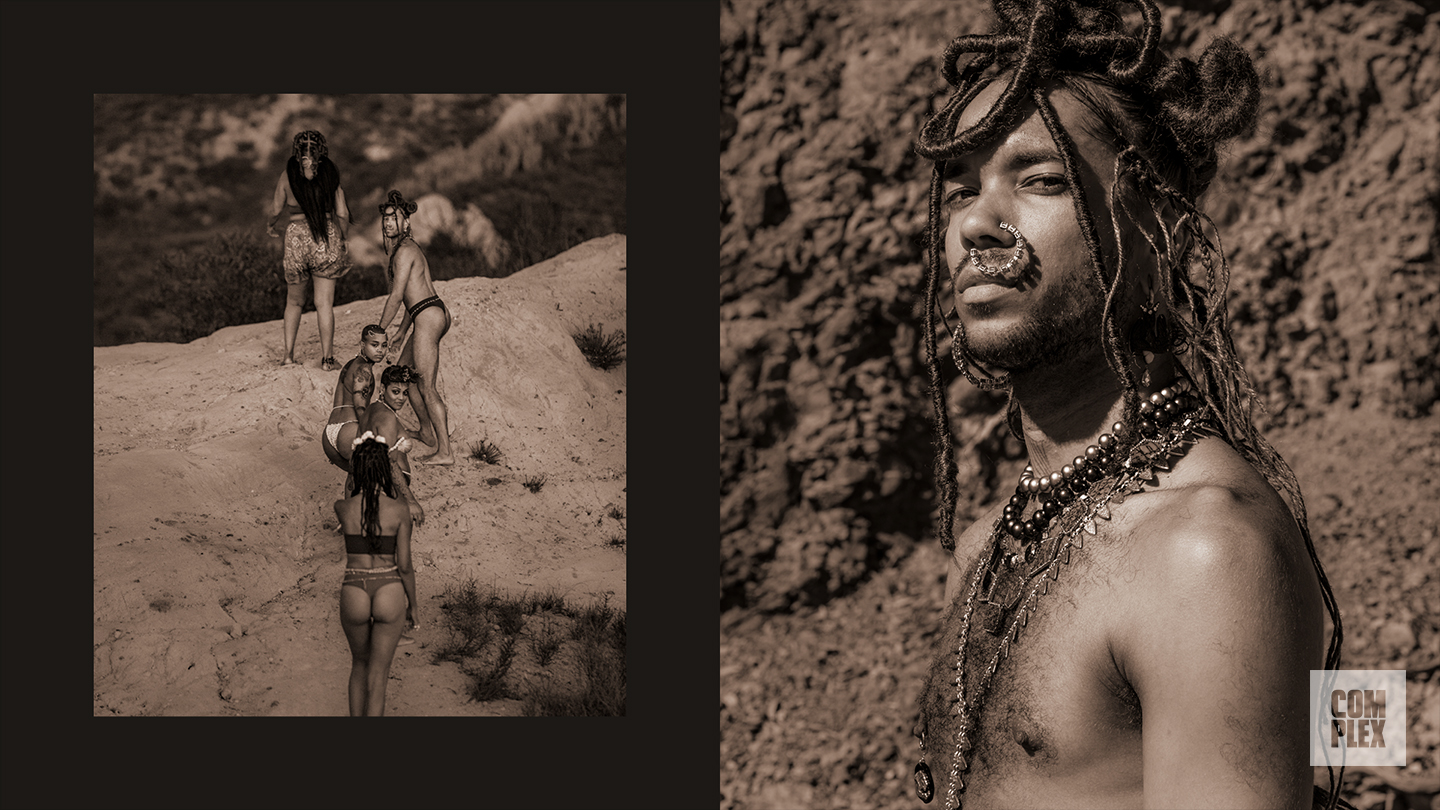 Can you talk about your approach to casting?
I wanted to bring together a bunch of people for this project who I cared about or wanted to get to know better. I didn't base it on their look, but I wanted it to feel like a really good shoot. I wanted it to feel more special. And so the people I chose, they had either reached out to me at some point wanting to connect, So Ladybug [Mecca] is an artist, a musician that I have always looked up to and admired. She was part of a group called Digable Planets. When that album came out in the '90s it was the first time I actually felt seen in an artist at the time. She had a tomboy look and she was the one girl amongst these male identifying people, and she didn't feel like the girl in the group. 
Nia Andrews, she's a singer. I've known her for many years, she's super talented and I feel like people don't really know how special and amazing she is. Her voice is incredible, her music is incredible. Her style, her aurora.
And then Kamil, who has recently transitioned and now identities as they/them. I had met them once or twice, but we follow each other on Instagram and their whole transition was so beautiful and it taught me a lot about them and transitioning and I related to that on another level. Their aura kind of bleeds through the screen, even through social media. Right now there are a lot of performative people who claim to be spiritual or woke. And Kamil is very authentic and then when we met in person it was like wow, it was amazing if not even more amazing. Kamil has always taken on adornment, even before transitioning they always had tattoos and piercings and coloring their hair and now they have no hair. It's special to have them be a part of this. 
Ryan, who was the only male identifying/presenting as he,/him, is the brother of the photographer, but is also another beautiful person and initially I was wanting to work with a male identifying person with long hair. We alway talk about beauty and hair around female identifying people and we don't do it enough around male identifying people. We think of hair being this super feminine thing but it's a very masculine thing. In the past, the coolest dude was the most feminine, male identifying person. They had the long hair, the jewelry, nails, manicures and pedicures for sure. I wanted to bring that back into the fold.
What do you want people to take away from the shoot?
We all need love and acceptance. We need more of that in this world. And any creative project that I do it's working in community and working together. That's what we need it right now. How can we do this together? How can we help each other? As hard as it is, knowing that we are not all good and we need a little help and once you recognize that you can work through what people are going through that's the ultimate beauty. 
Credits
Director and Creative Director: 
Beth Birkett Gibbs
She/Her 
@bephie
Photographer:
LeLeita McKILL
She/Her
@old_army_jacket
PA: 
Brian Saunders
He/Him 
Models:
Nia Andrews
She/Her
@niaandrews
Ladybug Mecca
She/Her
@ladybugmecca 
Kamil Oshundara
They/Them 
@k6mil
Dennis Ryan
He/Him
@vanillamatrix
Beth Birkett Gibbs
She/Her
@bephie
Beauty: 
Hair:
Adrianne Michelle
She/Her
@haute_headz 
Hair:
Brandy Rice
She/Her
@thatchick703
Makeup:
Melvone Farrell
She/Her
@melvonemakeup
Makeup Assistant:
Melissa D'Angelo
She/Her 
@makeupbydangelo 
Tattoo Artist and Adornment:
Lucy Hu
She/Her
@lucymytattoo
Jewelry and AP:
Floriana Annibali
She/Her
@missfloriana