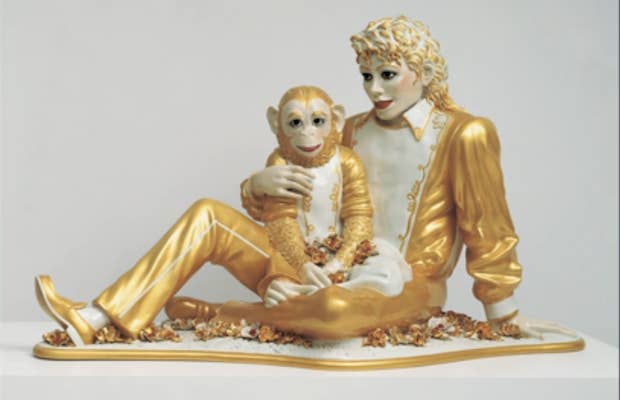 On Tuesday night, Jeff Koons paid a visit to Late Night With Seth Meyers to talk about his recent work as well as his retrospective currently showing at the Whitney Museum in New York City. 
Meyers and Koons spoke about the artist's process, his employees, and his missed connections with the late Michael Jackson and his pet chimp Bubbles. When asked if he was involved in applying the 50,000 flowers to his Split Rocker sculpture (currently outside of Rockefeller Center), Koons explained that at times he has been involved in the manual labor required for his pieces, but that he has also "developed systems" where he can have others execute his vision.
The artist gives a similar response when Meyers asks if he misses the physical process of painting now that he has over 100 employees. "I'm working with people and articulating people the same way that you articulate a fingertip. Your mind tells your finger what you want to have happen, and I'm having my vision exercised in a similar manner."
Check out the video clips of the interview below (skip to the second clip to hear the Michael Jackson story), and click the related link below to learn more about the Whitney retrospective.
RELATED: Remembering That It's OK to Love Jeff Koons 
[via Dailymotion]