You can't build an enduring brand without enduring iconography. And A|X Armani Exchange, now in its 29th year, knows that better than most. The label's famous A|X logo has become a symbol of style and quality recognized worldwide. And though the A|X Armani Exchange sigil has subtly morphed and changed over the past three decades, many customers never forgot its original Icon Logo, which first launched in 1991. But this fall, fans of the original A|X Icon Logo, and people who weren't even born when it first dropped, can both experience the fun of rocking it, because A|X Armani Exchange is resurrecting that OG art and putting it on T-shirts for its most recent collection. Enter the A|X Icon Tee, a pure cotton jersey wonder that's precisely tailored and eminently wearable. In nine different colorways, there's an A|X Icon Tee available for any and every outfit. What's more, the A|X logo's return has inspired an entire collection, including puffers, zip-up hoodies, trainers, and more, all designed to complement an Icon Tee perfectly. Cop something from the Icon Collection on the A|X website now and feel comfortable wearing it for another three decades.
Regular-Fit Icon Logo Tee in Red
Icon Period Padded Jacket
Price: $290 | Buy Here.
Regular-Fit Icon Logo Tee in Black
Regular-Fit Icon Logo Tee in White With Gold Lettering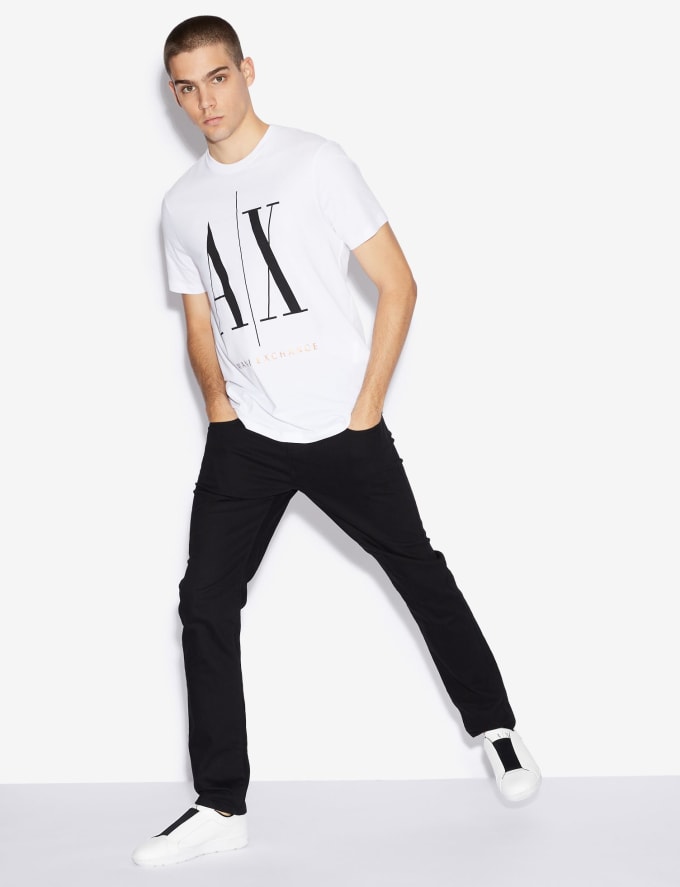 Icon Period Denim Jacket