Imagine growing up in a one-horse town where your only respite from the never-ending onslaught of suburban ennui is the surreal world you visualize when you put your headphones on and disappear into a really fire album. Before the Internet and social media platforms like Tumblr and Instagram made it possible to escape into the digital world, and induced a global epidemic of FOMO, moody teens had to retreat into culture.
Raf Simons had the same kind of angsty coming-of-age, discovering albums by Joy Division, New Order, Manic Street Preachers, and Mission of Burma at his local record store. As someone who grew up in Virginia idolizing fashion from afar, the closest I ever got to the runway was flipping through old issues of Mass Appeal, GQ Style UK, and Brutus Stylebook at Tower Records. Never in my life did I think I'd actually have the opportunity to attend one of Simons' fashion shows in Paris.
In fact, he was totally off my radar until I went through a heavy fashion forum phase in the early 2000s, sort of like NikeTalk for burgeoning jawns enthusiasts, where dudes would sing the praises of guys like Raf Simons, Rick Owens, and before-their-time labels like Cloak. SuperFuture and StyleForum helped develop the niche vernacular that became the de facto voice of Four Pins, and spawned the practice of letting go of old designer gear to cop new designer gear, which eventually became Grailed.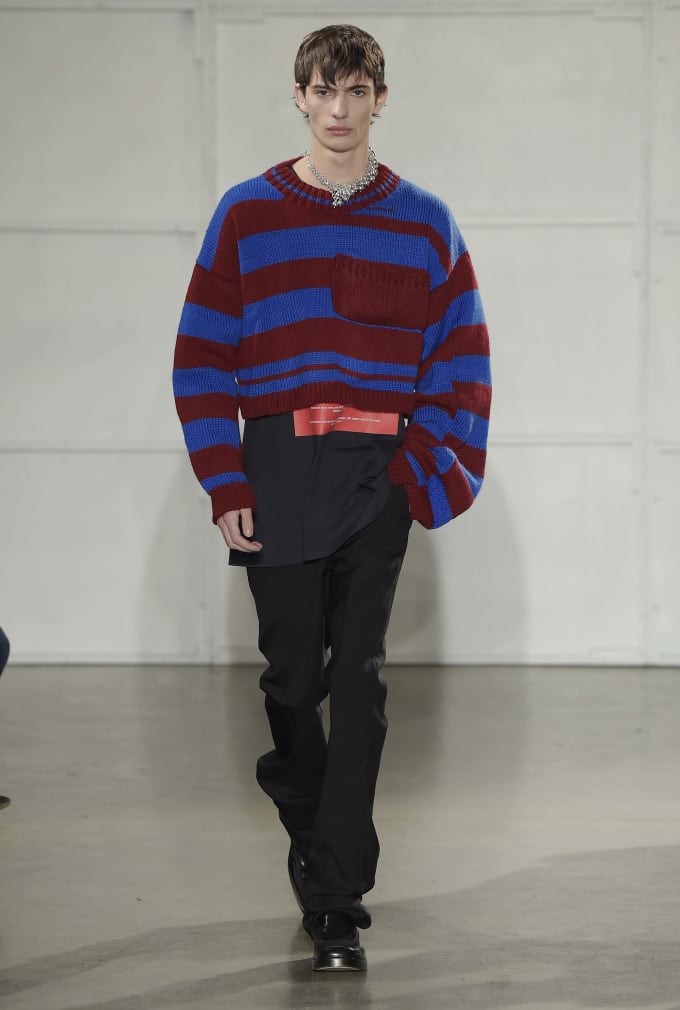 But having worked nearly a decade in fashion media, going to a Raf Simons show has always been on my bucket list. I don't go to the European shows, and New York Fashion Week has usually been the only time I get to see runways firsthand. So when Simons announced he was moving his Fall/Winter 2017 show to New York, I hit up practically every plug I knew to try to get in.
You know how the conversation goes: "Hey dude, hope you're well! Couldn't help but notice [you're in charge of getting people into Raf/dropping Yeezys next week/sitting on a ton of Supreme x Louis Vuitton]. I was wondering if you could help me out?"
I lucked out and managed to get a ticket to this season's most-anticipated show. But I had another problem entirely: I needed to decide what to wear. Shoes were obviously going to be Raf Simons, but did I want to go with the eraser pink Stan Smiths, which are cool but like, so not signature Raf, or the Osweego 2 "Robots," with a complicated design gleaned from astronaut spacesuits? The sneakers are adorned with colorful metal rings and have such a delightfully interesting lacing system that I'm surprised they didn't come with an instruction manual. I went with the Ozweegos.
But most of my Raf clothes are from Fall/Winter 2014's collaboration with Sterling Ruby. And yeah, that collection was bomb, but there was a high chance that a majority of hypebeasts would also be rocking something from that collection. So I did what I do best—I went shopping.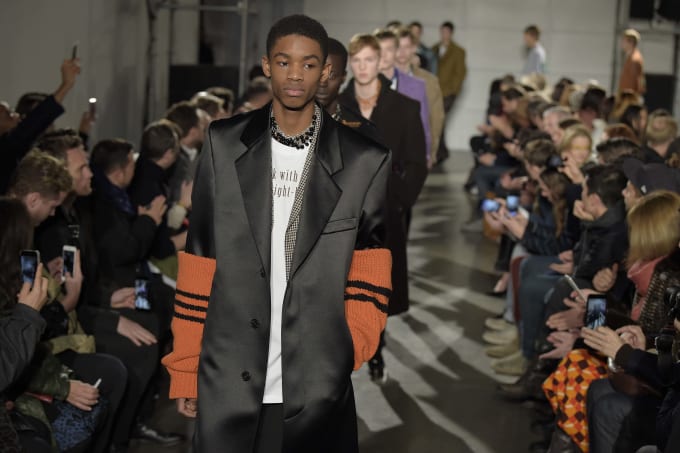 One of my favorite pieces from Raf Simons' Fall/Winter 2016 collection is his twill scout shirt. A simple button-down adorned with embroidered badges, it's the type of thing that's easy for most guys to pull off, but still retains that unmistakable "Raf" feel—which means that it was copied (terribly) by fast-fashion brands. After months of waiting to pull the trigger, I went ahead and copped from London boutique Oki-Ni, and ended up getting the coordinating beanie, too.
New York Fashion Week: Men's began a few days after my package arrived, and I was finally fitted. After a hectic few shows, full of handsome dudes walking down a runway, my energy was renewed by the time I got to the Gagosian Gallery. The scene was representative of an exclusive New York party, in the best way possible: A diverse mix of influential people from different backgrounds united by their genuine appreciation of what Raf Simons does.
Legit fashion figures included empress of taste Anna Wintour, esteemed photographer Mario Testino, artist Ryan McGinley, and modern icons like A$AP Rocky and Luka Sabbat. Then the lights went low, and the show began. In a gallery where the walls were stripped bare, Raf Simons exhibited his talent to bridge the uncanny valley between fashion as pure-play commerce and fashion as wearable art.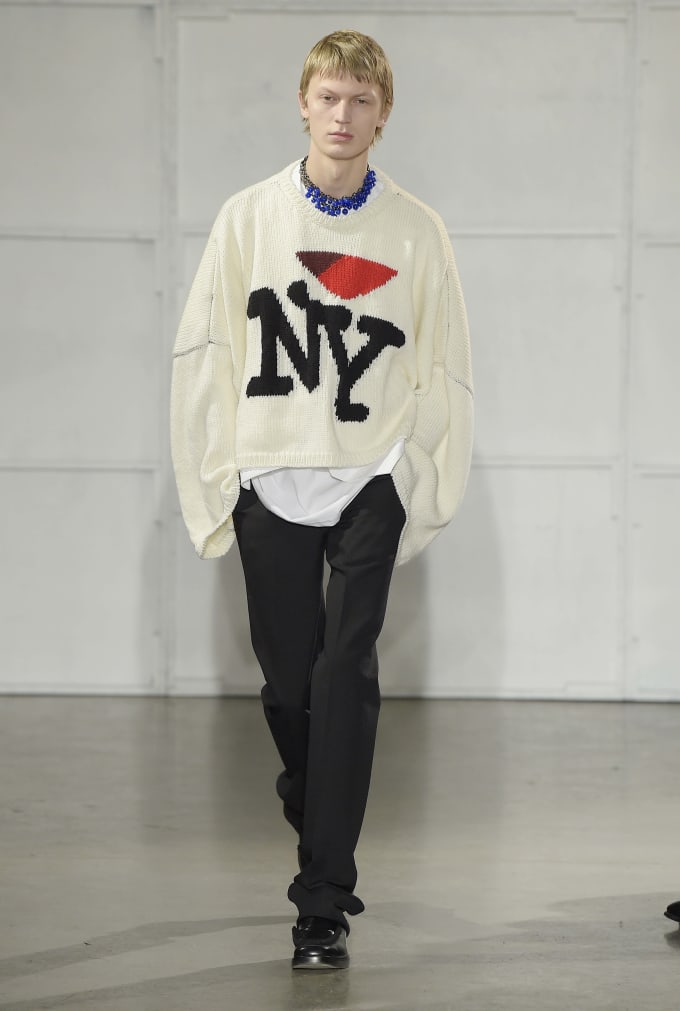 At Raf Simons, Milton Glaser's "I Love NY" imagery and the earnest "THANK YOU" of Chinese take-out boxes are reinterpreted on oversized Woolmark sweaters. The Glaser references continue to knit dickies and some of the customized duct tape embellishing the clothes. Instead of "I Love NY," the Simons message is "I Love You," a nod of affection to his devoted fans on a surface level, but also to the city itself and the diverse history it represents.
Writer E.B. White once said of New York: "Commuters give the city its tidal restlessness; natives give it solidity and continuity; but the settlers give it passion." A recent immigrant himself, Raf Simons embodies what has traditionally been the New York ideal: the romantic dreamers who plant themselves here and turn their reveries into reality. It's a message relevant now more than ever.
This time last year, Raf Simons presented his "Nightmares and Dreams" collection in Paris. Inspired in equal parts by David Lynch's Twin Peaks series, photographer Cindy Sherman, and the dilapidated American dreams of Detroit, that dichotomy rings truer in the post-Trump era. Will we let our nightmares or dreams determine our future? At this show, Simons suggests that he wants to lead the way. The tape on the invite and several looks had the phrase "Walk With Me."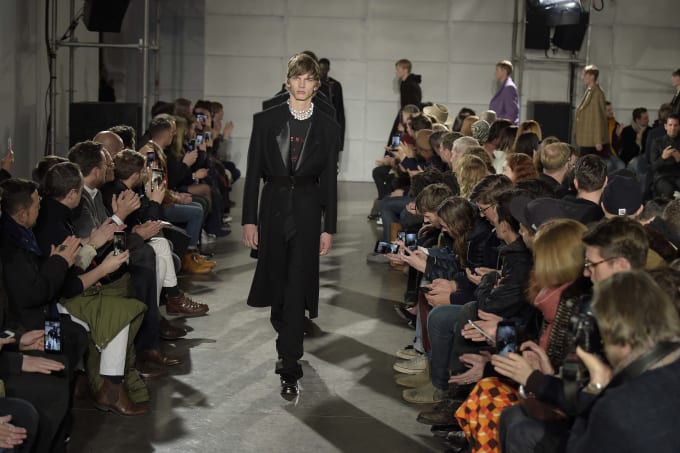 Simons is not going anywhere. And in this overwhelming political climate, he's made it quite clear where he stands, telling Vogue's Luke Leitch: "Ask me do I think that you should stand up against what is happening in this country, then I say yes. Even in writing, I do not think people should be fearful—we should be more fearless."