Antwerp has given us many wonderful things. Raf Simons and Martin Margiela both went to school there, and a group of revolutionary designers, The Antwerp Six, are named after the city. The first weekly newspaper was even printed in Antwerp in 1605. And in news that is more relevant to 2016, the city's best skate shop, Vier, is making waves on a global level.
Co-signs are important in this industry—just ask any brand that Kanye West's ever worn—and Vier got an important one a couple weeks back from one its own. Simons shouted out the skate shop in The Wall Street Journal and said his Vier sweatshirt is the one thing he always travels with.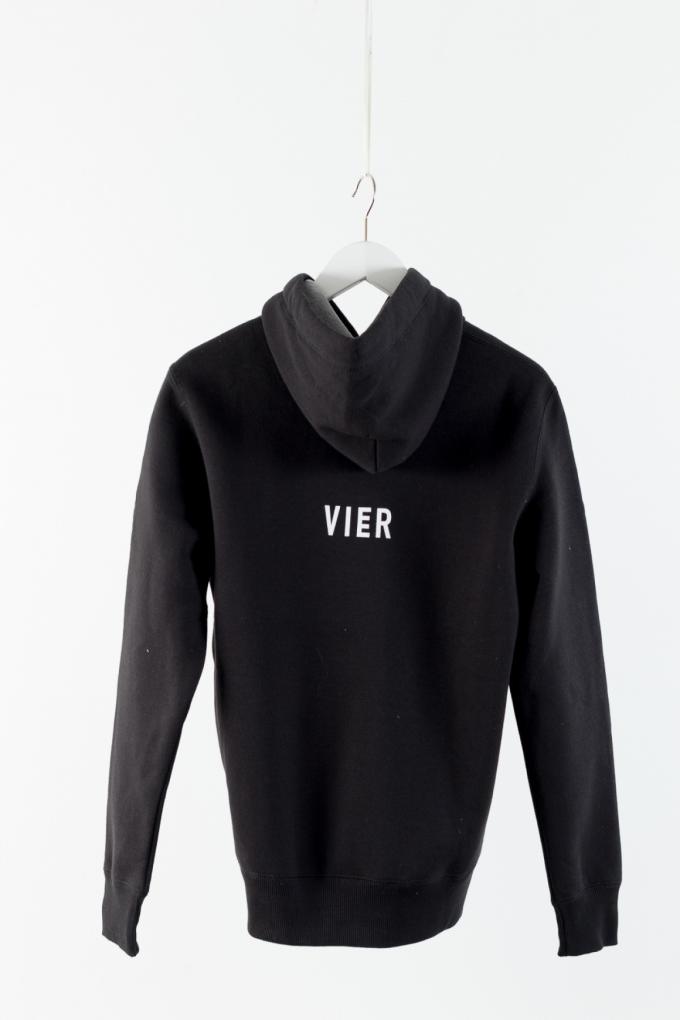 "It is a real honor that a person with his experience, knowledge, and good taste appreciates what we are doing," the store's co-founder Bob Follens tells Complex. Follens founded the store in 2010 with Giancarlo Angeletti in hopes of filling in the gap between skate wear and high-fashion. "Most of the time, you would either find a sneaker or skate shop that would only do their thing and nothing else, or a high-end designer shop where you feel uncomfortable to walk in," Follens said.
Vier, which is Dutch for "four," is named after the neighborhood it's in: "Antwerp's notorious fourth district; a lively medieval quarter turned international place of pilgrimage for the fashionably ill," according to its website. And the shop aims to be an oasis in between stores that might taunt you with the question "do you even skate, bro?" or that will make you—and your checking account—feel under attack.
"You could find some of the most famous persons in fashion standing next to a couple of football hooligans who want to buy one of our T-shirts, standing next to a grandpa buying the same pair of shoes as a 16-year old skater," Follens explained. "We wanted to have place where anyone would feel welcome, a place where it's very easy to walk in with a laidback atmosphere, a place where you can simply find good stuff in a relaxed setting."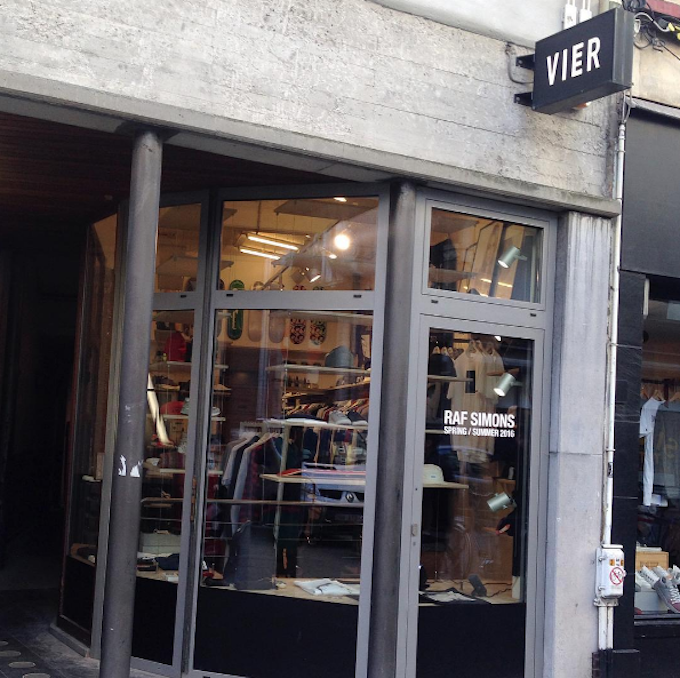 This "good stuff" Follens refers to is a mix iconic street and skate brands—Stussy, Thrasher, Powell Peralta, and Fuct SSDD—and your Raf Simons, Tim Coppens, and Gosha Rubchinskiys. "And this in 30 square meters, as our shop is really small," Follens said. "With Vier Antwerp, we try to bring something that you can combine with different styles, whether it is a Raf Simons jacket or Dickies pants."
After finding success selling other brands, Vier, as many other retailers have done, started its own in-house brand; that's also taken off with an international audience. Hoodies, T-shirts, crewnecks, windbreakers, caps, beanies, and skate decks have all been printed with Vier's logo: a square with the word Antwerp inside of it. "Our apparel was something that grew slowly, Follens said. "It first started with our 'Antwerp' logo. People liked it, and so we started doing more and more. Now, we receive requests from other interesting shops that want to carry our brand, and we are looking into how we can manage this on production level and distribution wise."
Follens said that paying attention to certain subcultures is critical to the shop's success. "For us, it is really important to have a connection with different subcultures, as they are often very influential when it comes to trends and fashion in general." That explains why Vier's own pieces are inspired by other uber-popular items that transcended the skate culture. Case in point: this Vier hoodie that is clearly a spin on Thrasher's done-to-death flames logo.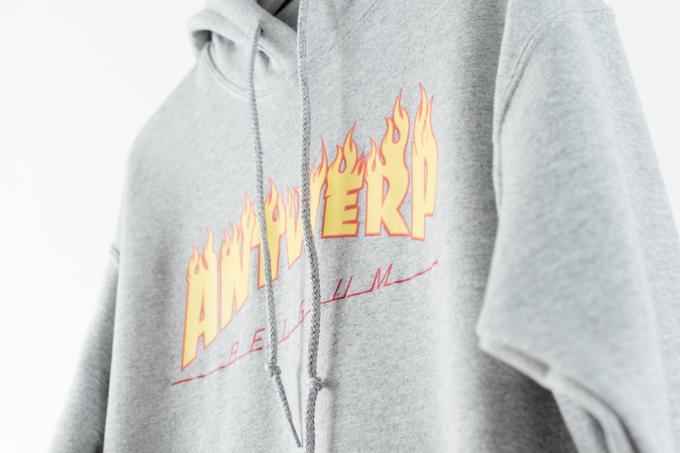 These in-house items also include what Simons refers to as his go-to travel hoodie and other pieces that have already caught on with menswear folks. And as a store that stocks work by the designer, Follens said the feeling is mutual. "We really like Raf and his work, especially the way he looks at the things that happen around him and the way he finds inspiration and creativity in youth culture, music, and art," he said. "He looks at the outsider, takes inspiration from underground subcultures, and has the ability to bring ideas together in perfectly."
It's not surprising that Raf shops at a store that aims to do the same. After all, he would certainly qualify as one of the famous fashion figures who would fit right in at Vier next to the grandpas and skater kids.