High-fashion is making a habit of making the most basic items a thing lately. This week, it's hoodies. Yes, hooded sweatshirts, invented in the 1930s by Champion to keep workers in Upstate New York warm, are making a triumphant comeback this season during and following the typically freezing Fashion Month of February. Granted, one can only imagine what those original sweatshirts cost, as they still retail for under $50 in 2016. That's the thing though; according Vogue's market editor, Emma Morrison, it's equally as "cool" now (read: acceptable) to wear your $20 hoodie to Fashion Week as it is to don the $700+ Vetements version—just style it properly.
A photo posted by Christina Paik (@christinapaik) on Feb 10, 2016 at 10:45pm PST
As you scrolled through hundreds of street style shots from New York and Paris on your twelve favorite publications' sites in the last couple weeks, you did, in fact, see plenty of hoodies, from Virgil Abloh's Off-White, several Vetements iterations, and a little bit of Yeezy season 1, to the obnoxiously popular hooded version of the "it" Thrasher tee. Apparently, as mentioned in another Vogue article, self-proclaimed "bad girls"—aka models Binx Walton and Lexi Boling—are regularly wearing tees and hoodies featuring the skate magazine's logo. And with those hoodies and tees, all the bloggers, models, street style stars, and fashion girls are wearing a few other items that are deemed new and fire af—bomber jackets (which have also been around forever) and dad hats, the kind that sit atop the head of every middle-aged balding white guy in Connecticut, every man under 5'8" on Canal Street in downtown Manhattan, and Bryson Tiller. Certainly, I can't knock it, as I live to throw on my denim "dad cap" with my Vans Authentics, my Led Zeppelin tee, and my black distressed denim, but let's at least be realistic: These are not new aesthetic concepts here.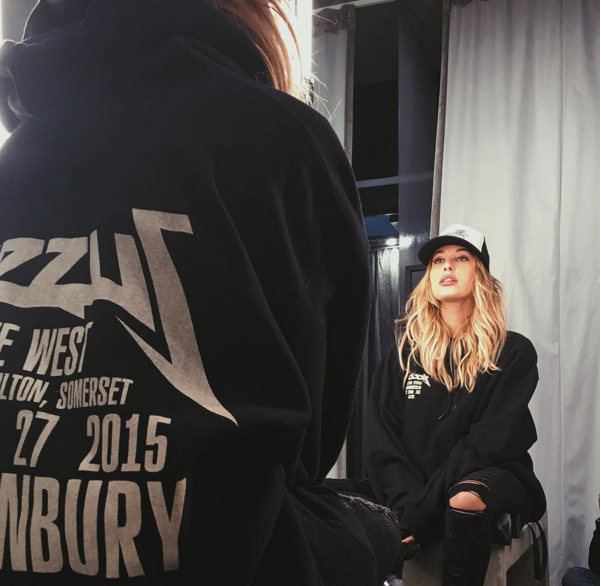 Perhaps an argument can be made for bomber jackets (like, not really, though) but hoodies, tees, and baseball caps—I could literally steal from my father or any single one of my uncles' closets and #slay. Of course, throwing a Fear of God denim jacket over the entire look would secure the streetstyle snaps and the Instagram likes, but in a time when non-fashion items are so wildly popular, someone invested in the culture really has to wonder is it worth copping that $800 hoodie over doing the absolute least with an "I dare you to say something" attitude.
Personally, I credit mainstreamification of streetwear on the popularity of the non-fashion items and the attitude required to rock them. For the love of God, Kris Jenner now knows how to rock her Yeezy's and Yeezus tour hat better than half of the sneakerheads in my Twitter mentions. Streetwear's influence over high-fashion isn't a new trend; however, runway notoriously isn't wearable or affordable. With the growing popularity of hoodies in the front row of shows from New York to Paris, if you have the right attitude, follower count, and friends (think #squadgoals) all you need to do is do what you want when you're poppin', and Fashionista, Vogue, NYTimes Fashion, and Wall Street Journal will cover it.