Miles wears Helmut Lang, Topman, Zanerobe, and Nike. Shop these and other trends now at Nordstrom.com.

Photography by George Elder
When I sit down with Olympic fencer Miles Chamley-Watson, the first American world fencing champion, he's struggling to get his shoe off. It's a sleek black leather sneaker, not the high-performance trainer you'd expect. Technically, it's not even his shoe, which explains why it's several sizes too small. A stylist, an assistant, a photographer, and several others crowd nearby. This is all perfectly normal for Chamley-Watson, who has just finished posing for a fashion spread. That's because, when he's not training for this summer's Rio Olympics, he moonlights as an increasingly in-demand model.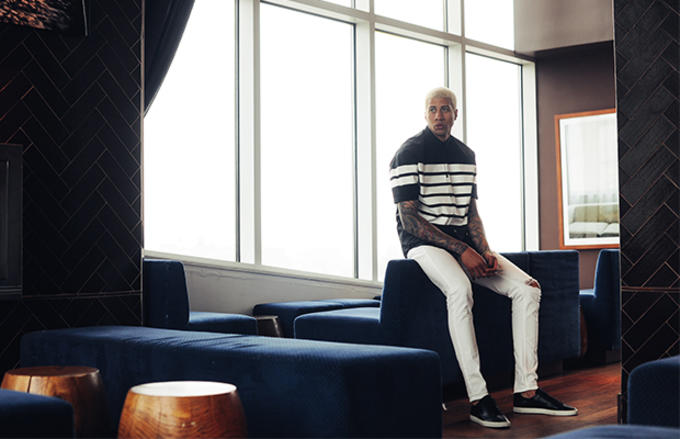 "Growing up in London, people always dressed smart. If I saw someone wearing a shirt buttoned up to the top, I would think they were smart. I've been wearing my shirts like that ever since."
 
How does one become an Olympic fencer-turned-model? Well, you've got to become an Olympic fencer first. Born in London, Chamley-Watson moved to New York at age 10. An "annoying little kid from London who thought he knew everything," he was frequently forced to stay after school. His teacher made him pick an extracurricular activity; he chose the sword over chess. Soon he was entering—and winning—local contests. By age 15 he was winning the Junior Olympics and traveling around the world. That's when he realized his relationship with the sport was serious. "I was like, damn, this is taking off quickly." He scored a scholarship to Penn State and earned a spot on the U.S. team at the 2012 Olympics. While he didn't medal in London, the next year he became the Individual Foil World Champion.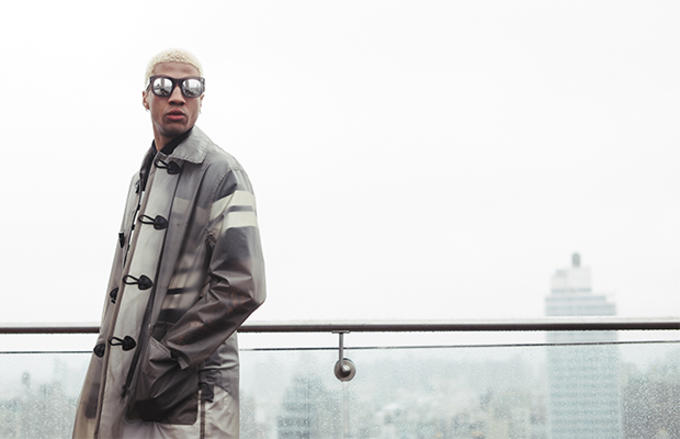 "Layering is key. Major key. I like to dress as if I don't care (but I do!)."

Miles is well aware that most Americans have limited exposure to fencing. When I ask him how he'd explain the sport's appeal to outsiders, he says that, "It's chess-meets-boxing-meets-martial arts. It's mental, it's physical, it's intimate, and emotional." It's also not as aristocratic or pristine as its all-white-everything image suggests. "Two people have died fencing. The tip broke off, went through someone's eye, and came through their head. It's not like The Parent Trap—people really get hurt. It goes through people's hands. I've broken all my fingers. Pulled my hamstring, broke my ankle. It's super intense and combative." He wants people to know that fencing is not just some elitist hobby. This is verified by his newly released GoPro video, which shows him training on rooftops, getting emotional about his disappointing 2012 Olympic performance, and being beat up by a girl ("She's an 11-time boxing champion, and I thought I could take her down sparring. Not my best idea.").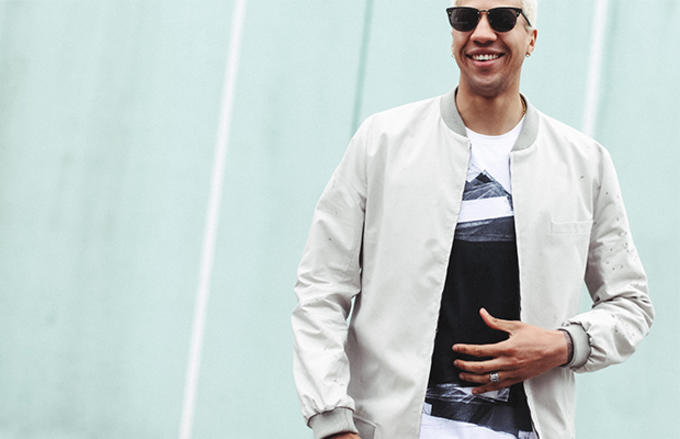 "Off-white is the color of the summer. It fits me well especially with my (cream) skin color."
 
He says he's always been interested in fashion, and his mother is a former model, but fencing is his ultimate pursuit. "I'd been scouted on the street all my life. I just never thought about it, because I wanted to be an athlete." After the Olympics, though, he decided to give it a shot. Soon he was noticed by big-name sponsors like Nike and Red Bull, and by names not generally associated with the world of sports: Vogue, Vanity Fair, VFILES. He's done editorial, opened runway shows, and worked with some of his favorite designers. In the future, he hopes to work with Givenchy and Rick Owens, and to do more work with his favorite, Public School.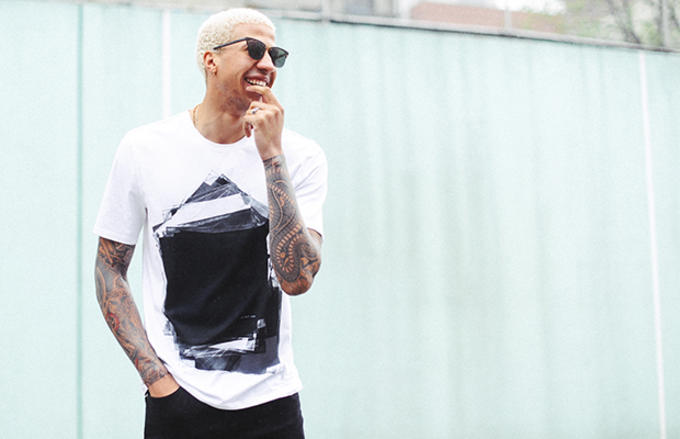 "I like this shirt; it's a nice fitted cotton tee with a bold and abstract print. It's a better alternative to the all-over print."
He defines his personal style as "luxury streetwear." What does that mean, exactly? "I like mixing stuff, I don't really care about labels. I like to combine streetwear with nice boots with bomber jackets." One of the benefits of being a professional athlete is traveling the world. That means opportunities to eat bugs in Shanghai ("it tasted like sh*t," but it was the experience that counts), but it especially means an opportunity to shop for clothing that can't be found on every corner in New York. Everywhere he goes is another place to shop. "I just go to Harajuku," looking for "brands I can't even pronounce." Once he finds something he likes, he keeps its source a closely held secret. "I don't tell nobody."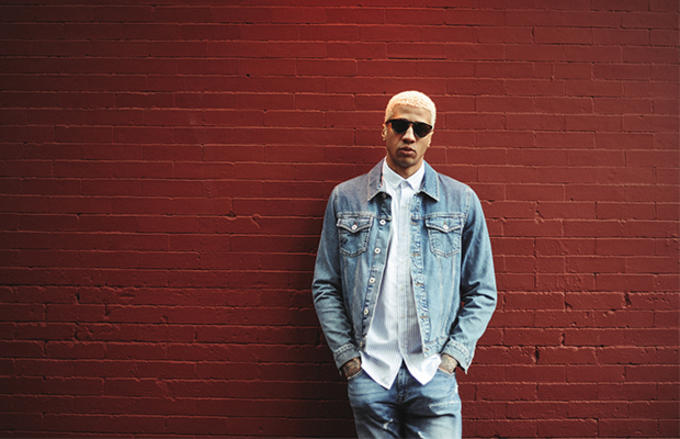 "DENIM ON DENIM. If you can pull that off, then you win at life. I love the whole 'I'm here to fix your sink.' but also 'Hey ladies, check me out.' look." 

​Watch a fencing video online, and you'll be struck by just how similar the outfits look to something you might see a very cool rapper wear in 2016. There's the cropped white pants, the structured shirt, the monochrome aesthetic that clashes with bright sneakers. This wouldn't be out of place on any tastemaker's Instagram—and Chamley-Watson might get there first. He says his next goal is to design a custom shoe and clothing line for Nike, and he's convinced it'll be huge. "I know what kids like. Fashion's my thing—I just love it."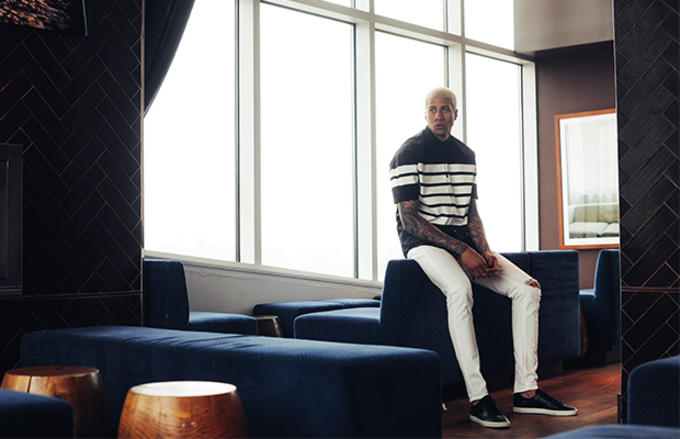 "In New York, people wear black all the time. White sticks out. And I like to stick out. One of my fashion rules: 'If it's not white, it's not alright.'"

​For now, though, fashion is still just the sideshow. After all, being an Olympic athlete is a time-consuming activity. "Nothing gets in the way of training. I trained this morning; after this, I'll be training. I'm training constantly. I train eight hours a day: gym, sports therapy, fencing." It's not about finding a balance between fencing and modeling. "Fencing is always #1. Winning an Olympic Gold Medal is my #1 thing. All this fashion stuff can wait. It's fun, but priority is fencing. I've had to turn a lot of stuff down. It'll come back around if it's meant to be.
For more summer styles visit Nordstrom.com