You know Emily Oberg from her many memorable on-camera appearances as a Complex News anchor, but she has a few other projects on her plate, too—including the Sporty & Rich brand she started in Jaunary of 2015. Beginning with wardrobe essentials embroidered in gold, Emily looks to promote a lifestyle filled with good health and better made things; a body and clothes that won't break down. Today, Emily launches the first edition of Sporty & Rich magazine—a print publication that represents the next step in brand building.
Like the tenets she preaches for long-lasting health and articles of clothing that will endure many seasons, making a tactile print magazine was important because it's designed to not get lost underneath a pile of blog posts. "Why bother to make something that will be gone or irrelevant years from now? It's just not romantic​," she tells Complex. The magazine was envisioned to live on a coffee table, and the content aims to be as timeless as the pages its printed on. Articles include an interview with an ex-girlfriend of legendary artist Jean-Michel Basquiat and a spread that spotlights staying names like Vans, Converse, Comme des Garçons,​ and resists fleeting buzzy brands.
The 60-page magazine is a passion-project for Emily, one that she says will cost her money, but she feels it's well spent. "It satisfies me in so many other ways that are much more important than making a profit," she explains. We spoke to Emily about the magazine, which covers topics like art, architecture, fashion, and an essay about loving yourself in the age of social media, which she says is a highlight. Also take a look at the cover and an excerpted editorial, which Emily exclusively shared with us.
You've curated such a distinctive image on places like Instagram and Tumblr. How did that transfer over to the print magazine?
I wanted to take my online aesthetic to a physical product. Reposting and blogging images is cool, but creating them is something totally different. I was definitely inspired by things I saw online, and I think that comes through in the spreads; the way they're shot, styled, the people I chose to work with, and the overall look and feel. I think this magazine has a direct relation to my blog and Sporty & Rich Instagram. There is a fluidity throughout.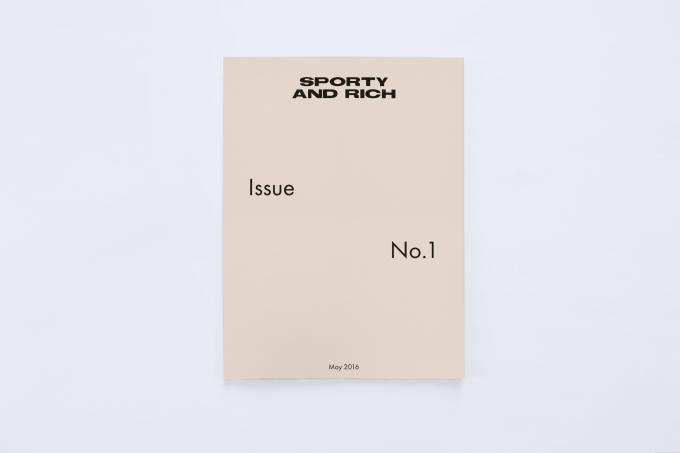 <span></span>
Can you walk me through the process of making the magazine? How did it all start and what happened behind-the-scenes that people might not expect?
At first I really had no idea what I was doing. So I just started to jot down ideas of what it might look like, the content I wanted, and names of people I knew I had to work with. Once I started to shoot the editorials and people submitted their work, I had my graphic designer lay everything out and then he passed it on to me. From there is where I really got into designing it all. The colors, fonts, layouts, etc. were really the best part. It's also daunting, though, you're creating something out of nothing, so you could really go anywhere with it. The biggest struggles I faced were getting people's work in on time, I didn't pay anyone—they're all my homies—so it's hard to be like, 'Can you hurry up!?' You just have to sort of wait it out. That's why it took so long I guess.
Also, printing a magazine is not cheap. I don't think people understand that this project was for me, it was personal, it's like a portfolio in a way. And things like this don't often make you a ton of money, I'll actually be losing money with this project. But that's okay because it satisfies me in so many other ways that are much more important than making a profit.
How did you know when you had hit on something you really liked? What were you looking for?
It's just a matter of having a specific eye and knowing exactly what you want before you find it. I had a vision in my mind of what it would look like, so it's easier to find what you want that way. I was looking for a minimal aesthetic but also keeping it different and new. I didn't want to use anything too crazy or obscure. I think simplicity is key with everything.​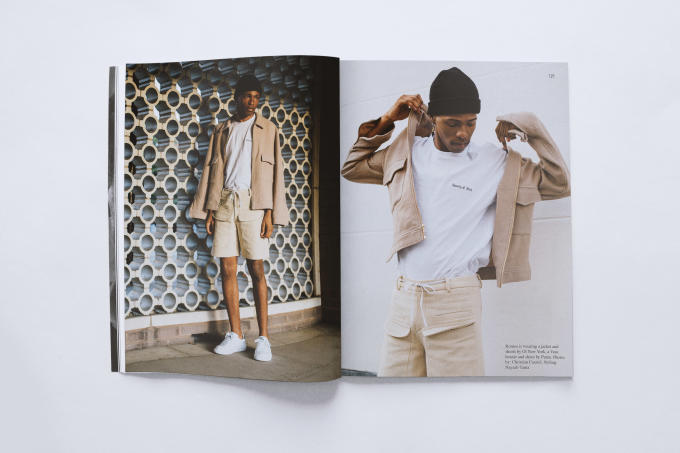 What made you want to move beyond digital and do a print magazine? Especially in a time when a lot of things are moving online?
Having something tangible that you can hold is so special to me. I still like to buy magazines and have physical photos to hold; it means more. It also will live on longer. When our systems crash and the Internet is no longer a thing, what will we have then? Books, magazines, CDs, photos etc. I'm all about longevity and staying power. Why bother to make something that will be gone or irrelevant years from now? It's just not romantic.
Are there other publications you admire or thought about when working on Sporty and Rich?
Definitely. I was greatly inspired by The Gentlewoman, it inspires everything I do. It is the bible for tasteful women everywhere. I was also inspired by Apartamento, another one of my favorite magazines, as well as a collective of art, design and architecture books. I didn't want it to be pegged as a fashion magazine— how boring. So I tried to incorporate as many different aspects as possible.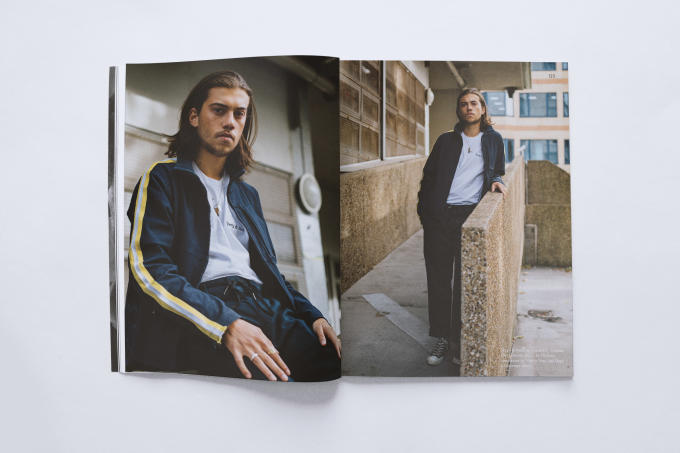 <span></span>
How do you think the magazine evolves the Sporty & Rich aesthetic?
I think it steps my game up a little more. It proves what I am capable of and that I can design and direct. I am passionate about those two things, so it came easy and natural for me. I think it also shows people that it isn't just another T-shirt or streetwear brand. I want to go beyond just clothing and make this brand into a real agency or design house or whatever. 
You've talked about how Sporty & Rich is all about promoting health and well-made things, how does that vision come through in the magazine?
The magazine has a focus on quality, from the paper, to the way things are shot, the products I chose to feature, and where they are manufactured and how. For example, the editorial "A New Light" features brilliant lighting fixtures that are made in Canada by my dear friend Caine Heintzman. There's also an essay by my favorite writer Tabatha McGurr on "Learning to Love Yourself in the Age of Instagram," which is a thoughtful, in-depth take on how Instagram has totally fucked us all and our perceptions of ourselves and how to overcome that. It's a great piece and you feel good after reading it.
If you had to pick one feature in the magazine and say, "That's the one you have to read," which one would it be?
Definitely the essay by Tabatha and my interview with Jean-Michel [Basquiat]'s ex, Suzanna Mallouk. We spoke about a topic that I have always been interested in— how creativity correlates to mental illness. It's a very serious topic that is personal to me. And she was the perfect person to speak about that with. 
There are a lot of streetwear brands—Vans, CDG, Bape—in the editorial you shared with us. How and why did you choose those?This editorial was actually styled by a girl named Nayaab Tania. I gave her direction for the shoot and just told her to do her thing. I found her on Instagram and trusted her taste. I didn't want any sportswear brands really. I wanted it to be more of a mature feature, they're just t-shirts and sweatshirts, but the possibilities of how they can be presented are endless.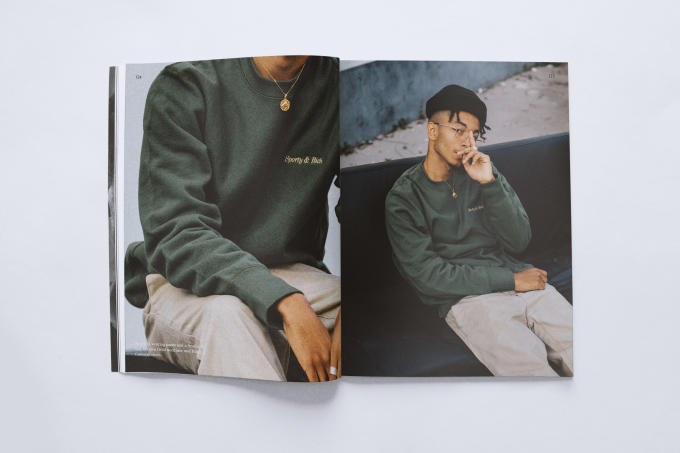 What's next for the Sporty & Rich brand and for you?
More magazines I hope! Like I said, printing is a bitch. I'm gonna go broke if I keep having to fund my own projects, even the clothing line. The profits aren't much, but it makes me happy, so I deal with it. Of course it's every creative's dream to have their ideas funded by old rich people, but it's so tough to get to that point. I have some interest, though, so we'll see.
The first issue of Sporty & Rich will be available to purchase online May 25.