A massive 16-foot long canvas dominated by the figure of a devil and painted with vivid colors by the artist Jean-Michel Basquiat went under the hammer at Christie's auction house Tuesday. When it was all said and done, the painting was sold to the highest bidder for a whopping $57.3 million—a figure that sets a record for Basquiat.
The painting, Untitled, 1982, is intended to be a self-portrait by Basquiat and depicts the artist as a devil. The painting was done when he was only 22 and a spokesperson for Christie's says a number of factors contributed to the enormous final bid.
The first is the size. "It is massive; it's absolutely monumental," a spokesperson for Christie's told Complex. "Being in its presence was really a remarkable experience." However, the painting also lives up to its grandiose scale in quality.
"This one in particular is a canvas that is really, really seen as one of the top three works of his whole career and something that encompasses the visceral energy and emotion that he was really known for," Christie's said. The previous record set by a Basquiat painting was $48.8 million for Dustheads, 1982. It was sold by Christie's in May 2013.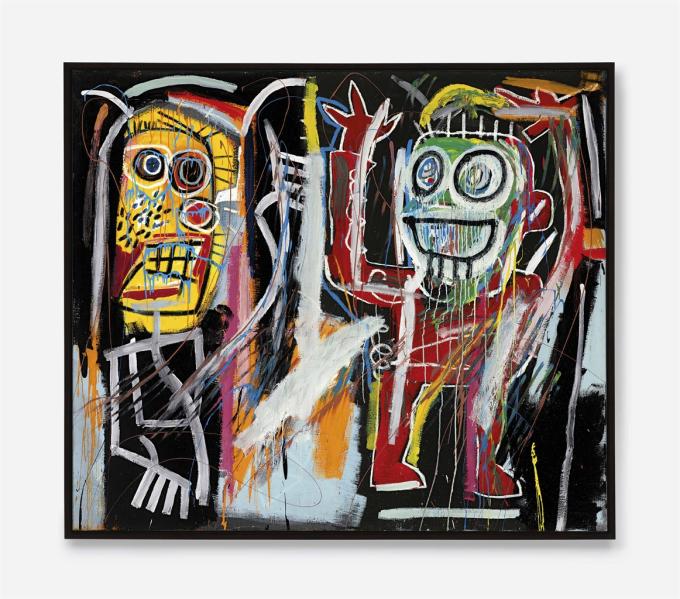 The timing is also important when it comes to the painting, both in Basquiat's life and in the evolution of art. When Basquiat painted this in the early '80s, the art world was moving towards minimalism, according to Christie's. "So, this one was him absolutely redefining a lot of the ideas about art at the moment and putting everything he had out on this canvas."
The painting was also done during an important time in Basquiat's life. The artist was living in Modena, Italy, a place where "he put out some of his most ambitious work" when he was, and it's worth repeating, only 22. During this time, Basquiat also painted Profit 1 and Boy and Dog in a Johnnypump.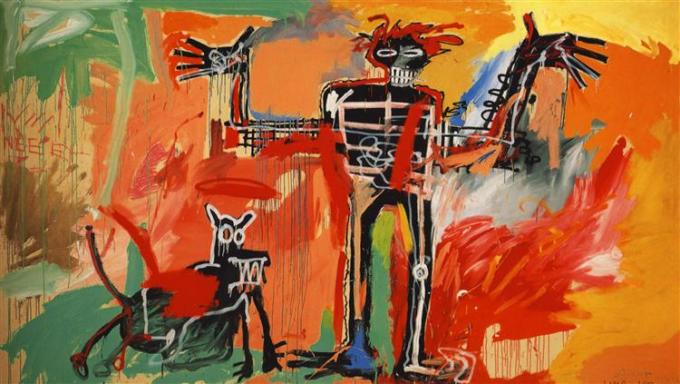 When it comes down to shoveling over a small fortune for a painting, though, there are always external factors at play. "What we say is that it takes two to tango," Christie's spokesperson says. "There was a lot of interest in this particular work but in the end it ends up being two people."
There has to be one person willing to push this figure into the stratosphere where records get broken. In this case, the buyer, Yusaku Maezawa, is a Japanese art collector who feels the painting is important to both Tokyo's history and his own. "It had been exhibited in Tokyo back in the '80s and he felt that that was a very important moment in the development of art history in Japan," Christie's said. Plus, Maezawa, for all his wealth, is extremely young at only 40 years old—only a decade and some change younger than Basquiat would have been. He felt he had a generational connection to Basquiat, according to the Christie's spokesperson. Bringing all these factors together is like combining gasoline and fire—it creates an explosion in price. 
The painting's final sale price is also extraordinary because it happened during a time when people are buying art more selectively. Artsy reports sales figures have fallen off during 2016 and cites this year's London contemporary auctions. 2016's auctions yielded only $184.7 million, a small figure compared to the $364 million earned during that week in 2015.
Christie's says that art buyers are being more choosy and waiting for the best of best.  "This sale was a perfect example of that," the spokesperson said.