Vinyl Jeopardy: The Life, Death, and Rebirth of Kidrobot
The company that helped create the designer toy craze nearly took the industry down with it when it lost its way. With new leadership, Kidrobot is making sure that art toys are more than a fad. Complex Original
Image via Complex Original In the spring and summer of 2014, shutters were slamming in front of the doors and windows at Kidrobot's retail stores in Manhattan, Miami, and Boulder. The brand synonymous with art toys and responsible for bringing the craze to the western world was nowhere to be seen at the conventions it typically dominated. There were murmurings of major money issues. The company that dwarfed the handful of remaining art toy producers, no longer seemed like an unstoppable force of niche culture. Basically, Kidrobot was screwed. And that had a lot of fans and artists— countless numbers of whom had their careers effectively launched by the company—biting their nails. If Kidrobot went down the toilet, it was very possible that the entire designer toy industry would be dragged along with it.
But let's back up for a second. For the uninitiated, designer toys (a.k.a. art toys, vinyl toys, and urban vinyl) are pieces of art that typically utilize the same production processes and formats as toys from '60s and '70s-era Japan. Before the age of G.I. Joe, Teenage Mutant Ninja Turtles, and Transformers, toys weren't mold-injected, but rotocast. Toy manufacturers melted vinyl and placed it inside a spinning copper mold. The centrifugal force pushed the vinyl into the curves and crevices of the mold until it is cooled and solidified. The different pieces were then painted, assembled into the final figure, placed in a box or bag, and sent to stores. This process is extremely affordable, especially at a large production scale, making it a perfect way for artists to create three-dimensional, mass produced versions of their art. Come the mid 2000s, the cool factor combined with the nostalgia of collecting and playing with toys as a kid turned out to be a hit, mainly for urban-dwelling 20- and 30-somethings with an eye for design.
Vinyl toys have their roots in Japan. As the legend goes, Bounty Hunter, a small clothing brand in Harajuku, was looking for a way to increase sales in 1997. The founder, Hikaru Iwanaga, had grown up on a military base that sold American cereal. A toy was hidden inside each box, which in turn was decked out with caricatures of pirates, ghosts, or classic monsters. He figured the same principle could be applied to boutique clothing. Hikaru and Skatething of A Bathing Ape fame created what is accepted by most as the first example of a designer vinyl toy. Dubbed Kid Hunter, this portly, punk-rock bastardization of Cap'n Crunch stood nine inches tall and was only available when purchased alongside Bounty Hunter clothes. But the clothes quickly became an afterthought. People simply wanted the toy, just like children pick a cereal not by taste, and certainly not by nutrition, but for which toy is included in the box.
"I wouldn't say that Kidrobot was so much a business as a small art incubator, and that's what kept it real." —Paul Budnitz
On a business trip to Asia in 2002, entrepreneur Paul Budnitz spotted these strange artifacts. Were they toys? Were they art? Yes and yes. He knew he had found his next project. Budnitz founded Kidrobot in 2002 and headquartered the company in a small Berklyee, CA office that was shared with his previous company, Minidisco. He called upon his friend Tristan Eaton, with whom he'd worked on animation projects before, to help design some Western versions of the toys he'd seen in Asia. Thus were born the iconic Dunny and Munny. Launched in April of 2004 at the Hong Kong ToyCon, the Dunny was a cute, gently curved mix between a devil and a bunny. Releasing shortly thereafter, the Munny was similar shape to the Dunny, but was based on a monkey rather than a bunny. Kidrobot commissioned various artists such as Huck Gee, Dalek, and David Horvath to apply original characters to the Dunny silhouette while selling the blank Munny as a DIY platform. Working with outside artists was a major part of the business. "We'd take a lot of chances on new artists who turned out to be popular," says Budnitz, "I wouldn't say that Kidrobot was so much a business as a small art incubator, and that's what kept it real."
Between in-house talent and hired artists, Kidrobot found its sweet spot when it came to aesthetics. Budnitz describes the visual formula as "the combination of a little cuteness and a little blackness, as my friends at Devilrobots like to say. You gotta be a little evil, but there's a sophistication to the designs that always resonates with people." This can be seen even through the blank Munny. At first glance, it's just a cute little monkey. But the slightly aggressive pose, the slouch of the shoulders, and the downward stare combine to project a vaguely ominous feel.This juxtaposition was even more apparent in future Kidrobot releases, like Travis Cain's BFF series, which depicted anthropomorphised, everyday objects gleefully murdering each other.
Kidrobot quickly went on to create unique toys outside of the Dunny and Munny characters. Its eponymous mascot—a streetwear-laden homage to Ultraman—took vinyl form, the brand teamed up with musical acts like the Gorillaz and Madlib, and streamlined Frank Kozik's Smorkin' Labbit, which was previously produced by Bounty Hunter and Medicom, by turning the pudgy, cigarette-smoking toy rabbit into a leaner and more crotchety character. Says Budnitz of the brand's fast track to success: "We'd just say 'fuck it' and make a toy because we loved it, and those were always the toys that did best and that kept fans excited."
The success of Kidrobot didn't rely only on its edgy toy designs, but also on the marketing of the products. The 3-inch Dunnys, among other series, were solid in blindboxes, cardboard boxes encasing the foil-wrapped toys as to prevent the buyer from knowing which Dunny in the series he or she was about to purchase. To get the Dunny you wanted, you'd have to either be really lucky, meet up with fellow Kidrobot fans to trade, or keep buying blindboxes until you unwrapped the right one, which at about $8 a pop, wasn't out of the question for most fans. And of course this kind of product attracted completists. Fans with deep pockets would throw down the cash for a full case of Dunnys to acquire every piece in the series.
Another key to the company's success was its leveraging of scarcity. While their toys were sold in specialty shops, their first-party Kidrobot locations were the main draw. Shortly after the Kidrobot webstore launched, their first brick-and-mortar location opened in San Francisco in 2002, followed by a store in Manhattan's SoHo area in the fall of 2003. Locations in Los Angeles, Miami, London, Las Vegas, and Boulder followed. In the early days, Kidrobot products weren't so easy to come across. It was like Black Friday every month, but instead of over-caffeinated soccer moms waiting in front of Wal-Mart, it was sneakerheads, graffiti artists, and graphic designers outside Kidrobot's retail shops well before the manager turned the key and flipped the "open" sign. The limited edition aspect of the company even served to push its designs further. "When you make things that are limited edition it means you can take more risks, because if you make just 100 pieces of something, only 100 people have to like it," says Budnitz. "That resonates with people."
Recognizing the buzz the company was generating, Kidrobot was quick to build a community around its brand and products. The stores hosted launch parties where fans could gush over the latest releases, trade blindboxes, and meet the artists behind the toys. Popular designers dropped by to paint in-store customizations of Munnys, which were often raffled off or auctioned for charitable causes. Kidrobot was the place to be for locals and a destination for visitors. "I loved that job," says former Kidrobot New York manager Lisa Lyons. "I loved going there every day. There would be people lined up outside at 10 a.m. in their chairs and they'd give me a juice box. How could you not like that? I felt like a celebrity."
Similar to how Budnitz describes Kidrobot as an art incubator rather than a business, Lyons describes the retail locations as a gathering place rather than a commercial artifice. "For me, it was exciting because it was community-centric. There were some people who would come in and we'd talk for hours and I'd pick their brains. They'd drop all this knowledge and it was so cool for me because I'd learn about all these artists and galleries. It was more of a place to talk about art and hang out than a retail store."
The brand even created a secondary designer toy market. Certain artists, such as Jon-Paul Kaiser, Squink, Sket One, and 64 Colors, became so adept at creating customized Kidrobot toys featuring DIY paint jobs, additional sculpting, and more, that they were able to sell their work to collectors and create a new source of income, some of them even quitting their day jobs to customize fulltime. Collectors commissioned custom toys to their specifications from their favorite artists, and those customs often became the crown jewels of their display cases.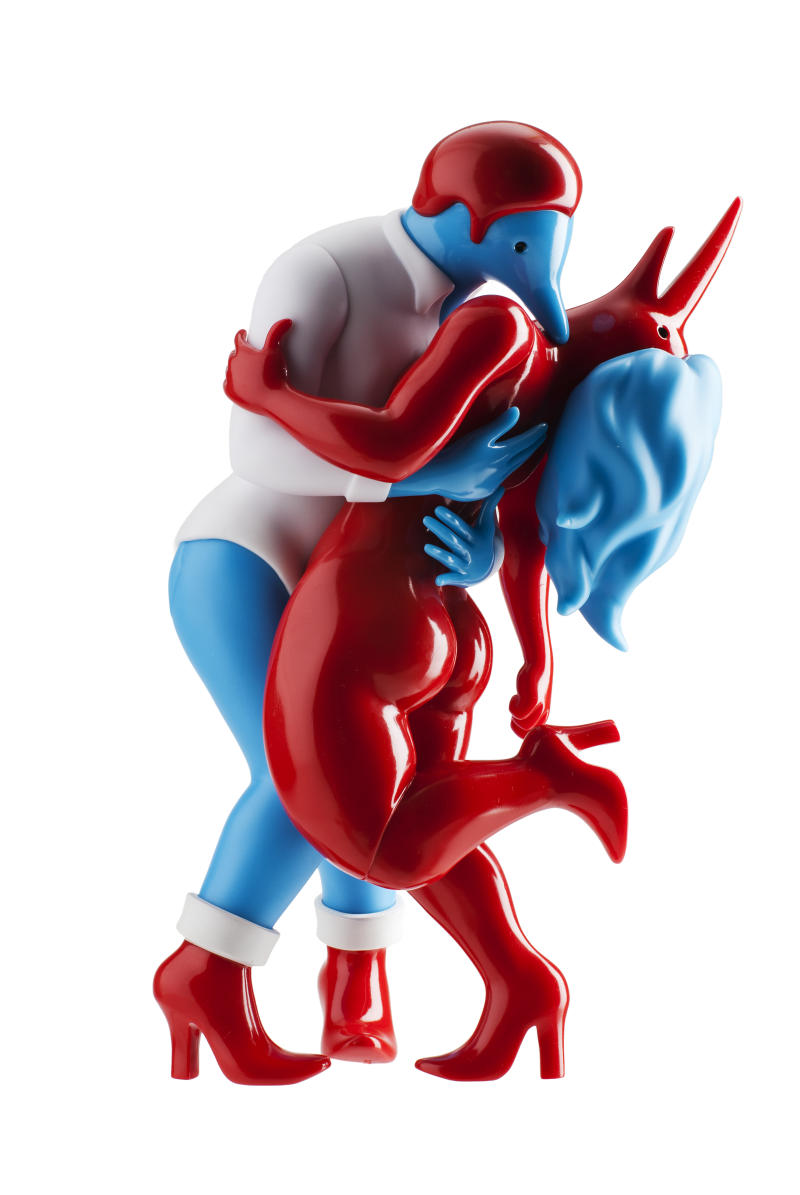 For years, it was hit after hit for Kidrobot. It seemed too good to be true. A new form of art was being born. Everyone from pro designers to would-be artists could take part. But after nearly 10 years of the designer toy scene—a scene tent-poled by Kidrobot—things began to taper off in 2013. The company started to rely more heavily on licensed products such as Marvel and DC properties, South Park, and Family Guy. Whereas they would occasionally license a property and then turn the characters' designs inside-out, Kidrobot simply would make superficial adjustments to align with the short and stout aesthetic the brand was known for. These items were, purposely or not, positioned as impulse buys rather than collectibles. They were purchased by fans of the licensed properties and some Kidrobot fans, but they also caused many collectors to completely write the brand off. Artists and fans began to consider if their worst nightmares were coming true and even dropped the f-word: Had this all been a fad? Were the toy companies like Kidrobot and their artists out of ideas?
WildBrain Entertainment, best known for creating Yo Gabba Gabba!, had purchased a stake in Kidrobot in 2006. In early 2012, two years after the brand moved to Colorado and coinciding with Paul Budnitz's departure from Kidrobot, it was announced that the company had outright purchased the toy brand and planned to make television and film projects out of the company's characters. It felt a bit like a favorite band selling out. Fans wondered if the end product would suffer due to the hidden hands of corporate overlords. Around this time, it seemed like Kidrobot's products lacked the qualities that made them so interesting and special. Sales reflected this as products remained on store shelves. When asked if the timing of his leaving Kidrobot and the brand's slump in innovation and sales were a coincidence, Budnitz simply answers, "No."
As soon as the company recognized the brand was in trouble, it went into a reactive panic mode. Whereas Kidrobot had previously axed item that didn't turn out as well as was hoped, the company began simply pushing out whatever was close to completion. Focus was constantly shifting. If the toys weren't selling, the company would focus more on the clothing. Retail workers were given hourly quotas, undermining the once relaxed retail atmosphere.
"When the office moved to Colorado, the focus on [retail] changed," explains Lyons. "Some [corporate] managers came in who weren't there before and as they broke down the business, it became evident that there were aspects to the company that weren't sustainable. That's where things started to go a little bit crazy, because people didn't know what to do. All of a sudden there was all this pressure on me, like, 'You must sell 10 products per minute.'"
One of the most obvious flaws was the brand's handling of licensed properties. The official Kidrobot forums were full of members begging the brand to go back to its roots in order to keep afloat, if not simply to revert to edgier designs. "Kidrobot's appeal is all about original work, which is hard to pull off. You need a strong vision of what is and isn't awesome, and what people will like," says Budnitz. "If you don't have that vision, you rely on licensing, which is a cheap fix and eventually dilutes your brand. It's OK some of the time; I loved what we did with Gorillaz, for example. But if you overdo it, slap Marvel characters on things in random ways, that's wack."
"When the office moved to Colorado, the focus on [retail] changed. All of a sudden there was all this pressure on me, like, 'You must sell 10 products per minute.'" —Lisa Lyons
For two years, it seemed like the company was having a hard time coming to grips with waning interest. But the harsh reality began to really set in throughout 2014. All Kidrobot stores, save for the independently operated Las Vegas and San Francisco locations, closed their doors for good. Even the online store was barren. The brand was noticeably absent from Comic-Con and DesignerCon. In July, an entry was posted to the brand's official blog assuring that, despite the store closings, the brand was still expecting to expand into even more design and fashion projects. This came off with all the sincerity of a sweat-drenched ship captain assuring his passengers that everything is fine despite the iceberg lodged in the hull. Fans expected that boat to capsize at any time.
"I was a little surprised but not really," says Lyons regarding the store closings. "Among the managers, we half-jokingly would say, 'I think they're gonna close my store!' When I left [in 2014] and saw the company making all these drastic changes, I wasn't really surprised that they closed the New York store, but I didn't think they'd close almost all of them. It was like dominoes, one after another. That was shocking."
Even the brand's founder had to avert his eyes. "Kidrobot was always my baby and it's frankly been painful to watch the direction it's taken some of the time, so I just don't look," admits Budnitz. "It's not a black-and-white thing, but I would have done many things differently, and it was hard to see some of the choices that were made after I left."
On Nov. 19, 2014, two unexpected announcements were made. Kidrobot had been acquired by high-quality collectibles company NECA, and Frank Kozik, granddaddy of art toys, had been appointed Kidrobot's creative director. Kozik had been active in the art toy scene since the beginning. With his Smorkin' Labbit taking 3D form as small resin figures sold in Japan way back in 1998, over 500 toy releases under his belt, and an extensive history working with Kidrobot on Dunnys and his own Labbits in plush and vinyl form, this was a huge relief for some. For others, it was a final gasp for breath. But overall, onlookers were cautiously optimistic. What would Kozik's true role be? Would he only be making creative decisions, or would he be helping the brand pick itself up off the ground with his nearly 20 years of designer toy experience and no-bullshit attitude? Would NECA be accepting of Kidrobot's strange and subversive work? National Entertainment Collectibles Association, founded in 1996 and located in New Jersey, is known for its highly detailed and often photo-realistic action figures based on film, TV, comic, video game and sports icons and not art.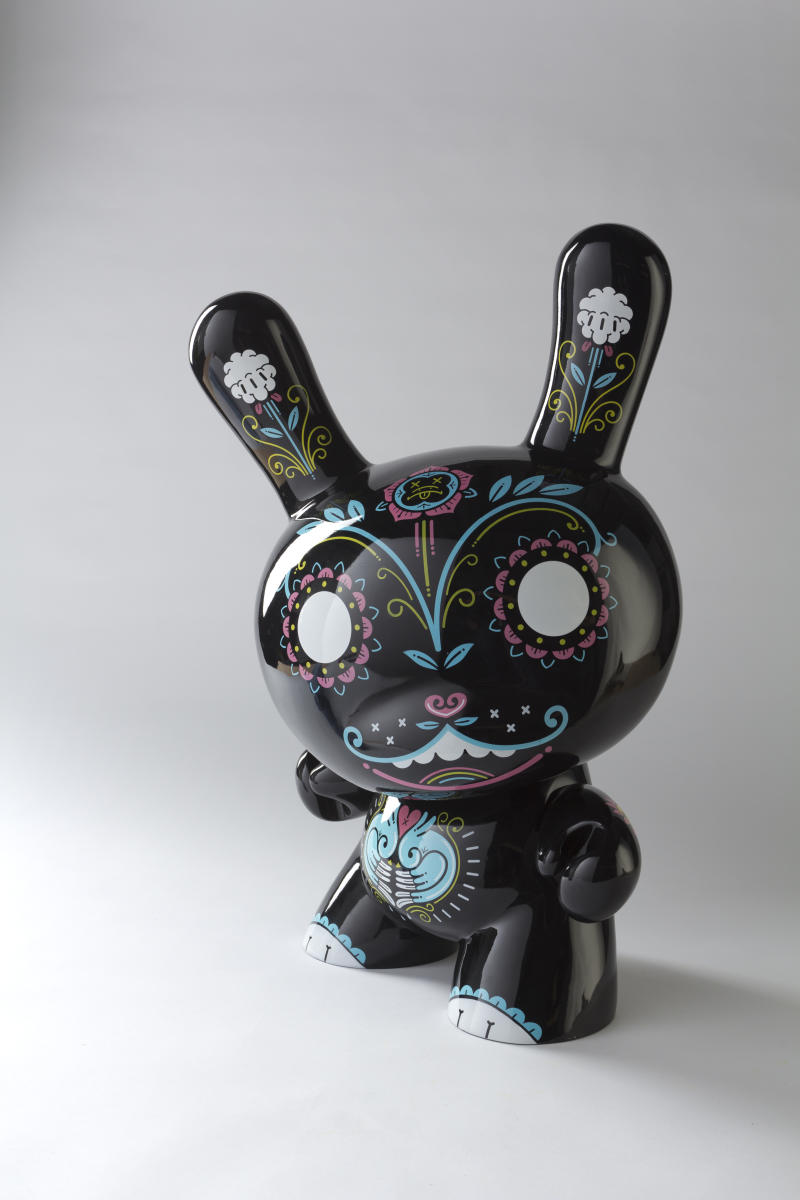 Kozik says he was not surprised Kidrobot approached him about taking a leadership position. "I've been working closely with Kidrobot since its inception," he says. "I have a lot invested in Kidrobot and Kidrobot has a lot invested in me. It just made sense because I understood the company and the products intimately." He considered the bigger picture when making his decision to accept the position. "The most rewarding phase of my career has been doing toys. I want to keep working in this field forever. And that's not possible if all the companies go away. I had the opportunity to help the company revive and I seized it. Otherwise, what are you going to have? Funko? They won't do art toys."
As for his role, Kozik is much more than a creative director. He's been making decisions on how the company operates and what directions it will take in terms of its offerings, its partnerships with artists, and its aesthetics. One of his first orders of business was to make the company more inclusive. "We're not going to be ultra secretive. We want to include the fans and the customers and the public in the process," says Kozik. "I'm an inclusionary person, so I'm a bit of the anti-KAWS." This decision has already been put into action. Each week, Kidrobot's forum representative posts a new product reveal while the blog features fans' collections.
As part of its renewed inclusive mission, Kidrobot is making a concerted effort to create a triple-A stable of artists. "There are a couple dozen artists that work in the toy genre. Cool, but after a while, we need new stuff. And how many times have you seen a custom and said, 'Fuck! I wish that was a production piece.' So we're starting to do that," says Kozik. "The foundation of the company is artists allowing us to produce their stuff. We went back to the principles that made this whole genre great and interesting." But it's not all about new talent. "At the same time, we're going back to some of the original pioneers because they've continued to develop their work and created new styles that are just as interesting as their old styles. So, I'm trying to do a nice blend of the two, where we have brand new fresh talent, and we have some 'old masters.' That makes a nice combination."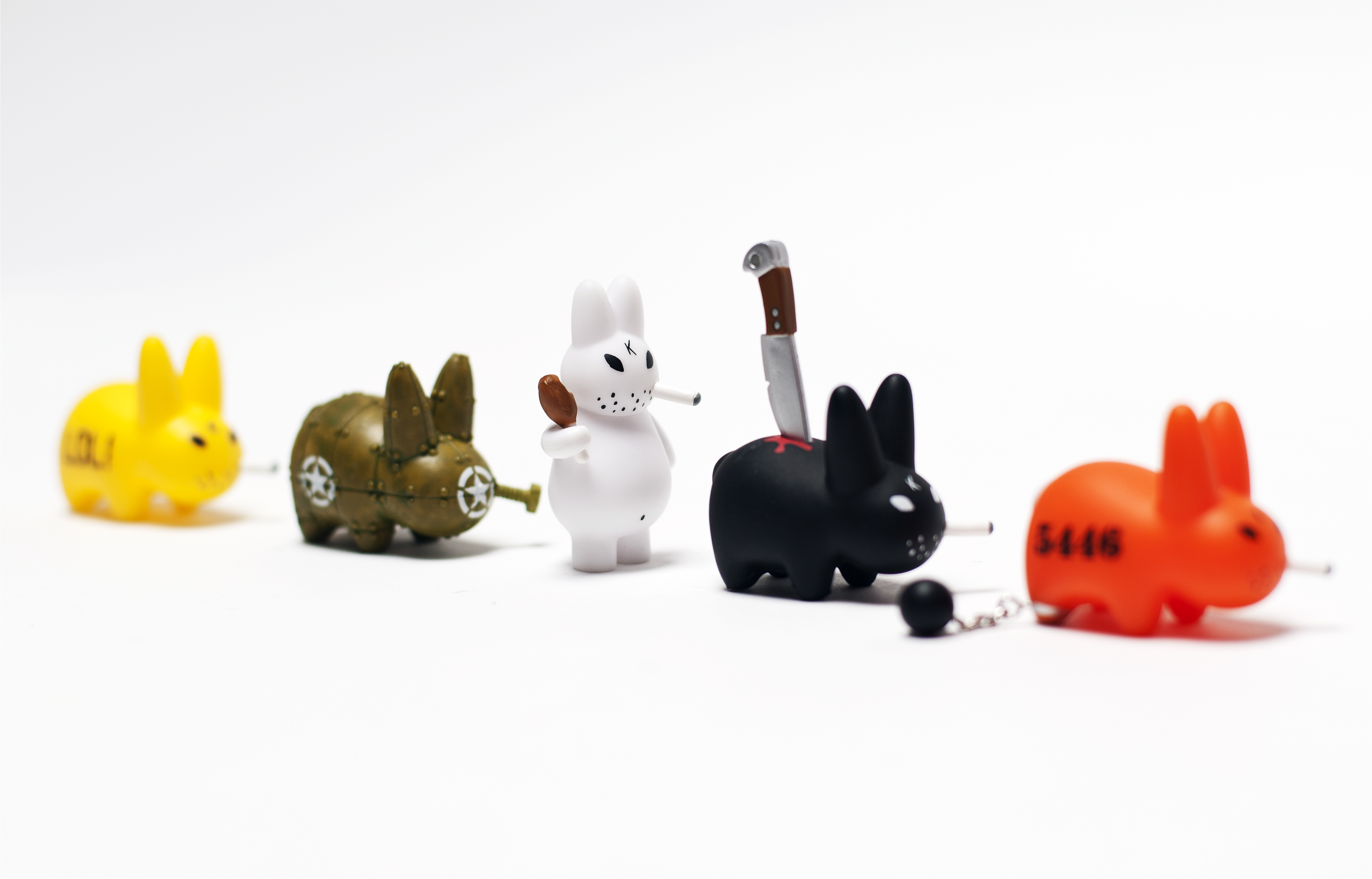 In terms of aesthetics, collectors should expect less blood and more eye-popping color palettes. "I've turned away from darkness and violence here. There was a lot of that, but I like colorful things and whimsical things and freaky, weird things," explains Kozik. "So, overall you're going to see the colors and styles get away from 'it's got a weapon and it's mean.' There was a time and place for that, but it's not now."
Kozik is quick to get one thing straight: NECA owns Kidrobot but doesn't control it. "The first thing they told us was, 'We're not going to interfere with your aesthetic decisions,'" he says. "NECA has not interfered with any of the art-based released at all." He clarifies that the two companies have to work together when it comes to licensed goods. "They're the ones buying the licenses, so they have a little bit of a say."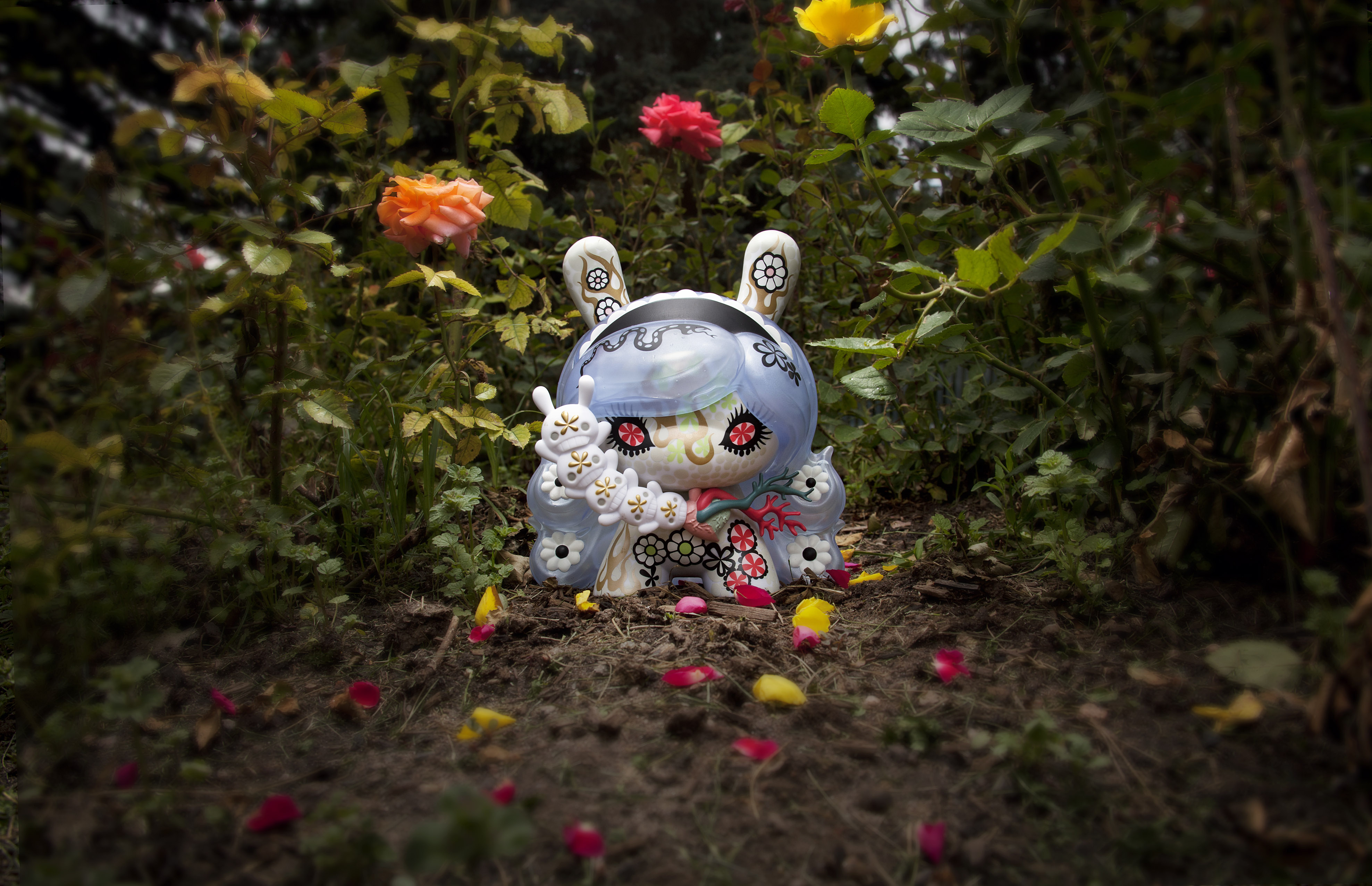 It's only 11 months into the Kozik era of Kidrobot and the company has a much more positive outlook. Recent releases, like Junko Mizuno's Violet Soda Lady and Jim Phillips' Screaming Hand, sold out the day of their online releases and have flown off the shelves at record and comic book stores that stock higher-end Kidrobot products. And future releases hold just as much promise. Dunnys from J-Ryu, Sket One, Scott Tolleson, and more are on the way, as is a full blindbox series from Amanda Visell. Kozik also assures fans that the brand will have a major presence at New York Comic-Con, the Designer Toy Awards, and DesignerCon in the fall and winter of 2015.
The company is more stable, having downsized from nearly 50 employees to only about 15, allowing for a more cohesive group effort. "Sales are going up across the board," says Kozik. "We're working to get the website together and get international shipping to be correct. Once that's in place, sales are going to go up tremendously because a third of our customers are overseas. We set out on some goals 10 months ago. We've overachieved on every single goal. If you run the numbers correctly, Kidrobot is making more products than it ever did before and we're being able to do it way better and more efficiently and maintain quality." While Kidrobot is still clearly in a transitional phase, the question does arise as to whether or not this volume of releases is beneficial to the brand and is sustainable. Newly released toy series by Brandt Peters, Amanda Visell, and Nathan Jurevicius signal a call-back to Kidrobot's earlier days, and talks of a partnership with foam and felt sculpting duo Horrible Adorables provides a glimpse into the company's future, but a new series of licensed plushies called Phunnies, a blindbox series based on a mobile game called Best Friends, and Munny, Dunny, And Labbit Halloween masks may cast a shadow of doubt for skeptics. Then again, Kozik makes it clear that Kidrobot isn't attempting to revert to its original identity or business plan. "What people have to understand," he says, "is that this is basically a brand new company." So while said callbacks will keep original fans happy, Kidrobot hopes to simultaneously try out new ideas.
Despite the brand's recent short-term success, Kozik doesn't want to give the wrong impression. "The gut feeling is that it's all coming back around," he says of the popularity of designer toys. "Will it be a brand new, booming thing it was before? No, that was 10 years ago and everything's changed." Even so, it's hard not to go from "cautiously optimistic" to plain "optimistic" after seeing the company make such a noticeable recovery. The art toy community seems to be breathing a communal sigh of relief. "As someone who collected NECA way before I knew about Kidrobot this is a welcome change in a company so many had written off over the past 2 years," posted Rsin, who has released a limited edition Dunny with Kidrobot, to the brand's forum. "And with Frank as the creative director I hope things fall back into place. [Kidrobot] needed something and someone to bring collectors back."
It's easy to attribute the recovery to Kozik, but he rebuts that explanation. "Am I saving Kidrobot? No, no, no. Kidrobot saved itself. There are about 15 people here and they have saved Kidrobot. It's a true group effort. The people who are here are here because they really want to be here and are kicking ass. People here are fucking jamming."
So, is Kidrobot back from the dead? The next few years will tell. It will take careful curation of artists and products, surprising uses of licensed characters, and a commitment to the community the brand has helped foster for over a decade. As the armature of the scene, Kidrobot's future success or floundering will be reflected in that of the designer toy industry as a whole. What Kozik and his team develop and how they engage with the community will inspire or dishearten nearly every artist, collector, and company in it. There's a lot riding on the brand's success, but if the past several months have been any indication, Kidrobot is back, both as a business and a beacon.