Thirstin Howl the 3rd aka The Polo Rican has been a fixture in hip-hop for decades. The Brooklyn-born entertainer slash master of ceremony is also a founding member of New York's infamous Lo Life crew—a band of misfits with one thing in common: the love of getting fly. Their uniform of choice is Polo Ralph Lauren, although, as most Lo Lifes will admit, that's not the only brand they rock. Today, we are happy to be the messengers of good news. Thirstin is planning on dropping a clothing line in partnership with Willie Esco, the creative director of Coogi, named after the crew he help make a global movement. We got up with the Polo Rican to talk the line, Lo Lifes, and his favorite Polo pieces.
The Lo Life collection drops in August. 
You're wearing something from the line?
Yeah, the Lowlife brand we're doing now, in conjunction with Willie Esco, Etonic, and Coogi. But we got a full line coming out in the fall.
Is it going to be like a direct play on Polo like Raekwon's Linx Beach jacket?
Some of the pieces. But then there's going to be a lot of stuff coming behind that. Willie Esco is the creative director, so there's a lot of history and experience in this.
I see you're wearing a Stadium piece.
The Stadium edition and then we're inventing some new stuff. We have a Coogi sweater with the double L's on it real big. It's a cross collaboration with Coogi. And the same with the Etonic, we have an Etonic sneaker as well. They're not playing off of Ralph Lauren or anything. Willy approached me with the idea and I've been out there as a Lo-life branding everything through the music, through the videos. We've been pushing for years and years, building the brand. Just off of T-shirts and rugs. We did a collaboration with Erick Sermon on the DefRugs. Just collaborating with a lot of people and pushing our own stuff. It built up to be a brand, especially having the global following now. There are Lo-life chapters all over the world. How did the Lo Life name come about?
From a girl calling me a low life. Lo Life's motto was always hoes and clothes. So hoes were always a big part of the story. We used to go out on a night get 30 or 40 numbers. One of my nights, my girl caught me talking to another girl and getting her number so my girl was like, "that's some low life shit." And she was correct. And I thought about it and I was like, "yeah, 'Lo is our life." We were really heavy into it and it really meant a lot, like it was our life at that time. That was the frame of mind we were in and the name stuck from there. Everybody accepted it, adapted to it.
I saw the picture of the cookie with the Lo Life motto: Love and loyalty.
Yup, that's what we've been branding forever, our official cookie. That's what built the brand, so that's what we've been pushing through our merch and everything all these years. 27 years and better. Tell us about the hat you're wearing.
This is one of the hats. I believe they did a photo shoot to show you a bunch of the pieces, a bunch of the T-shirts so you can have an idea of what we're bringing. Just for the initial entry. For the launch. We did a lot of Stadium stuff. A lot of the P Wings, so it's a double L wing now. The double L with the wing and the foot. And the Coogi. The Coogi is going to be a killer because there's pants to go with it. It's crazy.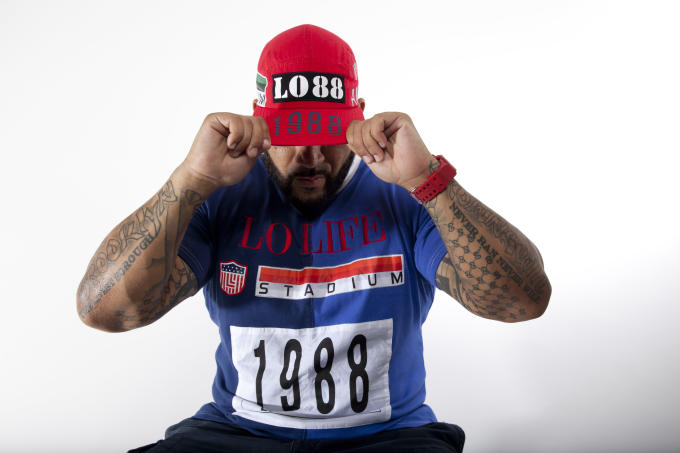 Is it going to be like the OG Coogi designs with all the colors?
We're going to have one solid color. It's the Coogi design but in all white. And then there's a big double L on the front with the foot wing. And that will be in colors. But everything else is white.
What's you favorite era of Polo Ralph Lauren?
I would have to say '88 or '89.
What particular collection from that era?
The Cross Flags, the cookies, and the USA stuff. All the other eras I was locked up for so I was jealous. Like all the Stadium stuff in the '90s, I was locked up for all that, so anytime I got a picture in the mail of what they were wearing, I was mad. The Cross Flags were my favorite piece period, my favorite logo. Are you still going to rock Polo or is it going to be Lo Life from now on?
I'm rocking our brand. Polo is there and we still rock with Polo but it's our turn. We going to do for our brand what we did for Polo. We're going to glorify our brand and put it in the spotlight. Same way we did Ralph Lauren all these years. And all Lo Lifes are going to be doing it.
That's an issue in hip-hop where we promote these brands and they don't give us the love back. Does Polo show you guys love?
Not at all.
They never reached out, you don't know someone that works there?
Not at all. We never cared. We were never looking for the love. We were doing what we wanted to do. It never had anything to do with him or his brand. That was just what we chose. Polo isn't the only brand we rock. It became a uniform but it never was about Ralph Lauren. It was about how we wore it and put it on. Like I said, you'll see somebody on the street with the exact outfit but it would not look the same.
We're a hip-hop organization now. We're about showcasing positivity. Righteousness in our community, children, family, all of that. That's where we stand now.
It wasn't really about the brand, it was about how you put the outfits together.
When I was in jail we used to do the same thing with the state greens. I would put patches of FILA on my green uniform. My mother would mail me these patches for all my clothes. I would put the Polo patches on and I would wear it just like it was Polo. And you know what's stupid? These motherfuckers in jail would ask me: "Is that a real FILA jacket?" It's the same state-issued jacket you got! It's how you wore it and how you put it together. I made them believe it was the actual brand by FILA and the actual Polo.
Do you still have some of your favorite pieces?
I keep up with the times, I'm not into vintage collecting. I was there for so much of that. It's the same with the old vintage 'Lo pieces. That doesn't excite me the way it does everyone else. I'm excited when I see the new creations. I'm excited for this. When I see our shit coming. Most of my vintage shit, I wear it and people offer me crazy amounts of money and I sell it off of my back. Like take this shit, I don't care about it really.
Do you remember some of the crazy pieces that you guys would go crazy for and try to rob somebody for?
The Cross Flags when that collection came out. Any of the big symbols. The big flags, the Indian heads. Anything that was big, you had a problem. You walked through Lo Lifes and you had on something that we didn't have yet, we would chase you. I remember we were on 40 deuce (42nd Street for you gentrifiers out there) one time and this dude had a leather cookie Polo goose. It had the leather cookie, the top was beige. If you went to the Ralph Lauren store, this shit was $900. And the Polo store on 72nd Street was really hard to steal out of. They had it locked down. I remember the dude came through and about 50 of us chased him for that goose.
Y'all got him?
Nope. That boy was fast. He got away [Laughs.]
You guys are off that type of lifestyle, though.
We're a hip-hop organization now. We're about showcasing positivity. Righteousness in our community, children, family, all of that. That's where we stand now.
Angel Diaz is a staff writer for Complex Media. Follow him @ADiaz456.