Daniel Arsham is staring at the top of a whited-out textile cavern he helped make. It's the middle of Milan Design Week, and we're standing in the middle of an installation that he and Alex Mustonen—his creative partner in the architectural firm Snarkitecture—devised in collaboration with Karin Gustafsson and Martin Andersson, the head designers of COS, a minimal fashion retailer owned by Swedish clothing company H&M.
COS could be described as H&M's more discerning older sibling. The price points and overall design aesthetic are decidedly more elevated than H&M's accessibly priced offerings, and the clothes seem more at home in the luxurious backdrop of Milan's Brera Design District than, say, the sweltering confines of the Coachella Music Festival.
To reinforce the label's refined taste level, COS has enlisted several high-profile architecture firms for installations at Salone Del Mobile, the world's foremost furniture trade show, for the past four years. Last year, the company collaborated with Japanese design firm Nendo on several forward-thinking reinterpretations of the basic white shirt.
Snarkitecture, a firm known for clean lines, a monochromatic aesthetic, and unique, experiential installations throughout its canon, took some 62 miles of textured white fabrics in varying lengths and hung them, piece-by-piece, from the ceiling, like ticker tape stalactites.
"We started with the fabrics, looking at certain fabrics that they were using, and this idea of translucency," says Arsham of the inspiration behind the installation. "We've worked a couple times before with this architecture of subtraction."
Walking through the installation, it's impossible to not want to be fully enveloped by the hanging strands of fabric—good thing such behavior is encouraged. The resulting sensation feels a bit like being caressed by hundreds of tiny hands made of toilet paper. It's the kind of "Hey, look at me!" environment that almost begs for a selfie. And throughout the five days the installation is up in mid April, many are taken. Much of Snarkitecture's canon shares this sentiment, the idea that posting it on the Internet makes experiencing the art more indelible.
THERE iS A DEGREE OF CHEEKINESS TO SNARKITECTURE'S WORK. THEY USE THE CONSTRAINTS OF A SPACE TO THEIR ADVANTAGE, FLIPPING THE SCRIPT TO MAKE THE AUDIENCE SEE THE BANAL IN A NEw context.
I asked Arsham, who has a burgeoning art career outside of Snarkitecture, if he approaches his own work differently from projects like this one.
"Art—the purpose of it is ambiguous," he says. "Architecture has more of a defined directive in some ways. Even if the space doesn't necessarily contain that, it's still an environment."
Arsham, 34, and Mustonen, 33, founded Snarkitecture in 2008, though both met while students at New York City's Cooper Union. Arsham graduated in 2003, and Mustonen in 2005. The name is derived from Lewis Carroll's poem The Hunting of the Snark, in which a motley crew of misfits takes a journey into the unknown. That sort of narrative describes what Snarkitecture hopes to achieve: bridging the creative gap between architectural pragmatism and artistic idealism. The name also serves as a double entendre; there is a certain degree of cheekiness to their work, which Arsham and Mustonen embrace wholeheartedly. Snarkitecture continually uses the constraints of a particular space to their advantage, at times flipping the script to make the audience see the banal in a totally new context.
A couple of months after the Salone Del Mobile installation, I visit the Greenpoint, Brooklyn space that plays double duty as Snarkitecture's studio and Arsham's personal art studio. The nondescript steel grey door is easy to miss, nestled amongst a Japanese food wholesaler, a warehouse that makes doors, and a manufacturer of wood laminates.
Inside, Arsham's assistants are in the process of hanging different casts on the wall and inundated with various projects involving casts, including a rose quartz eroded Chicago Bulls Varsity Jacket that will be shown at Frieze Art Fair. Arsham is off traveling. Outside, Mustonen is taking pictures of clear plastic balls on three different swatches of carpet. He and a few assistants are wondering which would be perfect for "The BEACH," one of Snarkitecture's most daunting projects to date, opening July 4 at Washington, D.C.'s National Building Museum.
The museum describes the upcoming installation as a "one-of-a-kind destination," taking the idea of a summer vacation and mixing it with the ball pits of youth. That's what the plastic balls are for—the installation calls for a 50-foot wide shoreline replete with monochromatic beach balls and beach chairs, all leading to a figurative ocean of translucent spheres.
Mustonen and his team are also making last-minute preparations for New York Design Week. The day I visit the studio, Snarkitecture has just released a collaboration with Print All Over Me, a clothing company that specializes in custom printed apparel. The firm's contribution is a series of prints that riffs on typical New York architectural motifs, like subway tiles and marble office interiors, and flips them into wearable clothing. The series currently sits in a window of the New Museum off Bowery, where you can buy the pieces at the museum's store. The "Architectural Camouflage" theme is played up in the window, matching the printed apparel with the material that inspired it.
Between Snarkitecture's rapid-fire stream (especially by art standards) of projects, and Arsham's own rising-star status as the New York art world's most hyped pop culture figure—as a recent New York Times profile attests, he's worked with everyone from Jay Z to Pharrell to James Franco—one may wonder if there's any brand won't work with or any project the duo won't undertake.
"I've been selective about who and what sort of brands I've been working with," says Arsham of his personal collaborations. "Most of the other collaborations that I've done have been with companies or brands that have a strong dedication to craft and quality of materials, and they're often heritage brands, like Louis Vuitton, that go back to this idea of craft. That's something that's important to me in my own work."
Ever the multitasker, Mustonen also lets on about a few more projects Snarkitecture is juggling. Namely, another collaboration with Ronnie Fieg, for whom they undertook their first full-scale retail project: redesigning his KITH store in SoHo last year.
"We're working on some new stuff with Ronnie and we're working on some stuff in L.A. with a different brand and something else in New York that will be this Fall," hints Mustonen.
Despite Snarkitecture's hectic schedule in the midst of New York Design Week and Frieze Art Fair, Alex Mustonen and Daniel Arsham took a rare respite to revisit the experiences they crafted in 10 memorable Snarkitecture works:
COS Installation
Salon Del Mobile, April 2015
"This installation was designed to go up quickly and come down quickly. This space had no specific brief, there was no restriction on it, and we definitely pushed it as far as we could. They didn't tell us the space should be about this or that, so it was loose in that way. With other clients of ours, like KITH, it's a space that has a particular use and we're designing it for that. This space was designed simply to enjoy. It's bit of a labyrinth, but the path through it, every space has a different height to it, and the light is changing. It fits into the language of other things that we've done in the past, but the scale is immense. The space is quite large but it's broken up into these smaller, more intimate rooms and designed in a way that you can get lost in it. We used the mirror as this device to expand this space, so it feels a lot larger than the physical space actually is. The material also has this quality of absorbing sound, so it dissipates; it erases the city in many ways. In the cacophony of the rest of this week, this is a place to take a break from that." —Daniel Arsham
---
Secret Souvenir Candle
Wax Candle with Embedded Souvenir
Originally released: January 2015
"It was a pretty basic idea. In some ways it's related to the cast light, this idea of sealed objects. The cast light was the first light fixture we made, and it had a lightbulb that was literally concealed and buried inside of a solid block of gypsum. In this case, it's the souvenir that's buried in there, the non-functional part of the object, and the candle's burning around it. It's the idea of the surprise, the reveal, and you end up with this piece that is changing at different times. Not just in the way that the candle goes down, but in the way that you're revealing more of the building, and at the end you're left with what almost feels like a ruin, like the Planet of the Apes moment where you're seeing this thing that's emerging, and plays between construction and destruction, and the idea that you could have something that would be site- or location-specific. So, if you're in New York, you have the New York one, and if you're in Paris, you have the Paris one. It's a memento of those places. They're the same souvenirs that you can buy in front of the Eiffel Tower or the Empire State building, just in this case turned into a nice candle. This company Joya that makes art candles and stuff like that in Brooklyn makes them. The first one for New York has this scent that they developed. It's a 'New York' scent, which sounds terrible, but it's actually based on plants that are native to New York, so it has a fresh natural smell that is not what you would expect if you think of what New York smells like. We like that." —Alex Mustonen
---
Slab Table
Wood, Fiberglass, EPS, Lacquer
Originally released: 2010
"This is the slab table. It's an edition of 10, and there are a few left, but this was one of the first pieces we ever made, furniture-wise. This was the prototype for it, which was the main table in our studio that we use every day. It's like the center of the studio and divides Snarkitecture from Daniel's studio. It has the function of a table, where it's a conference table or a meeting table or a dining table, but then it has the ability to turn into a ping pong table, so it's a surface for work and a surface for play. It has these two levels to it, the architecturally precise side and then the contrast with the sort of logical excavation. The table was one of the first areas where we explored the idea of making architecture from excavation, of a single material that is then excavated to create a void, instead of a series of assembled objects. Dig and even Drift are larger-scale projects use that idea." —Alex Mustonen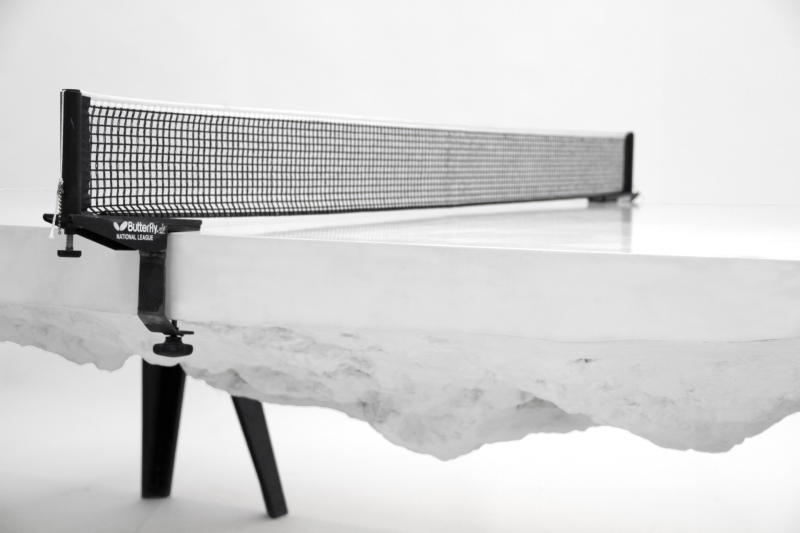 ---
En Noir Fall/Winter 2014 Fashion Show
New York Fashion Week, September 2013
"This was at the Park Avenue Armory. It's an incredible space to work in, just massive. It has some similarities, in terms of scale, to the National Building Museum, just a room that you walk into that's one of the biggest rooms you've seen in your life, as opposed to a stadium, which feels different. We had about a day in advance to construct it. It was a tunnel that transitioned into a cavern, but in order to build something of that scale in that amount of time, we used this fabric setup. It's a geotechnical mesh fabric that's typically used in construction applications, so here we hung it in this grid to create an irregular surface. It has these qualities where it looks completely transparent but it feels completely opaque and heavy and dark. There was misdirection where there was this curtain that was at the end of the runway, but the models weren't walking from behind the curtain, even though it looked like it was set up [for them to]. It was the media riser, so when the curtain dropped the photographers were behind that taking photos, and then the models walked through the same kind of tunnel or entrance that guests did. It's dramatic but with an incredibly dark sort of feel, a bit different from our other work." —Alex Mustonen
---
Drift
Design Miami Installation, 2012
"Some of the goals of our practice architecturally align with the reasons that compel people to document and share on Instagram or other forms of social media, whereas before maybe you took a photo or you just remembered it, or you told your friends or someone that you were talking to. We like the fact that people feel compelled to take photographs and share our projects. It's certainly not a bad thing. People would hang out here, but this was something that also photographed well, and part of that is the monochromatic thing. Part of the unexpected side is that you're not used to being in spaces that are entirely monochromatic—oftentimes there's some color. When you have a figure in here, the images in full color are amazing to look at. It puts your body in such high contrast to the surroundings. That experience is so transporting that visually it's arresting. Drift was a good example of one of the things that we were seeking to do: take existing architecture and sustainable designs and modify or manipulate it to create this new or unexpected program or space or structure. In this case we took that vinyl, which is usually just a cladding, and we turned it into an actual building element. In this case, the cylindrical inflated tubes are cylinders that were then hung from the ceiling." —Alex Mustonen
​"When we're framing a space, we're often creating scenarios that people want to see themselves inside of. If Instagram didn't exist, they'd still photograph themselves in it, and oftentimes the spaces allow it, like when you stand against this you come out in contrast to it, and it's an environment that's unusual. For that reason, people are compelled to shoot themselves in it." —Daniel Arsham
---
Airball
Installation at Alchemist at Art Basel, December 2013
"Alchemist came to us and wanted to create something around sport and fashion. Once we decided that basketball was going to be the direction for this, they went to a lot of designers and commissioned them to do specific pieces for the 'Airball' project. When this started, [Alchemist owner] Roman Cohen was excited about the possibility that there was going to be a basketball court and people would come by and play games, and we wanted to push away from that for a number of reasons. We had already seen a lot of basketball courts in the last year. Also, the reality of being in Miami during Art Basel and Design Miami—people are not going to suit up to play 3-on-3 wearing high heels or suits. We wanted to do something that we saw was more interactive and more fun than an actual basketball court: an arcade. We created this arena, and when you walk into it, the idea is that you're seeing this facade, and even though obviously it's at a smaller scale than an actual arena, you walk through and there's this head-to-head. It was basically designed to be a social space to hang out in, facing out through the day." —Alex Mustonen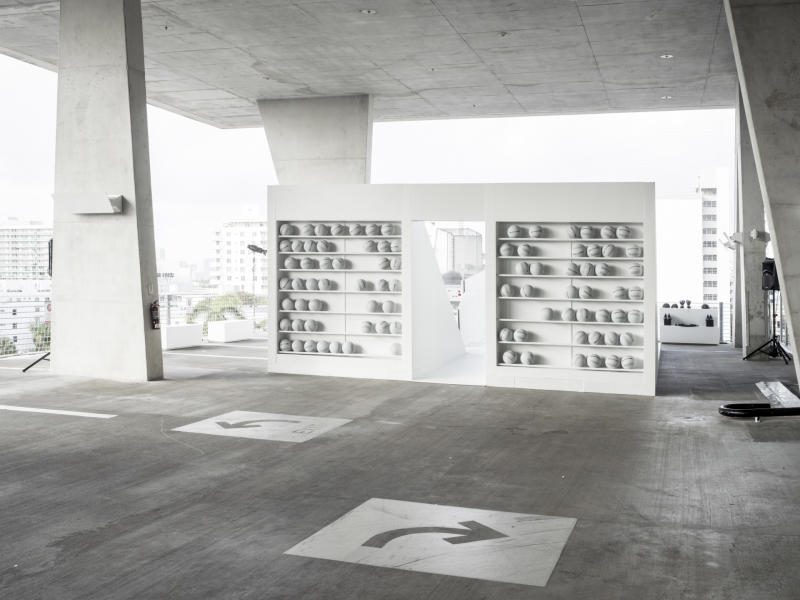 ---
Public School Spring/Summer 2015 Fashion Show
New York Fashion Week, February 2014
"There are a lot of challenges with runway shows. You're dealing with the extreme time constraints.The show's incredibly short, and unless you're at the highest tier, you don't have a week to set this up, you have a day or an evening. We were interested in pushing the temporary nature of that and this idea of a party, specifically confetti. When you walked into the space, the confetti was precisely arranged. There was this idea about letting people come in and challenging them or asking them to engage with us. The seats are covered in confetti: Are they going to sit on it or are they going to throw it off or brush it off? That started to happen and as people walked through the space, it basically went from this precise arrangement to completely whited out by the end of the show. There were some nice moments where you can see confetti is physically moving where the models are kicking it. It was something that allowed us to have a complete takeover of the space and be visually present, but at the same time create a neutral backdrop for the pieces, and it didn't interfere with the presentation of the collection. There were a lot of things about this that were successful, even though at the end of the day it was a fairly minimal approach." —Alex Mustonen
"Our relationship with fashion largely came about because we're friends with a lot of designers. Virgil [Abloh]'s a friend, Ronnie [Fieg], the guys from Public School, and we've gravitated towards fashion for a couple reasons: One is we like creating these impermanent fashion shows for five minutes and thinking conceptually about clothing as a housing for the body, the same way architecture is housing, this space that we inhabit." —Daniel Arsham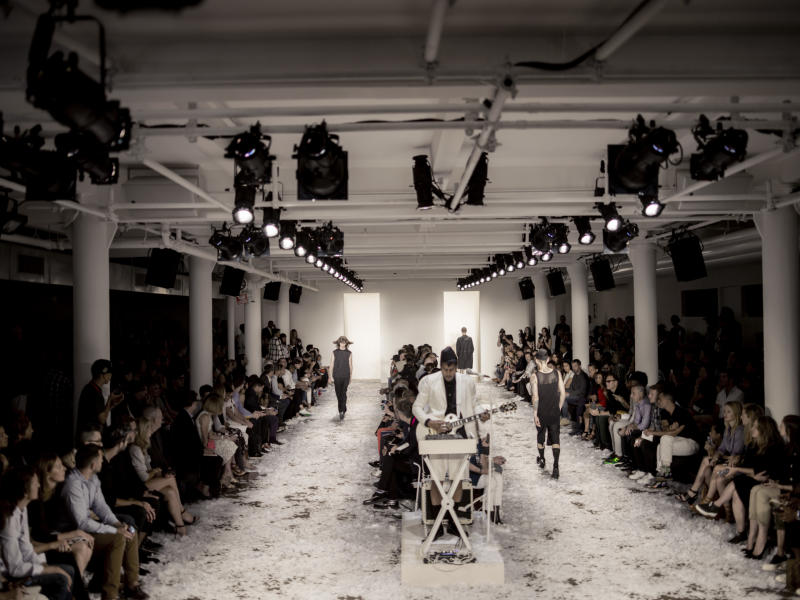 ---
Dig
Installation at the Storefront for Art and Architecture, 2011
"Dig emerged from some of the ideas that we were looking at with the Richard Chai project—architecture from excavation. You can see it with the way that the blocks are stacked. There's a grid of these blocks that creates a solid field, and then you also have the architectural conditions or confines of the storefront itself. It's a significant architecture and art space in New York, one of the more seminal art and architecture collaborations—at least in New York. We were working within these confines of an architectural space and creating and this architectural grid within it, but the excavation itself is loose and imprecise, so for us there was a real tension between that. It's also something that's present in COS and Drift, the idea of taking a grid and manipulating it so it doesn't look like a grid anymore, it has this thing that's pushing against it. In this case it was literally this hand-excavated world. It's uneven. We didn't know exactly whether or not we set out to make a space that was going to be a playground, or make a space that was going to be a space for reflection, meditation, or something like that, but it ended up having both sides to it, depending on who was in there and what the mood was like." —Alex Mustonen
---
Wasserman Table
Glass fiber reinforced concrete
Originally released: 2012
"It's glass fiber reinforced concrete. It's all white concrete and the aggregate has been sorted through so there's no more brown. Normally, even if you get a white concrete, there's still brown and red and these little flecks or tones in it, so it's been sorted though to bring out all that. There is a little bit of texture and tonality to it but it's generally like an all-white-on-white, light gray feel. It's quite heavy, it's like 5-by-5 and it's just this massive block. It's quite a nice piece to sit on. You can use it as a bench as well." —Alex Mustonen
---
Beats by Dre x Snarkitecture Studio Headphones
Beats Studio Headphones and Cultured Marble Pillow
Originally released: 2014
"We first met Omar Johnson from Beats at Drift in 2012. They didn't come to us and say, 'Do this headphone collaboration.' They actually came to the studio a few times and we talked a lot about what they were working on and what we were working on, and what would be an interesting intersection of those two things. The idea of doing limited-edition headphones evolved out of that. I like that it was the first time that they made something that wasn't electronic. It was a design object that was included. When we first started with them, that new Studio [headphone] had just come out and it was the 2012–13 look. It was the glossy black with the bright red 'B' and the bright red cord and all of that, so our initial reaction was to push against that and start stripping stuff away. We ended up with this matte-on-matte. The normal ones say 'Studio' and 'Beats by Dre,' but we took all that away. The idea was that it would look like a model of its original self, that it would have been a plaster version, like when [auto manufacturers] make cars and they have the clay model. You can't tell if it's real." —Alex Mustonen
---
KITH SoHo Flagship Store
October 2014
"As we push into more permanent and larger-scale architectural projects, it's an interesting process. How do we take the ideas and concepts we're interested in from the work that we've done in these first five or six years and bring that into something that's, say, a retail space, or a house, or an office, and it's permanent? It has a lot more constraints. You can't do things that you would normally do in something that's open for a day, week, or month. So, what we were doing was creating something that is extremely functional in a retail sense. We worked with Ronnie [Fieg] to figure out what he was looking for, and there was that collaborative aspect. From an experiential standpoint, everything in the store is important when you're in there. We organized it into these two moments—one is at the entrance and the other is at the end, the introduction and the culmination. The introduction is this concealing canopy that uses the idea of the cast replica, which is something that we've explored a little bit in some of our other work, taking something that's familiar and transforming it into something unfamiliar. It has this uncanny feel.
"We knew that we wanted to do a shoe because it's Ronnie and KITH is a brand that's based in footwear and is now expanding into apparel. The entrance is literally a transition between the footwear and apparel sides. We asked Ronnie what his favorite shoe was and what he wanted to see there. We also knew that in order to make that, we were going to have to destroy the shoes, so we bought them on eBay for, like, $650. They're the original release. They were in decent condition, not mint but they looked all right. It was important that they looked good. But when you look at the case you can see the wear in the leather. If you tried putting them on, they'd be crunchy as fuck." —Alex Mustonen
​"A number of people have asked about our compulsion for things that are hanging. It's a way we've discovered to create an engaging environment and leave the floor space clear. It doesn't take up a lot of the space, and you can walk anywhere in the space." —Daniel Arsham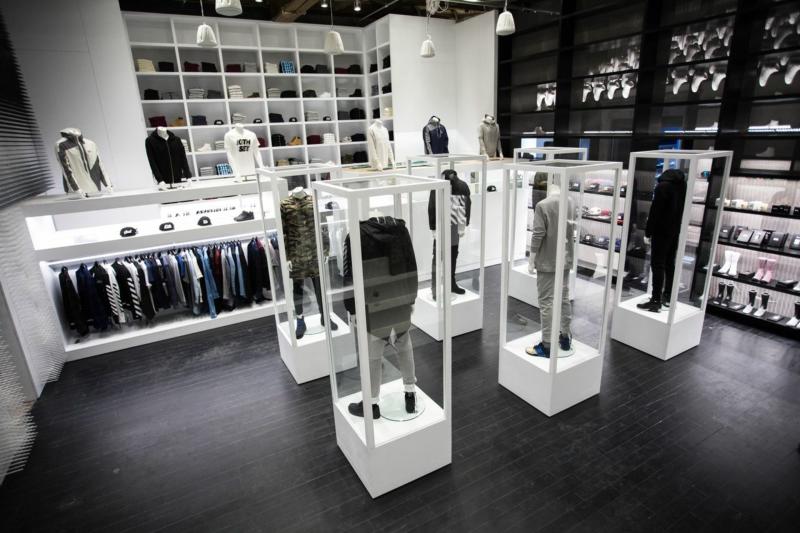 ---
Print All Over Me Collaboration
Customizable Apparel Collection
Originally released: May 2015
"The joke is that Print All Over Me's business is built around the idea of customizing these blanks, so we just wanted to leave these alone, like: 'Here it is.' But we were interested in this idea of architectural confusion, taking moments from actual architectural surfaces and creating apparel that would allow you to physically blend in and have this confusion with it. That's where the idea of 'Architectural Camouflage' came from. These were the first three in a long list of generally white building materials that we were interested in. It's the hex tile, subway tile, and marble—three materials that aren't exclusive to New York but feel appropriate for New York. I'm curious to see what people are going to think about it and if people will actually rock some marble-on-marble. You could wear this T-shirt on its own and some people will actually be like, 'I want a marble T-shirt,' but I'm fascinated by the person who's actually going to get a full marble outfit, or the person who's going to buy that because they work in a building that has a marble lobby or something like that." —Alex Mustonen