Band of Outsiders is an interesting beast. In a nutshell, it's a prep-inspired line that looks like it could single-handedly fill the wardrobe department of a Wes Anderson film. Considering this is Band's first sample sale in NYC, we went to take a look at the proceedings to see if there was anything more noteworthy than The Grand Budapest Hotel.
For those less acquainted with the brand, Band of Outsiders tends to run smaller than your average men's sizes, so most guys opt to size up. What BoO equates as a "0" ends up fitting more like a XXXS on the average dude. However, if you happen to be super slight-of-build, and you're looking to cop a few new oxford shirts that fit your lithe frame, consider this your lucky day. If you can manage to shimmy into a "0" or a "1," all shirting  is priced at $75.
That said, if you're interested in suiting, polos, or outerwear, you're in luck. Corduroy suits from earlier fall seasons are plentiful. Other trouser styles are more hit-and-miss. Polo shirts from several different seasons are available, but only if you're willing to sift through several discarded options on the top. For these knit shirts though, size is of less importance, as the fabrics are more forgiving than your disappointed parents. Just a note about sizing: with a wide array of seasons available, each style may fit differently than the one lying next to it. As always, check your tag.
If you wanted in on Band of Outsider's collaboration with Mackintosh, but never went for it, now is the time. With at least three colorways, and a price drop to $450 (formerly around $2000), outerwear is arguably the best thing at the sale. We saw at least three different guys try on, and then promptly buy, a Mackintosh coat in the span of 30 minutes.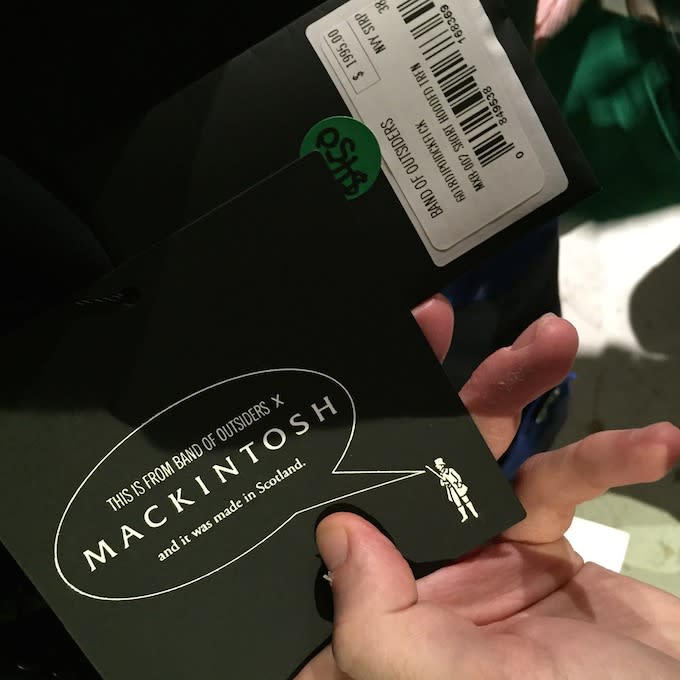 Accessories range from ties to hats (the latter goes for $20 a piece), but honestly, unless you're a Band of Outsiders crate digger, you're going to have a hard time getting into the whole sale. Yes, you'll find some fire pieces from older seasons—some things have tags that date back to 2008, and 2009—but unless you're on the smaller size, you're going to spend equal amounts of time rummaging for pieces, and checking yourself in the mirror to make sure everything fits.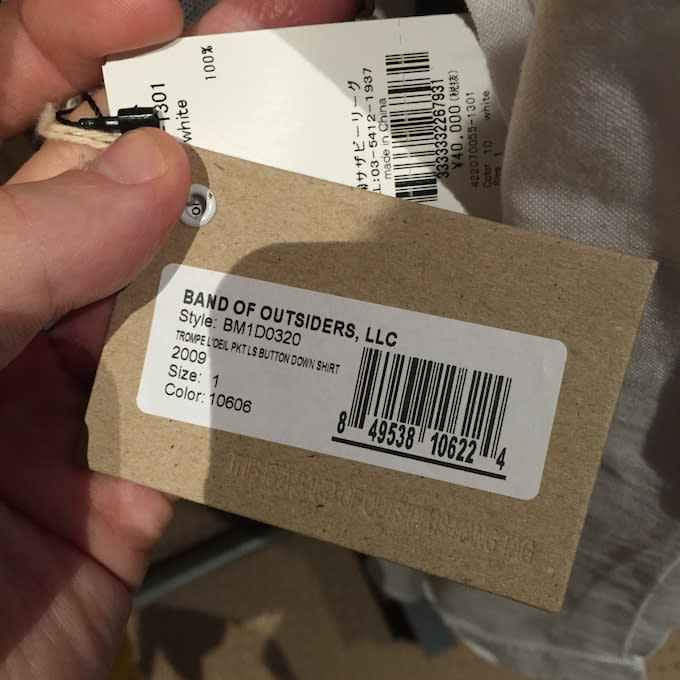 A Continuous Lean's Michael Williams argues that "California doesn't seem to understand prep at all." However, Band of Outsiders gives Williams' statement a cheeky middle finger—just as long as your built skinnier than your beachside fixie bicycle. Regardless, if you're looking to add some designer-level prep into your wardrobe, this is your sample sale.
The Band of Outsiders sample sale runs from May 14 to Saturday, May 16th. Thursday–Friday 9 a.m.–7 p.m.; Saturday 11 a.m.–7 p.m.