I wake up at 4 a.m. to catch a 6 a.m. flight to Miami from New York. As soon as I land, my trip sponsor, BMW, picks me up and takes me to the Loews Hotel, where I drop off my things before a tour of the prestigious Margulies Collection in Wynwood. The giant warehouse holds an impressive contemporary art collection, and my favorite pieces are these realistic yet hollow sculptures of a washer/dryer and a dumpster. The nearby security guard makes sure I go behind the sculptures to see that they are fake. "THEY'RE NOT REAL! CAN YOU BELIEVE IT?! I THOUGHT THEY WERE REAL!"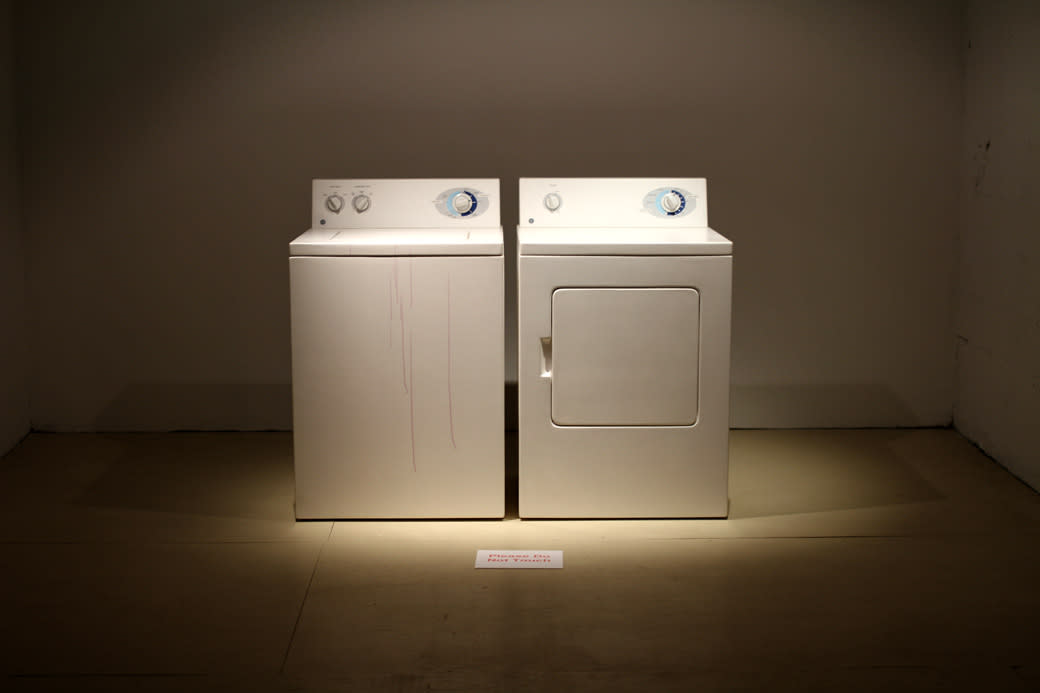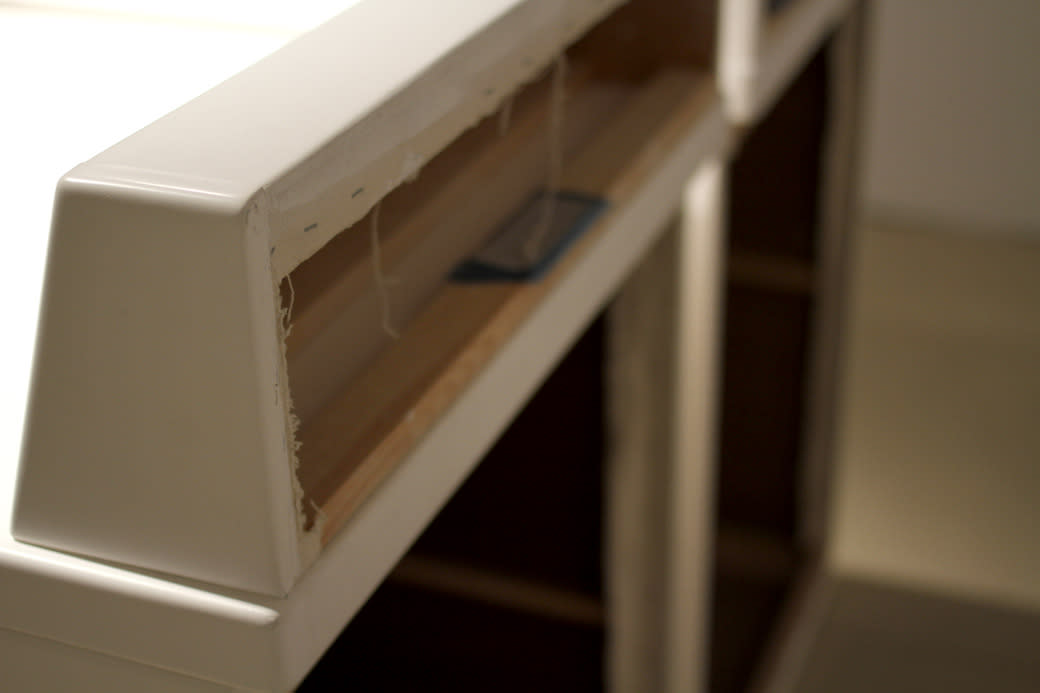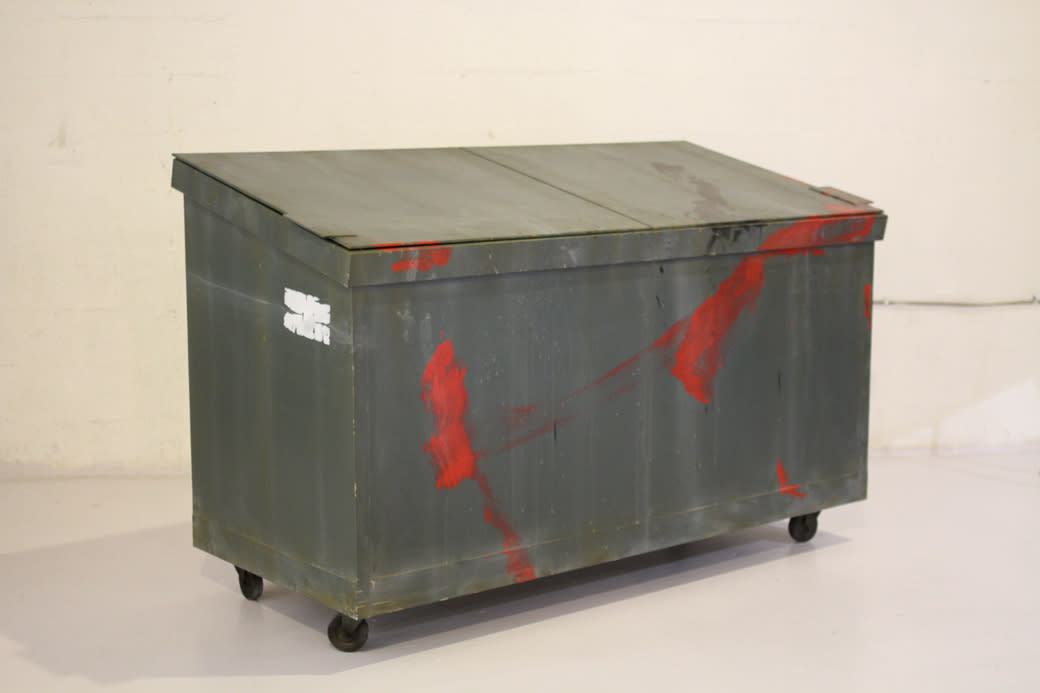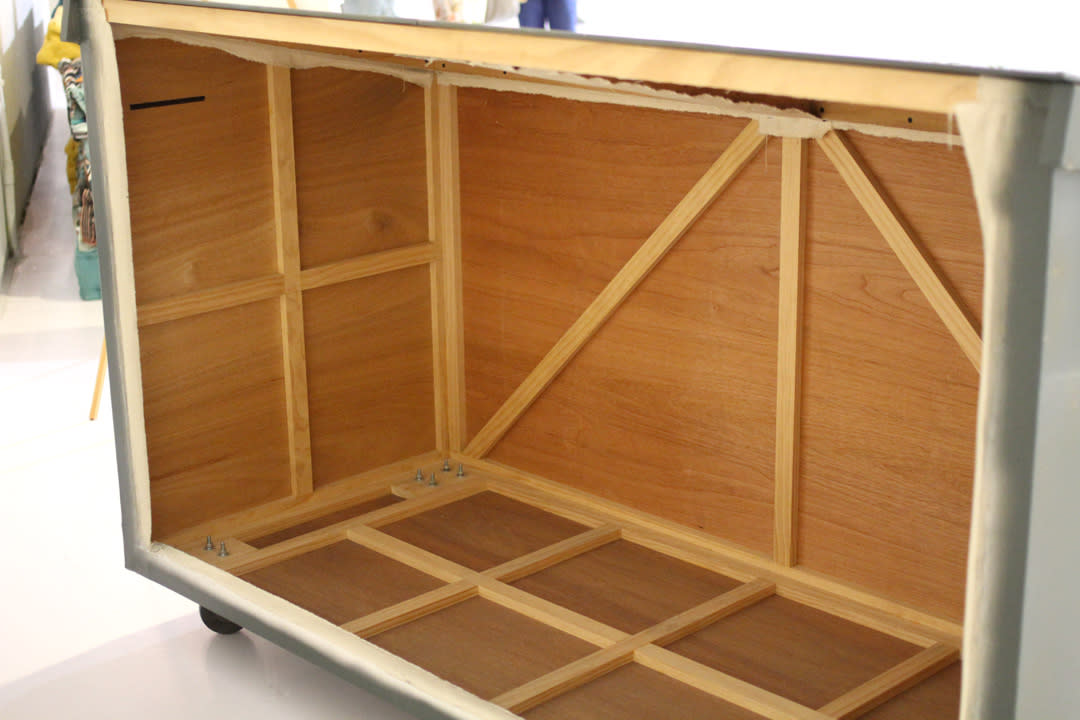 I've been coming to Art Basel in Miami Beach for three years, so I'm not blown away by hollow, illusory sculptures, yet they still intrigue me. In hindsight, this lack of depth is a very accurate metaphor for the entire Art Basel week. For the next five days, the unremitting parade of parties, events, and Instagram-ready moments creates a spectacle that veils the very source of this event: the art. Attempting to wade through the facade to experience the work of the world's most talented artists is worthwhile, but it also gets me shoved by a publicist who is making room for Robert Pattinson.
After lunch, I go to my hotel room and find a First Access VIP card for the Art Basel Miami Beach main fair. People viewing Art Basel from the Internet typically don't realize that it was originally an art fair in Basel, Switzerland, before launching editions in Miami Beach and Hong Kong. If you've never been to an art fair, it's like any other tradeshow with booths and products for sale, except here, the products have been shipped from galleries all over the world, and they're all extremely expensive. Galleries pay to have these booths (the price ranges from $10,000 to $107,000, varying for square-footage and location), and they typically bring work that they think will guarantee a profit.
Knowing that I'm not just a member of the press, but a VIP (my card admits two), makes me feel momentarily special. It makes me think that this year's Art Basel will be different—not a clusterf**k of traffic and chaos, unique to a mutating cultural event that now has more peripheral fairs and parties than art appreciation. After attending similarly hyped events throughout the years, like Coachella, New York Fashion Week, and other distinguished art fairs, I've learned that Art Basel Miami Beach is a haphazard blend of visual art exhibitions with music and fashion events. It hasn't formed a cohesive identity as an art week, and therefore, no one can decide where to go, what to do, or what face to make in their Instagram photo.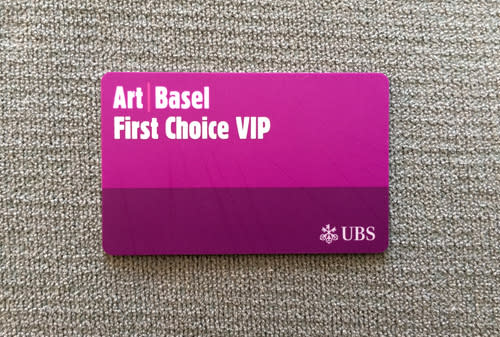 Next, I go to the press and collectors preview for Design Miami/. Situated across the street from the main fair, it offers design pieces—furniture, jewelry, and architectural installations—and has elaborate booths for sponsors Fendi, Swarovski, Perrier, and Audi. The people there are happy and already being pushy about getting their champagne, taking their selfies, and saying "hi" to their friends. At an opening like this, despite space and time to see the pieces before anyone else, you're made to feel like you're in the way of people who think they deserve to be there more than you.
I discover and am impressed by the RO/LU booth presented by Patrick Parrish and Various Projects. The ubiquitous squares are mesmerizing, and a daunting situation quickly becomes inspiring. Amanda Dandeneau of Wallpaper Projects tells me about her Brooklyn-based custom wallpaper company—"We collaborate with artists on the designs, then we sell it per square foot and make it for your wall."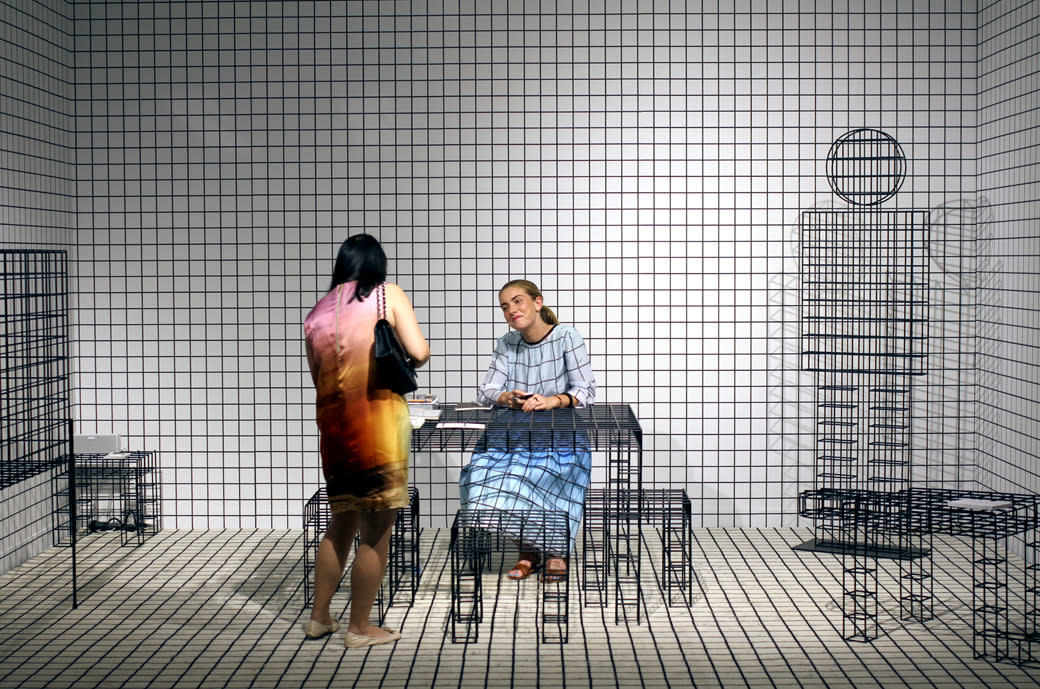 After, BMW picks me up to see their artist talk with Jon Rafman at Soho House. I arrive 30 minutes after the supposed start of the talk, and it starts to rain. Huddled under the short roof of a tiki bar, I listen to people talk about the parties they hope to attend, including the upcoming Miley Cyrus party hosted by Jeffrey Deitch and Tommy Hilfiger. Soho House brings everyone umbrellas and towels, and though I want to leave, I stay, because I love Jon Rafman's art, and am planning to see his hotel room installation at the NADA art fair later in the week.
Jon Rafman, who many people know from his Nine Eyes of Google Street View project, talks about studying online communities like Second Life. He seems rushed. I think about how strange it must be for him to give a talk at the tiki bar of a member's club, where the audience is wet and holding umbrellas. He plays a video he made for an exhibition at Zach Feuer Gallery last year, which shows online fantasy, destruction, and the particulars of the communities he's studied. 
After, my colleague Leigh picks me up to see André 3000's jumpsuits from the Outkast festival tour at the Savannah College of Art and Design museum's pop-up. The Mana Miami location is impressive but also far, so we sit in the expectedly dense traffic and arrive 45 minutes later. I photograph all 47 jumpsuits, which have phrases like "have you stopped growing?" and "make love like war" in white, Helvetica font on black jumpsuits. I see André in the back of the room, wearing overalls and taking numerous selfies with fans who ask him about the words he wrote for the jumpsuits. André told The Fader that this project helped him stay excited about a tour he was reluctant to do. It's amazing to me that he would share this type of writing and expression at Art Basel, even if the tour is now finished; I doubt he had any obligation to ever exhibit them.
Instead of going to the W magazine party at the new Miami Beach EDITION hotel, where Blood Orange would be performing, I stay in to upload images and schedule a post about the jumpsuits. I receive an email saying that I am no longer confirmed for the Miley Cyrus party the next night. My boss says he'll call the agency and try to get me in, but I already know that it won't work out, and I don't have the motivation to pretend I'm important or "on the list" to someone at the door. I go to bed early, because it's probably the most sleep I'll get all week.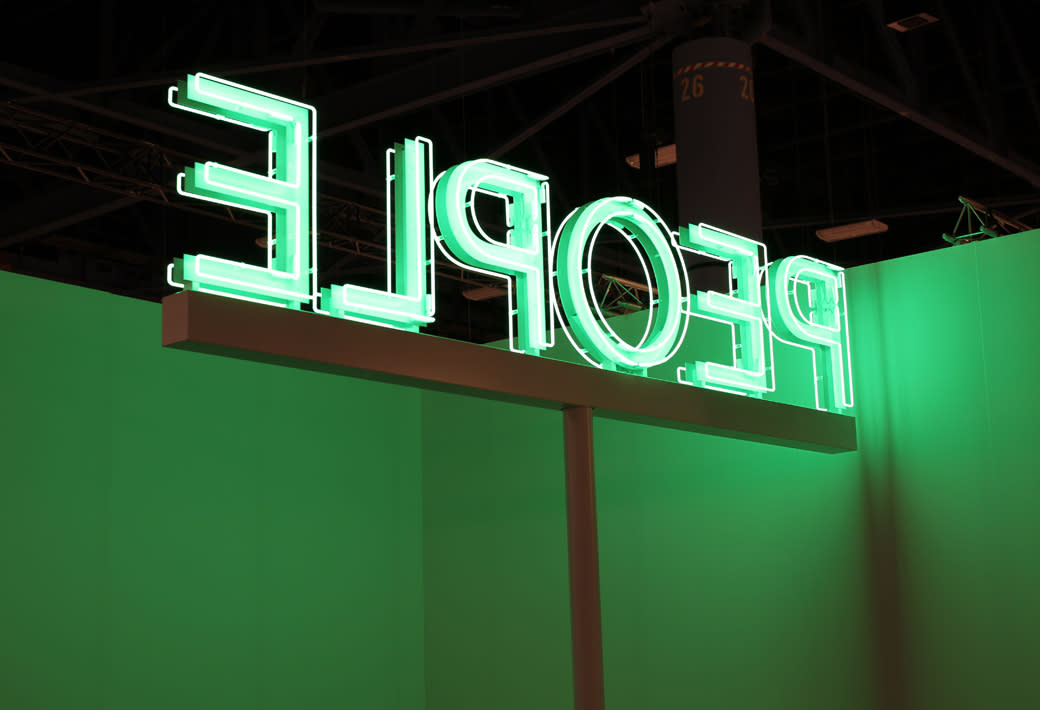 Another theme I'll learn to live with: Nothing at Art Basel happens on time. I order room service breakfast, and it comes late, so I only have time to eat half of it before getting on a bus to the press and VIP preview day of Art Basel Miami Beach. The VIP lounge is expectedly opulent, with Davidoff cigars, a champagne bar, and a nice café. We listen to remarks, and then we enter the clash of journalists trying to take notes, VIPs trying to make purchases, and a few celebrities, like Diddy, Owen Wilson, and Leonardo DiCaprio. I ask model Emily Ratajkowski if I can take her picture.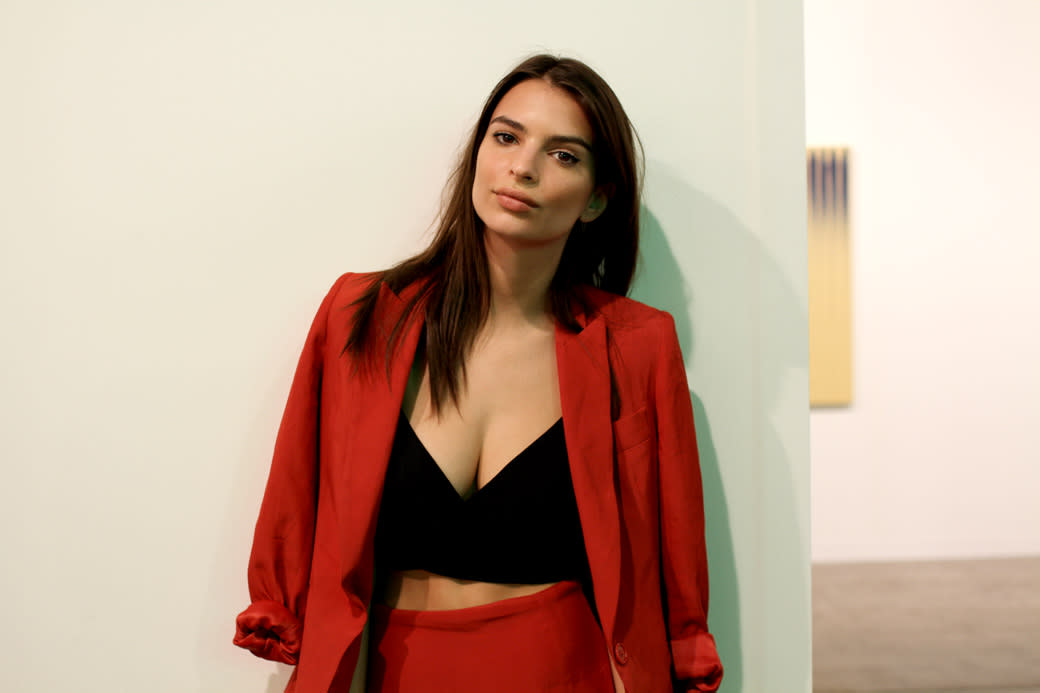 I see a lot of art that I like, but mostly I see art that can and should sell. There are experimental booths, like Sadie Coles HQ with an immersive Urs Fischer installation, and Gavin Brown's Enterprise with a large Martin Creed neon sculpture. There are pieces I've been wanting to see in real life, like Robert Wilson's video portraits of Lady Gaga. And then there are pieces by younger artists who I think are absolutely brilliant, like Jordan Wolfson and Hank Willis Thomas.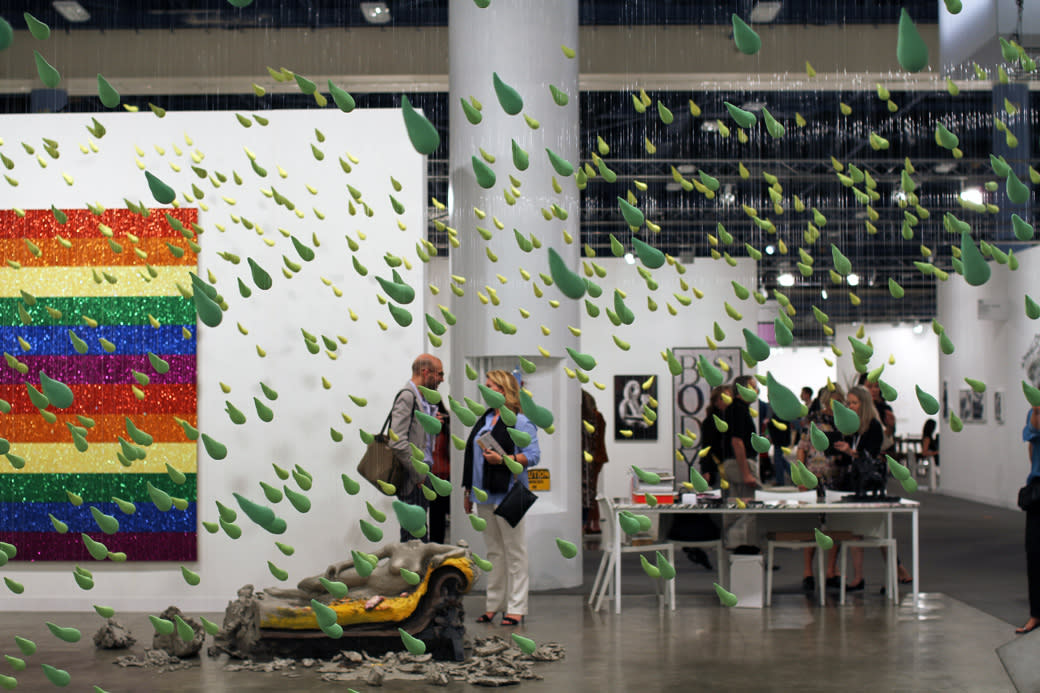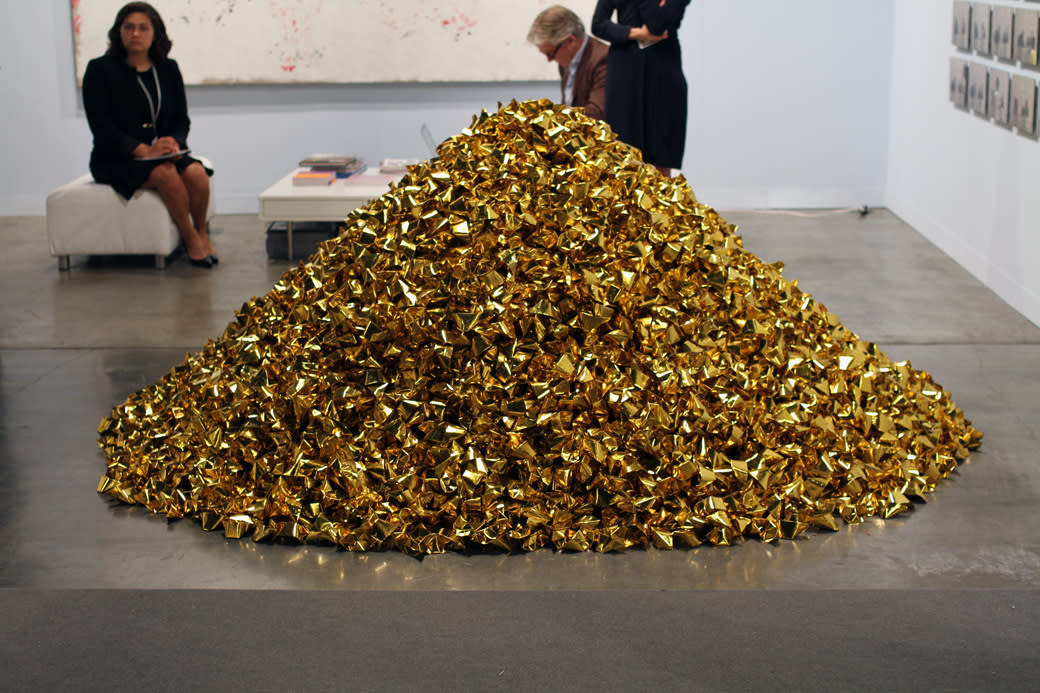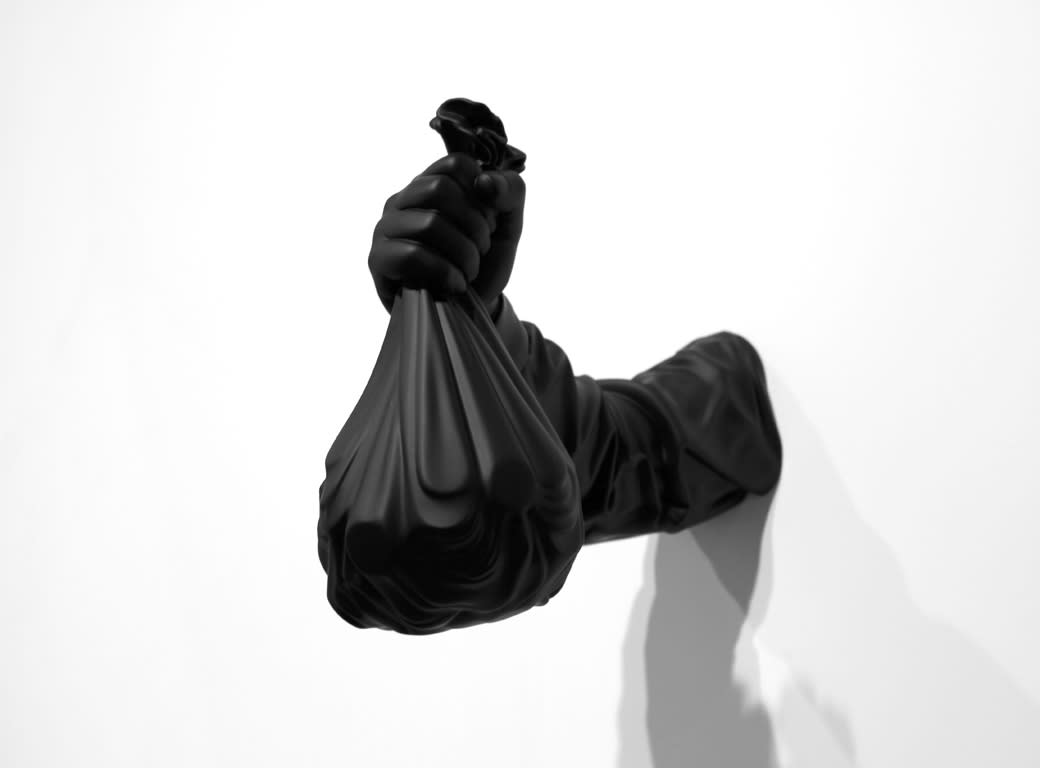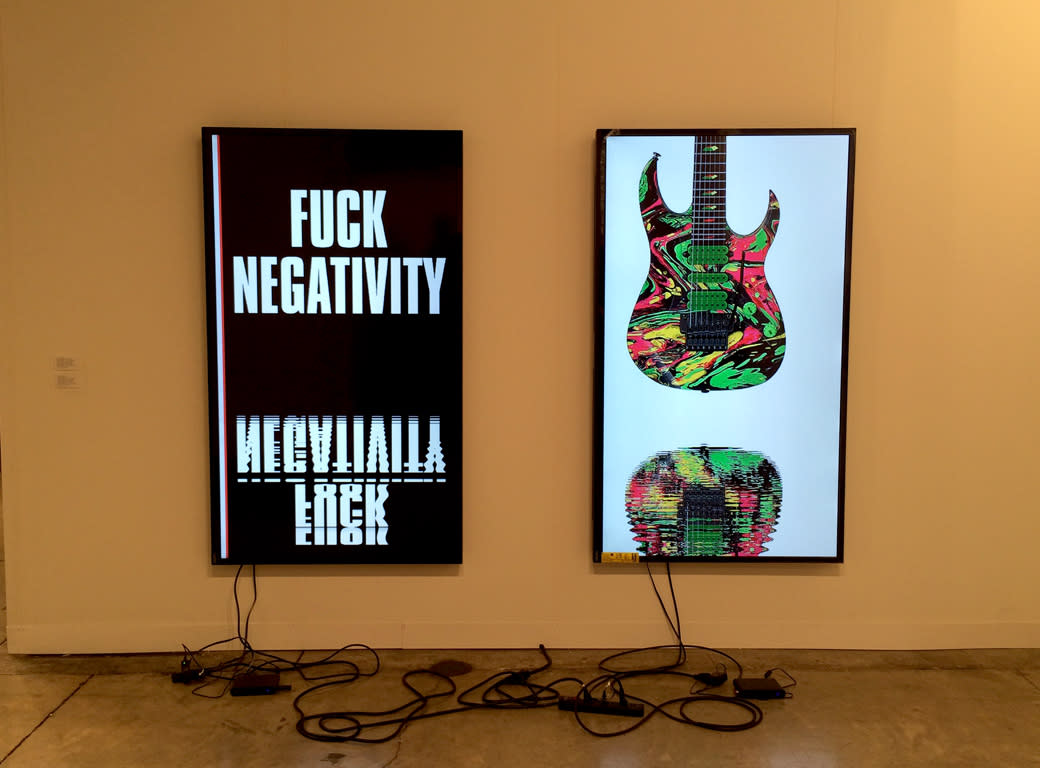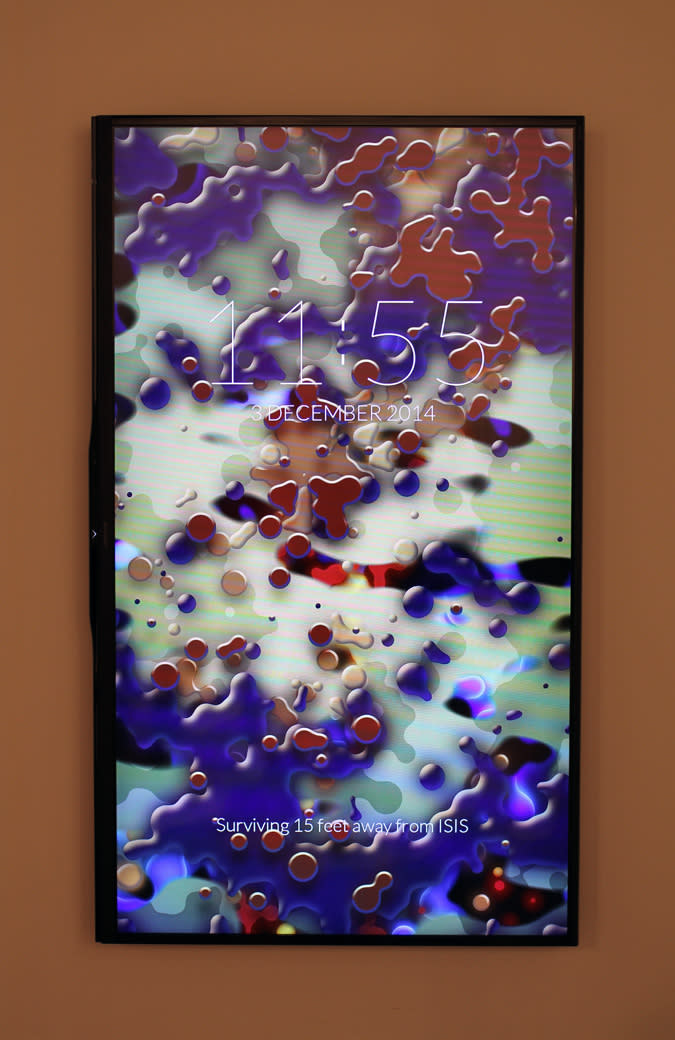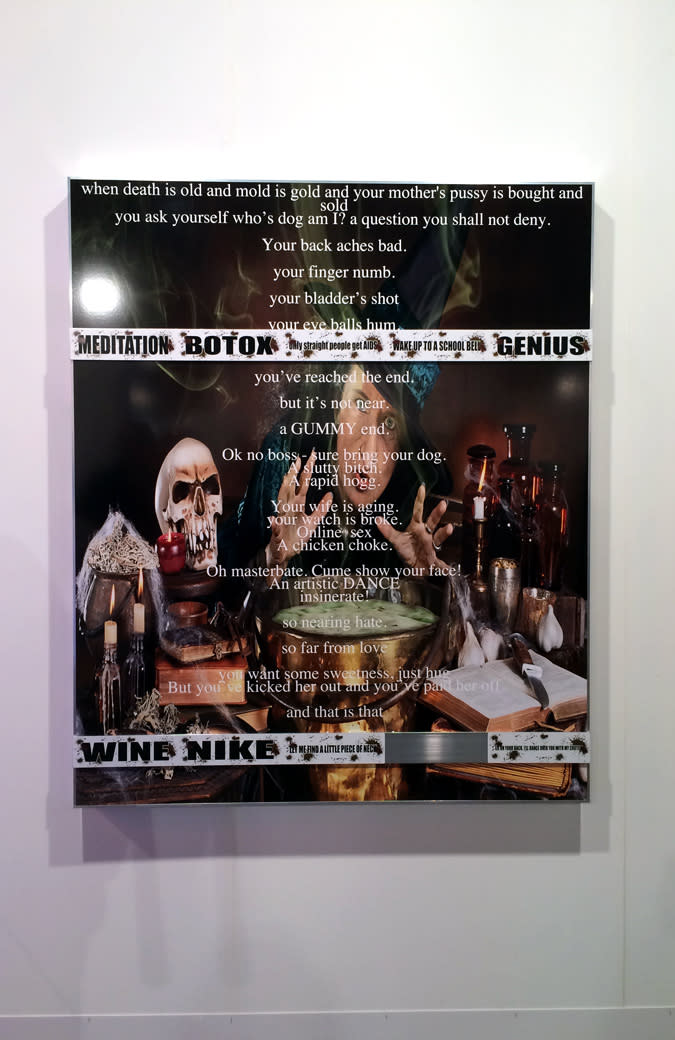 While at the fair, I make sure to stay hydrated and avoid getting a headache from the bright overhead lights. Then, I check Twitter and see that the policeman who choked Eric Garner to death will not be indicted. My work here in Miami suddenly feels more superficial and unimportant than it does already, as I look around at privileged people who are busy making purchases and socializing. I feel horrible that I'll just continue doing my job—photographing and writing about art pieces and going to parties—and that they'll probably continue passively enjoying this fair. I Instagram a moving Hank Willis Thomas sculpture, which is based on a 1967 Ernest Cole photograph during apartheid in South Africa.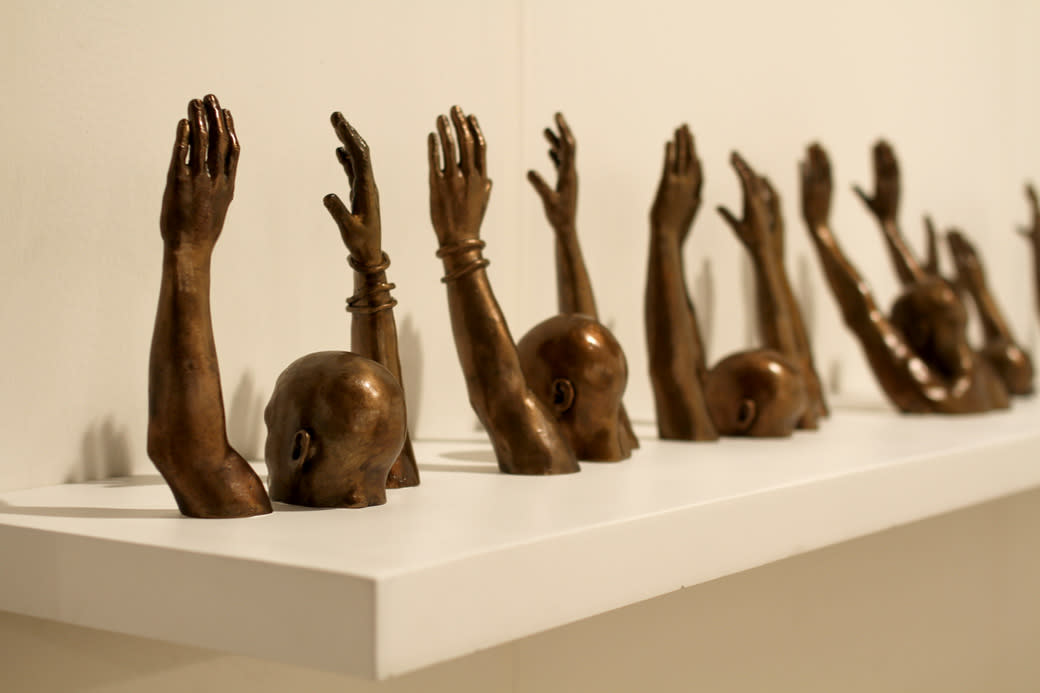 I go to a lunch at the Botanical Gardens across the street and can hardly eat. I take a shuttle back to my hotel and sleep for two hours. Walking through a giant art fair, especially when at one point you are trying to keep up with Diddy (to overhear what he might buy), is exhausting. Doing so in the context of this political news is depressing and conflicting.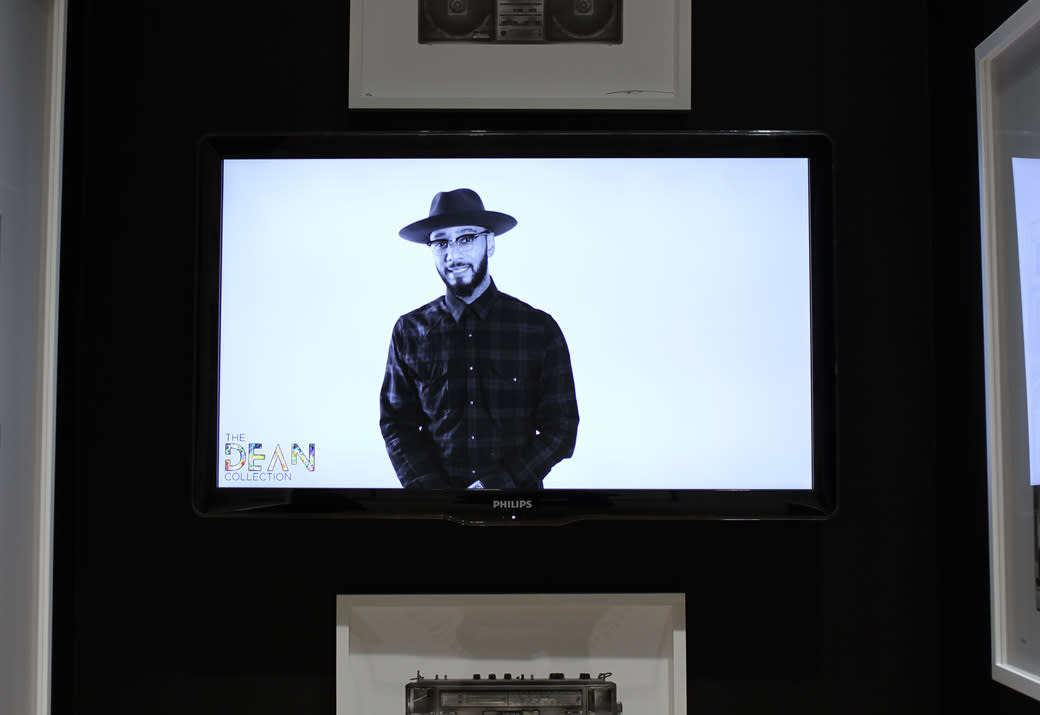 I wake up and go to the SCOPE art fair quickly to photograph the Swizz Beatz-curated project, "The Dean Collection." Swizz's face is on a TV screen next to each of the five indoor pieces. I then go to a BMW reception back at the Botanical Gardens, where they announce a new travel initiative to sponsor emerging artists from Art Basel, giving them a trip wherever they want in the world after winning a proposal-based prize. BMW reveals their Roy Lichtenstein art car from 1977, and I leave directly after to see a Snarkitecture sculpture at the Delano Hotel lobby. Since I don't have a dinner reservation at the hotel, I'm not allowed to see it yet. I wait outside a nearby restaurant to have a last dinner with BMW. I'm still thinking about race, politics, and what happened today. I get the wrong meal, don't say anything, and have a bite of my dessert before leaving.
I want to go bowling at the Miami Beach EDITION Hotel with Half Gallery, because it sounds better than trying to go to a hotel party. Instead, I decide to go to the party Snarkitecture's having at the Delano to celebrate the installation of their lobby sculpture. The line is long, because it coincides with the opening of the famed Le Baron pop-up nightclub, so I go back to the hotel, do more work, then go to bed.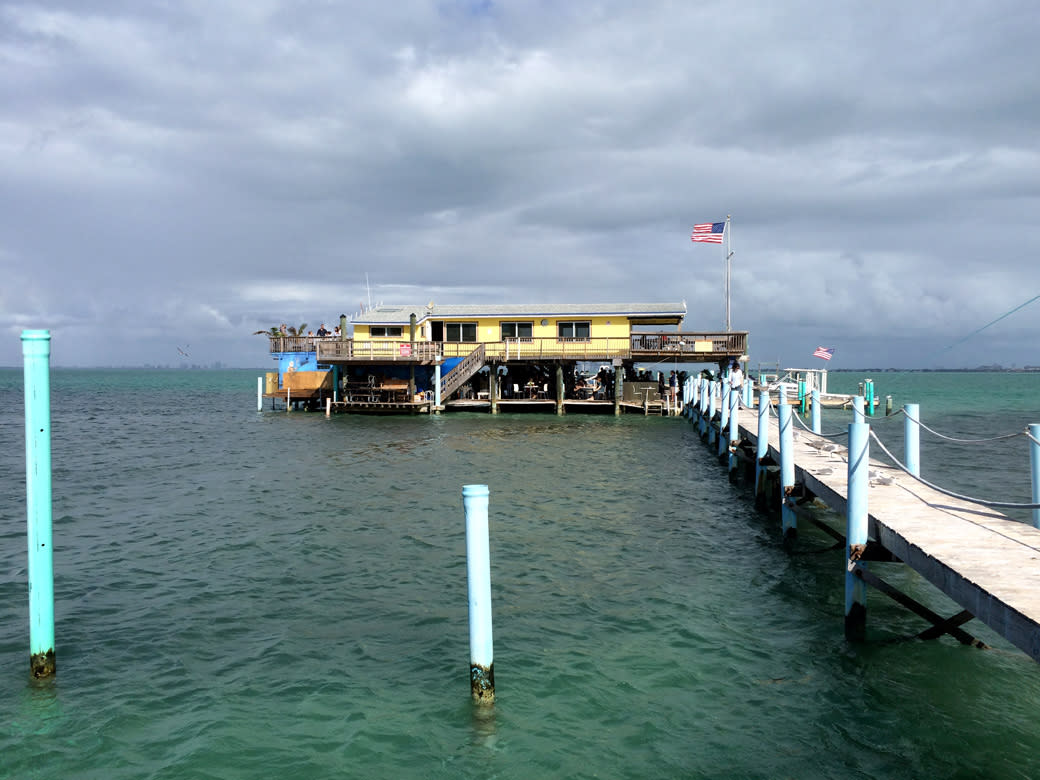 BMW says they are going to take us on an adventure for breakfast. I get a letter under my door telling me to be ready half an hour earlier than originally planned, so I had to pack, schedule my online coverage, and leave quickly. They take us on a 20-minute bus journey to a dock, where we take small boats two miles off the coast of Miami to a pier in the middle of the ocean. I see Usher's boat, with his name written on it twice in gold, as we depart.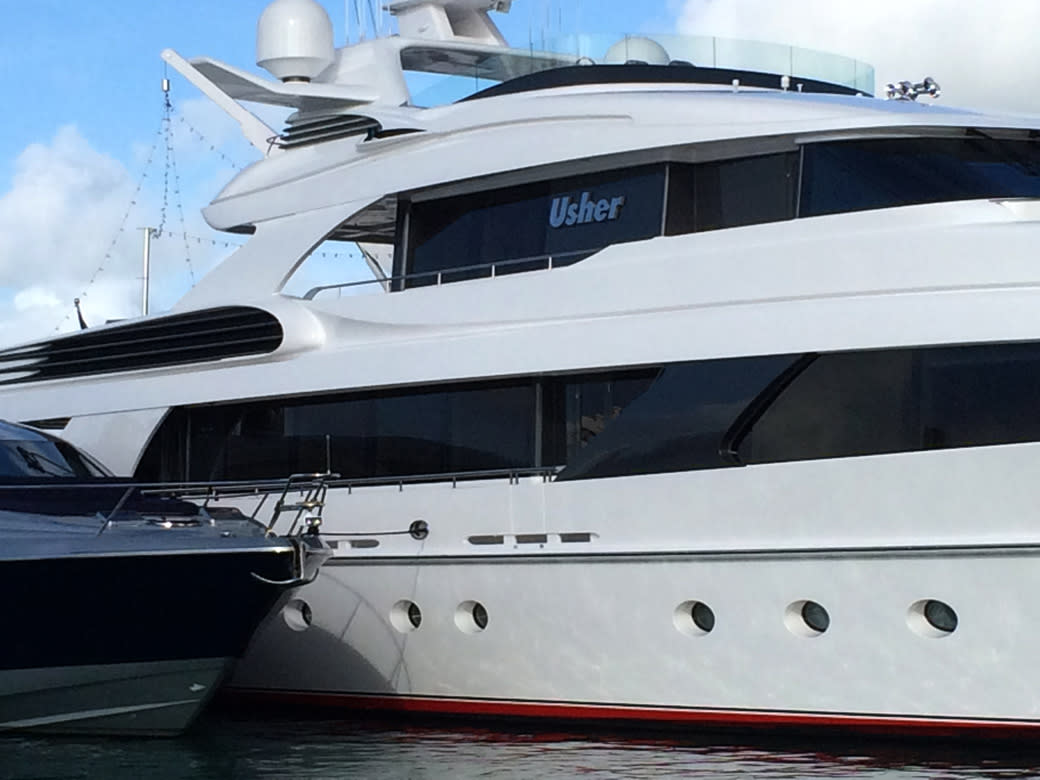 The majority of the journalists on this boat went to the Miley party. I hear about how "Jeffrey Deitch is back," how the Flaming Lips performed, how she covered other peoples' songs instead of her own, and how she smoked a joint on stage, all while continually declaring how high she was. Someone said Bill Cosby and Jeffrey Deitch in the same sentence, but I honestly don't know how or why. A few have already lost their voices and talk about how they're not sure they wrote coherent recaps of the night.
We arrive, and it's very windy, making dresses and hats fly. BMW went the extra mile to explain this "Art Journey" announcement, giving us the experience of going away from the action into an untraditional yet beautiful place. Looking back at the city and eating fresh food, no matter how early in the morning, was relaxing. I then remember that I'm trying to catch a talk at 2 p.m., but I also realize that I am literally stuck on this island until the announcement is over.
When the boats are ready to take us back, I rush to the first one leaving. It starts to rain heavily, so we have to go back inside and wait. Another 30 minutes goes by, and I'm worried I'll miss this talk. We finally leave, and it starts to rain even harder. We have no umbrellas or covering, so we crawl underneath the boat and end up all sitting on a bed together. I don't know any of these people very well, but we're all laughing, because it's awkward. Eventually the rain subsides again, and the boats start racing back to the dock.
I move hotels before going to the Miami Beach EDITION for a SURFACE magazine talk between FKA Twigs and Alex Israel moderated by legendary curator Hans Ulrich Obrist. I enter the gleaming white and gold hotel, which just opened (and has a bowling alley, pool, and multiple club and party spaces), and I eat before going to the talk that is now happening an hour later. Of course.
It's an opportunity to sit front and center and stare at the strawberry and cucumber-infused water that awaits the artists on a podium. Keychains with phrases like "Holzer Your Horses" and "Hirst Quencher" are there on the seats for free. I see two older women in my row get asked to move for the sake of Robert Pattinson, who will supposedly need both of their seats. They are upset, but they are given similar seats one row back. ​
The talk begins after much waiting. I see an old boss of mine, who is an artist, a few seats away from me. I doubt she remembers me. Suddenly a woman grabs my shoulder, takes my bag from the floor, and shoves me to a seat on the end of the aisle I'm sitting in. I get angry and drop three SURFACE magazines on the ground loudly, making a small scene. I also throw my bag on the ground, once I've taken it away from her, because I am upset that she's put hands on me. Robert Pattinson supposedly needs four empty seats that were previously unreserved for him. He never comes to sit in them.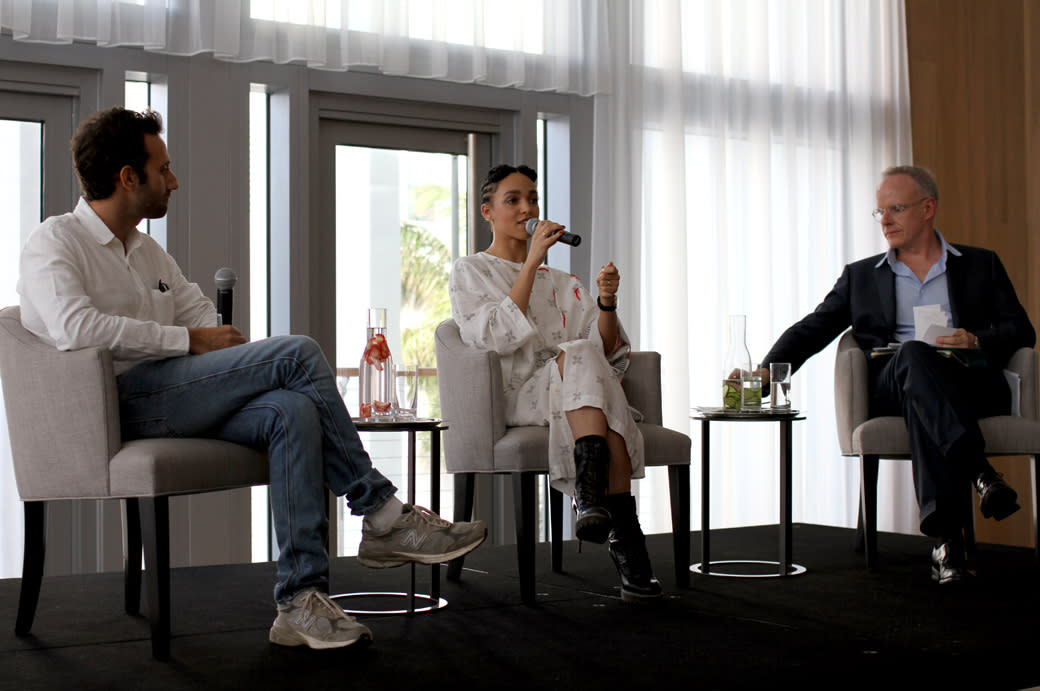 Thankfully, Twigs is so eloquent and inspiring that I can momentarily forget about what just happened. Poor Alex Israel, who is an excellent artist in his own right, gets overshadowed in the newness of Twigs' projects and the interest Hans has in her work. She opens up about the difficulties she's faced—things like A&Rs saying that her voice is a 5 out of 10 and that she should wear shorter skirts to meetings. She also talks about the struggles of learning to produce music, and notably, how Google Glass approached her three times to do the #throughglass commercial she ended up making for them. My favorite part is when she says, "If I want something to sound woozy and sad, like a wizard who just stabbed his son, how do I tell the sound engineer what a wizardy synth should sound like?" She uses this example to discuss her insistence on writing and producing her own music.
The talk ends, and the woman who moved me rushes over to apologize. She offers to send me a signed copy of Hans Ulrich Obrist's book, so I give my card to her assistant, expecting to never receive this book and wishing I could end my trip immediately.
Art Basel and events like it can really suck, because everyone is trying to assert and explain how important they are in order to get in to places or network. Others, like the woman who handled me, want to use an artist like Twigs, by photographing her famous boyfriend at their event; they enforce that false hierarchical system. I'm a writing professional, and I was simply there to hear and write about the SURFACE conversation. With all respect to anyone who would have needed that seat more than me, I didn't deserve to be treated that way.
I go back to my hotel to publish two posts and prepare to go to the Pérez Art Museum for a Future Brown and Kelela performance. At the last minute, I get invited by Bud Light Ritas to a 40-person dinner for FKA Twigs at the PPP mansion, and then my friend also invites me Twigs' concert that night. My evening inadvertently becomes dedicated to Twigs, which I don't mind, because with all the uncertainty of how things will go at Art Basel, at least I know I'll enjoy eating dinner with her and seeing her perform. My friend texts me the set time, and it becomes apparent that the dinner will be delayed, so I leave for the show.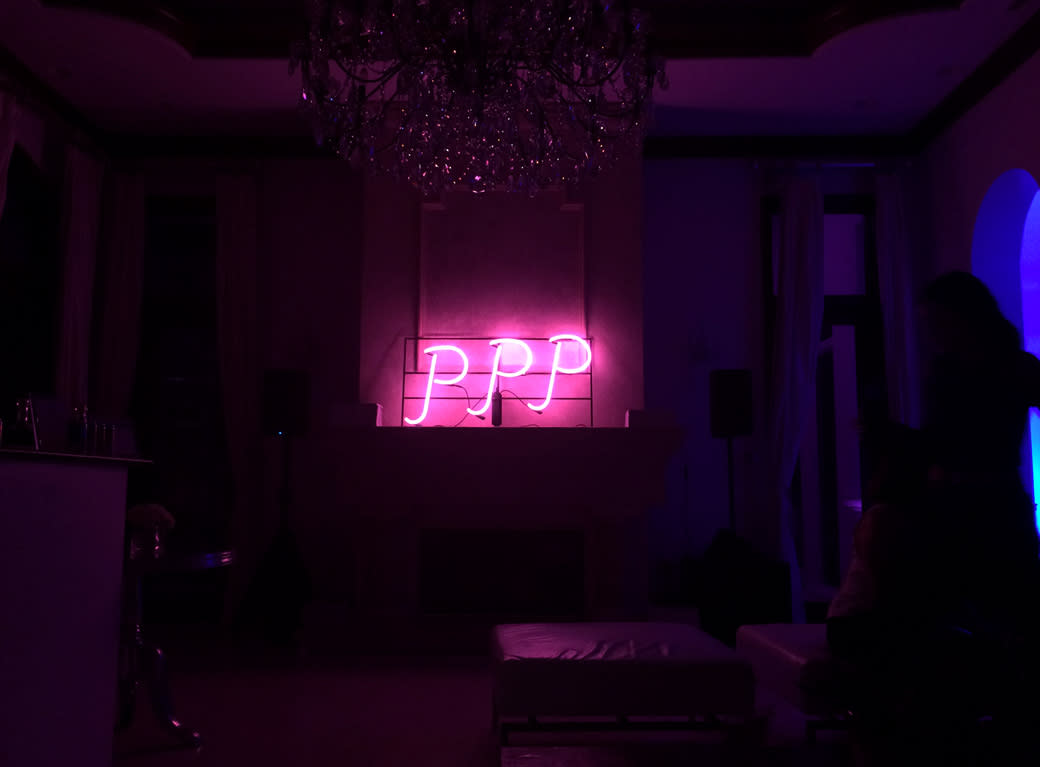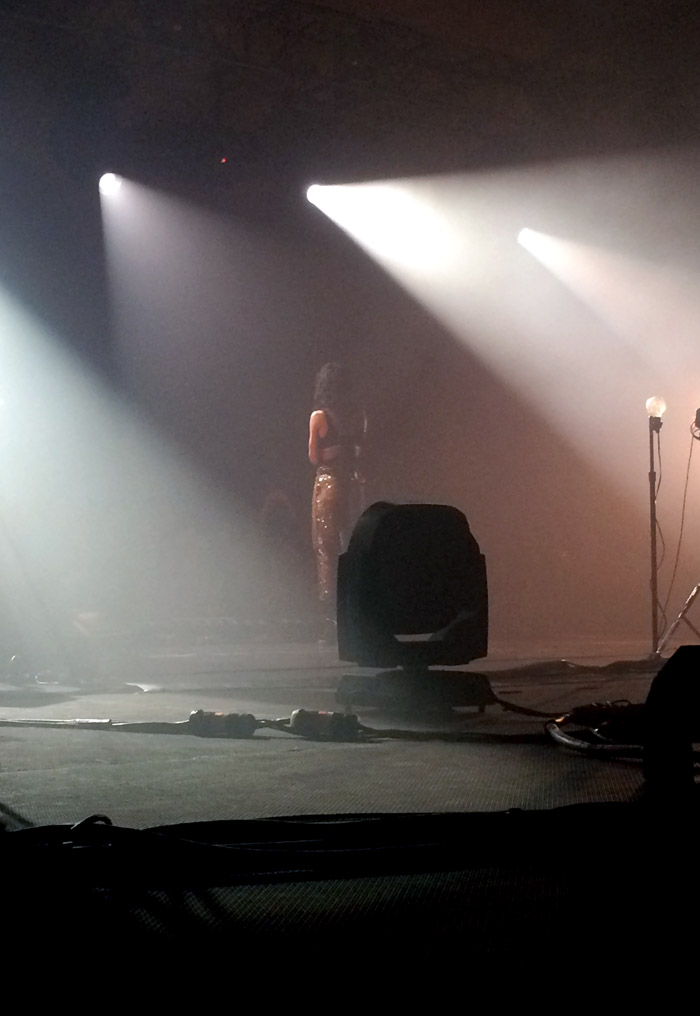 Once I arrive at the YoungArts Foundation for the show, my friend brings me backstage to a section where no one else is. I watch Twigs play all her deeply cathartic songs, and I can relate to what she's singing. She slowly increases her dancing, and her see-through, sparkling Cottweiler tracksuit slowly reveals a black thong leotard. She knows the power of subtle gestures and movements. Both Robert Pattinson and Solange are at the backstage section across from me. A fan watches her from front and center, holding her LP and singing the songs back to her.
I go back to the PPP mansion, and the party has started. I see Dev Hynes dancing to OT Genasis' "Coco." I see Robert Pattinson in the kitchen. I see Future Brown, whose performance apparently had acrobats on water jetpacks, which I'm sad to have missed. I see Vashtie Kola, Carrie Munden, Grace Ladoja, and other international cool girls. People are staying at the top floor of the mansion, so I see lots of bathrobe-clad guys (one has a sick grill) walking up and down the stairs. At one point, Twigs arrives, and she goes upstairs with a group of friends. She and Skepta were supposed to perform, but the party got shut down around 2 a.m. before they could.
I go home and fall asleep with my laptop.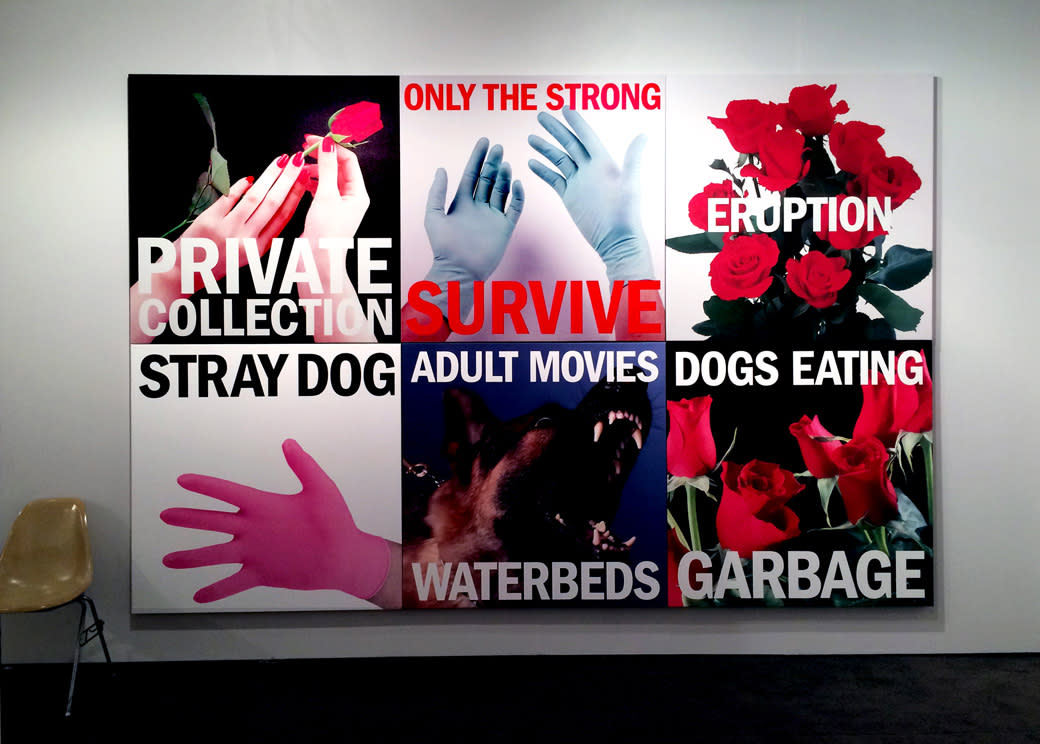 Today, it becomes clear that a lot of the journalists I've met in Miami are hardly going to any of the art fairs. After I publish an interview with the woman who designed André 3000's jumpsuits, I go to a press lunch at Soho House where I learn about a brand's new art initiative for 2015. Someone says, "I don't think we got passes, and I'm not gonna pay to go, because it's disorienting." Another person says, "I keep saying I'm going to go to the fairs this year, but I keep waking up late." We all, myself included, talk about how we're still figuring out how to write about this event that's too gigantic and decentralized to experience fully.
I meet Solomon and David from DIS Magazine, and they invite me to the NADA art fair with them at the Deauville Hotel. It's continually been one of my favorite art fairs in both Miami Beach and New York for years, so I'm very inclined to go with them and see some of it through their eyes. We first go to hotel room 1111, where Jon Rafman, who I mentioned before, has invited visitors to his JUNIOR SUITE project. He has invited participants to put on large, dark goggles, and they are told to put their hands on the outside of the balcony window. I did it, and I learned that you hold the window for balance before seeing a virtual reality of the exact hotel room. When you turn around, the railing and ocean are there, and then the whole scene fragments and falls apart. I watched other people do it, and the reactions varied from screaming to laughing. 
My colleague Leigh meets me at NADA, and we see so many refreshing art pieces and art galleries. The young owners of Grand Century gallery in New York tell us they've already sold out their entire booth. We see Jemima Kirke listing off names of galleries in a conversation. I run into a formaldehyde rat piece that I saw in Tokyo, made to look like Pikachu, created by the artists Chim↑Pom, at MUJIN-TO Production gallery's booth. I remember that this piece was made in response to the growing rat population in Tokyo, and how despite trying to exterminate them, they grow stronger and more abundant. The piece is called SUPER RAT.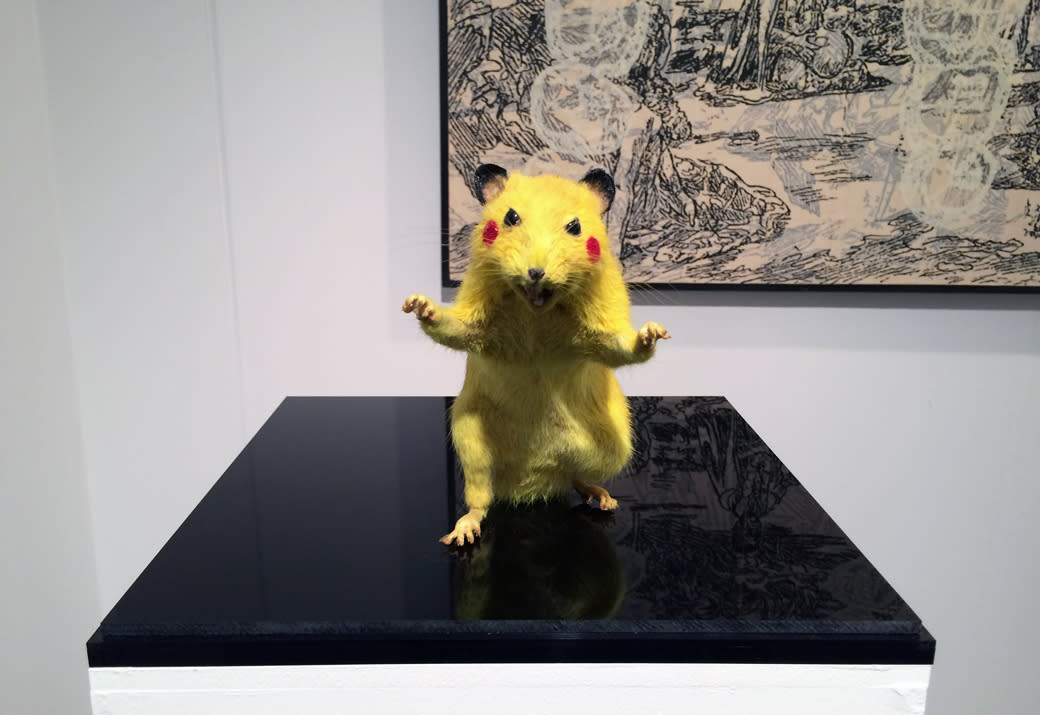 I buy Red Bull that I'll know I'm going to need later, and then Leigh and I go back to my hotel to do some work. After, we go to dinner before seeing a collaborative installation—by Snarkitecture and clothing store Alchemist—at a parking garage on Lincoln Road. It was an all-white basketball set-up with two hoops and two sets of bleachers. I run into my friend Guillaume who is the creative director of Bromance Records. He introduces me to Virgil who does the clothing line OFF-WHITE and works with Kanye West.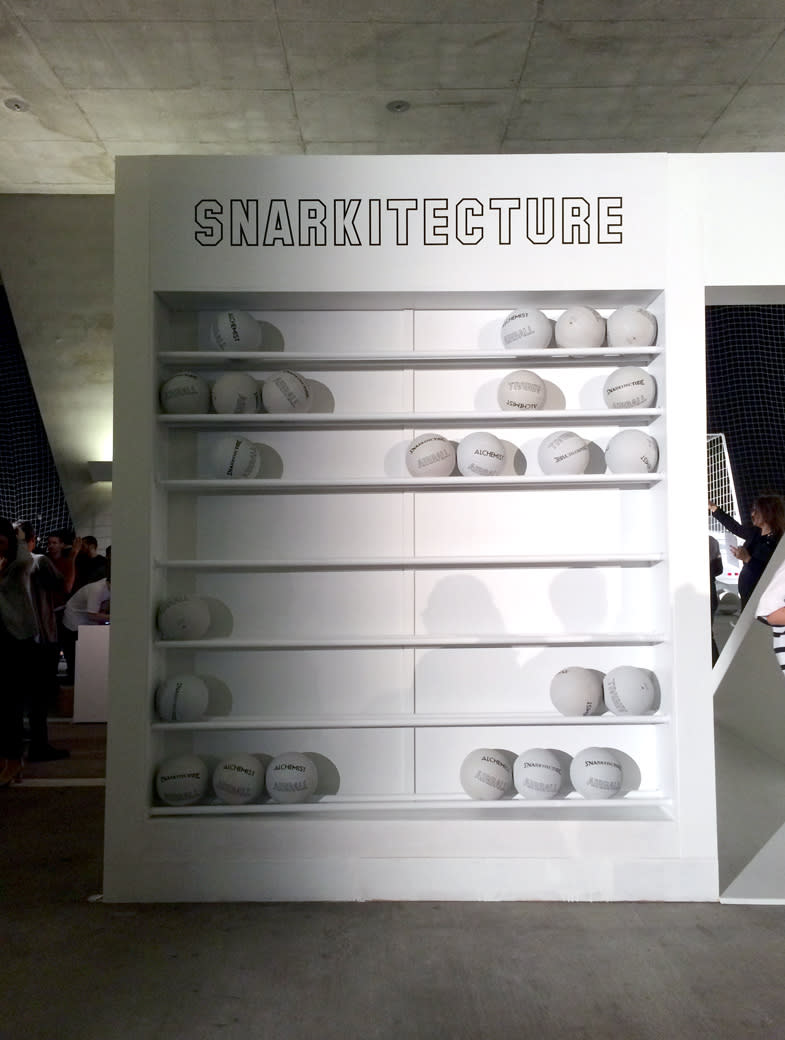 Just as we're about to leave, Wiz Khalifa walks in with Daniel Arsham (of Snarkitecture) and starts shooting hoops. Guillaume insists that I come to Bromance's show at Grand Central, which will be on until 5 a.m., and it sounds tempting. 
I leave for YoungArts foundation again to see James Blake perform. Even if I'm not backstage this time, I see Klaus Biesenbach, Chief Curator at Large at the Museum of Modern Art in New York, bringing around 10 people backstage. When I finally get backstage to the spot I watched FKA Twigs from, I see that the James Blake VIP section could easily be a portion of the VIP section from the Art Basel main fair. Suddenly any perceived gap between the music and visual art worlds disappears, and everyone seems to enjoy James' stunning show. 
When the concert ended, James came to the side of the stage I was on to wipe his face with a towel and sit down before going back on to do an encore. I've interviewed James Blake on the phone before, and I listen to his BBC 1 residency radio show religiously, so I was a little bit starstruck. I moved to the other side of the backstage and saw Vampire Weekend's Ezra Koenig. After the show, I saw Klaus take a funny selfie with James.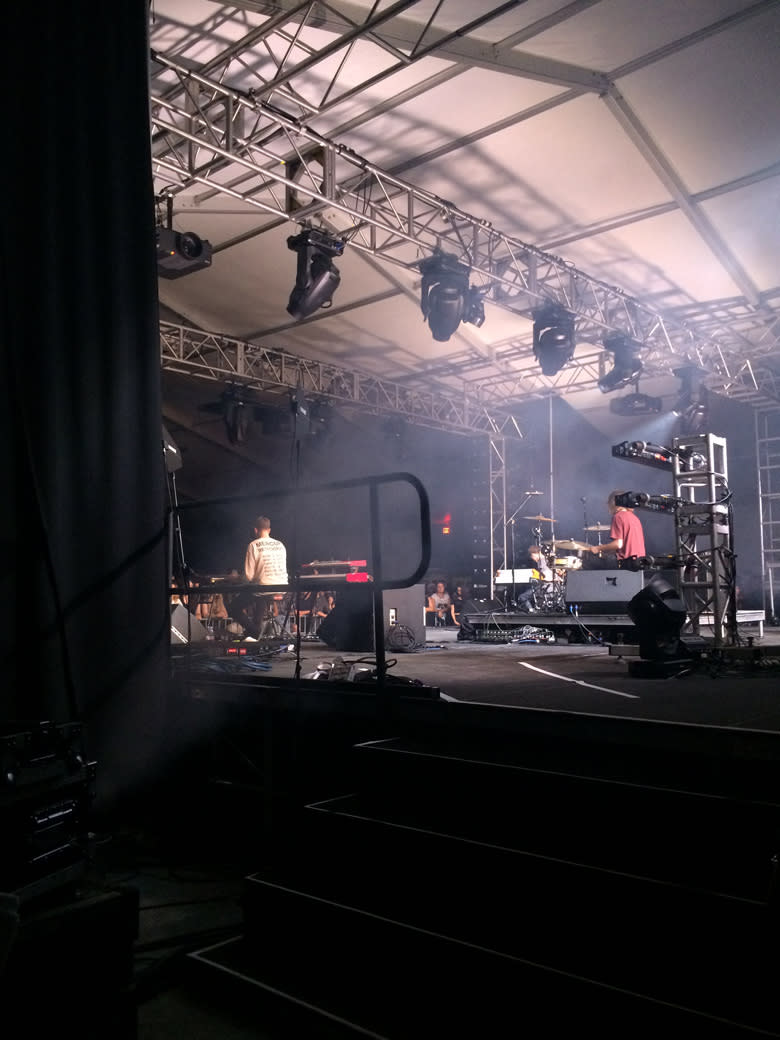 My friend Bri tells me she needs to deliver two disposable cameras to a hotel where A-Trak and his Fools Gold label team are staying, so I agree to go with her. I realize that by now, I've missed Solange's DJ set, I've missed 2 Live Crew playing at the Gavin Brown's Enterprise party, and even the Red Bull won't keep me awake to be at the after-party for Snarkitecture and Alchemist's installation. I feel as if I am failing at my job, but then I remember that I'm not a party reporter. The Uber driver begs us to let him have a smoke before we leave and then says, "If you give me 5 stars, I'll give you anything you want."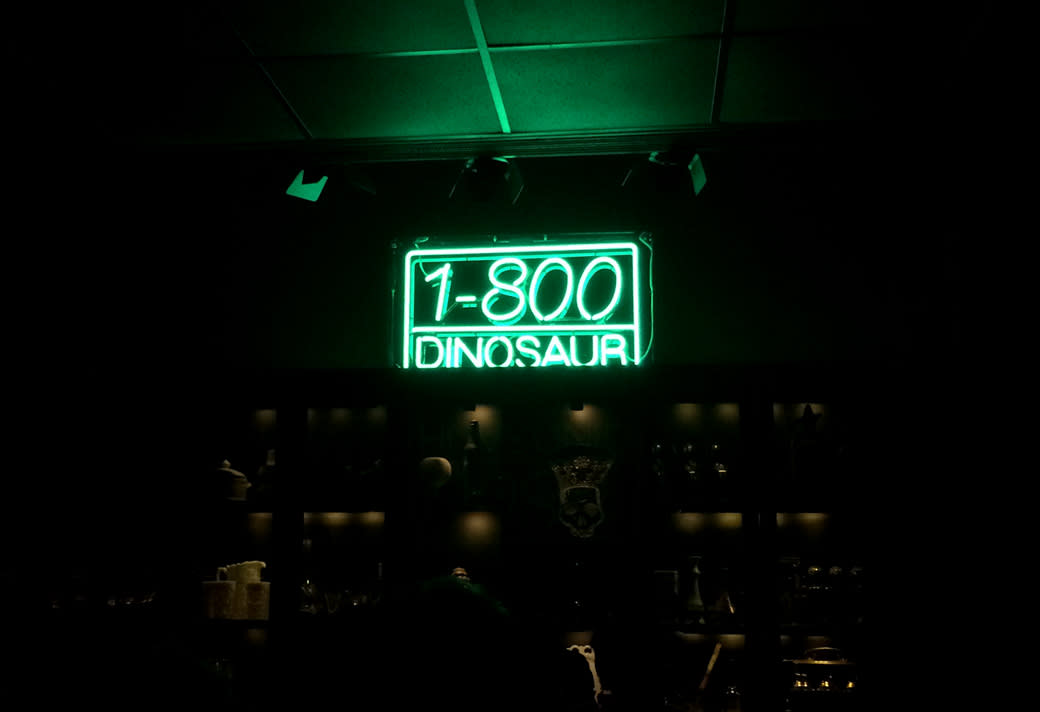 We arrive at the hotel, and we're either in the wrong place, or no one from A-Trak's team has checked in yet. We drink cold water trying to decide if there's anything we can still do. A guy with us offers to take us to the Miami Beach EDITION hotel, where we might be able to go bowling. I cringe thinking about my previous experience there and can already envision a pretentious crowd, bowling in high heels and giving dirty looks. But I still go. Adrian Grenier is there with an entourage.
Bri and the guy decide that we should go to James Blake's 1-800-Dinosaur label night at Bardot. I'm exhausted, and have no desire to do anything but sleep and actually see and write about more art, but I go anyway. People keep charitably offering me coke, and I decline. I dance to the eclectic music and watch fans approach James for selfies. There are couches all over the room, and once I hit my knee on one, I decide it's time to leave without saying goodbye.
The cab driver is nice and doesn't believe me when I tell him that I studied art history in college.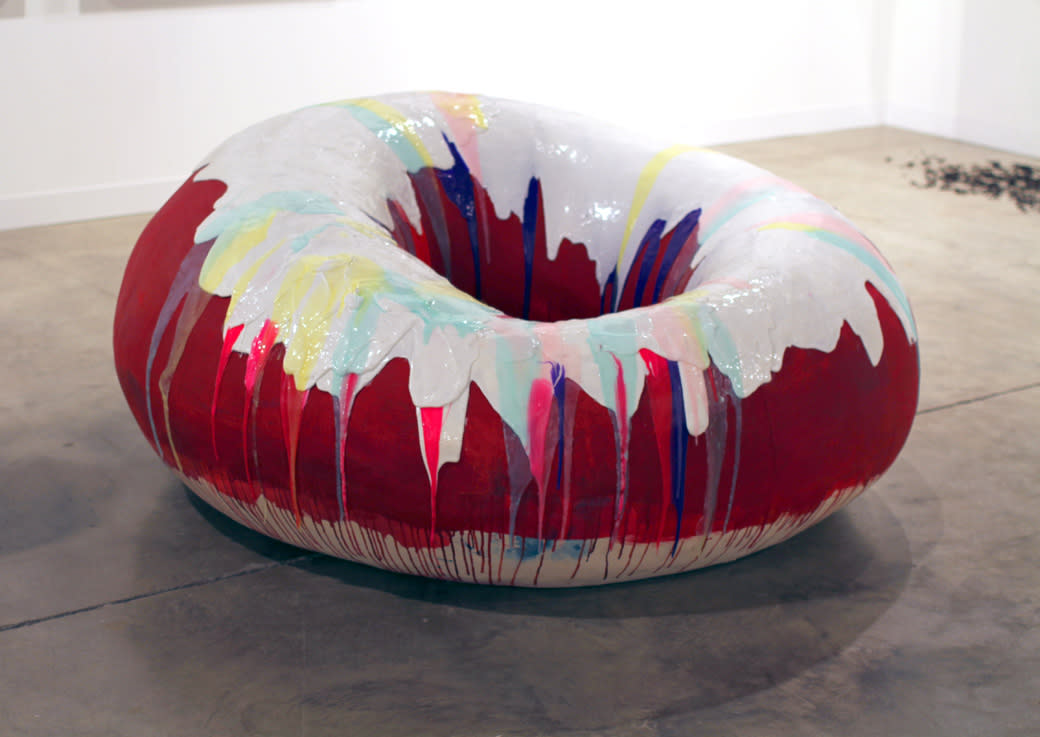 I've had enough. I really want to go home. My boss keeps wanting to hear about the debauchery I'm not experiencing here. He offers a headline idea that couldn't be farther from the truth of what's actually taking place. The photographer we've hired is M.I.A. A free driver Leigh and I had is suddenly unable to drive us anymore. I panic about the absurdity of a daily journal feature—describing an event that everyone on the Internet fantasizes about and wants to attend, but that is so difficult for me to truly enjoy.
Leigh and I work on a post about what celebrities are doing at Art Basel. A$AP Rocky hangs out with Miley Cyrus, Leonardo DiCaprio buys a Frank Stella, Chris Bosh hosts an art opening, Kim Kardashian goes to her PAPER magazine cover celebration party, and Usher attends Daniel Arsham's exhibition opening at Locust Projects. They are having fun.
I work on these journal entries, and when 4 p.m. hits, Leigh has already done two posts, gone for a run, and done a bike ride. I suggest that we get ice cream and walk to PULSE art fair, where I see a Lisa Levy art piece that makes me smile. I would have bought it, but it was $850.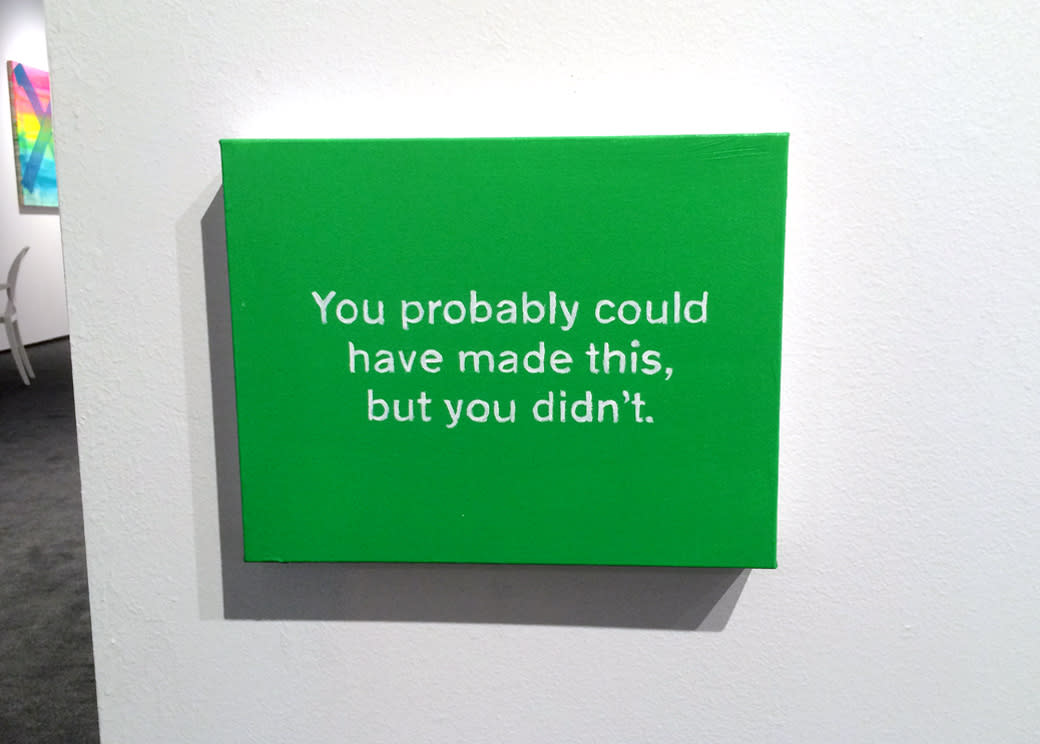 After PULSE, I decide we should visit someone I met backstage at the James Blake show, Zach, who works at Harper's Books in the Hamptons. They have a bungalow pop-up with rare books at the EDITION Hotel. While looking for rooms beginning in "2," we see elevators. Once inside, we realize that they can't take us to the second floor. A guy in the elevator laughs at us, and as he leaves rudely says, "You should have just taken the stairs."
When we meet Zach, he shows us a book, which was limited to a 350-copy release. It's now worth $30,000, and has the first instances of artist Christopher Wool's stenciled letter paintings. The bungalow is gorgeous, and we walk up spiral stairs to see the luxurious second floor where his boss got to stay during the week.
We decide to eat at a restaurant called Market at the hotel, which we're told is at 100% capacity, so we are given the option to sit at a community table. There were only two seated parties when we arrived, and it was the same when we left. While eating pizza and ceviche, Leigh and I discuss what we think we'll see in the next hour, when we're scheduled to see a performance by Matthew Stone with an original composition by Dev Hynes in Wynwood.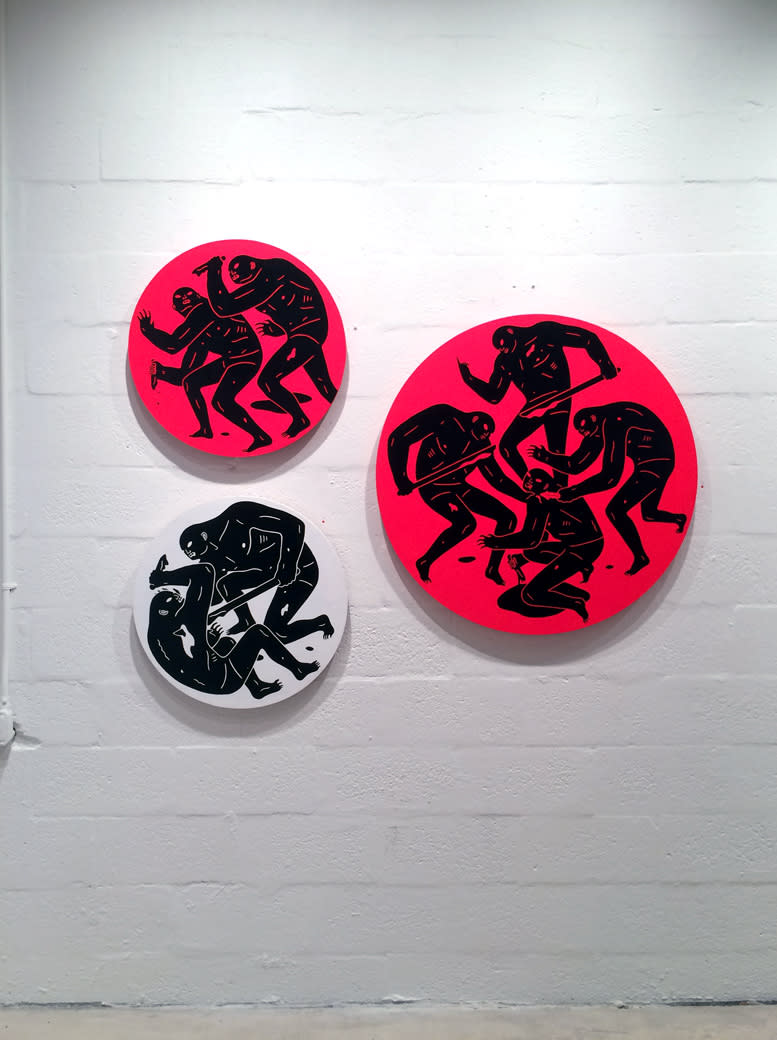 When we get to the performance, which was supposed to start "at 9 p.m. sharp," we are the first to arrive, and we aren't allowed to go in. We walk around Wynwood, which is more vibrant than any place we've been all week; there's music, food trucks, live painting, and blocks of open galleries and restaurants. Murals by Maya Hayuk, Miss Van, FAILE, Cleon Peterson, Shepard Fairey, and others have gone up, and Library Street Collective from Detroit has mounted an incredible exhibition. 
We go back to the performance, and the security guys joke around with us about our punctuality. They let us in to the asphalt courtyard, where we are supposed to wait to enter the private studio performance space. All week I have seen the same people from New York, and here is no different. Everyone's drinking Ketel One cocktails, perhaps not realizing that the drinks' potency might help to experience the impending performance.
When we finally get seats, we see that the first three rows are reserved with napkins. This doesn't seem to stop random people from sitting there. Dev Hynes sits in the audience, which means he isn't performing the music he created for the piece. The audience looks at a black LED video sculpture that lights up later in the performance. Matthew Stone reads directions and implies that the audience is directly participating in the performance, adding the memorable line, "I seek beauty not power," as if to defend his artistic intentions. He tells us to turn our phones off and leave quietly if we need to. He then disappears behind the sculpture.
We sit in the dark for the 30 longest minutes of my life. Waves of bass hit us in varying spurts and degrees. Sometimes the sound appears to be coming from the ceiling, and sometimes it appears to be coming from every angle at once. At other times the sound feels like a fan. I see a girl across the aisle from me put her feet on her chair and hold her knees. At one point the waves feel too intense, and I consider leaving.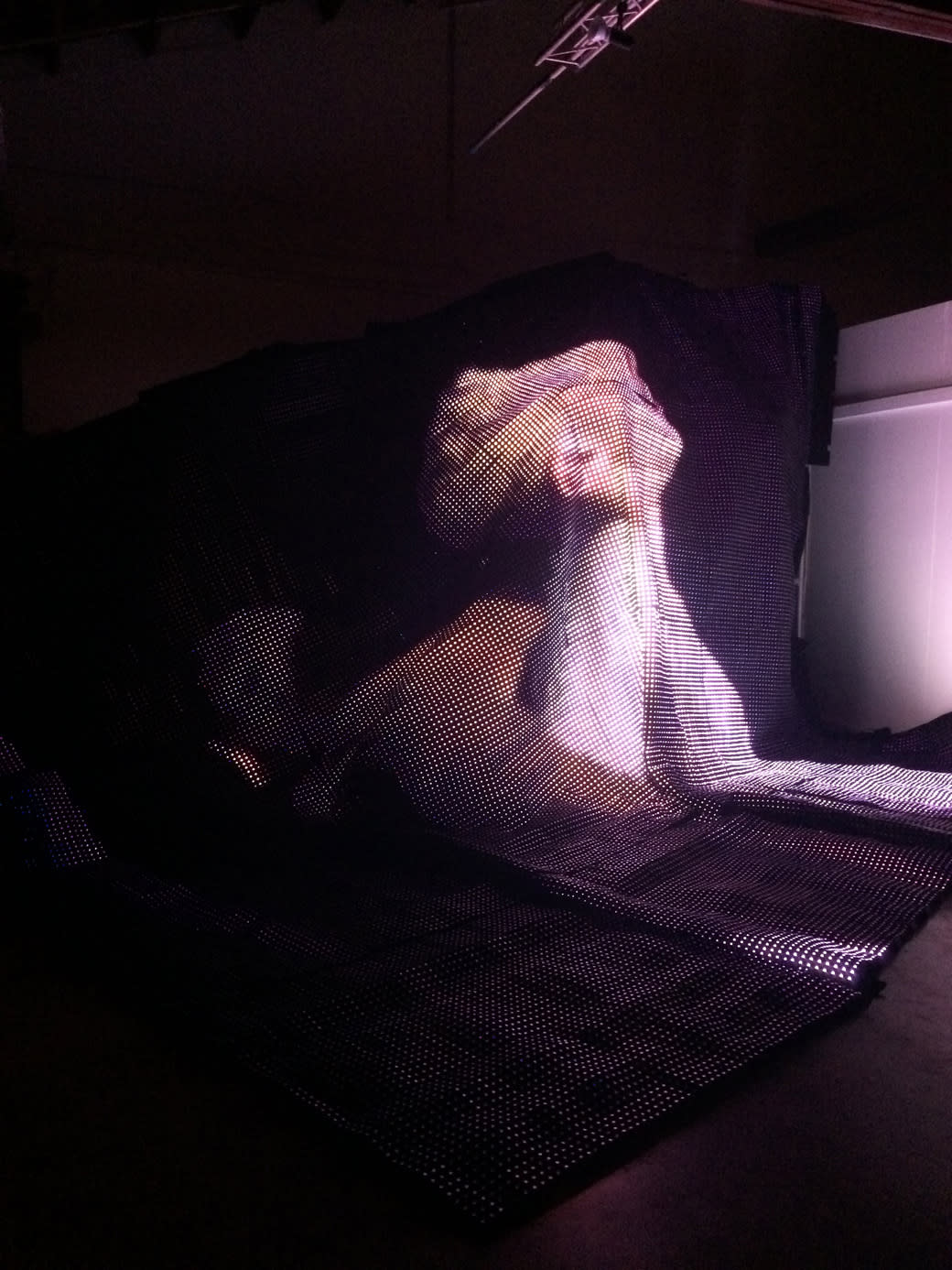 Then the sound stops, and a few young, naked dancers come out (the girls wore nude underwear). A young man and woman are the last to remain in front of the sculpture, which is now glowing and has amorphous shapes swirling around on it. The boy twists the girl around by her hair in a primal sort of courtship. She then leans on his chest, as they slowly, step-by-step, go back behind the sculpture.
At this point, it isn't clear whether or not the show has ended. The spotlight goes on us before Matthew Stone walks out down the central aisle with a pissed off look on his face. I wonder if he is just being serious or if something has gone wrong. No one really knew where the performance begins or ends, and that's likely the point. The owner of the The Hole gallery, who represents Matthew, Kathy Grayson, is sitting in front of me and doesn't seem to have a strong reaction. I can only imagine how tiring the week has been for her as a gallerist.
Quite quickly, Virgil Abloh starts DJing, and a bigger crowd pours in to dance and await a performance by Theophilus London. I leave for a third show at the YoungArts Foundation, SBTRKT, who has A$AP Ferg open for him. I'm told that Drake is playing a secret show at the PPP Mansion later, where he DJed earlier, so the SBTRKT concert is a good way for me to experience something I am guaranteed to enjoy, recover from the bass attack of the previous performance, and kill some time. SBTRKT does an incredible show, and I don't go backstage this time. The lighting is beautiful. 
I run into Bri again, who agrees to come to the Drake show with me afterward. As soon as we arrive at Palm Island, we see that the street is closed, and we are told that the mansion party has already been shut down by the cops. We decide to go to Soho House, where Arcade Fire is supposedly doing a show. I see my friends Madsteez and Rabi (from CYRCLE.) outside. Bri tries to get in by pretending to be on the list, Madsteez and Rabi sneak in through the beach, and I go back to my hotel to pack and get three hours of sleep before leaving for the airport.
When back at the hotel, I contemplate doing more work. Instead, I try to ward off my feelings of being disillusioned by Art Basel Miami Beach this year. It's difficult, but I'm sure I'll be back to give it another shot next year.