A low-key artist living in South Boston, who's fresh off celebrating his 10-year anniversary in the United States, Kenji Nakayama has made a name for himself in the local scene with his beautifully crafted sign and stencil painting. Trained at the now-closed Butera School of Arts in Boston, he even owns two sneaker patents from his former day job at Converse, where he designed sneakers and used these patents to help secure a green card in the United States.
Now working full-time out of his loft and nearby studio, Nakayama's commitment to his growth both as a person and an artist is unflinching. His simple but purposeful approach when it comes to art is likewise reflected in his own personal style, as this self-described "comic book character" relies on a clean, simple look whether he is in the studio or having coffee with friends at nearby American Provisions.
We had a chance to talk with Kenji recently about his style, his art, and his city, and in the process, learned just what makes one of Boston's most talented young artists tick.
Interview by Doug Sibor (@dcsibor)
Photography by Heather McGrath (@heathermcgrath)
What's the first thing you do every morning? Do you have a routine?
Probably just like most other people, I get up and get coffee. I make my own, but not in the summertime. The other thing would probably be to check my email.
What about grooming habits?
I don't naturally have a hairy face, but I do shave nearly every day.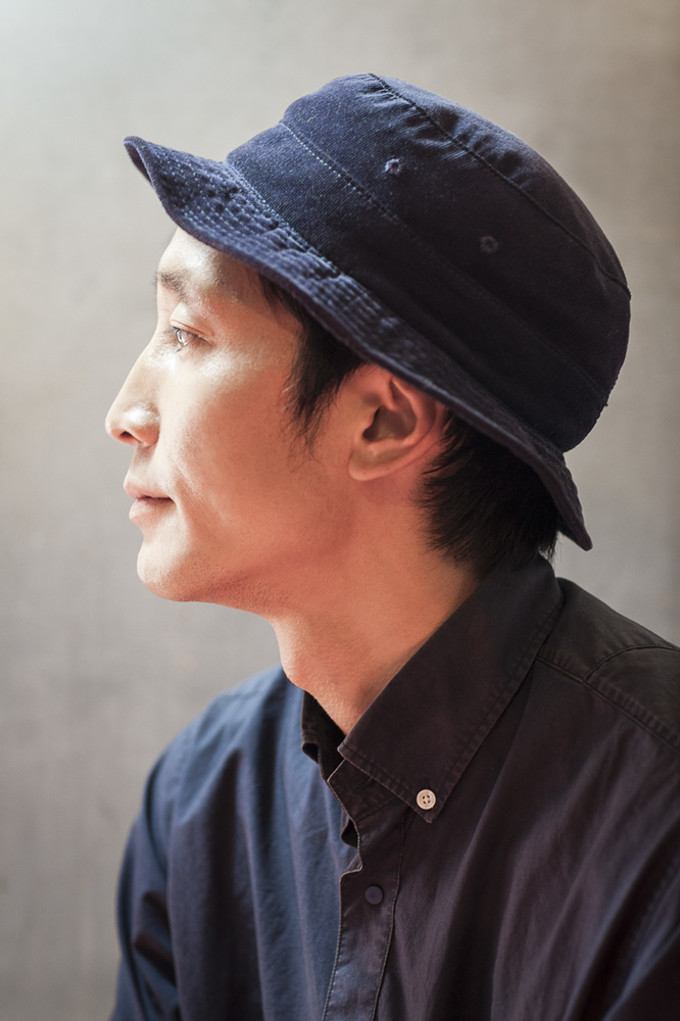 When you're getting yourself ready for the day, what goes into picking your outfit? Do you put a lot of thought into what you're wearing, or do you just throw it all together?
It's important to feel comfortable in what you're wearing. I always end up choosing very similar colors: navy blue and olive green. If you see my clothing, you'd be surprised. There's not much black. Black is kind of a dominating color. I feel like when I wear it, it takes over my personality.
When you're going out, how does your look change compared to when you're making art? Any special grooming habits?
When I go out, I still like to wear the clothes I wear for work as long as they aren't covered in paint (although sometimes I do go out covered in paint). Sometimes people say that I am like a comic book character, always wearing the same thing.
What would you say inspires you more than anything else?
It's a difficult question. I think the inspiration comes in not just a spontaneous way, but also from built up experiences and what you've seen. So really, my lifestyle and living my life is my inspiration. It's why I care about what I wear, what I do, what I eat, and what I read. I'm trying to be honest to how I feel, but I also try to curate and control my interests. I'm just trying to feel good about what I do and who I am.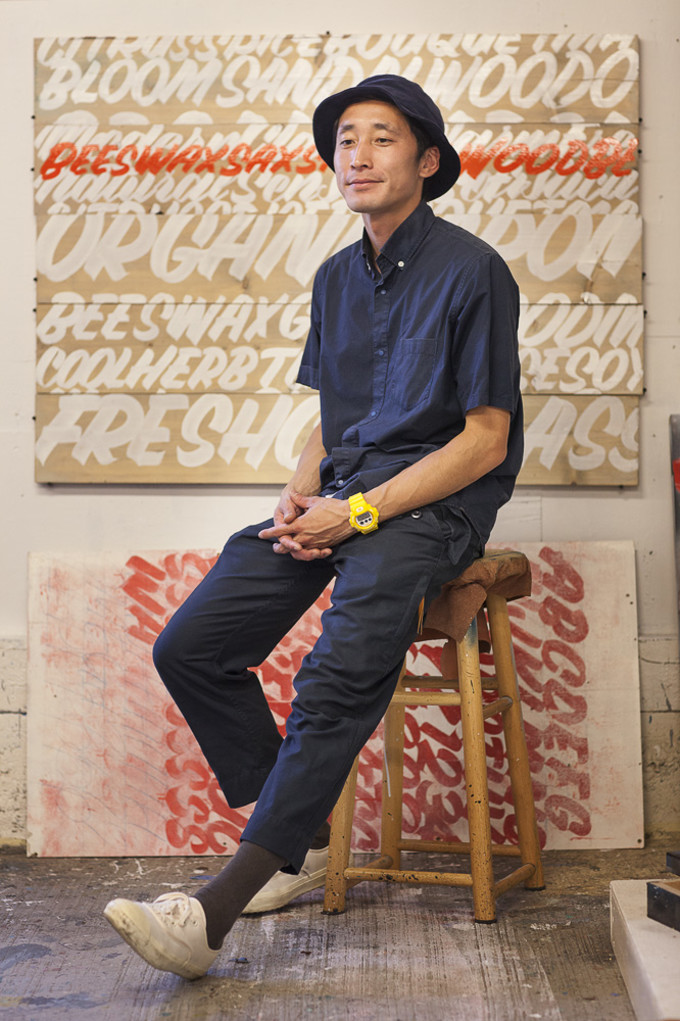 What's one thing in your life that you can't live without?
Internet. [Laughs] It's a very cliché answer, but really it's friends and family. It's very important. My family is all back in Japan, but we use the Internet to video chat. So I guess maybe it really is the Internet.
When it comes to your style, specifically, what's one thing you can't live without?
My hat. I just like it. It makes me comfortable. I have lots of them—which one I wear depends on other stuff. I definitely go through phases. I have other favorites that I wear all the time, but it always changes. I tend to go to the same places to get them because I don't have time to check what's out, so I normally go where they seem to know my style.
What's one thing that nobody knows about you, or at least something that would surprise even your friends?
I like running. In the summertime I go at least three days per week around Castle Island (a small island connected to South Boston). I am trying to be healthy lately. Also, I think that exercise is a good time to come up with some new ideas or think about some specific thing. I find that when I am running, my head becomes clear and I can actually focus, I think because the blood flow stimulates my brain.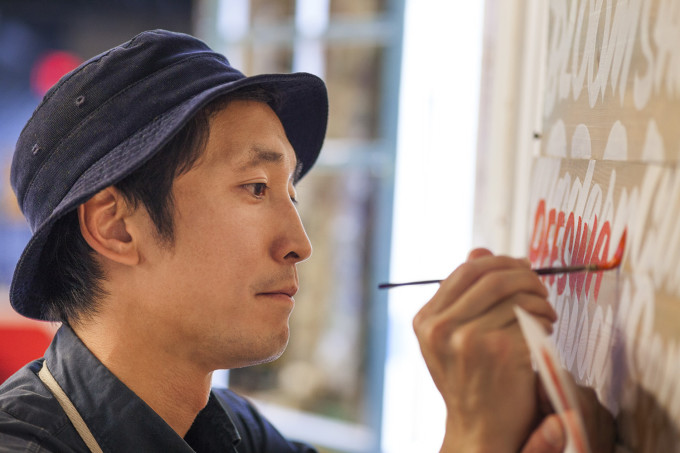 What would you say is something that you've discovered about Boston that not enough people talk about?
Its manageable size. This is a very personal opinion, and people might disagree, but its size makes me go beyond the city, and I feel like I'm always looking at opportunities to explore a little bit. It's nice to see things that aren't just in the city.
What do you think is the number one reason for your success?
Well, I don't know if I'm successful or not. I'm just trying to be honest. Basically, I'm just trying to make myself feel good about what I do. I didn't set up a goal like, "I want to be famous" or "I want to do a show at a museum." I am just trying to make sure that I enjoy what I do. You are not working for the result, you want to work for yourself and the result follows you.