A Timeline of LeBron James and Kyrie Irving's Relationship
From the 2016 NBA championship to podcast shade, here's the complete history of Kyrie Irving and LeBron James's roller coaster relationship.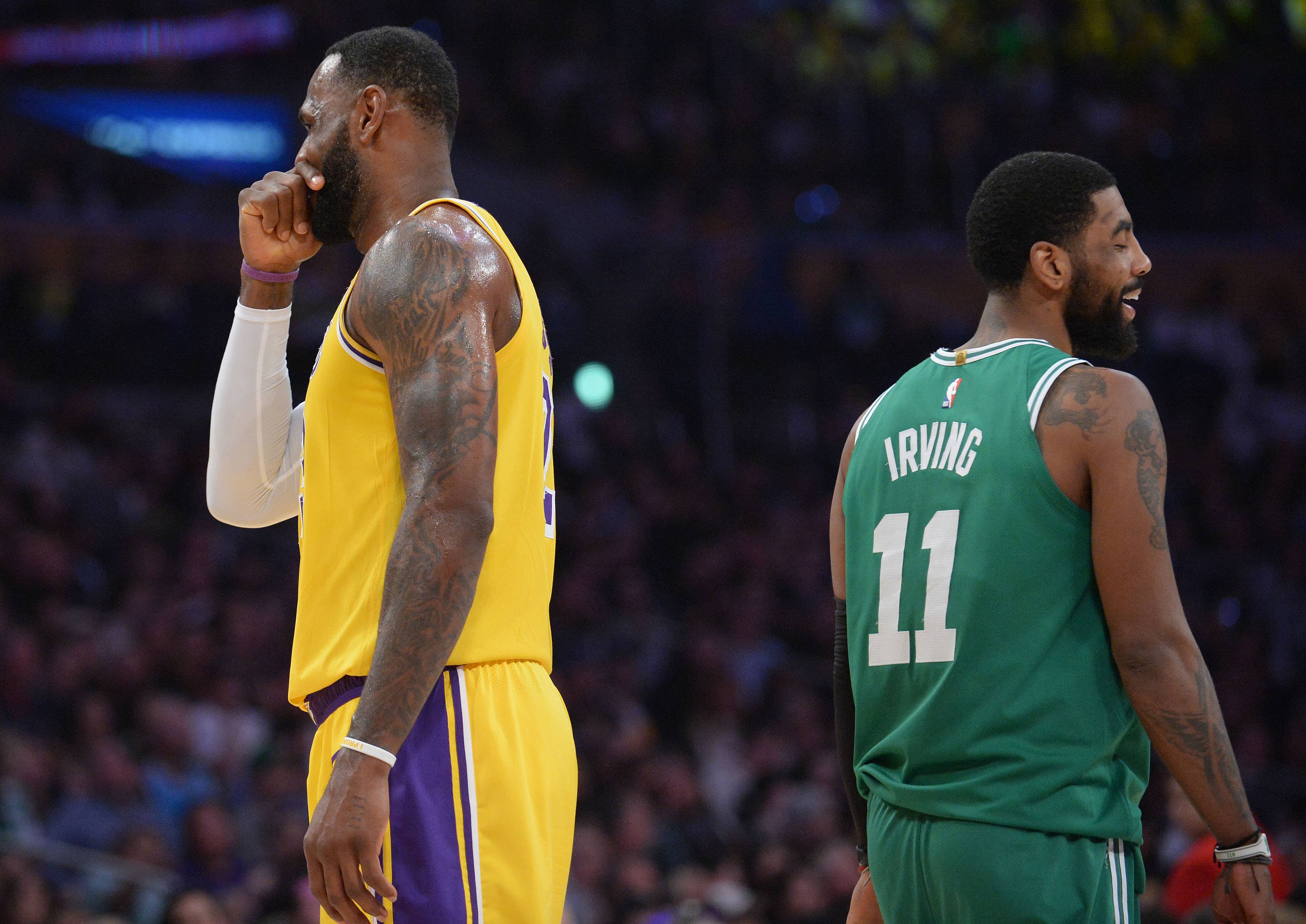 USA Today Sports
March 9, 2019; Los Angeles, CA, USA; Los Angeles Lakers forward LeBron James (23) speaks with Boston Celtics guard Kyrie Irving (11) during a stoppage in play in the first half at Staples Center. Mandatory Credit: Gary A. Vasquez-USA TODAY Sports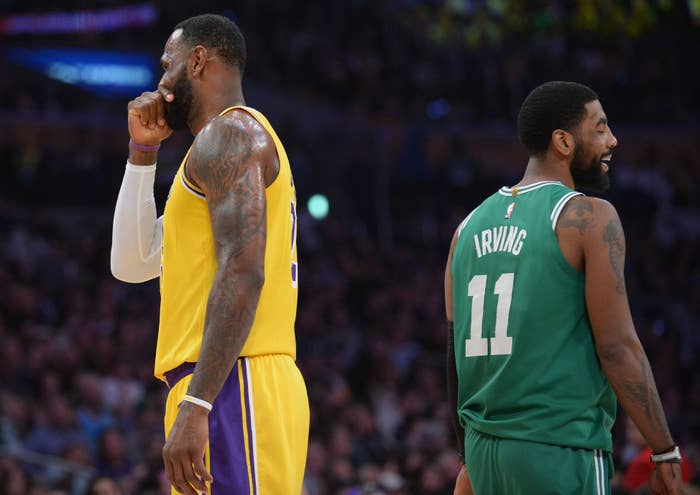 One is competing in the NBA Finals. The other has been sidelined with an injury since February. Yet somehow, we're back to talking about the relationship between LeBron James and Kyrie Irving. Given the magnitude of their presence in the NBA and their compelling personalities, this storyline might never die.
These two All-Stars have had a messed up Feng shui since they teamed up on the Cleveland Cavaliers in 2014. In the six years following, they've at times seemed like the best of friends at others as rivals. A true roller coaster where you can't get a real feel for where they stand with the other. Both complicated in their own ways, and undobutedly two of the best players in the entire NBA. 

For NBA fans who live for the drama, this interpersonal roller coaster is as good as it gets. With their relationship back in the news, let's trace the arc of LeBron and Kyrie's history.
You know the story: Cleveland got the hometown kid in 2003, but he took his talents to South Beach. After four years in the sun, LeBron announced in June 2014—through a first-person essay with Lee Jenkins of Sports Illustrated—that he was "coming home."
The Cavs had been Irving's team. He was a budding star and in the previous season had won All-Star Game MVP. Now, he'd have to share the rock with the biggest name in the game—and a third star, Kevin Love, whom the Cavs acquired from Minnesota.
2016: The Championship
The Cavs and Warriors met up in the Finals again in 2017, with Cleveland falling in five games to the now-Villain Dubs (who had added Kevin Durant after losing in 2016).
The next month, Kyrie requested a trade. Reports suggested he wanted to be The Guy on a new team instead of playing in King James' shadow. Cleveland traded Irving to the Celtics in August for Isaiah Thomas, Jae Crowder, first- and second-round picks, and Ante Zizic.
After the trade, some light social media pettiness ensued. LeBron posted a Snapchat video vibing out to Meek Mill lyrics about loyalty (which many perceived as a shot at Kyrie), and Kyrie unfollowed LBJ on IG.
January 2018: Kyrie Trolls LeBron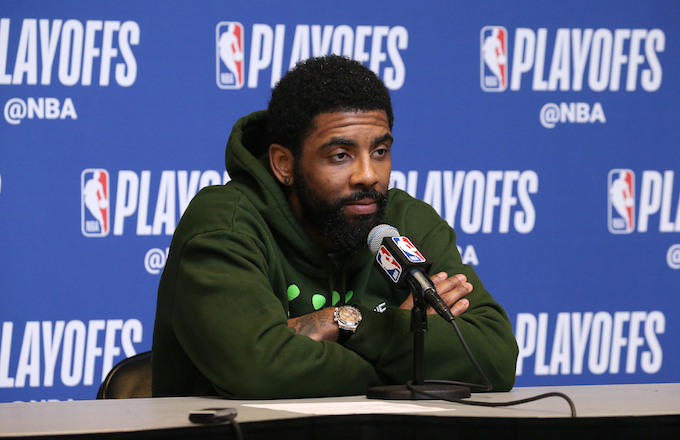 During the tumultuous season in Cleveland, one heckler was gassed up enough to ask LeBron, "Where's Kyrie?" Classic heckler.
James had a hilarious response: "At your mama's house."
May 2018: LeBron Says Irving Trade was 'Bad Timing'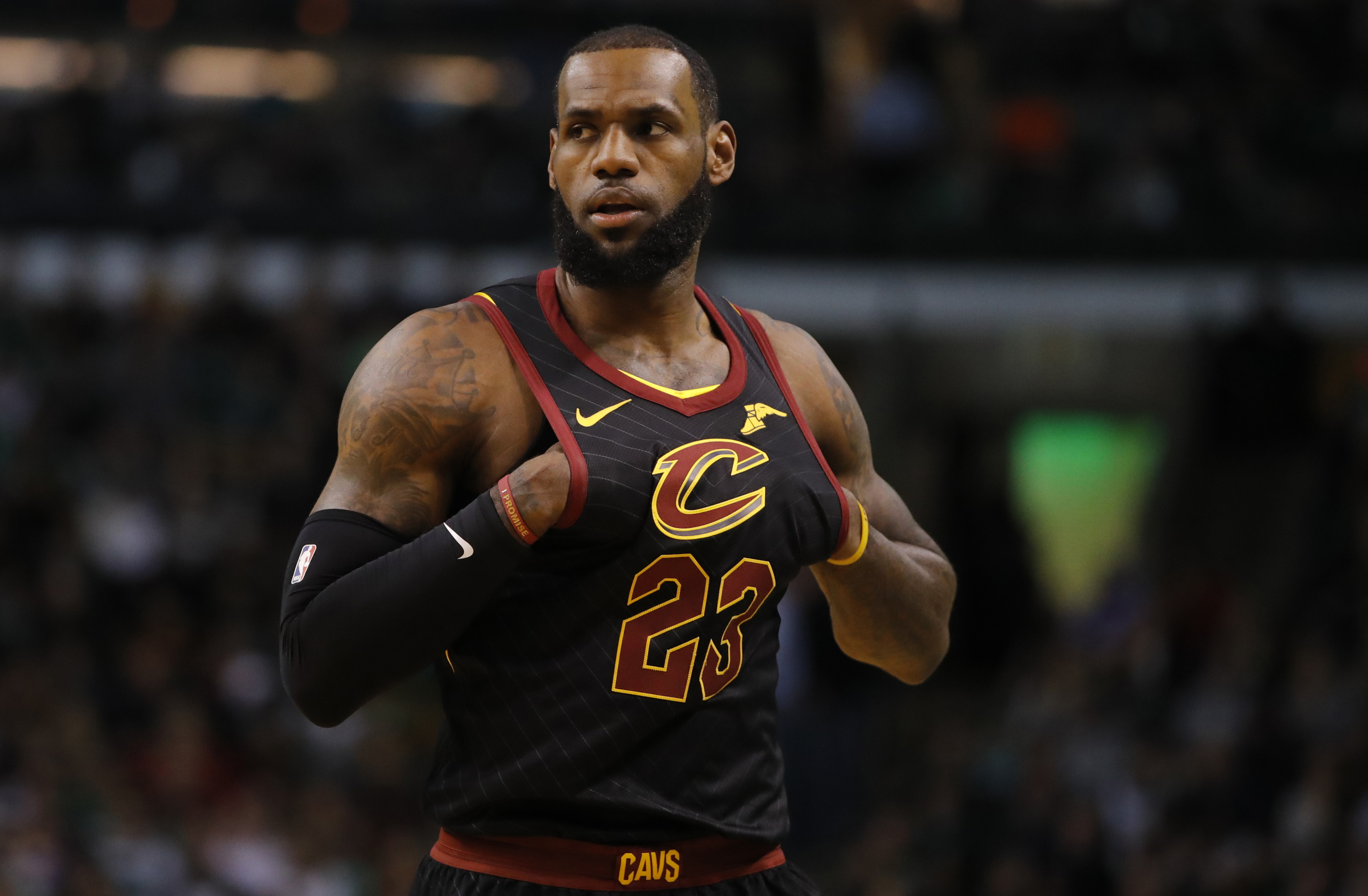 In the summer of 2018, a rumor surfaced that Kyrie never wanted LeBron to return to Cleveland. Jason Lloyd of The Athletic provided the scoop.
During a radio interview, Lloyd stated: "Kyrie never really wanted LeBron to come back in the first place, that he didn't think that it was necessary. LeBron said something to Kyrie on the court following a game when he was with Miami, something to the effect of, 'Keep going. Keep doing what you're doing. You never know. I could be back here one day,' or something like that. And Kyrie went in the locker room and basically said, 'We don't need that. What's he talking about? We don't need that guy.' He didn't want him here in the first place. He didn't think the Cavs needed LeBron. He didn't want him here in the first place. That's been told to me by many, many, many people throughout the organization."
January 2019: The Apologetic Phone Call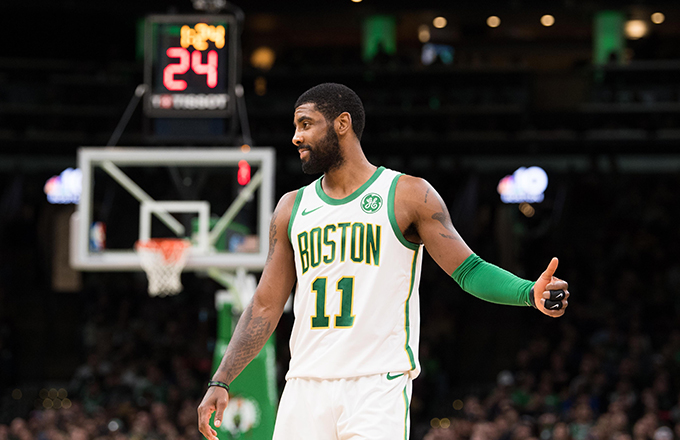 Kyrie played well in two seasons with the Celtics but injuries marred their marriage. 
While fans speculated about him leaving Boston as a free agent in 2019, a report indicated Irving was interested in reuniting with James in Los Angeles. According to the source quoted therein, Irving was "genuinely" open to the possibility. But that noise was short-lived and the buzz died when the Lakers traded for Anthony Davis in June 2019.
The next month, Irving signed with the Brooklyn Nets.
October 2020: Podcast Shade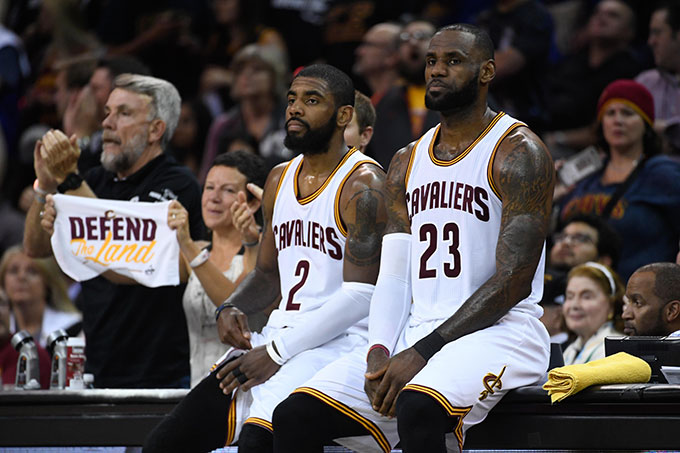 We're all excited to see Durant and Irving play together with the Nets when both are healthy. What an unreal duo they'll be. Can next season start tomorrow?
In the meantime, they're watching the games like us—and talking about what life will be like when they get on the court together. One of their conversations was recently recorded for Durant's The Etc with Kevin Durant Podcast.
Kyrie was asked who would take the shot in a clutch situation for the Nets, and he responded with a diplomatic answer: "Depends on who's hot. I don't see it as anything other than that. One-three pick and roll, or it's an iso for either one of us or it's something great for our team. One thing I've always been comfortable with is I felt like I was the best option on every team I've played for down the stretch. This is the first time in my career where I can look down and be like, 'That motherfucker can make that shot too."
Naturally, the last part of his response caught fans' attention. Was Kyrie saying LeBron couldn't make clutch shots? It sure seemed so.
LeBron seemed to respond, too. During a Finals press conference, he was asked why his relationship with Anthony Davis has been so smooth. He responded, "we're not jealous of one another."
And Davis had James' back, echoing the sentiments.



A.D.: "When you've got two guys who are very selfless and want to win as bad as both of us want to, the rest of it goes away and just takes care of itself. ... No one is jealous (on this team)."


— KEVIN DING (@KevinDing) October 1, 2020
Insert all the eye emojis. 
We're going to guess there's more to come between LeBron and Kyrie. It's not clear when the 2021 NBA season will occur, but we'll have that first Lakers-Nets matchup circled on the calendar.